Tennessee has a number of great haunted houses to terrify and thrill you. On our list of the best haunted houses in Tennessee you will find there is something for every fear seeker from true haunted houses where ghost sightings have been reported to zombie paintball and horror themed escape rooms. If you're ready to be scared, keep reading to discover the best haunted houses in Tennessee and why you should visit.
Best Haunted Houses in Tennessee – Middle Tennessee
1. Beast House
Madison
The Beast House just north of Nashville in Madison, Tennessee is set in a real haunted house. Isaac Kechem built the house in the 1800's and lived there with his family until they were found dead inside the house in 1899. Allegedly, Isaac himself murdered his entire family before committing suicide.
You can see many of the original features of the house as you walk through the rooms where the Kechem family lived and died.
The Beast House offers three separate attractions. The haunted house, freefall off the roof of the building, and the Beast Challenge. If you make it through everything, you get your money back. If it all seems too intense, don't worry. The freefall and Beast Challenge are optional. Many people come just for the haunted house.
The attraction is open September-November annually.
2. Creepy Hollow Haunted Woods
Spring Hill
Creepy Hollow is an indoor/outdoor haunted attraction with three separate experiences all included in the price of admission. See if you can make it out alive of the haunted house, haunted woods, and zombie barn maze. Of course anything zombie would be worthy of making our best haunted houses in Tennessee list!
There are many interactive elements to make you feel like you're really experiencing a true haunt. The spooky attraction specializes in startling rather than blood and gore. New elements are added every year so you get a fresh and exciting experience each Halloween season.
Every night they have a bonfire where you can sit and enjoy music and snacks from the concession stand before or after you go through the haunted attractions.
Creepy Hollow is open September-November each year.
3. Devil's Dungeon
Nashville
Located near Nissan Stadium in Nashville, Devil's Dungeon is a gory and gruesome journey of horror. Some call it the scariest haunted house in Nashville with it's obscene images and terrifying sounds that are sure to make you scream.
You'll walk through dark hallways into themed rooms full of terrifying and disturbing scenes that are worse than a horror movie.
The attraction is pretty graphic and has been controversial in past seasons. Some people feel the scenes are inappropriate even for high schoolers so think carefully before bringing kids here.
4. Dead Land Haunted Woods
Lebanon
At Dead Land Haunted Woods there are three separate trails to walk, each with it's own scary theme. The CarnEVIL with the festival of terror, The Crypt where you'll have to avoid vampires hunting for prey, and The Portal where you will be transported into a world of serial killers.
You'll be screaming and running for your life as you try to make it out of each section of the haunted woods.
You can book each trail separately or do all three for a discounted price. In between trails you can take a break from the scares at the bonfire and let your heartrate get back to normal. Concessions are available so you can sit and enjoy a snack while you gear yourself up for the next haunt.
The trail is recommended for ages ten and up. For 2022 they'll be open from September 16th – November 6th.
5. Slaughterhouse
Hermitage
Slaughterhouse. located just East of Nashville in Hermitage, Tennessee began in 1986 making it Nashville's longest running haunted attraction.
In 2014 the attraction moved to an old movie theater called the Courtyard Cinema. You'll walk through five of the old theaters as you explore the haunted house.
The theater also plays classic movies year round and has a mix of traditional theater seating and table seating where you can enjoy dinner while you watch.
You can purchase a ticket for the haunted house, haunted house and a movie, or get a combo ticket for the haunted house, a movie, and dinner for a complete night out of scary fun.
Best Haunted Houses in Tennessee – East Tennessee
6. Hartman's Haunted Corn Maze and Zombie Paintball Hunting
Mosheim
During the day Hartman's has a lovely hayride and corn maze you can enjoy with the whole family. If you visit at night, that's when things get scary. Even the hayride becomes haunted after the sun goes down. The 8 acre corn maze turns into a thrilling haunt with scares around every corner.
For even more Halloween fun, check out the Zombie paintball attraction. There are two options for Zombie paintball hunting. During the day, you'll hunt animatronic zombies. At night, live zombies come out in addition to the animatronics adding more intensity and a giving guests an even scarier experience.
Every year they add new features to the attractions so be sure to visit and check out what's new.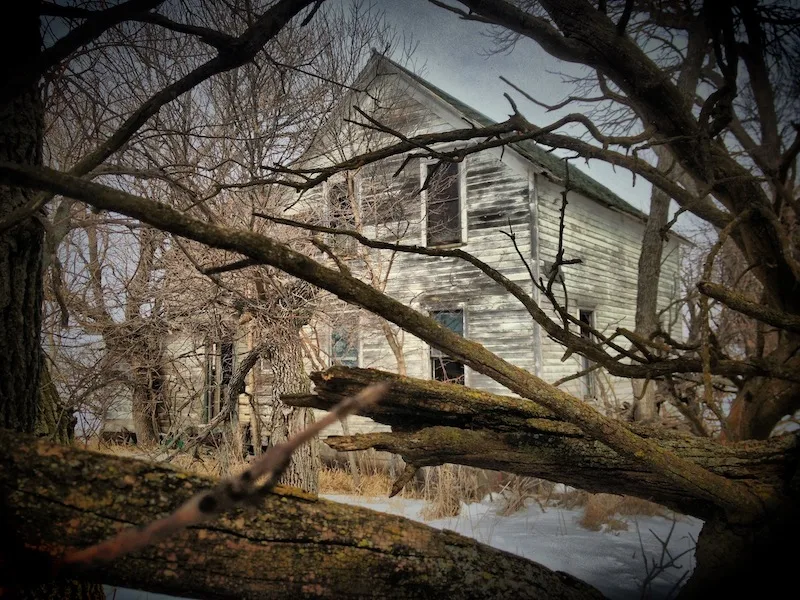 7. Dead Man's Farm
Philadelphia
There's no question from the name of this place that it belongs on the best haunted houses in Tennessee. At Dead Man's Farm you get much more than just a haunted house. There is a whole range of experiences to check out including a haunted corn maze, side shows, fire performers, coffin simulator, virtual reality, and mini escape rooms.
You'll be gasping and screaming from the moment you arrive. The bloody bludgeon haunted house will make you shiver and the clowns of the corn maze will haunt you as you try desperately to find your way out.
The experience is recommended for kids ages 12 and up. They open for the season in October.
8. Screamville
Knoxville
Screamville is a haunted attraction set in a corn field. The special effects are fantastic and really help the experience feel realistic. Your worst fears will come to life as you make your way through the scary maze of haunts.
There is a carnival with an evil twist set up in front of the haunted woods. You pass by it as you're waiting in line so you can play the creepy carnival games while you wait.
Parking is free and concessions are available.
9. The Scream Chamber
Athens
The Scream Chamber is set in an old house that was built in 1826. You'll move through different rooms of the house as you try to avoid the ghosts of the manor.
If a walk through isn't enough, you can even book an overnight investigation for a real ghost hunt.
The overnight stay includes access to multiple areas of the house, some ghost hunting equipment, and a private tour. You'll hear detailed accounts of real ghost stories that have been reported. Stand in the actual locations where people claim to have seen and heard real ghosts in the house.
This scary attractions is recommended for children ages 12 and up, to spend the night you must be at least 18. They have a full concession stand and free parking.
Best Haunted Houses in Tennessee – West Tennessee
10. Hauntedweb of Horrors
Memphis
The fear is real at Hauntedweb of Horrors. This scary attraction has three separate haunts to terrify you, Slotch Sanitarium, Voodoo Village, and The Yard: a Carnival Scrapyard. If you still want more after all that, there are three horror themed escape rooms to play.
The haunted house is all indoors. One ticket gets you in to all the attractions. They also offer a fast pass for an additional $15 to skip the line.
11. The 13th Realm
Atwood
When you arrive at The 13th Realm you'll be greeted in the scary midway by haunting creatures. While you wait for your turn in the haunted attraction you can enjoy live shows, a large bonfire, horror movies, and music.
There are many exits located throughout the haunt so if you can't take the fear you'll be able to escape quickly.
The haunted house is recommended for teens and adults. Make sure to bring cash as they do not accept credit or debit cards.
12. The Fear Factory
Union City
At Fear Factory you'll travel through over 8,000 square feet on three separate floors of a creepy 115 year old building. The haunted house is set on the top two floors. You'll make your way through the elaborate set up as you jump and scream in fright.
In addition to the haunted house, you can also check out the Toxic Zombie paintball and escape room. In this fast paced and fear filled attraction you'll fight your way through hordes of the undead, taking out as many as you can, then find the cure to ensure your survival before you escape to freedom.
13. House of Horror
Bells
Last, but not least on our best haunted houses in Tennessee list is the House of Horror! It is set in an old farm house that is over 100 years old. Many people believe the house is truly haunted. There have been many reports of hearing voices and footsteps, strange smells, and the feeling of being watched.
Find out for yourself as you walk through the house of horror and experience the evil you can see and even some you can't.
There is no age limit but the attraction is designed for adults so keep that in mind if you're thinking about bringing your kids. They are open September and October.
Wrapping up the Best Haunted Houses in Tennessee
There's nothing like a good scare to thrill and entertain you. Whichever haunted house you choose to visit, make sure to wear good shoes because you will probably be running for your life. Which haunted house are you looking forward to visiting first?
Let us know if you have a favorite that should make our best haunted houses in Tennessee in the comments below.
For more things to do in Tennessee check out more Tennessee articles.