The city of Kokomo, Indiana, is actually named for a Native American chieftain from the Miami people, a group of Native American tribes who speak the Algonquin language, including the Great Lakes Tribes. A trader named David Foster officially laid out the village in 1844.
Nestled against Wild Cat Creek, Kokomo is now the county seat of Howard County and boasts a thriving populace with a myriad of restaurants to try and interesting things to do. From the Windmill Grill that served farm-to-fork style before it was cool, to the Gravity Trampoline Park and the Sweet Peas Play Cafe, there's something for the whole family to enjoy on our list of things to do in Kokomo, Indiana.
The Best Restaurants in Kokomo, Indiana
Half Moon Restaurant and Brewery
Claiming to provide the freshest taste in town, the Half Moon Restaurant and Brewery opened in 2007 as Kokomo's first brewpub. When it comes to food, it's everything a beer lover wants to eat with their beer. Freshly cut steaks, baked brewer's rolls (yum!), loaded cheese fries, classic Rueben, pulled pork, black and bleu burger, and even brown ale Alaskan whitefish. Several cuts of steak are available, as well as several chicken dishes. Salads are also available for those who want to eat a little more healthily.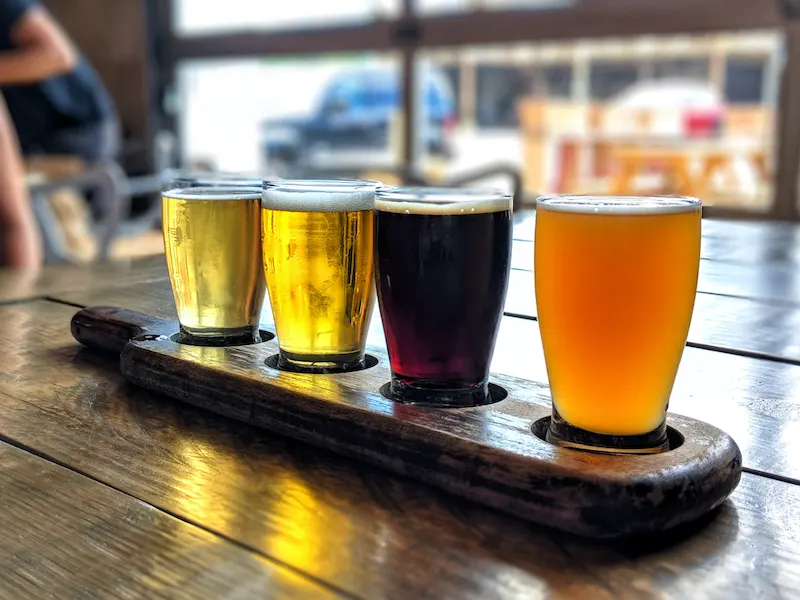 They really do live up to their claim to be the freshest taste in town – how much fresher can you get than a brewpub that makes its own beer in house? The brewery team uses the choicest 2-row malted barley and wheat, domestic and imported hops, and well a select strain of brewer's yeast in their state-of-the-art 3.5 barrel all-grain brewery to produce the freshest beer in town. This first stop on our list of things to do in Kokomo, Indiana, is at the top of the list for a reason!
Choo Choo Mcgoo's
There really is a train at the family-friendly Choo Choo Mcgoo's, which is one reason why it made the cut to appear on our list of things to do in Kokomo, Indiana. The family purchased it from an amusement park in Angola, Indiana, that closed in the early 2000s. The train itself was manufactured in Ohio by the 1950s and it originally pulled four passenger cars carrying fifty passengers per car. Visiting kids and adults are invited to ring the train's original bell as they come and go.
Choo Choo Mcgoo serves a little of everything, and their open for breakfast, lunch, and dinner every day of the week. If you stop by for breakfast, consider sampling their delicious biscuits and gravy, malted waffles, or steak and eggs. For lunch or dinner appetizers, you can order "train wheels" (onion rings), fried green tomatoes, or the appetizer sampler, just to name a few. Their entree list includes salads, steaks, seafood, chicken, pork chops, pasta, and sandwiches.
Martino's Italian Villa
Standing proudly on North Washington Street is Martino's Italian Villa, where guests can enjoy authentic Italian cuisine made fresh by this family-owned restaurant. The Martino family has owned and operated Kokomo restaurants since opening their doughnut shop in 1962. Since then they've expanded to other types of food and additional locations for various restaurants and now they have a number of businesses with three generations working side by side.
They have a small selection of beer, wine, and specialty cocktails available. But their main attraction is their homemade Italian food. If you're looking for a more casual, quick Italian meal, check out their pizzas, sandwiches, subs, and strombolis. But if you have more time to relax and enjoy the atmosphere, consider their chicken or eggplant parmigiana, rigatoni macaroni, baked lasagna, or filet mignon Italian style.
Taku Japanese Steakhouse
Tako Japanese Steakhouse is Kokomo's premier Japanese cuisine experience. And fair warning, it's priced accordingly. As in, there's fillet mignon on the kid's menu. Taku steak and sushi dishes are made with seasonal ingredients by specially trained sushi chefs. Does that sound delicious or what? Another fair warning, looking at their menu gallery will make you hungry (speaking from experience, over here!).
Some of their most popular sushi rolls include a kumo roll, eel dragon roll, American dream roll, Las Vegas roll, and a mango tango roll. Several types of sashimi are also available a la carte, including but not limited to scallop sashimi, octopus sashimi, salmon sashimi, red snapper sashimi, and wasabi tobiko sashimi. If sushi and sashimi aren't sounding like the thing for you today, they also offer pad Thai dishes, other noodle dishes, chicken curry, and bento boxes.
Windmill Grill
The Windmill Grill has been serving food farm-to-fork style since before it was cool, making it one of the healthiest restaurants on our list of things to do in Kokomo, Indiana. The owners grew their own garden-fresh eggplant, squash, sweet corn, tomatoes, peppers, watermelon, cantaloupe, honeydew, blueberries, peaches, apples, and pears to serve their customers along with honey from their beehives and eggs collected from their chickens mere hours before.
Now, after being in business for over twenty years, they also have a pumpkin patch big enough for you and the kids to go pumpkin picking yourself in the fall, and a Christmas tree farm that can boast actual locally-grown Christmas trees from true Kokomo soil. The Windmill Grill's American fare features items such as a giant pork tenderloin, a turkey burger, a mushroom and swiss burger, a farmhouse soup and salad combo, house-made meatloaf, southern fried catfish, smothered chicken, and fresh-baked lasagna.
Interesting Natural and Historical Sites in Kokomo, Indiana
Jackson Morrow Park and Walkway
The largest park in the Kokomo park system, Jackson Morrow Park is home to the Kirkendall Interpretive Nature Center, a large playground, several outdoor roofed picnic areas, a basketball court, sand volleyball courts, and a skatepark. The Kirkendall Interpretive Nature Center is available to the public free of charge and features several taxidermy animals as well as tanks with local species of snakes, fish, and frogs for children and adults alike to enjoy.
The walkway runs through the wooded areas of Jackson Morrow Park. This path is paved and stretches approximately 1.3 miles long. It splits off into a wood-chip path through a more thickly wooded area along Little Wildcat Creek. This trail is ideal for walkers, runners, bicyclists, dog-walkers, and rollerbladers.
Howard County Historical Society
The only historical location on our our list of things to do in Kokomo, IndianaBorn during the state-wide centennial celebration in 1916, the Howard County Historical Society proudly collects and preserves the history of Kokomo, Indiana, and the surrounding areas. The museum itself opened just a few years later in 1923. In 1971, Indiana University had left its classrooms in the historic Seilberg Mansion and the Howard County Historical Society took possession of the building to use as a larger home for the museum.
The parking lot entrance can be found on West Walnut Street behind the mansion, and parking there is free. The museum is open Tuesday through Sunday from 1:00 to 4:00 PM.
The Best Places to Shop 'Til You Drop in Kokomo, Indiana
Markland Mall
Markland Mall is home to many big-name stores for shoppers in search of clothes, shoes, glasses, jewelry, video games, sports items, and pet products, which makes it the top shopping stop on our list of things to do in Kokomo, Indiana. Several fast-food restaurants such as Arbys, McDonald's, Popeye's, and Starbucks, as well as sit-down dinner restaurants such as Chillies and Noble Romans can be found inside the mall as well.
Olde Thyme Mercantile LLC
This is another good shopping place on our list of things to do in Kokomo, Indiana. Home to the largest old-fashioned candy store in the Hoosier state, Olde Thyme Mercantile LLC carries tons of antique and vintage items, as well as locally hand-made goods. Things like candles, florals, home goods, one-of-a-kinds, childrens' toys, garden decor, novelty tee-shirts, souvenirs, and more are what you can expect to see here. You can find this shop inside of the Maplecrest Plaza.
Exciting Things for Kids to Do in Kokomo, Indiana
Sweet Peas Play Cafe
This is the best place for younger kids on our list of things to do in Kokomo, Indiana. Inspired by the owner's experience of a similar "play cafe" in South Korea, Sweet Peas Play Cafe is a peaceful, relaxing place where parents can truly relax and enjoy locally-sourced snacks and gourmet coffee while their children play nearby. The playspace is Kokomo-themed and built for kids to play, imagine, create and explore in a safe environment.
Unlike many similar businesses in the country, Sweet Peas isn't made with only pre-school-aged children in mind. Sweet Peas caters to all young ages from infant to pre-school, and up into elementary school-aged children. They also have special offerings for homeschool families in the area and a date night event once a week where parents can drop off their children to get some time alone.
Gravity Trampoline Park
The best place for families with slightly older children on our list of things to do in Kokomo, Indiana, the Gravity Trampoline Park is an excellent entertainment option in Kokomo, Indiana that will leave your kids nice and worn out after so much active playing. This 1800-square-foot facility features activities such as extreme dunk basketball, high-performance trampolines, free jump areas, battle beams, extreme dodgeball, climbing walls, a wipe-out zone, and the stairway to heaven.
Upstairs, there's a gravity cafe with several snacky foods and some drinks available for purchase. A viewing deck is also accessible from this floor for friends and family members to watch their party from above.
Kokomo Beach Family Aquatic Center
Kokomo Beach and Family Aquatic Center is a large pool facility with a lazy river, high-energy adult slides, smaller kiddie slides, a bathhouse, family changing rooms, and a kid's splash pad.
A concessions stand is available where visitors can purchase drinks and snacks while enjoying their day of swimming and water-related fun.
Time to Visit Kokomo!
Whether you're looking for something interesting to do on your own to burn extra time on a business trip, or things to keep your whole family engaged and excited, there's something for you on our list of things to do in Kokomo, Indiana. We hope you'll enjoy your time there and eat a baked brewer's roll from the Half Moon Restaurant and Brewery for us if you decide to stop by!
If you're looking for more things to do in the Kokomo, Indiana area, Lafayette, Indiana, is only an hour's drive away. Kids will love the zoo and space center there! And there's an art museum and a botanical gardens everyone is sure to enjoy visiting.