From the deep-rooted regional dishes of the South and Northeast to the modern fusion creations found across the nation, American cuisine offers a rich tapestry of tastes that appeal to a wide array of palates.
Whether you're a fan of classic comfort food or looking to explore the diverse flavors of the nation, there's always something new, delicious, and uniquely American to enjoy. And we're taking a deep dive into some of the most popular dishes here. Let's go!
---
Iconic American Dishes
Burgers
The burger is a classic American food staple, enjoyed all over the country. Made with a ground beef patty, it is typically served within a split bun and accompanied by an array of toppings, such as lettuce, tomato, onion, and cheese.
A variety of sauces are also popular, including ketchup, mustard, and mayonnaise. The versatility of the burger allows for endless customization, catering to diverse taste preferences.
Hot Dogs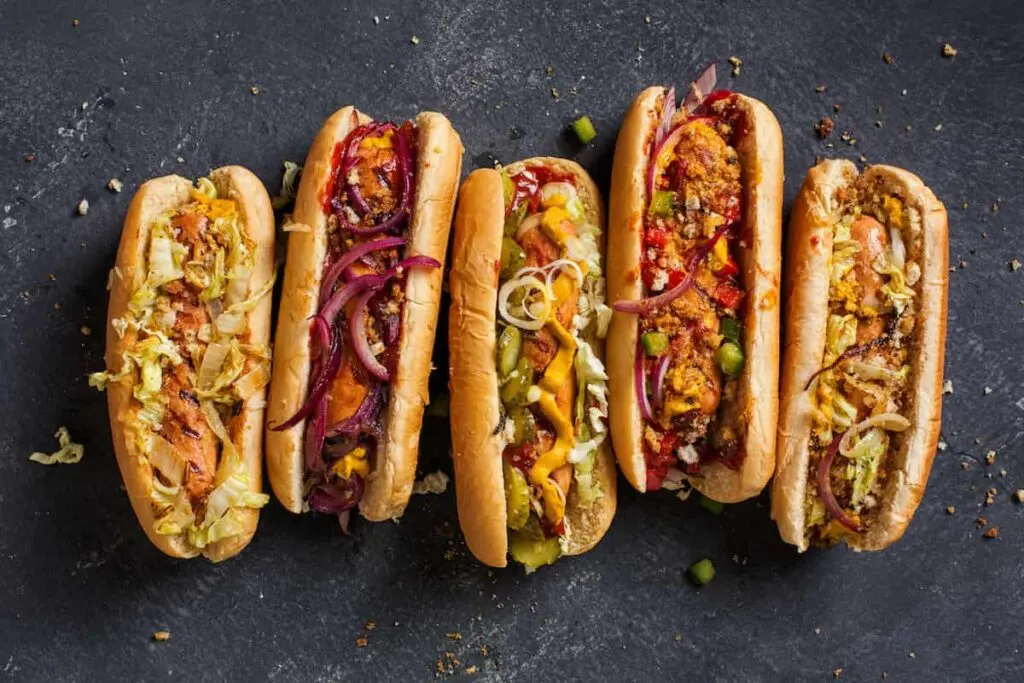 Another popular American dish is the hot dog. It consists of a cooked sausage, usually made from beef, pork, or a combination of both, served in a sliced bun.
Hot dogs are commonly garnished with diverse toppings, from ketchup, mustard, and onions to more regional variations like chili, coleslaw, and sauerkraut. You can find them being enjoyed at sporting events and backyard barbecues.
Pizza
American-style pizza, while originally inspired by its Italian counterpart, has cultivated its own identity. The most famous styles include the New York-style thin crust and the Chicago-style deep dish (though the Detroit-style is rapidly gaining in popularity!).
New York-style pizza boasts a thin, foldable crust with a simple tomato sauce, mozzarella cheese, and a modest selection of toppings. Chicago-style deep dish pizza is characterized by its thick, buttery crust, and generous layers of cheese, tomato sauce, and other ingredients.
Both pizza styles are loved throughout the country, and are often a divisive topic of passionate discussion!
Fried Chicken
Fried chicken is an American favorite, prominently consumed in the southern states but enjoyed nationwide. It involves marinating chicken pieces, typically coated in flour or breadcrumbs, and then deep-frying them until they reach a crispy, golden-brown exterior. The result is a flavorful and juicy dish often paired with side items like potatoes, greens, and biscuits.
Apple Pie
Regarded as a symbol of American culture, (ahem, ever heard the saying "As American as apple pie?"), apple pie is a popular dessert found across the country. This classic treat consists of a flaky pastry crust filled with sweet, spiced apples.
Baked to perfection, it is often served warm and paired with a scoop of vanilla ice cream. Celebrated for its comforting taste, apple pie is commonly enjoyed during holidays and family gatherings.
---
American Food Regional Specialties
Popular American foods can be classified into various regional specialties, each offering a distinct flavor and cultural history.
Southern
Southern cuisine is characterized by its comfort food appeal and use of locally grown ingredients. Some popular dishes include:
Fried Chicken
Shrimp and Grits
Biscuits and Gravy
Pecan Pie
These rich and savory dishes are staples in the South, making it a popular American food destination for both locals and tourists.
Southwestern
The Southwestern region of the United States boasts a unique blend of flavors derived from Native American, Mexican, and Spanish influences. Some distinctive dishes are:
Huevos Rancheros
Green Chile Stew
Tamales
Navajo Tacos
Spices and ingredients like chiles, cumin, and cilantro are common to this region, producing flavorful and satisfying American dishes.
New England
New England cuisine is heavily influenced by its coastal location, utilizing fresh seafood and locally grown produce. Popular American dishes found here are:
Clam Chowder
Lobster Rolls
Maple Syrup
Apple Cider Doughnuts
These culinary delights showcase the flavors and traditions of the New England region, reflecting its rich history and natural resources.
Pacific Northwest
The Pacific Northwest is known for its affinity for fresh, organic produce, seafood, and locally sourced ingredients. Some key dishes of this region include:
Salmon
Dungeness Crab
Wild Berries
Marionberry Pie
These dishes highlight the abundant natural resources of the Pacific Northwest and its focus on sustainability and quality ingredients.
Midwest
Midwestern cuisine is known for hearty, home-style meals and diverse culinary influences. Popular dishes to be found in this region include:
Chicago-Style Deep Dish Pizza
Detroit-Style Coney Dogs
Wisconsin Cheese Curds
St. Louis Gooey Butter Cake
These dishes are a testament to the fusion of different cultural influences and regional traditions in Midwestern American cuisine.
---
Popular American Snacks
Snacking is an integral part of American food culture, and there is a wide variety of popular snacks to choose from. Though you can't go wrong with any of the truly American foods on this list – many people throughout the country would insist that their favorite snack is the best. So give these a try and decide for yourself!
Potato Chips
Potato chips are a favorite snack for many Americans. They come in various brands and flavors, catering to different tastes and preferences. Some of the top-selling brands in the United States include Lay's, Ruffles, and Pringles.
While the best part about potato chips is they can be enjoyed on their own, there is no shortage of creative mash-ups from Midwest "walking tacos" to Taco Bell's Doritos Locos Taco.
Pretzels
Pretzels are another popular American food snack, appreciated for their unique twist shape and salty flavor. They are available in various forms, such as hard, crunchy pretzels or the softer, more doughy variety.
Both hard and soft pretzels are often enjoyed with different dips, like mustard or cheese sauce. Auntie Anne's, Snyders of Hanover, and Rold Gold are some of the well-known pretzel brands in the United States.
Popcorn
No American movie night is complete without a bowl of popcorn. This popular snack, typically made from specially dried corn kernels, is low in calories and high in fiber. Popcorn can be enjoyed in numerous flavors, ranging from classic plain, buttered, or salted, to more adventurous options like caramel, kettle corn, and cheese.
Microwave popcorn and pre-popped brands, like Pop Secret and Orville Redenbacher's, are widely available in grocery stores across the country. And you should never pass up an opportunity to drizzle your own butter on a bag of hot popcorn at the movie theater!
Ice Cream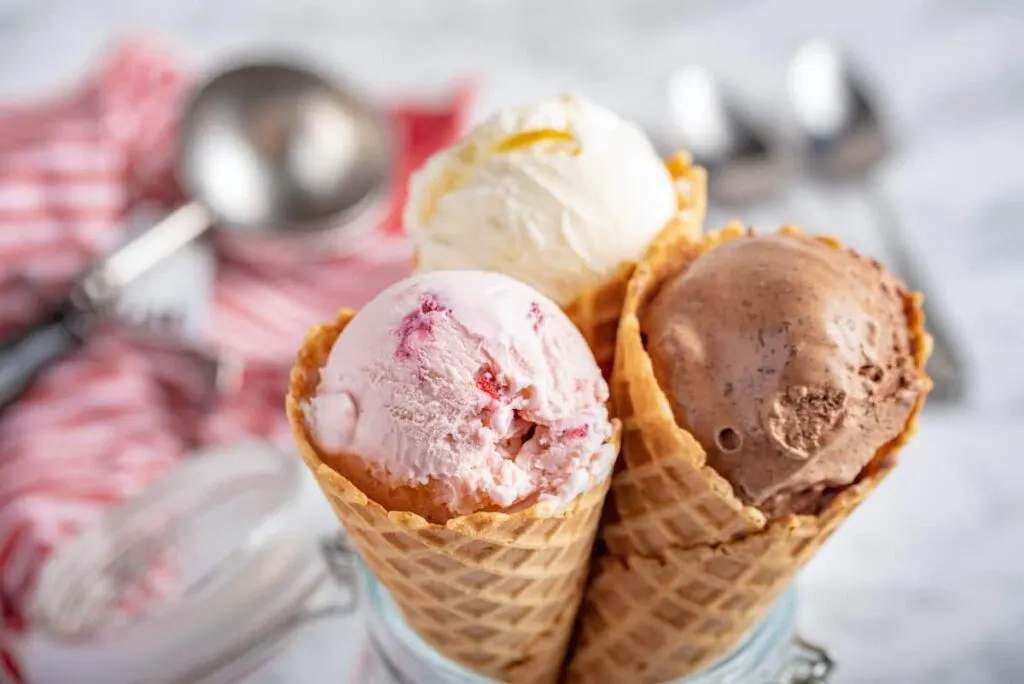 Ice cream is a beloved American snack and dessert, enjoyed by many in various flavors and forms. From traditional scoops in cones or cups to ice cream sandwiches and bars on sticks, there's an ice cream treat for every preference.
Some of the most popular brands in the United States include Ben & Jerry's, Haagen-Dazs, and Breyers. Classic flavors like vanilla, chocolate, and strawberry are all-time favorites, but innovative and limited-edition flavors are often introduced to entice ice cream lovers.
More recent years have seen even greater variety as brand produce tasty ice cream alternatives made from everything from soy and coconut to almond milk. These innovations mean this American food favorite can truly be enjoyed by everyone.
---
A Delicious Culinary Spectrum
Whether dining out or preparing meals at home, Americans continue to enjoy these popular dishes for their taste, convenience, and nostalgic appeal. Try one of more of these American foods for yourself!
If these iconic dishes have whet your appetite for more Life in the USA, go take a look inside the world's largest McDonalds!