Jeffersonville, Indiana, came into existence as a settlement around Fort Finney sometime after 1786. It was officially named Jeffersonville in 1801, after Thomas Jefferson the same year he took office. Now a bustling center of activity, Jeffersonville boasts tons of amazing restaurants, one of the oldest firefighter museums in the country, and a long and beautiful greenway spanning three cities.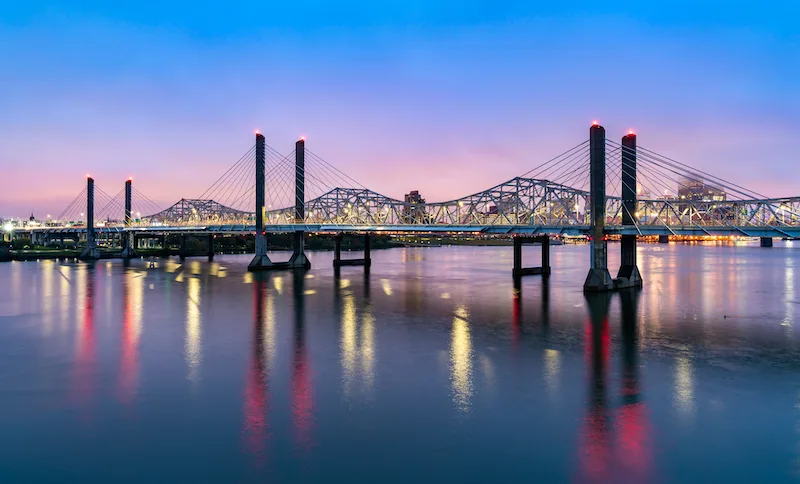 And if you're looking for some energetic – and potentially messy – things to do in Jeffersonville, Indiana, with friends and/or family, look no further than Jeffersonville's Xtremenasium Trampoline Park, the Splash and Splatter Room, the Smash Room, and Escape Room party and individual experiences. Find out all you need to know about the best things to do in Jeffersonville here.
The Best Restaurants in Jeffersonville, Indiana
1. Cast Iron Steakhouse
Since opening in April of 2011, the Cast Iron Steakhouse has prided itself on its clean, classy atmosphere, which had landed it a spot at the top of our list of things to do in Jeffersonville, Indiana. It may be a steakhouse, but you won't find any peanuts on the floor or blaring country music. Every item on the menu is made from scratch in-house – from salad dressings to scrumptious desserts.
Certified Angus beef – aged 21-28 days to perfection – is what you will find at the Cast Iron Steakhouse. Their cast-iron steak queso features this delicious aged Angus, and you can of course also appreciate the perfection in one of many appetizers such as cast iron filet, New York strip, Delmonico, Ribeye, and surf and turf, just to name a few. They also offer sandwiches, salads, seafood, and pasta.
2. Harbor and Hops
If you're a beer lover, then one of the best things to do in Jeffersonville, Indiana, is to visit Harbor and Hops. The "Harbor" in this restaurant's name doesn't actually have anything to do with seafood or being near a body of water. In this context, the word refers to the restaurant owners' desire to be a safe harbor for friends and families to enjoy a comfortable, casual dining environment. Several outdoor firepits welcome guests of all ages and backgrounds to enjoy dining outside, and the open and friendly bar is just as welcoming.
Harbor and Hops carries the largest selection of craft beers in all of Southern Indiana – over 100 selections on a rotating list – as well as a number of wines and cocktails. A variety of comforting bar foods are available on the menu, including items like fried pickles, nachos, pretzels, chicken tenders, clubs, wraps, burgers, burritos, tacos, and even a few salad options. Stop by Harbor and Hops for some amazing beer and a friendly atmosphere!
3. Cluckers
Calling itself "a chicken restaurant," Cluckers sits on beautiful riverfront property in Jeffersonville, Indiana, and serves only chicken-related menu items. The owners of cluckers grew up in a small town where there wasn't much more than a gas station and a huge chicken farm, and since then, they've developed a deep appreciation for delicious, local chicken that they want to share with the world.
You can order just about anything from Cluckers and there will be a chicken version of it available. Everything from chicken wings to chicken tacos, and from chicken tenders to chicken parm. There are a couple of burgers and a shrimp taco if chicken really isn't your thing. And if you're trying to stick to healthier items, consider their hand-breaded asparagus or cauliflower.
4. Parlour Pizza
What more can you ask for than good food, good beer, and a dog-friendly patio? Parlour Pizza is Jeffersonville's prime pizza joint, also serving a selection of craft beers and – you guessed it – serving pooches who bring their owners to the dog-friendly patio.
All of Parlour's pizzas are 10-inch and usually thick-crust. You can choose from alfredo, BBQ chicken, big four meat, cheese, Hawaiian, and many more. You can even build your own pizza with either a red sauce base or an olive oil base, mozzarella cheese, and your choice of unlimited toppings. If you're not in the mood for pizza, don't worry, because they also offer sandwiches, salads, and pasta.
5. Puerto Vallarta Mexican Restaurant
Located at 125 Quartermaster Court, Puerto Vallarta Mexican Restaurant is commonly known to have the best Mexican cuisine in town, which has landed it a place on our list of things to do in Jeffersonville, Indiana. Start your meal with cheese dip and chips, guacamole, or chili con carne. For your entre, enjoy sizzling steak or chicken fajitas, a burrito loco, or pollo fundito, just to name a few.
Some seafood platters are also available here, as well as a full kid's menu for your children to choose from.
Interesting Natural and Historical Sites in Jeffersonville, Indiana
6. Perrin Family Park
With a 1.25-mile walking trail running through and around it, a lake, and a waterfowl feeding station, the Perrin Family Park is a great place for wildlife observation and enjoying the fresh air. It's also a great place for kids, with a full acre of playground equipment and sandboxes to explore and play in. The nearby Cathrine's Teddy Bear Place is home to more than 650 teddy bears and is a fun experience for children and adults alike.
The land was a dairy farm from 1943 on for 31 years. To preserve the land and give something back to the community, the Perrins established a nature foundation and a trust to maintain it without tapping into the public funds. The history and natural beauty of this location is what earned it a spot on our list of things to do in Jeffersonville, Indiana.
7. Ohio River Greenway
In 1994, three southern Indiana cities – Clarksville, Jeffersonville, and New Albany – had a vision to connect their communities through waterfront properties along the Ohio River. Over the best ~20 years, they've completed 90% of the project. Now, a 7.5-mile-long trail runs through these areas, creating a peaceful and tranquil place for walkers, joggers, and bicyclists to enjoy.
So another one of the many great things to do in Jeffersonville, Indiana, is the Ohio River Greenway. It passes many beautiful historic homes and family-owned restaurants that are worth taking a look at or stopping in for a bite. There's also a marina with boats that greenway users are welcome to stroll along to see the sites. General users are protected by rules restricting motorized vehicles and equestrians on this path.
8. Clark County Indiana Museum
Founded in 2008, the Clark County Indiana Museum's mission is to "collect, preserve display and interpret artifacts pertaining to the history of Clark County." They have a collection ranging from Native American artifacts to present-day memorabilia including family papers, photograph collections, early maps, clothing, Edwardian toys, vehicles, artworks, and archaeological artifacts of Clark County.
9. Vintage Fire Museum
This is one of the most interesting places on our list of things to do in Jeffersonville, Indiana, especially if you're interested in local history. The proud owners of firefighting vehicles and artifacts dating as far back as 1756, the Vintage Fire Museum states that it's mission is to "To collect, preserve, and display firefighting equipment in a museum of national significance for the education of school children and adults." They also offer a number of discount rates for groups of adults, teens, and children.
Exciting Things for Kids to Do in Jeffersonville, Indiana
10. Clarksville Strike & Spare
One of the best things to do in Jeffersonville, Indiana, with your children, is to visit the bowling alley. Combining the best of bowling, food, drink, and entertainment, Clarksville Strike and Spare makes clean and fun family entertainment its top priority. With extended hours and massive discounts in the summer in particular, it's a great place to check out if you're in town in the warm weather months.
11. Xtremenasium Trampoline Park
At the Xtremenasium Trampoline Park, everyone is a ninja, which is why this exciting place has earned a spot on our list of things to do in Jeffersonville, Indiana. Jumping, spinning, and sharing lots of laughs is how kids spend their time here. Booking is available for individuals, small groups, and large parties depending on your needs. A recent offering is night booking, where a group or party and rent space late at night for an extra fun experience.
12. Big 4 Escape and Smash
For families with older children, consider visiting the Big 4 Escape and Smash, Jeffersonville's escape room experience, smash room facility, and splash-and-splatter room. The escape rooms, also called breakout rooms, are designed to test your ability to work as a team to solve puzzles and figure out clues. Escape rooms include The Bunker, The Witch's Cabin, and the Big 4 Heist.
And last but not least, the Splash and Splatter Room. Choose between regular paint or neon paint, grab a canvas and protective poncho and glasses each, and get ready for the Splash and Splatter Experience. Throw and spray paint on your canvas, the floor, the walls, yourself, and most importantly, your friends and family for half an hour, and then take home your canvas and all the fun memories.
Time to Visit Jeffersonville!
Now that you know everything you need to about the hottest tourist spots in Jeffersonville, Indiana, where should you start? Why not grab a bite to eat at Cluckers or enjoy a sit-down dinner at the Cast Iron Steakhouse and chat with your friends and/or family about where to go next? You can plan your whole trip from this list if you'd like to, whether your travel partners are young or old.
While you're visiting southern Indiana, once you've finished exploring all of the exciting things to do in Jeffersonville, Indiana, consider checking out all the exciting things to do in Columbus, Indiana. It's only an hour's drive north from Jeffersonville and has a lot of attractions for people of all ages.