You won't need the exploratory skills of Lewis and Clark to find great beer in Omaha, but if you want to explore all of its surprisingly numerous breweries, you'll need to plan for a long voyage!
For a small city, Omaha boasts a considerable number of quality breweries. The focus of the beer culture tends to be on traditional European, but there are plenty of different options regardless of what your preferences are. You've come to the right place if you're looking for the best Omaha breweries.
1. Farnam House Brewing Company
First on our list of best breweries in Omaha, Farnam House Brewery in Midtown Omaha occupies the sire of an old fur vault. With a lineup of farmhouse ales, lagers, and stouts complemented by some creative sours, you'll have some tough decisions to make! The pub menu is an innovative mix of standard fare and creativity, featuring poutine and a "fauxlafel" taco.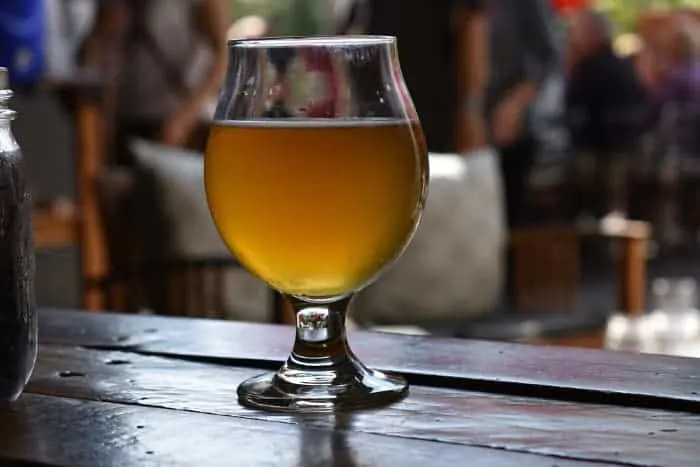 Farnam's specialty is in well-traveled styles from the premiere beer-producing regions of Europe, including Belgium, France, and Germany. Don't miss their "Sugar Plum Fairy" amber farmhouse ale with flavors of cinnamon and plum!
2. Thunderhead Brewing
Based in Kearney, Thunderhead Brewing also has two taprooms in Omaha, and they both serve Thunderhead's full range of craft beers. The Omaha locations are beer-only venues, but visitors are encouraged to bring their own food and enjoy warm, rustic indoor and outdoor seating.
Thunderhead has a broad selection of traditional-style beers, including pilsners, lagers, a peat-smoked porter, their famous lavender Kolsch, and even a jalapeno ale. Despite being a traditional brewery that only serves beer and no food, Thunderhead is proud to be both kid and dog friendly, so feel free to bring the whole family! This welcoming vibe is just one reason they're included as a best Omaha brewery.
3. Upstream Brewing Co
Upstream is Omaha's oldest brewpub, located in the spacious Old Market. The food menu is an interesting collection of pub themes and more eclectic items such as battered cheese curds and olive tapenade burrata. Fresh seafood and locally-sourced ingredients are a great complement to a solid beer menu. Food isn't the only reason they're on our list of best Omaha breweries — Upstream boasts a regular lineup of ales and IPAs and a barrel-aged series.
In addition to their craft beer, Upstream also has an extensive list of over fifty wine options, twenty cocktails, etc. Don't miss out on the Dundee Export Scotch Ale, a rich blend of fruit and chocolate flavors with a hint of smoke.
4. Zipline Brewing Co
Zipline Brewing has two locations in Omaha, one of them being a taproom located in a downtown shipping container. They're proud to call themselves Omaha's Best Brewery and feature an offering of seasonal and year-round beers. They feature several IPAs, Kolsches, stouts, and porters on the year-round list. They also include a barrel-aged Russian Imperial Stout named the Calavera.
Zipline's West Omaha Beer Lounge is built for comfort, with lounge chairs, a fireplace, and a lending library, for one of the most relaxing and unique beer-drinking experiences you'll ever have. Don't miss their "Dear Old Nebraska Brew, a crisp and refreshing American lager designed by University of Nebraska alumni.
5. Brickway Brewery and Distillery
Doubling as a taproom and distillery, Brickway Brewery is located in the Old Market district of Omaha. Brickway allows you to tour their brewery and distillery before partaking in the delicious drinks they produce. Brickway offers many homegrown brews, spirits, and cocktails, including three kinds of single malt whiskey.
Unique for a brewpub, Brickway is also a full-service bar and a taproom. Given that they've developed more than thirty beers, you might consider a flight to get a sampling of some of your new favorites. Make sure to try the award-winning Jalapeno-Pineapple Pils — you'll see why this is one of the best breweries in Omaha!
6. Scriptown Brewing Co
Next in our best Omaha breweries is Scriptown Brewing. Located in a rustic taproom in Omaha's Blackstone District, this brewery calls itself a "classic, beer-driven microbrewery" focusing on traditional beer styles. Their Czech dark beer ("Big Jim Pivo" ), made with Saaz hops, is an example of Scriptown's commitment to its identity.
Despite hewing to tradition, their menu reveals a talent for successful experimentation in their homey lager with coriander, "Ups and Downs" beer-and-coffee blends, and a "Hazy Daisy" New England IPA. Be sure to try their "Nut Job" American-style brown ale, which is a classic malt-forward brew with a nutty, rich flavor.
7. Benson Brewery
Benson Brewery, appropriately located in the Benson neighborhood, is a microbrewery with gastro-pub style food. They're known as much for their delicious meals, which include classic poutine, burgers, and soft pretzels with beer cheese, as they are for their beer.
However, don't be fooled because Benson's also has some of the most uniquely named and tasteful beers in Nebraska. They offer a cream ale, a nitro stout, a variety of IPAs and sours, and classic ales and stouts. Don't miss the Velveteen, a smooth and creamy milk stout, or its coffee cousin, the Nitro Velveteen. The combination of great beer with equally great food makes this a shoe-in as one of the best Omaha breweries.
8. Infusion Brewing Co.
Infusion is also located in Omaha's Benson neighborhood and doubles as a taproom and brewery in the old Olson's Meat Market building. They feature a continuous rotation of over ten beers, including flagship flavors and seasonal specials, flagship year-round beers, and seasonal flavors.
Infusion offers several different options, including an Irish red, a Mexican Cerveza lagar, Pils, several IPAs, and their famous "Glazed Donut Milk Stout." No matter what type of beer you try at Infusion's two locations, you're guaranteed to want to go back for more at one of these best breweries in Omaha.
9. Jukes Ale Works
One of the newer breweries in the metro area, our next best brewery in Omaha, Jukes Ale House, is located in Elkhorn, to the west of the city. Jukes' core beers include a grisette, stout, cream ale, Saison, and two IPAs.
Their pub menu features some creative items such as salted caramel wings and tater tot poutine in addition to more traditional pub fare. Make sure to try Jukes' take on festbier, a dark and toasty brew named the Everfest Marzen.
10. Kros Strain Brewing Co
Kros Strain Brewing Company is another brewery that opened its doors outside of Omaha but decided to open a second location within the city. They're located inside the historic Millworks Commons near downtown Omaha and offer some of the best beer selections in the town.
Kros is a craft brewery that's constantly trying new recipes and concoctions and pushing the limits of brewing. Whether you're looking for a Mexican lager, a Czech pilsner, a farmhouse ale Saison, or any other number of lagers, Kros is the place for you. They also offer a rotating list of New England IPAs if that's more your speed.
11. Lazlo's Brewery and Grill and Empryrean Brewing Co
Few names in Omaha and throughout Nebraska are synonymous with great food and beer in the way that Lazlo's is. Lazlo's Brewery and Grill and Empyrean Brewing Company's original location was started in 1991, and they've gone on to open several new branches, including the one in West Omaha. However, no matter which one you go to, the quality of food, drinks, and service is the same.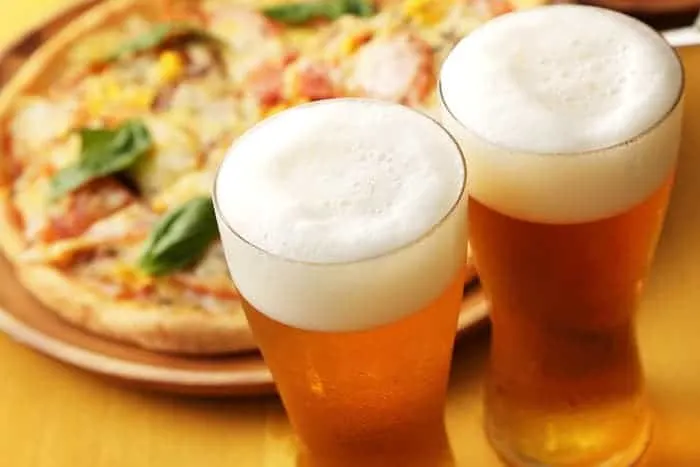 Their food menu encompasses everything from burgers, starters, chicken, and seafood, to ribs, steaks, and other delights. Once you're full, you can wash it down with some of the best apple crisp in the state.
On the beer side of things, Lazlo's offers numerous porters, IPAs, stouts, and ales. Make sure to try the Collapsar Oatmeal Stout or the Long Route Peanut Butter Stout. You'll know why this is one of the best Omaha breweries.
12. Nebraska Brewing Co
The Nebraska Brewing Company was formed in 2007, and they've been taking the state by storm ever since. No trip to the Omaha area is complete for a beer lover without making a visit to the Nebraska Brewing Co. They have established themselves as one of the premier craft breweries in the Midwest and are looking to continue that trend. Needless to say, they rank as one of the best breweries in Omaha.
The Nebraska Brewing Company has built their namesake and legacy on creating beer that tastes good and has a creative flair. While the rest of the beer world continues to expand and grow, this company thrives on the competition and remains at the top of the list. They offer a rotating list of over sixty different beers, including seasonal favorites and the Core 5.
They also have a line of seltzers and offer scheduled tours of their brewery. They continue to bring the community together with weekly events and daily specials. No matter what you're thirsty for, the Nebraska Brewing Company will have it.
13. Vis Major Brewing Co
Our final entry on our list of the best Omaha breweries, Vis Major Brewing Company was founded by the husband and wife duo of Tom and Lindsey Clements. Their goal was to bring all of Omaha together for some of the finest beer, wine, and food in the state. They offer a diverse menu of year-round, seasonal, and specialty beers—and an inviting brew hall to match.
Their food specialty is pizza, and their drink specialty would have to be any of the dozen-plus wines or cocktails that they offer. However, let's not get distracted and forget about the beer selection that Vis Major has. Their goal is diversity, and their beer menu is a reflection of that goal.
They offer a raspberry Saison, blueberry ale, a German Hefeweizen, several IPAs, a barrel-aged tart cherry ale, a sour, a gose, and more! No matter what you're thirsty for, Vis Major likely has it on tap.
Pay a Visit to the Best Omaha Breweries
No matter where you are in Omaha or what kind of beer you're in the mood for, there's a brewery for you. Omaha is a great example of a city that may be small in size and stature but that takes great pride in its breweries and beer selection. By following this list and picking one of the locations on it, you're guaranteed to be trying one of the best Omaha breweries.