Trees are a fantastic way for Indiana homeowners to express their unique personalities while passing on a living tradition to generations to come. However, not every tree is suitable for every environment, and some require a lot more care and may not hold up to weather conditions found in Indiana.
This is why we've put together a list of the 25 best trees to plant in Indiana. These trees range in shape, size, color, and unique features. There's bound to be a tree that speaks to your personal tastes in this list.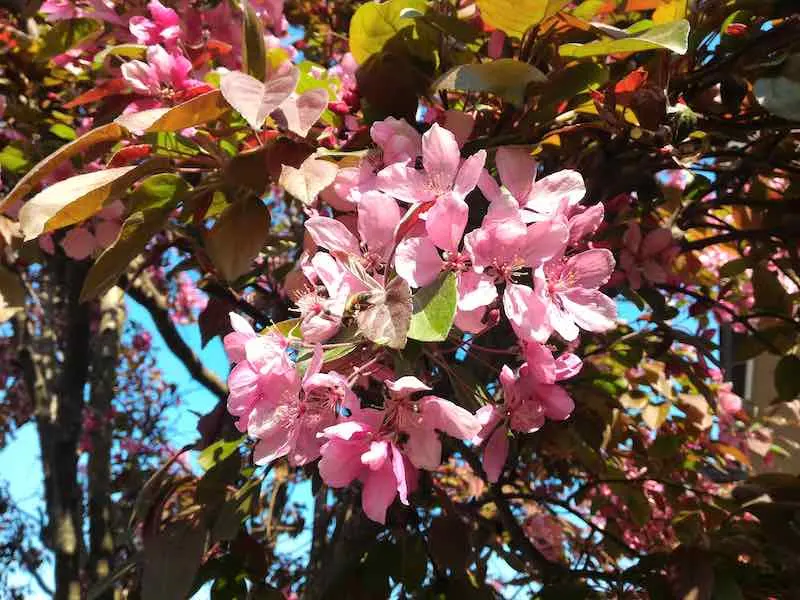 1. Prairiefire Crabapple Tree
As one of the best trees to plant in Indiana, the Prairiefire Crabapple tree is a real showstopper! Local pollinators love their blossoms, and birds enjoy their fruit. In the spring, they feature lovely dark pink-reddish flowers, which tend to last longer than other varieties of tree flowers. Then in late spring, the lightly scented flowers develop purple-reddish outer petals with brilliant bright white centers. The dark green leaves have a leathery texture.
2. Pagoda Dogwood
The gorgeous Pagoda Dogwood features scaffolding branches and architecture that's very ornamental. They have a reputation for their magnificent spring blooms of white flowers followed by a purple color in the fall, all with blue fruits.
3. Japanese Maple
Speaking of lovely ornamental trees, the Japanese Maple is by far one of the most beautiful, featuring foliage that turns shades of green, red, purple, and brown during the fall. They are ideal for smaller yards as they don't require as much space as other trees.
4. Serviceberry
Serviceberry trees are another one of the best trees to plant in Indiana. These four-season beauties feature edible berries, showy spring flowers, and lovely fall foliage with ornamental gray bark. This super adaptable tree does not suffer from insect issues or serious diseases. In the summer, you can enjoy their delicious dark blue fruits while admiring their brilliant red foliage in the fall.
5. Seven-Son Flower
The Seven-Son Flower features attractive peeling bark, seed heads, fruit, and white, pleasantly fragrant flowers that, when mature, turn a lovely pinkish-red come fall. On top of its breathtaking beauty, this tree's drought-resistant and has no severe disease or insect issues. They can also thrive in various soil types in part shade or full sun.
6. Silver Linden
The super-tough Silver Linden is one of the brightest stars in the linden family. Although lindens have a reputation for durability, the Silver Linden is even more drought and heat resistant than its cousins, plus insects such as Japanese beetles and others tend to leave them alone. It can also survive nearly any ice storm.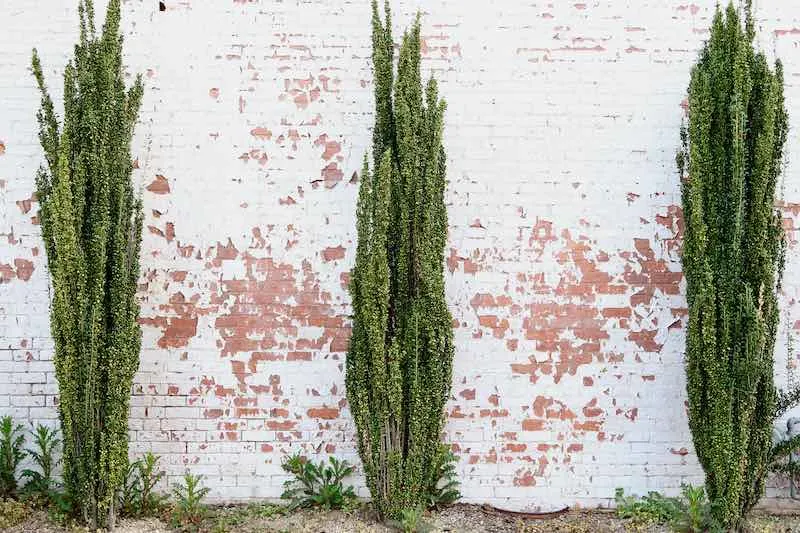 7. Sky Pencil Holly
The Sky Pencil Holly is a brilliant broadleaf evergreen with a narrow columnar shape and densely-packed green leaves. It grows up to 10 feet tall with a spread of about two feet. It's an excellent choice for small spaces, and it also makes for the ideal privacy screen or hedge.
8. 'Cully' Heritage River Birch
If you're looking for a tree with size, the "Cully" Heritage River Birch, related to the native river birch, features brilliant exfoliating creamy white and cinnamon bark colors. One of the best trees to plant in Indiana, it's a beautiful multi-stem tree that's highly resistant to drought and disease, and you can grow them in light shade or full sun. And these fast-growing trees can reach heights of up to 60 feet!
9. Bald Cypress
The Bald Cypress is a southern tree found in Southeastern U.S. swampland. However, this super-durable tree can survive brutal northern winters, enduring temperatures as low as -30 degrees Fahrenheit. It's also not picky about soil conditions, whether they are urban clay, dry, or soil in standing water. They can grow up to 70 feet tall with a 40-foot spread and feature feathery needles which turn a soothing rusty orange in the fall.
10. Accolade Elm
For many, concern over Dutch elm disease has made them wary about ever planting another elm. Thankfully, the Accolade Elm is a hybrid that features outstanding insect and disease resistance, is cold-hardy, drought-tolerant, and can thrive in even urban landscapes. It features the vase shape of the Classic American elm and grows to about 60 feet with up to a 60-foot spread.
11. Northern Red Oak
The Northern Red Oak is one of the fastest-growing in the oak family. Plus, it's not as susceptible to chlorosis as its cousin, the pin oak, and makes for a lovely shade tree for more extensive lawns able to accommodate its 60-80 foot height and 40-60-foot spread. This variety also tolerates different soil types and pollution. And, in the fall, you'll be treated to a dazzling brown, orange, and red foliage.
12. Swamp White Oak
If you live in a wet area that would drown many trees, the Swamp White Oak might be what you're looking for in a tree. It's one of the best trees to plant in Indiana, able to withstand heavy clay soil and drought conditions. These trees reach between 50-and 60 feet and feature a rounded head that's almost as wide as the tree's tall. They feature brilliant purple-reddish or yellow leaves in the fall with a flaky, light brown bark that adds to their appeal.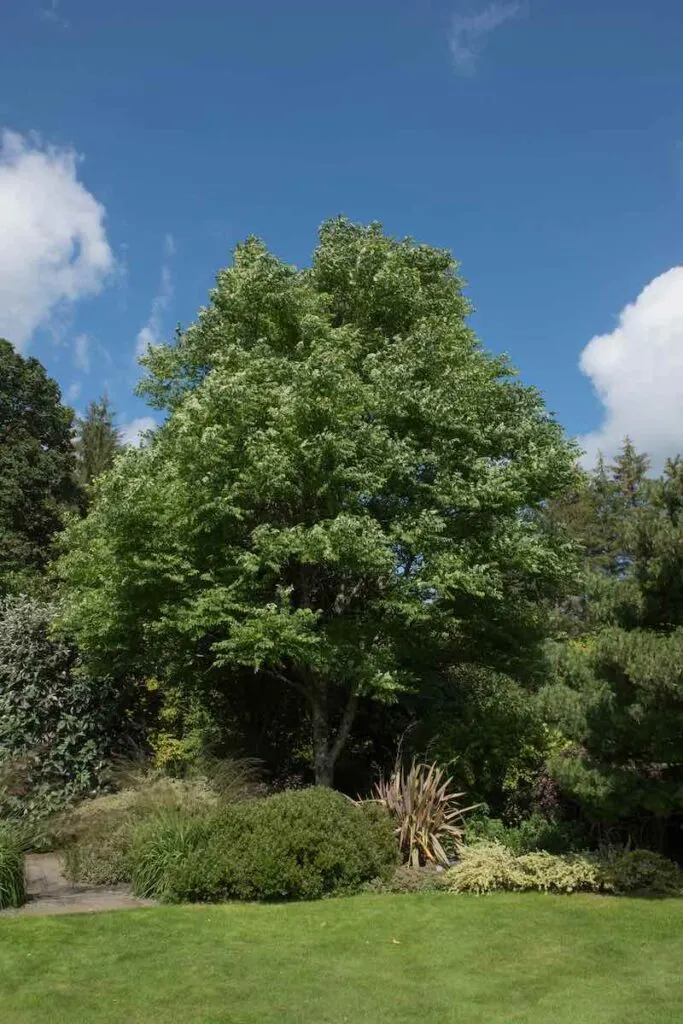 13. Kentucky Coffee Tree
The fascinating Kentucky Coffee Tree is a bit of an "ugly duckling" when you first plant it. However, when it reaches maturity, the tree features a soft-textured bark in the summer. It's also resistant to insects and diseases and grows between 60-75 feet tall with a 40-50 foot spread. This unique tree tolerates limestone oils, urban environments, and moist or dry settings.
14. Concolor Fir
Highly valued for their strong fragrance and soft needles, Concolor Fir is an excellent choice for any Indiana landscape. In addition to providing privacy, the evergreen also attracts birds. Plus, it's cold, hardy, and features beautiful blue-silvery leaves with a columnar shape reaching up to 50-feet tall with a 15-foot spread.
15. Hackberry
The Hackberry Tree is a mid-western native designed to handle harsh winds and freezing temperatures. It's well-suited for planting in Indiana's rural areas, the plains, and urban spaces. The Hackberry grows 40-70 feet and has a 50-foot spread with a broad crown and arching branches, similar to American elms.
16. Bitternut Hickory
The Bitternut Hickory is among the best trees to plant in Indiana and the fastest-growing in the hickory family. It features yellow leaf buds and bright yellow foliage in the fall and is considered the best hickories. This tree grows between 60-and 75 feet high with a 40-50 foot spread.
17. Black Gum
The Black Gum tree's glossy foliage starts turning brilliant orange, yellow, and scarlet shades in the fall. It has a pyramidal shape and grows between 30-and 50 feet tall. This slower-growing tree is also called Black Tupelo or Sour Gum and spreads up to 30-feet.
18. Dwarf Chinkapin Oak
When most people think of oak trees, they imagine strong specimens that tower into the sky. However, the Dwarf Chinkapin Oak is a beautiful miniature version that grows only 15 feet high. This small white oak sets small acorns within 3-5 years, and in the fall, it offers striking orange and red colors.
19. American Hornbeam
The American Hornbeam is a slow-growing variety that can reach an equal height and spread ranging from 20-30 feet. As one of the best trees to plant in Indiana, it features delightful red and yellow fall colors and doesn't have any severe disease or insect issues. It's also a great understory tree that can thrive in partial sun or shade.
20. Korean Fir
The Korean Fir is prized for its ornamental and pyramidal shape. The 'Horstmann's Silberlocke' variety has green needles marked with white undersides with an upward curvature that produces a flocked look. Another type called the "Aurea" type features new growth that fades from a golden color to a lovely light green. Both varieties grow up to 30 feet tall with a 20-foot spread.
21. Chinkapin Oak
The Chinkapin Oak is the bigger cousin of the dwarf variety we introduced earlier, and it grows between 50 and 60 feet tall with a nearly equal spread. This tree likes deep bottomland soils, although it is highly adaptable, and it's an excellent addition for larger yards.
22. Japanese Lilac
The Japanese Lilac is an ideal tree for small spaces, and you can also control its size through routine maintenance and pruning. It's also the perfect accent for bushes, flowers, shrubs, or anything you grow. Plus, the fragrance of their lovely blossoms is simply magical.
23. Jane Magnolia
As one of the best trees to plant in Indiana, the Jane Magnolia is a small hybrid that tops out at around 15 feet tall. It's also a bit of a slow grower that forms a balanced shape. And it has beautiful lightly scented purple-reddish flowers with white centers that bloom in late spring.
24. Chestnut
The classic Chesnut tree thrives in humidity and heat and grows over 40 feet tall to throw out some outstanding cool shade for your yard. They produce up to 100 pounds of delicious nuts to roast on the fire!
25. Krauter Vesuvius Plum
The Krauter Vesuvius Plum, also called Chery Plum trees, is a fast grower that reaches heights of 20 feet. They produce blossoms with a blush pink color that nearly overflow from their branches in the spring. And the leaves are a dark purple-reddish shade that contrasts its flowers beautifully.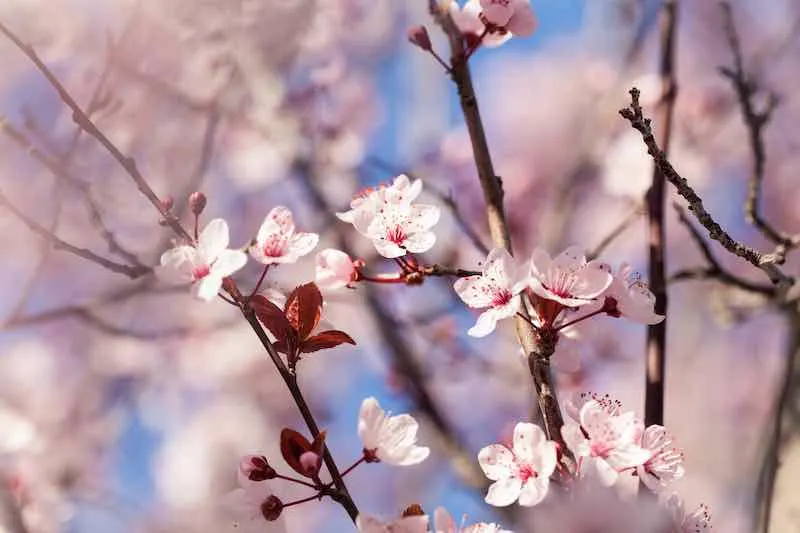 Best Trees to Plant in Indiana: Conclusion
As you've seen, the best trees to plant in Indiana consist of a wide selection of unique plants, with quite a few that are guaranteed to deliver everything you could want in a lovely tree for your space. Please remember to give your new tree plenty of TLC, and it will certainly make you proud!