Georgia offers a world-class bass fishery from the northern border down to the southern border with a collection of man-made and natural lakes that stay nice and warm for most of the year. Two of the lakes in this article sit on either border, and they are both top-tier fisheries.
Georgia waters provide access to some of the world's widest-ranging bass species. Rare bass like the shoal can even be fished for in multiple bodies of water. We have listed the best bass fishing in Georgia so you know where to find these underwater prizes!
In this article, we will look at the species of bass that can be caught in Georgia and the very best lakes and rivers to target them.
Types of Bass to Catch in Georgia
The beautiful Georgia waters are home to numerous species of bass. The most common hard-hitting largemouth bass, the tenacious smallmouth bass, and even the tasty redeye bass. Let's look at the five species of bass to catch in Georgia.
Largemouth Bass
If you are going to have a best bass fishing in Georgia list you better believe the largemouth bass is on the top! The largemouth bass is the lunker that lies in ponds all over the state. With their large jaws, they are capable of swallowing up prey that is even close to their own size. They grow massive with a sitting 22lb state record bass.
The Largemouth bass is the most popular bass in the state.
Smallmouth Bass
The smallmouth bass is the popular kid, but the smallmouth is the tenacious warrior of the bass family that can thrive in mountain streams just as well as it can in ponds and lakes. With their bronze markings, these beautiful fish are real prizes in Georgia waters.
Spotted Bass
The spotted bass is a species of the black bass family that was born in the Mississippi River. It looks like largemouth bass, but the markings above the lateral line give it away. Spotted bass fish are great fun, and to the untrained eye, they can even be confused for largemouth bass.
Shoal Bass
The shoal bass is another species often misidentified. The shoal bass looks like a smallmouth bass with its markings and red eyes, but it is more closely related to the spotted bass. This is a rare bass, and some anglers seek them out because of that.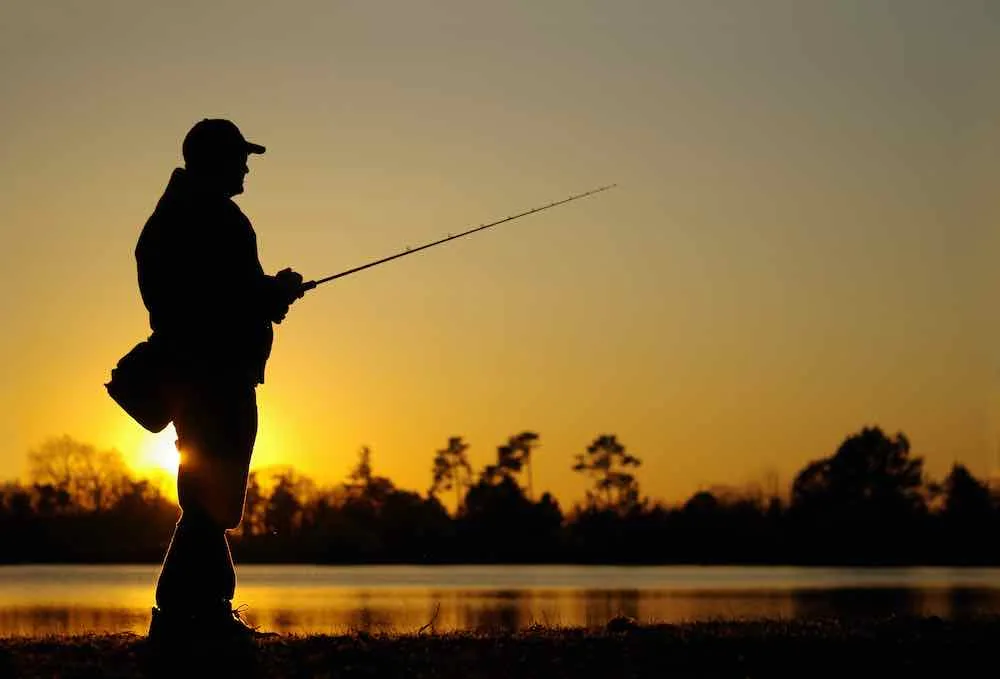 Redeye Bass
The redeye is the tastiest of the bass species. While it plays well with the sunfish and might even be confused for one, the redeye bass is a great fish to spend the afternoon catching. You might have better luck with crappie jigs instead of swimbaits.
Striped Bass
Some of the larger lakes in Georgia and on this list hold serious striped bass populations. These are big white bass with black stripes on them and can weigh as much as 50lbs! If you hook a mature striped bass, you are in for the fight of your life!
These bass are hunters like all other bass species and prefer larger baitfish.
White Bass
The white bass can often be confused with the striped bass, but they are smaller, and their black stripes don't stand out as much and are not perfectly straight. White bass usually grow between 12-and 15 inches, while stripers can get much bigger!
Hybrid Bass
The hybrid bass crosses between the striped bass and the white bass. The standout characteristic is the broken-up lateral lines.
The Best Bass Fishing in Georgia
Lake Lanier
Lake Lanier is home to some of the highest-level largemouth bass fishing in the state. Which is why this hot spot is on our best bass fishing in Georgia list! It is also an incredible lake for fishing spotted bass. The fishing pressure on the lake has continued to increase, but that is to be expected.
However, the opportunity for once-in-a-lifetime fish still exists on the lake.
Tackle: Great success can be had by fishing structures and docks with things like shallow running crankbaits and jerkbaits.
Type of Bass: Largemouth Bass, Spotted Bass, and Striped Bass
Lake Allatoona
This 10,000-acre lake has over 270 miles of shoreline! Lake Allatoona features a variety of fish species, but anglers have caught largemouth bass up to 16lbs! You will get a wide variety of fishing covers, and even open water and deepwater fishing for bass are very productive.
Tackle: In a large lake like this, with many fish species, you would do best using imitations of those baitfish. Swimbaits, soft plastic minnows, and even suspended diving hard plastic minnows would be great.
Types of Bass: Largemouth Bass, Spotted Bass, and Striped Bass
Flint River
The Flint River is a mountain river that lends itself to the smallmouth angler, and Flint is for the bass fisherman that prefers the kayak over the bass boat. This smaller river feeds into the Seminole Lake and offers anglers a great shot at the rare shoal bass.
This is also a great river to experiment with the fly rod if you are given floating poppers across the water for some surface explosions.
Tackle: The Flint River offers a wide range of bass fishing opportunities. To best take advantage of this river, you should break out the light tackle. Put away the 20lb test and use smaller floating minnows and soft plastic tube baits.
Types of Bass: Shoal Bass, Smallmouth Bass, and Largemouth Bass
Lake Oconee
Also known as the Oconee Reservoir, this lake has 379 miles of shoreline for the bass fisherman. It is a massive lake that hosts all kinds of species, but the bass fishing is excellent. There are plenty of dock locations for launching boats, but this reservoir is also great for fishermen who prefer the shore.
With all these options, Lake Oconee is not just a place that fishermen enjoy but is an Oconee County family vacation spot.
Tackle: If you are looking for action in this lake, you should come prepared to jig. Make sure you have lots of soft plastic baits. Minnows, worms, crawdads, and bugs will be great soft plastic options. If you are after bigger fish, go with bigger baits. If you want more bites, stick with 3-4 inch plastics.
Types of Bass: Largemouth Bass, Striped Bass, and Hybrid Bass.
Clark's Hill Lake
You will find some of the best bass fishing in Georgia here! Clark's Hill Lake is a 70+ thousand-acre lake, and it is absolutely massive. The best tip for Clark's Hill is to visit in the spring. Well, visit all through the spring as the shad and herring run and the bass go crazy. While not related to bass fishing, the shellcracker fishery is impressive in the late spring!
Tackle: You should visit this lake with an arsenal of aggressive topwater and underwater baits in the spring. The fish move inshore to feed, and things like swimbaits and rattling lures will set the aggressive largemouth bass off.
Types of Bass: Largemouth Bass and Striped Bass
Lake Hartwell
Lake Hartwell is a gem of a bass fishing lake that has even hosted a Bassmaster Classic. It is a popular location for both Georgian and South Carolinian bass fishermen. The 56,000-acre man-made lake has lots of cover and great forage for bass. This is the exact reason why we have listed Lake Hartwell on our best bass fishing in Georgia list.
Tackle: Covering lots of water is the game on a 56,000-acre lake. Swimbaits, jigging spoons, and spinners are great.
Type of Bass: Spotted Bass, Smallmouth Bass, and Largemouth Bass
Lake Seminole
Fishing that Florida/Georgia line in the warm waters of Lake Seminole will put you over some of the biggest largemouth basses in the country. The lake is home to blooms of hydrilla and lots of sunken timber to fish.
Whether you decide to attack the grassy surface with buzz baits or send hair jigs down into the root systems of the sunken timber, lunkers await. Lake Seminole is a dream landscape for the heavy tackle largemouth bass fisherman.
Tackle: Heavy tackle will best serve you when ripping baits across the topwater grasses or pulling bass out of the root systems below the water.
Type of Bass: Largemouth and Shoal Bass
Conclusion
It's time to wrap up our best bass fishing in Georgia list. The warm temperatures and massive artificial fisheries of Georgia are perfect for supporting big fish. The bass fishing in this state gives you inland access to nearly every kind of freshwater bass on the planet!
Whether you are a Georgian looking to find the best bass fishing or hitting the state on a fishing vacation, you will enjoy your time on these lakes and rivers. If you are coming from Florida, you have got to try out Lake Seminole.
Fishermen coming from the north will hit Lake Hartwell on the border of South Carolina. Of course, there is also Flint River for those who want to enjoy a mountain vacation escape. There is an answer for every fisherman looking to have an excellent bass fishing experience.
We hope you enjoyed our best bass fishing in Georgia list and you are able to find the perfect lake to spend your bass fishing day! If you are looking for more things to do in Georgia head over here!