Get ready to spend a picture-perfect fall day at the best pumpkin patches in Illinois. Whether you want to pick up some pumpkins and mums to decorate your front porch, find the perfect pie pumpkin, or get the perfect fall photo of your family, Illinois has several great pumpkin patches that are sure to have just what you're looking for. Keep reading to learn about eleven of the best pumpkin patches in Illinois.
Best Pumpkin Patches in Illinois – Northern Illinois
1. Puckerville Farms
Lemont
Starting our list of best pumpkin patches in Illinois is Puckerville Farms. This patch is a family-friendly farm offering a variety of pumpkins, mums, and gourds during the fall season. You can come back during the Christmas season to get fresh Christmas trees in November and December.
There is a playground for kids to enjoy, several small rides, and you can get tickets for a hayride.
In addition to all the great pumpkin fields, the farm is home to a number of beehives. While getting your pumpkins and mums, you can also purchase fresh local honey that has been harvested on-site.
During Pumpkin Season, the farm is open seven days a week. There is no admission fee.
2. Abbey Farms
Aurora
Abbey Farms in Aurora is a fun place for the whole family. The farm is a non-profit organization, and all the proceeds benefit the Monks of Marmion Abbey and their mission.
They offer many fun fall activities, including the largest corn maze in the county, a zip line, mega drop slide, rope maze, hayride, and much more. There is a petting zoo on the weekends where you can pet and feed several different farm animals.
Please stop by the large shop and cafe to get some of their award-winning apple cider donuts, fresh from scratch pies, and homemade bread.
Come back to cut your own fresh, live Christmas tree during Christmas time.
3. Didier Farms
Lincolnshire
During Pumpkin fest at Didier Farms, you can find all kinds of fun activities, games, and rides.
Have fun on the tractor-drawn hayride, get lost in the corn maze as you pass by the friendly scarecrows who guard the tall corn stalks, watch the pig races, and find the perfect pumpkins to take home.
They have many unique and unusual varieties of pumpkins along with other products like eggplants, tomatoes, hot and sweet peppers, and green beans.
The bakery offers fresh donuts, pies, and cookies for a sweet treat you can enjoy at the farm or take home for later.
4. Bengtson's Pumpkin Farm
Homer Glen
You will find no shortage of fun at Bengston's Pumpkin Farm. There are thirteen different rides to enjoy, including a small roller coaster, flying frogs, and spinning barrels. Visitors can also pan for gems at the mining sluice, watch a pig race, visit the haunted barn, try out the pumpkin cannon, check out the photo booth, or take a pony ride.
The farm is home to over 200 friendly farm animals who would love to have a visit from you. You can find animals throughout the farm or get up close and personal with animals in the petting zoo.
After all, that, don't forget about the pumpkins! Pick from hundreds of pumpkins in all different shapes and sizes. Pumpkins are sold by the pound; if you need help getting your treasures to the car, you can rent a wheelbarrow for $2.
5. Sugar Grove Pumpkin Farm
Sugar Grove
Sugar Grove Pumpkin Farm is a family-operated farm that began in 2015.
The farm is the perfect place for families with young kids; many of the activities are especially suited for younger children, like the toddler playhouse and straw mound and tunnel. There are plenty of activities for older kids and adults to enjoy, like yard Jenga and the 3/4 acre corn maze.
The farm specializes in pumpkins, with over 100 varieties of pumpkins and gourds available. They don't offer fall treats like apple cider and donuts, but these can be purchased from locations nearby.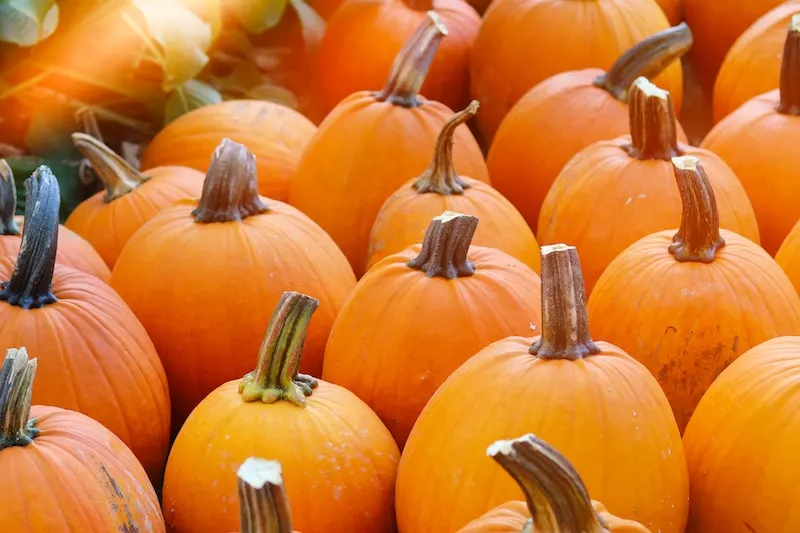 Best Pumpkin Patches in Illinois – Central Illinois
6. Ackerman Family Farms
Morton
Ackerman Family Farms is a 5th-generation family-owned farm operating since 1909.
The farm has a large selection of pumpkins and gourds perfect for fall decorating and eating. You can also get mums, hay bales, ornamental corn, and cornstalks.
Stop by the gift shop for even more decorating items, food products, and gifts. The shop specializes in local and regional handmade products and homemade food items, and you can get tasty treats like popcorn, salsas, and jams.
While you're there, visit the goats or try out the corn maze. The maze has a brand new theme every year, and they are open seven days a week during the harvest season.
7. Rader Family Farms
Normal
Rader Family Farms offers to pick your pumpkins every day during the fall season. Grab a wagon and stroll through the pumpkin patch as you search for the perfect pumpkins to take home.
In addition to the pumpkin patch, they have several fall-themed activities you can enjoy, like a corn maze, giant jumping pillow, tire tower, and duck races.
If you're feeling adventurous, try your hand at target shooting with apples. You'll shoot apples at targets using a slingshot on the upper deck. On the lower deck, you can try the apple blaster that shoots out apples at speeds around 300 mph.
The farm has baby animal days during the summer, where you can see some of the cutest and fluffiest animals.
The opening day for the 2022 fall season is September 10.
8. Gail's Pumpkin Patch
Beason
At Gail's Pumpkin Patch, you can pick your own pumpkins or shop from a large selection of pre-picked pumpkins. They have over sixty different varieties of pumpkins, gourds, and squash that you can purchase for eating and decorating.
There are many fun activities to enjoy at the farm while getting your pumpkins. Try some gourd bowling, slide down the barn slide, have a race at the potato sack jump, get messy at the tractor dig, and embrace your inner child with adult and child-sized tricycles.
Take a ride on the popcorn wagon out to the cornfield, where you can pick your own popcorn right off the cornstalks. Bring the corncobs home, and you can pop the whole ear in the microwave without taking the popcorn off the cob!
The fall season runs from September 1 – October 31.
Best Pumpkin Patches in Illinois – Southern Illinois
9. Bandy's Pumpkin Patch
Johnston City
Admission and parking are free at Bandy's Pumpkin patch. You are welcome to come and shop for fall farm goodies like pumpkins, gourds, straw bales, and cornstalks, then stay to take photos or check out the activities.
Activities are priced individually, so you only pay for what you want to do. There is an ADA-accessible hayride, play barn, and corn maze.
The country store has many fall-themed products and gifts like apple and pumpkin butter, candles, pumpkin scrub, jewelry, and more.
Visit the concession stand for a snack like pretzels, nachos, popcorn, and corndogs.
There is a sensory area set up in the back of the farm for people who may need a break from the noise and crowds.
They are open seven days a week during the harvest season. They accept cash and checks only.
10. Breezy Hill Farm
Benton
At Breezy Hill Farm, they grow and sell their own mums right on the farm. You can also get many different pumpkins in several different colors, shapes, and sizes.
Stop in the gift shop for homemade jams, jellies, apple and pumpkin butter, honey butter, home decor, and even a kids section with toys, and other fun finds.
General admission tickets include many fun activities like a huge corn pit with slides, a petting zoo, a play barn, duck races, a corn maze, a tricycle track, scenes for photos, and much more.
11. Rendleman Orchard
Alto Pass
Last, but not least on our best pumpkin patches in Illinois is Rendleman Orchard. It has been growing high-quality fruits and vegetables since 1873. On your visit to the orchard, you can shop from a wide variety of produce, including peaches, apples, cucumbers, green beans, onions, watermelon, specialty pumpkins and gourds, and much more.
In addition to all the great fresh produce, the store also offers fresh apple cider, apple cider doughnuts, baking mixes, sauces, and other products.
The orchard has you-pick pumpkins, sunflowers, and zinnias where you can go out to the fields and choose your own pumpkins and beautiful flowers.
There are several great photo locations set up in and around the pumpkin patch and flower fields, so you can get that perfect family photo while you're there.
Get Ready to Visit the best Pumpkin Patches in Illinois
Harvest season is a beautiful time in Illinois. With so many great pumpkin patches to visit, you can make the most of the season and have fun doing it. Whichever pumpkin patch you visit first, you're sure to enjoy the fall activities and get all kinds of pumpkins, gourds, and other fall decorations and treats! For more things to do in Illinois, check out this list of [Illinois article]