While planning your next vacation, we recommend checking out this detailed list of things to do in Roswell, Georgia!
Roswell is a favorite of locals and tourists alike and offers a great selection of various activities. Come and visit attractions such as the famous Canton Street, Southern Trilogy home tours, theaters, ghost walks, and locally-owned shops, or unwind and relax near the Chattahoochee River.
Please keep reading to learn more about things to do in Roswell, where to explore outdoors, and our top suggestions of delicious eateries that will offer you well-known comfort foods and brewery favorites.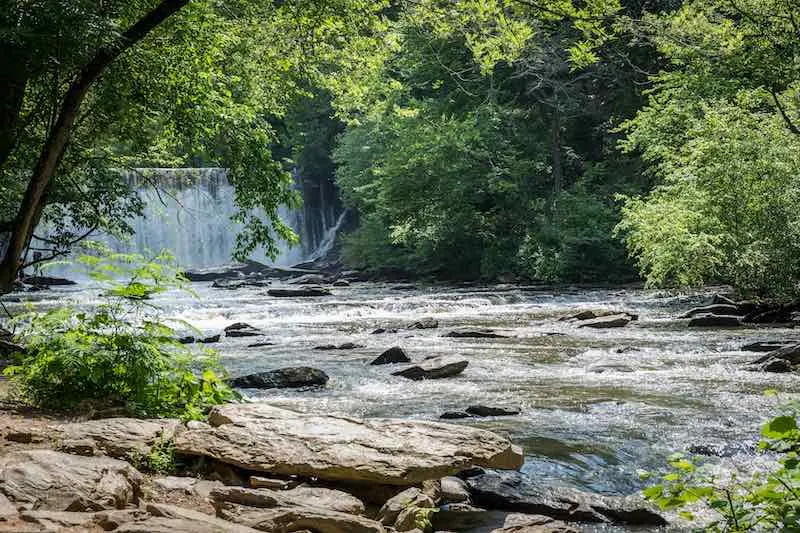 The History of Roswell, Georgia
Roswell, Georgia's history starts back in 1839 when Roswell King founded this very city. However, it wasn't made official until February 16, 1854. Roswell established the Roswell Manufacturing Company and built mills to make textiles and harness the powers of the local rivers. Today the city is home to several beautiful plantation homes transformed into museums and ready to tour.
Top 15 Things to Do In Roswell, Georgia
Here's the perfect travel list to take with you on your next trip to know precisely where to stop for fun things to do in Roswell, Georgia.
Things To Do In Roswell, Georgia
1. Roswell Cultural Arts Center
First, come and visit the Roswell Cultural Arts Center located in the heart of Roswell, Georgia. You and your family can plan to catch an event at Roswell Center Stage and the Georgia Ensemble Theatre during your visit.
Enjoy musical arts, performances, live music, and great theatrical productions. Visit the link above for hours and event information, and don't forget to grab some tickets for a great show!
2. Chattahoochee Nature Center
Next, on our list of things to do in Roswell, Georgia, visit the Chattahoochee Nature Center, home to one hundred and twenty-seven acres located on the Chattahoochee River. Here you can expect to explore natural sites such as trails, nature exhibits, and different monthly scheduled programs. Come and explore the forest areas, wetlands, and river habitats scattered throughout the nature center.
You can buy an annual membership perfect for enjoying the nature center as many times as you'd like throughout the year, or buy a pair of tickets! Here's a link to learn more about daily hours and admission rates.
3. Roswell Fire Museum
Then, you'll find the Roswell Fire Museum on our list of fun things to do in Roswell, Georgia. Roswell Fire Museum is a small museum and a local favorite to learn more about the fire department's history. Come and view many fire-related photos and learn historical information about the firehouse and its firefighters, along with the fire history in Atlanta.
Don't forget to come and see the famous 1947 Ford American LaFrance Pumper! The pumper truck once used in this city is now on display and participates in all of this town's holiday parades!
4. Smith Plantation
Another exciting thing to do in Roswell, Georgia, is planning a visit to the Smith Plantation. The Smith Plantation, now a historical museum, is nestled in the historic section of Roswell, Georgia. In 1838 the Smith family left two struggling plantations to start fresh on three hundred acres of cotton farmland.
In the past, during a significant time in history, three Smith generations have enjoyed this plantation. Each family passed down heirlooms throughout the generations you can come view today.
5. Bulloch Hall
Come and tour Bulloch Hall, which was built back in 1839. This hall was the home of one of Roswell's Revolutionary Governors and first settlers' Archibald Bulloch. Due to this hall's temple form architecture, you'll find the Bulloch Hall one of the most significant houses in the state.
Bulloch's daughter went and married Theodore Roosevelt Sr., and later they had a son together, Theodore Roosevelt, who became our twenty-sixth President of the United States.
So, come and plan a home tour if you're a fan of civil war historical sites, want to learn more about the Roosevelts, and finally see some of the most historical plantations in Georgia.
Eateries and Places To Go For A Drink in Roswell, Georgia
6. Variant Brewing Company
We bet you could use a fresh cold drink after touring these landmarks and outdoor gems on our grand list of things to do in Roswell, Georgia! So come and check out the Variant Brewing Company!
Variant Brewing Company has set goals to offer a unique brewery providing large varieties of craft beers. Variant likes to mix traditional recipes with different adjuncts, grain bills, yeast, and hop schedules.
Enjoy brands you're used to and a few other newbies that could just become your favorites! To see their drink menu, check it out here!
7. Gaslight Bar and Grill
Next, on our list of things to do in Roswell, Georgia, grab a bite to eat at Georgia's newest eatery, Gaslight Bar and Grill. This restaurant is located on Canton Street and offers an exclusive wrap on some of the most classic dishes. We also think you'll love their wine and spirit selections. So come and enjoy brunch, lunch, dinner, and even late-night snacks.
Do you like to dance? Come show off your moves and burn some calories as you dance to the favorites of the 70s, 80s, and 90s! Here's a quick link to their delicious wines and dines.
8. Table and Main
You've got to come to try a nice casual meal surrounded by the relaxed atmosphere at Table and Main to learn firsthand why this restaurant made it on our guide of things to do in Roswell, Georgia. So bring your friends and family, enjoy some fantastic comfort food, and wind down with a bottle or two of wine. You'll love the delicious appetizers, mouthwatering fried chicken, comfort food favorites, and fancy southern desserts.
Here's a link to learn more about their savory menu and what you can expect at Table and Main!
9. Fickle Pickle
The Fickle Pickle is next on our things to do in Roswell, Georgia list. This uniquely named restaurant will offer you and your family southern-style cafe favorites and deli options in a charming Victorian-style house built in the 1890s. You'll find great eats on the menu, from sandwiches, salads, and even a section dedicated to pickles. We think you and your family will enjoy the food selection here at Fickle Pickle.
Here's a glance at the fantastic menu found at Fickle Pickle; which dishes will you choose?
10. Pinkies Up Beer and Wine
Finally, visit Pinkies Up Beer and Wine, a local lounge and retail, for a great variety of beers and wines. Pinkies Up also offer its customers educational courses and occasional music guests. Come and enjoy a great variety of beers and wines by the glass, or choose to take home a growler, bottle, or six-pack.
For a brief list of the drinks offered at Pinkies Up Beer and Wine, check out their menu, but keep in mind that it changes constantly! Here's a list of their growler and draft beers.
Outdoor Activities To Check Out In Rosewell, Georgia
11. Canton Street
One of the well-known things to do in Roswell, Georgia, is to explore the historic downtown. Canton Street is an excellent place to explore, bursting with entertainment! Stop by the stunning galleries, boutiques, specialty shops, self-owned delis, eateries, and different brewpubs and wine bars during your visit.
If you visit between April and October, make sure to come and catch a show at the "Alive in Roswell" on the third Thursday of the month. See firsthand why they call Canton Street the "best street party" in Atlanta!
12. Ghost Walks
Are you up for some history and a little scare? Then, make reservations to take a ghost walk tour featured on The History Channel's show "Ghost Hunter's International." Plan to visit the mile of haunted mansions and mill workers' homes. This attraction definitely earns a place as the scariest thing to do in Roswell, Georgia.
Visit here to make reservations and learn more about the ghost walk tour schedules. Group tours are available; however, small children should avoid this Roswell attraction.
13. Roswell Mill Ruins and Old Mill Park
Another historical thing to do in Roswell, Georgia, is to come to visit the Roswell Mill Ruins and the Old Mill Park. When you see the banks of Vickery Creek, near the Roswell Manufacturing Company, you'll be able to view the leftover Mill ruins. These mills were built between 1839 and 1853, only to be burned by the Union forces on July 7, 1864.
In 1926, after the Civil War, these ruins were rebuilt, only to be subjected again to fires. While you're here, visit the original waterfall created from the damned up creek, and stop by for a photo opportunity!
14. Nantahala Outdoor Center
Nantahala Outdoor Center's Roswell Outpost is another excellent thing to do in Roswell, Georgia. You'll find Nantahala Outdoor Center located on the Chattahoochee River between Azalea Park and Don White Memorial Park. This center offers outdoor activities on land and water and seasonal events.
At Nantahala, enjoy mountain biking, cycling, canoeing, kayaking, tubing, paddle boarding, skiing, and even surfing! If you need to rent some equipment and gear, no worries, they have you covered. Sign up to take a guided tour or instructional course and learn from the best!
15. Barrington Hall
Lastly, visit Barrington Hall, a historic landmark on seven acres of land and part of the southern trilogy that's now a vintage museum. According to history, Barrington Hall was co-built by Barrington King and his father, Roswell King, back in the 1830s.
Become inspired by the generations of kings who cared for this hall for more than one hundred and sixty years! First, explore the museum of furnishings, artifacts, and many stories. Then, enjoy the gorgeous antebellum public gardens and countless other original homes and buildings surrounding this city.
Wrapping Up Things to Do In Roswell, Georgia
You now know many awesome things to do in Roswell, Georgia, popular restaurant recommendations, highly rated drinking holes, and exciting outdoor adventures when it comes to this city. So, what exciting things do you plan to do during your visit?
Now that we have wrapped up our exciting list of things to do in Roswell, Georgia, we hope you and your family come for a visit and create memories you'll never forget. So many fun attractions await you!
Do you have favorite places in Roswell? We would love to hear your personal recommendations.
Looking for more things to do in Georgia? Jump over here to find a whole list of things to do while visiting Georgia!