Indiana is the home of more than 170 craft breweries, brewing a truly astounding number of craft beers. With so many breweries and beers to choose from, finding something great to drink can seem overwhelming. Never fear! We're here to help you find the best Indiana beers from the Best Indiana Breweries.
Not only that, we've made sure to offer up the best Indiana beers in a variety of styles from a variety of breweries, so every kind of beer lover will be sure to find something to love!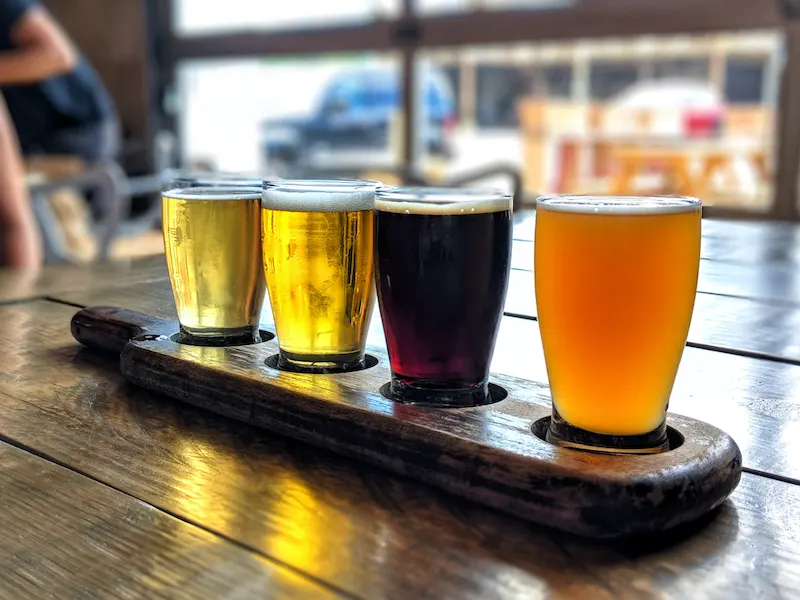 1. Crypt Keeper BBA RIS – Indiana City Brewing Company
Crypt Keeper BBA RIS; this is a dark and rich Russian Imperial Stout. The barrel-aged version of Indiana City Brewing Company's Roulette RIS, this decadent brew is part of their Ales from the Crypt series. It was aged in bourbon barrels for a year before being brought out and bottled for you to enjoy. This beer packs a serious punch with 13% ABV and is perfect for anyone who loves their beers bitter, bold, and heady.
2. Current Affair – MashCraft Brewing
Clearly one of the best Indiana beers the Fruity and pungent, Currant Affair encapsulates all that is great about MashCraft Brewing. This fruity beer breaks the mold and mashes together different brewing styles.
A ruby red Belgian-style beer, Currant Affair has a strong aroma of fruit and clove notes and tons of black currants. The bold sourness of these black currants sits atop a base of expertly brewed Belgian ale making one genuinely delicious beer.
3. Thai.P.A. – Bare Hands Brewery
Bare Hand Brewery's Thai.P.A. is an experimental take on a traditional IPA. This fresh and spicy brew may not seem like an Indiana beer, but it's been around since 2010 and has become something of a cult classic!
Crafted with Thai palm sugar, lemongrass, kaffir lime leaf and Thai ginger this spicy beer proves you can you additional flavors to accent hops in an IPA, not just hide them. ghThe Columbus and Cascade hops are the stars of this beer and create a base citrus flavor that the Thai spiciness only enhances. This absolutely unique IPA is a must-try for an adventurous beer drinker and for any lover of the best Indiana beers!
4. Zombie Dust – 3 Floyds Brewing Company
3 Floyds Brewing has been brewing great beers since 1996 and has many more years of experience than most of their craft brewing competitors. While all their beers could compete for this best Indiana beers list, we've picked their Zombie Dust Pale Ale.
This beer is a fan favorite of Indiana beer drinkers. And for a good reason! A hoppy and gushing undead American Pale Ale, Zombie Dust is a thirst-quenching single-hop beer. Made with just Citra hops, this beer was made to focus on the precise bitter citrus flavors, masking nothing of the brewing process, which is fine-tuned to make a perfect brew every time.
Sure to keep you going through the zombie apocalypse or help you rise from the dead after a long day!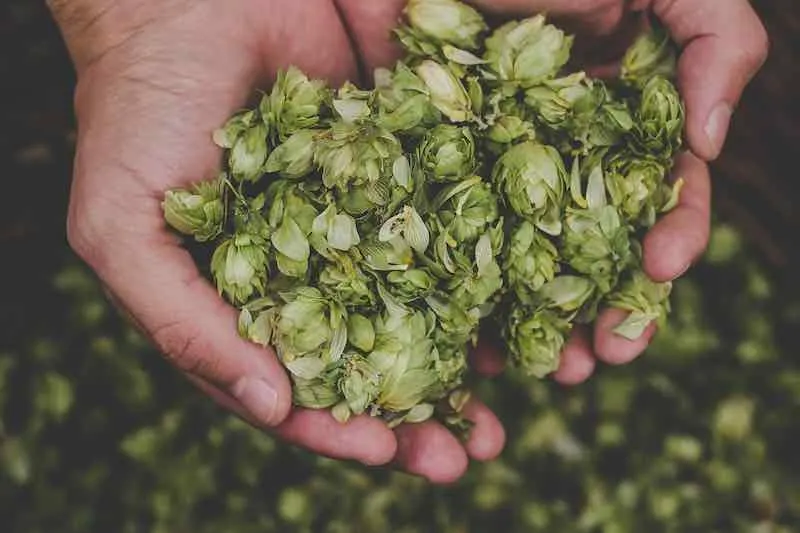 5. Gumballhead – 3 Floyds Brewing Company
We couldn't resist adding another best Indiana beer from 3 Floyds Brewing! They're a cornerstone of Indiana beers for a reason. Their Gumballhead is an American Wheat Ale that is lighter than their Zombie Dust and has a bright instead of bitter taste! Brewed with white wheat and Amarillo hops from the Yakima Valley, Gumballhead is a light lemony beer that is bright, bouncy, and fun! A must drink for lovers of refreshing nostalgic beers.
6. Pawpaw – Upland Brewing Co.
For a truly Indiana taste, try Upland Brewing Co.'s Paw Paw! This refreshing and delicious golden sour ale celebrates the unique flavor of the Indiana pawpaw fruit, also known as Asiminia Triloba, and the Indiana Banana. This hard-to-store fruit is added fresh to a blonde ale and allowed to barrel age to perfection, creating a fizzy, sour, complex beer.
7. Bitches' Bank – 18th Street Brewery
Though this isn't the only best Russian Imperial Stout on this list, the rich and heavy Bitches' Bank from 18th Street Brewery is just as delicious and is sweeter in its flavor profile. This deep, complex beer is made with cacao nibs, cinnamon, and vanilla! It has a good balance of roastiness and sweetness and is the best dessert beer on this list! Perfect for finishing off a great meal.
8. Electrohype – Deviate Brewing
Deviate Brewing brews beers that deviate from the norm. Their beers won't hit the spot if you're looking for a classic, but for those who like a bit more experimentation, their ElectroHype is a must-drink. This tart Sour Ale is balanced with peach & Imperial Gold oolong tea flavors. Refreshing and summery, it has a hint of sweet peach tea and is perfect for sitting on a porch or patio on a warm night.
9. Sanitarium – Bier Brewery
Bier Brewery's Sanitarium comes in its regular form and barrel-aged version. These beers mingle the rich sweetness of dark cherries, raisins, and plums with the malty richness of a dark abbey ale. The barrel-aged version sits in bourbon barrels for 12 months, gaining a deep whiskey flavor that balances out the fruity sweetness of the un-aged ale. Both grow in complexity as they warm up, a must drink for any beer lover!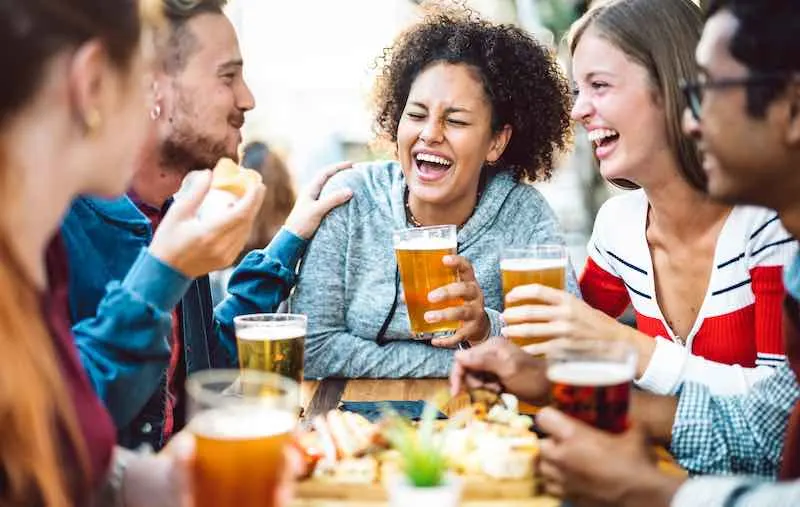 10. Osiris Pale Ale – Sun King Brewing
Sun King Brewing is another Indiana favorite! Their year-round Osiris Pale Ale is a genuinely great Indiana beer. This west-coast style pale ale isn't fussy but starts off with complex citrus and pine aroma that leads into a smooth to drink and delightful pale ale. This is the best Indiana beer on this list for anyone who loves clean, classic beer flavors.
11. Orange Vanilla Sunlight Cream Ale – Sun King Brewing
We couldn't resist this second option from Sun King Brewing! Don't worry; their Orange Vanilla Sunlight Cream Ale is nothing like their pale ale and is, without doubt, the best cream ale in Indiana! Sweet and bitter this cream ale is smooth with strong flavors of vanilla and orange. It smells and tastes just like an orange creamsicle and is the perfect sweet treat for someone craving a fun, playful drink!
12. Aunt Sissy – Myriad Brewing Company
Aunt Sissy is a bold double hopped Imperial IPA. Foggy amber in color, with intense flavors of citrus, most notably orange and pine, this IPA has a strong bitter and aromatic profile. Not to mention the big chewy hoppy finish you'd expect from a double hopped beer. But Aunt Sissy is not for sissy's with a 9% ABV and is a must drink for any lover of the Imperial IPA style!
13. Saucy Intruder Rye IPA – Black Acre Brewing
The Saucy Intruder – Rye IPA is genuinely one of the best Indiana beers. This American-style IPA is made with a generous amount of rye malt and has a bold malty flavor with a hint of rye. Even with its rye leanings, this IPA still has the bitter hoppiness IPA fans expect. Made with Falconer's Flight hops, it has a complex depth of flavor with hints of citrus and earthy spice from the first sip. An excellent IPA for those bored of traditional IPAs, but still fans of their flavor.
14. Lift Off IPA – Daredevil Brewing Co.
Lift-Off IPA is the number one selling IPA brewed in Indiana, and it lives up to the hype! It has the clean, crisp flavor of a classic West Coast-style IPA without ever becoming overpowered by bitter hoppiness. Strong citrus notes hit the palate upfront and balanced out perfectly with a bready malt backbone.
15. Gin Fizz – Hi-Wire Brewing
Hi-Wire Brewing specializes in sour fruity beers, and the Gin Fizz is no exception. This bright farmhouse-style saison is fantastic for any connoisseur of sour beer flavors. Aged in gin-barrels with juniper berries and Brettanomyces, this beer is funky, complicated, and definitely for gin-lovers!
16. Quad Sothoth – New Albanian Brewing Company
Quad Sothoth is a bold and delicious Belgian Quadrupel Ale. This full-bodied beer is strong and malty, with a flavor that is more sweet than bitter. Watch out; while this dark and tasty beer goes down smooth, it will knock you over with a 9.5% ABV. It's clearly one of the best Indiana beers!
17. Sprockets – Gravely Brewing Co.
Sprockets is a light German-style pilsner with a bold hoppy flavor that even the most committed IPA lovers will enjoy. Sprockets is made with German Noble hops, for a hoppy beer is light and refreshing with a crisp, dry finish! The perfect beer for enjoying after a long hot day, it won't weigh you down, and its low ABV means you'll definitely be up for a second.
18. Cherry Memescake Fruit on the Bottom – Windmill Brewing
Windmill Brewing likes to brew beyond classic ales and IPAs, and their selection of brews consistently showcases this commitment to creativity. Their Cherry Memescake Fruit On The Bottom is an essential best Indiana beer and a local favorite.
This Pastry Berliner Style Ale is made with sweet cherries, cream cheese, graham cracker, and lactose for a fruity, creamy, extremely tasty drink. Perfect for desert, or as a brunch time beverage this sweet beer beer that tastes like a cherry cake smoothie is sure to hit the spot!
19. Long Hair, Don't Care – Goshen Brewing Company
Goshen Brewing Company has a lot of beers that could compete as one of the best Indiana beers in their lineup, but we think you should try their Long Hair, Don't Care. This refreshing and funky old ale has notes of caramel, orange, toffee, and cherry. Its exceptional flavor is crafted with the use of wild yeast that gives it its cherry notes. Let your hair down and enjoy this free spirited ale!
20. La Maison – Taxman Brewing Company
La Maison is Taxman Brewing Company's house tribute to French farmhouse-style ales. A sparkling saison that features clover honey blended with earthy undertones and notes of citrus, grapefruit, and pine from American hops. Refreshing and fragrant this beer will refresh the most parched of drinkers and is the perfect complement to any evening.
21. Preacher's Daughter Amber Ale – Fountain Square Brew Co.
If you're looking for a sweet, nutty, uncomplicated beer on this best Indiana beers list, you must try Preacher's Daughter Amber Ale. Warm in color, this tasty beer blends citrus-orange hops blending with nutty malts for a clean finish. A light and refreshing brew, Preacher's Daughter is the perfect beer to enjoy cold on a hot day!
22. Stiff Wind Scottish Strong – Iechyd Da Brewing
Iechyd Da Brewing crafts beers in the style of the British Isles, and their unmistakable classic old-world flavors never disappoint. Their Stiff Wind Scottish Strong is a traditional Scotch Ale /Wee Heavy with a malty-rich caramel flavor that goes down smooth. The flavors of this ale are full of malt and caramel, with a heavy bready consistency that fills the stomach.
23. Built to Last Pilsner – Chilly Water Brewing Company
The delicious low ABV Built to Last Pilsner is a classic German Pilsner brewed to perfection for drinkers of the best India beers. The name says it all, this beer is built to survive through all the trends and continue to please beer drinkers no matter their tastes. This beer was brewed with care, using Noble hops and lager yeast to create a subtle, refreshing light beer!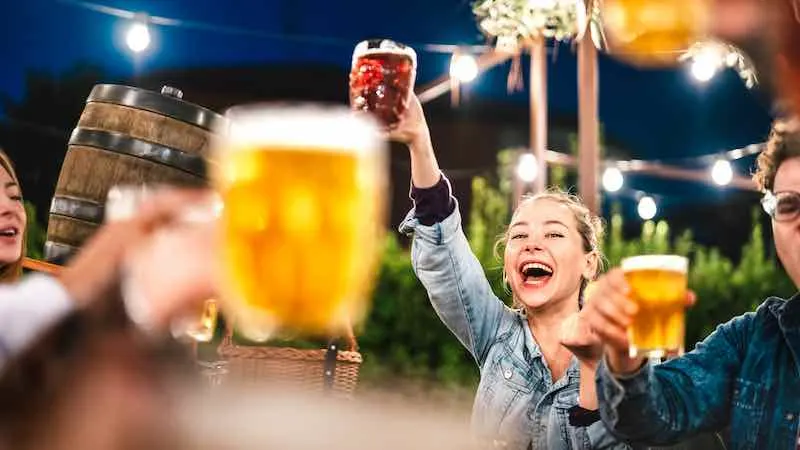 Go Out and Try the Best Indiana Beers!
There are great Indiana brewed beers for every beer drinker's palate, from the unique to the classic! Many of these beers are from breweries with an ever-changing selection of new beers, so consider returning to them for further experiments and old favorites. There are always new great beers to try, or you can stick to the best Indiana beers you already love!
Looking for more fun things to do in Indiana? Visit our Indiana page right here!