Recognized as the only major city in the United States founded by a woman, Miami, Florida, is a coastal metropolis with a coveted tourism hub status. In fact, Miami ranks second in the country for international visitors after New York City.
Julia Tuttle, a local woman in the citrus business, founded the City of Miami by convincing the railroad mogul Henry Flagler to connect Miami with the Florida East Coast Railway. For her tireless work, Tuttle was recognized as "the mother of Miami," and the city was officially incorporated in 1896.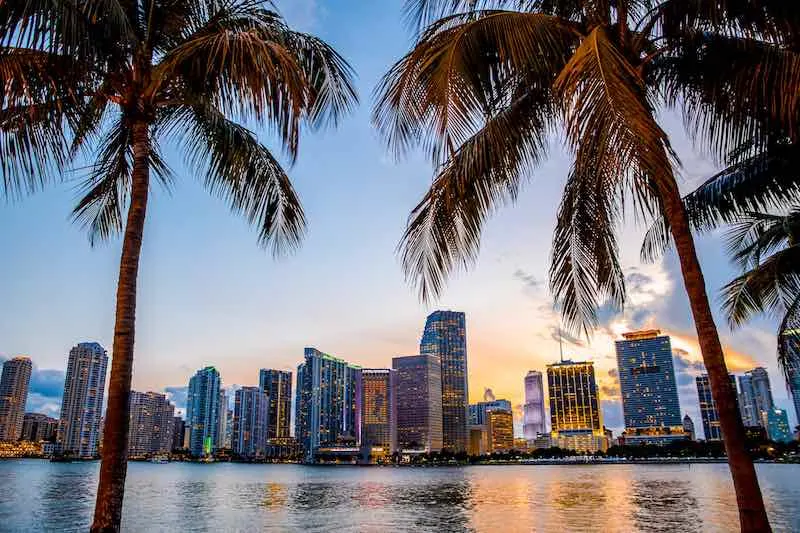 Today, Miami boasts a vibrant culture bolstered by an array of diverse eateries, performing arts centers, museums, parks, and nightclubs. The city also has a bustling international business community and offers one of the country's busiest ports of entry. Discover all you need to know about the best things to do in Miami, Florida with our handy guide.
The Best Restaurants in Miami, Florida
1. Versailles Restaurant
Touted as "the world's most famous Cuban restaurant," Versailles Restaurant is situated in the heart of Miami's Cuban community, Little Havana. Since 1971, Versailles Restaurant has been serving up tasty and affordable Cuban cuisine with menu items such as ropa vieja, vaca frita, tasajo shredded beef, and plantain pie.
Versailles Restaurant is one of the most popular things to do in Miami, Florida, but this family-friendly eatery is worth the wait! While you should fill up on the delicious Cuban eats, you may also want to check out the Cuban bakery next door. Versailles Famous Cuban Bakery is owned by the same family and boasts an array of authentic Cuban goodies and coffees.
2. Joe's Stone Crab
Since 1913, Joe's Stone Crab has been cooking up delectable fish sandwiches in Miami Beach. From its humble beginnings as a lunch counter, Joe's Stone Crab has flourished into a legendary restaurant with an expanded menu. You'll enjoy delicious seafood starters, fresh fish entrees, prime steaks finished with marrow butter, and oversized potato and veg portions big enough to share.
Don't want to dine in? Joe's Stone Crab offers a takeaway menu that includes its iconic fish sandwiches and lobster rolls.
3. Gianni's
For an indulgent dining experience, make a reservation at Gianni's. Situated in the former Versace Mansion, Gianni's rivals any of the globe's luxury restaurants, offering an upscale, history-steeped atmosphere that's nothing short of magical.
Gianni's features both a lunch and dinner menu, along with special event menus and an extensive wine list. Enjoy a selection of Italian-Mediterranean cuisine ranging from mushroom risotto and spaghetti pomodoro to whole Branzino and Chilean sea bass. You can even indulge in the raw bar—a must when considering things to do in Miami, Florida!
4. Bayside Marketplace
If you prefer a more casual setting, head to Bayside Marketplace. This two-story, open-air shopping center boasts a number of on-site restaurants, including Bubba Gump Shrimp Co., Five Guys Burgers and Fries, Pucci's Pizza, Hard Rock Cafe, and Kuba Cabana.
Bayside Marketplace is a popular spot for families searching for tried-and-true chain restaurants for their picky eaters, but you'll also find unique local eateries worth checking out. There's simply something for everyone here!
5. Pinolandia Fritanga
One of Little Havana's most popular eateries, Pinolandia Fritanga is such a low-key Nicaraguan restaurant that it doesn't even have a website. Even so, it's one of the most popular things to do in Miami, Florida. Fortunately, you can snag takeout via DoorDash or simply call ahead and order—but dining in is the best way to experience this 24-hour, cafeteria-style hidden gem.
Ten bucks will get you a massive amount of food at Pinolandia. A typical plate includes gallo pinto, queso frito, carne asada, platano maduros, and a side salad. You may have to wait a while during peak times, but you won't regret it!
Interesting Natural and Historical Sites in Miami, Florida
6. Art Deco Historic District
Located in the iconic South Beach neighborhood, the Art Deco Historic District is noted for its heavy concentration of Art Deco buildings—over 800 of them within a single square mile!
Miami's vibrant Art Deco District is characterized by pops of color, architectural curves, sleek lines, and fountains. If you're unsure where to start, head to the Art Deco Welcome Center and Museum to learn more about the area.
Armed with information about the historic district, you can set out on foot to explore at your own pace!
7. Ancient Spanish Monastery
Nicknamed "The Monastery of Our Lady, Queen of Angels," North Miami Beach's Ancient Spanish Monastery dates back to the year 1133 in Spain. There, it served as living quarters for Cistercian monks for more than 700 years.
So, how did an Ancient Spanish Monastery end up in Miami, Florida? In the mid-1920s, wealthy newspaper tycoon William Randolph Hearst bought the building and had it broken up into individual stones. Each stone was packed up and sent to Brooklyn, New York, where it remained in 11,000 boxes for more than 25 years. After Hearst passed away, William Edgemon and Raymond Moss bought the deconstructed building and had the entire structure rebuilt in Miami.
While the Ancient Spanish Monastery isn't always open to the public, it's worth adding to your list of things to do in Miami, Florida.
8. Ball & Chain
An iconic nightclub from the 1930s to 1950s, the Ball & Chain has re-emerged as a popular live-music venue, bar, and lounge in Miami's Calle Ocho neighborhood in Little Havana.
Throughout the Ball & Chain's history, it has hosted numerous black entertainers like the Ink Spots and the French dancer and singer Josephine Baker. The venue was also home to illegal gambling in the 1930s and 1940s.
Today, the Ball & Chain is open for lunch, dinner, and cocktails. The Cuban-inspired menu features tapas, fish tacos, chicharrones, and jerk-roasted chicken wings. It's also the spot to enjoy a refreshing mojito or Miami mule on a hot summer day!
9. Everglades National Park
One of the most popular things to do in Miami, Florida, is taking a day trip to Everglades National Park. Located about an hour from central Miami, Everglades National Park has no shortage of outdoor activities. Enjoy hiking, kayaking, canoeing, biking, camping, bird watching, boating, and both fresh and saltwater fishing.
But, let's be honest: most visitors flock to the Everglades for a chance to see an alligator. Everglades National Park is brimming with them, along with other forms of wildlife like the turkey vulture, coral snake, Florida panther, eagle, and more!
10. Vizcaya Museum & Gardens
Originally known as Villa Vizcaya, the Vizcaya Museum & Gardens is situated in Miami's Coconut Grove neighborhood on Biscayne Bay. The gorgeous 1916 villa and grounds are a testament to Gilded Age architecture and landscaping. Set aside a few hours to explore ten acres of formal gardens, rockland hammock, and mangrove shoreline.
House tours are offered daily and provide an insider's glimpse into what it was like to live among the elite in 1920s Miami. You can also opt for the "Designing the Dream" architectural tour, which covers how the villa was built and the workforce and ingenuity it took to realize that dream. And don't forget to take a break at the Vizcaya Cafe and Shop on the Main House's north side.
If you're on a tight budget, free tours of Vizcaya Village are offered every Sunday morning at 11:00 from Vizcaya Village Farmers Market.
The Best Places to Shop 'Til You Drop in Miami, Florida
11. The Shops at Midtown Miami
One of the best things to do in Miami, Florida, is to visit The Shops at Midtown Miami. Located in the heart of Miami, this shopping center houses more than 50 retailers and restaurants ranging from big-box stores to trendy boutiques and everything in between. It's also a great place to catch an outdoor movie!
There's a lot to experience at The Shops at Midtown Miami. Aside from great shopping and dining options, the center frequently has live music. Ample shaded seating options offer respite from the heat and opportunities to people-watch.
12. The Shops at Mary Brickell Village
Mary Brickell Village is an urban oasis in the heart of downtown. Shops feature everything from eclectic to everyday offerings, so you're bound to find something that caters to your personal fashion tastes.
In fact, you'll discover outdoor kiosks, unique boutiques, and designer brands scattered around the plaza. The Shops at Mary Brickell Village are also located next to Brickell City Centre, which is next on our list.
13. Brickell City Centre
Known as a cosmopolitan destination with its upscale shopping options, Brickell City Centre is a must-visit. With four levels of luxury shopping, world-class dining, and entertainment, Brickell City Centre spans over three city blocks. Popular shops include Aesop, Pandora, MAC Cosmetics, Rolex, and Sephora.
Brickell City Centre is also an ideal place to stay during your trip to Miami, Florida. The on-site East Hotel is centrally located within a 15-minute drive from the airport, not only placing you within minutes of great shopping destinations, but also close to the Design District, Wynwood, and South Beach.
Exciting Things for Kids to Do in Miami, Florida
14. Miami Children's Museum
Looking for things to do in Miami, Florida, with the kids? Check out the Miami Children's Museum on Watson Island. This non-profit educational institution aims to enrich children's lives by fostering a love of learning.
Popular exhibits include "Music Makers Studio," "My Green Home," "South Florida and Me," "Port of Miami," and "Cruise Ship." On the second Saturday of every month, families can take advantage of Sensory-Friendly Saturday, a day when the museum is sensory-modified with limited admission, lowered lighting, and lowered sound.
15. FunDimension
The ultimate game center in Miami is FunDimension, a state-of-the-art family entertainment center with engaging attractions and an on-site restaurant. Enjoy bumper cars, laser tag, a climbing wall, virtual reality, an indoor playground, an arcade, and an immersive XD capsule theater.
Children and adults alike can find something fun to experience at FunDimension. The Galley at FunDimension even features a nice selection of beer and wine so parents can unwind while the kids play.
16. Tidal Cove Water Park
It's no secret: Miami gets hot in the summer! Aquatic centers like Tidal Cove are among the best things to do in Miami, Florida, because you can escape the heat and let the kids get in some much-needed exercise.
This world-class water park features inner-tube rides, an almost-vertical Aqua Drop, a high-speed AquaTube, a Lazy River, a zero-entry lagoon-style swimming pool, and a 4,000-square-foot Kids Cove. There's even a relaxing Oasis Pool with preferred seating cabanas for the grown-ups!
17. Philip and Patricia Frost Museum of Science
Located in Downtown Miami's waterfront Maurice A. Ferré Park, the groundbreaking Philip and Patricia Frost Museum of Science is a must-see attraction for families. The interactive, hands-on museum boasts technology- and weather-related exhibits, wildlife centers, and a planetarium, making it one of the most popular kid-friendly attractions in town.
Arrive early to make the most of your visit and preview exhibits online so you know which ones you want to hit up first. You'll also want to budget a trip to the Science Store for a gift or souvenir.
Time to Visit Miami!
Now that you know everything you need to about the best things to do in Miami, Florida, you can easily plan your entire itinerary before your visit.
Once you've finished exploring Miami, check out all the exciting things to do in Tampa, Florida. It's just a few hours' drive from Miami and has attractions for all ages!