Nashville is a vibrant city with an endless variety of activities and entertainment. Known as music city, Nashville has plenty of ways to immerse yourself in the music but that's not all the city has to offer. You'll also find world class museums, beautiful parks, excellent shopping, and much more. For ideas of what to do on your visit to Music City, check out this list of eighteen things to do in Nashville, Tennessee.
Things to do in Nashville, Tennessee with Kids
Whether you have young kids, teenagers, or you're just young at heart, there are a lot of fun, family friendly things to do in Nashville, Tennessee.
1. Adventure Science Center
The Adventure Science Center has multiple floors of interactive exhibits that are fun for the whole family. Learn about the human body while fighting germs, test your strength by lifting a real car using a lever, experience some of the challenges astronauts face while working in space, and much more.
There are many permanent and temporary exhibits so there's always something new to see.
If you need a rest, sit down for a show in the planetarium, a state of the art, sixty-three foot dome theater.
If you get hungry, there is a Subway restaurant and frozen yogurt shop located inside on the second floor of the museum. The museum is open Thursday-Monday.
2. Nashville Shores
Located on the shore of Old Hickory Lake, Nashville Shores is a great place to cool off on a hot summer day.
Catch some thrills on the eight waterslides, relax as you float along in the lazy river, spend some time swimming in three different pools, or work on your tan at the lakeside beach.
Younger kids will enjoy playing and splashing at the Kowabunga Beach water treehouse with it's smaller slides and fun features.
The waterpark is open daily from May-September.
3. Nashville Zoo at Grassmere
The Nashville Zoo is one of the best things to do in Nashville, Tennessee for animal lovers. The zoo is home to many different animals from large to small including giraffes, white rhinos, red pandas, meerkats, spider monkeys, and many more.
Get up close and personal with kangaroos in the walk through exhibit (if you're lucky, you'll even get to pet one!) Step into lorikeet landing to feed the birds, or visit the Unseen New World to see deadly spiders, poison dart frogs, and more.
For even more fun, take a backstage pass tour to see how things work behind the scenes.
There is a lot of shade to help keep you cool on warm days.
Don't miss the historic Grassmere home built in 1810. You can tour the home and see antique farm equipment and buggies in the buildings outside. There is also a garden out back that is maintained by the zoo's own master gardeners.
The zoo is open seven days a week.
4. Centennial Park and the Parthenon
Located just west of downtown Nashville near Vanderbilt University is Centennial Park.
Take your time strolling through the park on the one mile walking trail, feed the ducks in the pond, spend some time with your kids on the playground, or step inside the Parthenon for a unique experience you won't soon forget.
At the center of the Park stands the magnificent Parthenon. The building is a full scale replica of the original Parthenon in Athens, Greece. Inside you'll find a small art gallery with sixty-three paintings by American artists along with a full scale replica of the forty-two foot statue of the goddess Athena that once stood in the original Parthenon in ancient Greece.
Museums to Visit in Nashville, Tennessee
Nashville is home to many great museums on a range of topics. You can enjoy some educational entertainment when you step into one of Nashville's excellent museums.
5. Frist Art Museum
Located on upper Broadway you'll find the Frist Art Museum. The Frist is a must see for art lovers and is home to a number of temporary and permanent exhibits from sculptures, to paintings and more.
The museum is located in a beautiful art deco style building that was once the main post office in Nashville.
After you're done checking out the exhibits don't miss Martin Art Quest on the top floor. Here guests of all ages can create their own art inspired by the exhibits using many different mediums including painting, drawing, print making, stop motion animation, and much more.
The Frist is open Thursday-Sunday each week. Admission is free for children under eighteen.
6. Country Music Hall of Fame and Museum
Country music lovers certainly won't run out of things to do in Nashville, Tennessee. If you are a fan of country music, you won't want to miss the Country Music Hall of Fame.
Here you'll discover the stories behind some of Nashville's most famous songs and musicians as you learn about the history of country music. See and hear about country music greats like Johnny Cash, Alan Jackson, Dolly Parton, and many more.
The museum is home to over six hundred instruments, eight hundred stage costumes, and hundreds of other items and memorabilia that show the evolution of country music throughout the years.
7. National Museum of African American Music
The National Museum of African American Music is the first of it's kind. It's the only museum dedicated to celebrating and preserving the many musical genres that were created or inspired by African Americans.
The museum has specially curated collections that tell the story of American music through history. You'll enjoy hands on exhibits as you learn about the important contributions of African American artists to the world of music.
The museum is open Wednesday-Monday, closed on Tuesdays. You can visit the museum store seven days a week from 10:00-5:00.
8. Tennessee State Museum
One of the best things to do in Nashville, Tennessee if you are interested in American history is visit the Tennessee State Museum. Here history lovers can explore Tennessee history from prehistoric times through the present with exhibits and interactive displays for kids and adults.
Walk through the time tunnel and learn about the first people who lived in Tennessee, get a glimpse inside a log cabin like the ones European settlers built, check out artifacts from the civil war, and learn about a former president from Tennessee, Andrew Jackson.
If you have kids, ask for the scavenger hunt at the information desk. Kids will have fun looking through the booklet and hunting for answers to the the puzzles as you walk through the museum together.
There is no admission fee, the museum is free for everyone!
The museum shares a parking lot with the Nashville Farmer's Market. If you have some time, stop by to pick up some fresh produce, local meats, and other Tennessee products, or get something to eat at the food court before or after your visit to the museum.
Things to do in Nashville, Tennessee Outdoors
Nashville has a lot of great parks and green spaces. There are plenty of ways to get outside in Nashville whether you want to stay close to the city or venture a little farther out.
9. Shelby Bottoms
Shelby bottoms park and nature center is a beautiful green space where you can enjoy spending time in nature without getting too far from the city.
Take a ride on the biking trails, stroll along the lovely walking trails, visit the butterfly garden, or let kids play in the nature play area.
While you're there stop by the Nature Center. There are a number of exhibits and a small gift shop offering local products. The nature center offers educational programs and family friendly activities throughout the year. Take a look at the calendar to see upcoming events.
10. Cumberland Park
Cumberland Park is a riverfront park located just across the Cumberland river from downtown Nashville.
It's an easy walking distance from downtown. Just walk across the pedestrian bridge and you'll find the park on the right hand side, or park in the lots next to Nissan Stadium.
The park has great views of the Nashville skyline and is a perfect place for photos.
Kids will enjoy the play spaces with a rock climbing wall, sand pit, spider's web to climb, and several slides.
During the summer, cool off with the fountains in and around the shallow splash pool. The spray ground is open from May 24-September 1.
11. Warner Park
At Warner Park you'll find many hiking and walking trails to enjoy the beautiful landscape around Nashville.
If you have young kids, take advantage of the story trail. As you walk the trail you'll find a seasonally appropriate picture book that you can read as you go. The pages are laminated and located all along the trail. You can pause to read the pages before continuing on your hike to find the next ones.
12. Walk the Pedestrian Bridge
The John Seigenthaler Pedestrian Bridge located on 1st St between Demonbreun and Broadway connects downtown Nashville to East Nashville.
The bridge was closed to vehicle traffic in 1998 and has since been restored for pedestrian use. It's a beautiful place to watch the sunset or get that picture perfect shot of the Nashville skyline.
Where to go Shopping in Nashville, Tennessee
Shopaholics will find plenty of things to do in Nashville, Tennessee. Whether you're looking for locally made products or something from a top name brand, you can find it at one of Nashville's shopping destinations.
13. 5th and Broadway
One of Nashville's newest shopping areas, 5th and Broadway has a fun atmosphere and plenty of shopping. Browse in top stores like Free People, Sephora, and the Apple Store.
If you get hungry, visit the food hall where you'll find restaurants offering every type of cuisine imaginable including pizza, Thai food, burgers, vegan options, donuts, ice cream, and much more.
14. Marathon Village
Marathon Village is a unique shopping location just outside of downtown Nashville. Set in an old automobile factory, the repurposed building is home to many locally owned shops and other small business like a salon and comedy club.
There are a number of places to get something to eat. If you like sweets, don't miss the Bang Candy company.
Free street parking is available around the building, or you can park for $10 in the paid lot right across the street.
15. Opry Mills
Opry Mills is the place to go if you enjoy outlet shopping. The mall is home to a number of popular outlet stores including J. Crew, Victoria's Secret, Express, the Lego Store, American Eagle, and many more.
In addition to the large food court there are a number of great restaurants where you can sit down to enjoy a meal including Chuy's, Rainforest Cafe, Mission BBQ, and The Aquarium restaurant.
You'll also find lots of entertainment options like Madame Tussaud's, the Escape Game Nashville, Regal Cinema, and Dave and Buster's.
Where to Enjoy Live Music in Nashville, Tennessee
There is no shortage of things to do in Nashville, Tennessee for music lovers. A visit to music city wouldn't be complete without hearing some live music and there are a number of places to do just that in Nashville.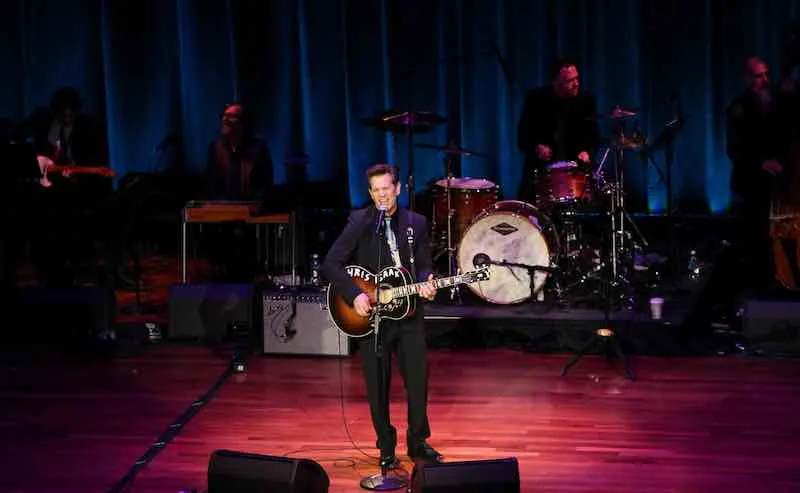 16. Ryman Auditorium
The Ryman Auditorium is known as the mother church of country music. Here many country music greats have performed.
The historic building was built in the late 1800's as a tabernacle. Later it was home to the Grand Old Opry for many years before being renovated in the 1990's. Today the Ryman is home to many musical performances and comedy shows throughout the year.
During the day you can take a backstage tour to learn all about the rich history of this famous building. At night, you'll be wowed by the amazing acoustics as you listen to live music in a venue unlike any other.
17. Lower Broadway
The lower section of Nashville's famous Broadway street is lined with honky tonks, restaurants, and bars. You can hear live music seven days a week almost every hour of the day.
Country music is one of the most popular music styles you'll hear, but you can find other genres as well. Put on your cowboy boots and get ready to dance the night away at popular venues like Tootsie's and Honky Tonk Central.
18. Ascend Amphitheater
Located on the banks of the Cumberland river right next to downtown Nashville is Ascend Amphitheater.
This outdoor venue hosts many big name music artists throughout the year. Get a seat on the lawn and bring a picnic or get a seat up close to really feel the music.
Wrapping up Things to do in Nashville, Tennessee
There are so many great things to do in Nashville, Tennessee the hardest part will be deciding what to do first! Whether you want to visit a museum, explore the local parks, or get a taste of the night life on Broadway, you're sure to have a great time on your next trip to Nashville. For more things to do in Tennessee, check out things to do in Memphis.