If you're looking for great wine, you don't have to go as far as California or Europe. There are many great wineries right here in Tennessee. Whether you're looking for a traditional southern Muscadine wine, a classic Merlot, or something in between, Tennessee wineries have something for you. Keep reading to learn about some of the best wineries in Tennessee and why you should visit.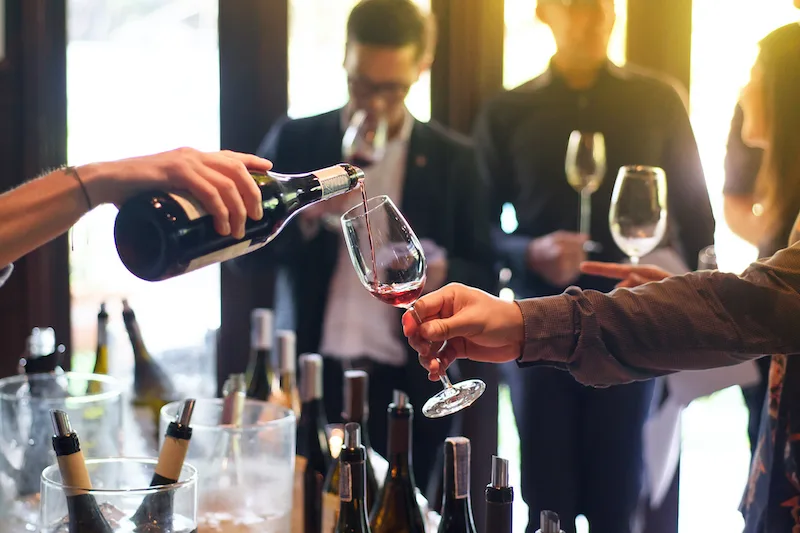 Best Wineries in Tennessee – East Tennessee
1. Mountain Valley Vineyards
Pigeon Forge
Mountain Valley Vineyards is an award winning winery specializing in sweet fruit wines. They have been operating since 1991 and are one of the oldest wineries in the area.
They offer free tastings every day. You can try unique flavors like Rhubarb, Watermelon and Red Velvet.
The winery is open from 9:00 am – 8:00 pm seven days a week. If you visit between the hours of noon-5:00 you can get a personal tour of the on-site wine making area.
The winery is family friendly. All ages are welcome to come and tour the winery. You must be at least twenty-one years old with a valid photo ID to sample or purchase alcohol.
2. Blue Goose Vineyards
Maryville
Blue Goose Vineyards is a small, family owned and operated farm and winery located just outside Maryville. They grow several different varieties of Muscadine grapes along with apple trees and berries. Everything they produce comes directly from their farm and vineyard. They offer a range of wines from dry to sweet.
The family farm and winery is also home to several farm animals such as cows and donkeys who will be happy to have a visit from you as you walk around the winery.
The tasting room is in an old barn shaped building. It's a cozy place to sit and enjoy some of their traditional Appalachian Muscadine Wines.
The gift shop has wine available to purchase, along with wine accessories and hand crafted items from local and regional artists.
They are open Wednesday-Saturday from 1:00 pm – 6:00 pm. no reservations are required.
3. Apple Barn Winery
Sevierville
At Apple Barn Winery the wine is made from locally grown apples instead of grapes. They make their sweet fruit wines on site starting with apple cider.
In addition to apple wines, they also have several other fruit wines and apple-fruit blends. Free tastings are available every day.
While you're there you can also check out the Apple Barn General Store and Cider Mill for a wide range of products including fresh apple cider, apple butter, kitchen accessories, and souvenirs.
They also have two restaurants and a bakery where you can enjoy a home cooked meal, a glass of wine, and some tasty treats.
4. Mill Bridge Winery
Pigeon Forge
Mill Bridge Winery is located in the historic Old Mill district of Pigeon Forge. They offer a number of local wines plus handcrafted hard cider. Complimentary tastings are available seven days a week for both wine and hard cider.
You can enjoy a relaxing afternoon sitting outside on their patio overlooking the Little Pigeon River while you sip a glass of wine or a hard cider flight tasting.
The staff is very friendly and happy to explain all of the different wines and ciders they have available. Their most popular wine is a blend of lemon and blueberry called Indian Summer.
Best Wineries in Tennessee – Middle Tennessee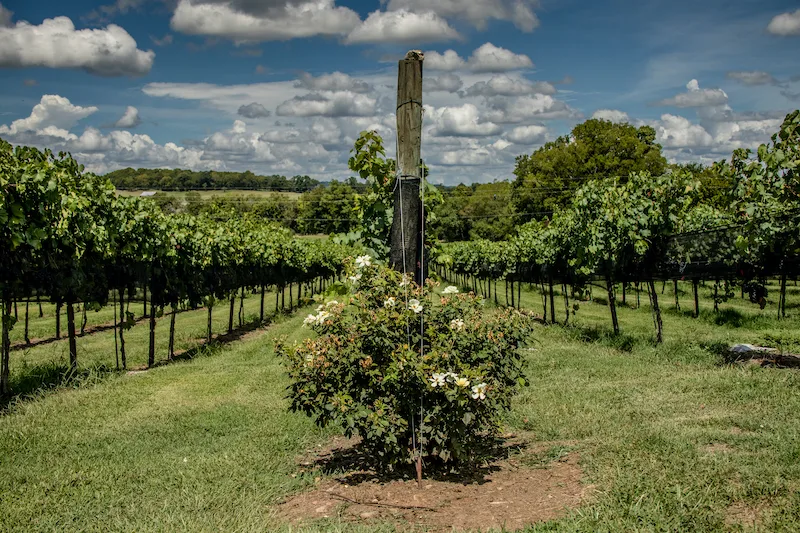 5. Arrington Vineyards
Arrington
Coming in at number five on our best wineries in Tennessee list is Arrington Vineyards. Located just twenty-five miles south of Nashville, Arrington vineyards is a beautiful ninety-five acre property with sixteen acres of vineyards. Here grapes are grown for their twenty-two award winning wines including Merlot, Chardonnay, and sweet wines.
You can get a wine tasting flight or wine slushie every day with no reservation required. You can also book a premiere tasting experience with a food and wine pairing, or a signature group tasting for up to fourteen people.
There is live music every weekend from April-November. Bring a picnic dinner and a blanket to go with your wine as you enjoy the winery in music city style.
6. Belle Meade Winery
Nashville
For over a hundred years, Bell Meade was known as a premiere aristocratic horse farm raising American Thoroughbreds. The farm was visited by American presidents and well known business tycoons. In 2009 the Belle Meade Winery was founded as a non-profit to preserve the rich history of the site.
To visit the winery you must purchase a tour or grounds pass. A number of tours are offered including historic tours, wine and food pairings, and a bourbon experience. Your pass includes access to the thirty-two acre grounds for a full day including walking trail, game courts, restaurant, and winery tasting when available.
The winery offers traditional southern favorites like blueberry and muscadine wines, along with European style red, white, and sparkling wines.
7. Natchez Hills Winery
Hampshire
Natchez Hills Winery is a small family owned boutique winery and vineyard located about an hour south of Nashville in Hampshire, Tennessee near the historic Natchez Trace.
The family believes good wine starts in the vineyard. How grapes are grown has a huge impact in the overall taste and quality of the wine. They use sustainable, organic practices to grow excellent grapes that are high in nutrients while limiting the use of chemicals and insecticides.
Visit the winery for a tasting at the bar, or enjoy a wine flight on the patio overlooking the scenic vineyards. You can also purchase wines at their locations in Nashville at the Hermitage and downtown farmer's market.
8. Amber Falls Winery and Cellar
Hampshire
Amber Falls is another great winery set in the rolling hills of Hampshire. Here you can get international award winning wines that are dry, semi-sweet, or sweet, depending on your taste.
At the winery you can visit the tasting room, vineyards and underground cellar. They even have a guest cottage you can book for an overnight stay to enjoy the picturesque setting even more.
There is live music every weekend from April-October. Bring the whole family to enjoy a family friendly day out at the winery.
If you don't want to go all the way to Hampshire, you can visit the tasting room inside Opry Mills mall for a private tasting and to purchase their delicious wines without getting out of the city.
9. Beachaven Vineyards & Winery
Clarksville
Beachaven Vineyards & Winery is a locally owned winery that has been in the same family for three generations. They were one of the first wineries licensed in Tennessee and have been operating since 1986.
The Beach family have been carefully growing their grapes to the same high standards for the last 30 years. Good wine begins with good grapes and the special care of the vines shows in the delicious taste of their finished wines.
To visit the winery, you can drop in seven days a week for a wine tasting or wine flight. Tours are available on weekdays with an appointment. On the tour you'll explore the grounds and wine making facility, and enjoy a full tasting.
Best Wineries in Tennessee – West Tennessee
10. Crown Winery
Humboldt
Crown Winery in Humboldt carries seventeen different wines in a wide range of flavors from dry to sweet.
A beautiful Italian style villa is the backdrop to this lovely winery.
They grow seven different varieties of grapes on twenty-eight acres including five acres of Sangiovese grapes that are native to Tuscany.
In addition to the winery, there is also a brewery onsite where the winemaker Barry began creating craft beers in 2018.
The people at Crown winery are very welcoming. They would love to have you visit and experience the winery for yourself. Spend some time in the tasting room, enjoy a private picnic in the vineyard, or take one of their monthly yoga classes followed by a glass of wine or craft beer to help you relax and unwind.
11. Century Farm Winery
Jackson
Century Farm Winery is designated as a "Tennessee Century Farm" which means the property has been owned and farmed by the same family for at least 100 years.
In fact, the farm has been in the same family for over 150 years and has grown many different crops over that time. Currently the farm grows cotton, corn, and of course the vineyard of grapes.
You can schedule a private tasting in the vineyard, production room, or side yard. Hear about the history of the farm and how they began making wines before your host guides you through tasting eight different wines.
12. White Squirrel Winery
Kenton
Last, but not least on our best wineries in Tennessee list is White Squirrel Winery It is named for the large number of white squirrels that live in the area. Kenton actually has the highest concentration of White squirrels in all of North America.
They make bold tasting wines in small batches using grapes and other fruits grown directly on the farm.
You can visit the winery Friday-Sunday for tastings and a tour of the ninety acre property.
Check out their winery loft suite on Airbnb for a unique getaway that includes an ATV tour of the winery, fresh country breakfast with seasonal fruit from the farm, and a bottle of White Squirrel wine.
Planning Your Visit to the Best Wineries in Tennessee
There are so many great wineries to choose from, the hardest part will be deciding which one to visit first. If you're looking for somewhere to stay while you're visiting the best wineries in Tennessee, check out the Best Bed and Breakfasts in Tennessee.