Mississippi is well-known for its culture and music, but did you know that it's also home to some incredible beaches?
Coastline along the Gulf of Mexico and Mississippi Sound as well as the Mississippi River and various lakes create plenty of sandy spaces to enjoy the sun. Calm water, soft white sand, and great weather make these beaches welcoming to everyone.
Check out this list so you don't miss out on all the best beaches in Mississippi!
Here Are the Best Beaches in Mississippi
You might be surprised at how many beautiful beaches there are in this state.
The best beaches in Mississippi are both saltwater and freshwater, natural and man-made with tons of variety. You can find cute little beach towns or offshore islands.
There are plenty of options whether you're looking for a day jam-packed full of activities for the family or a quiet spot to relax away from the crowds. You're guaranteed to find your perfect beach on this list!
1. Pass Christian Beach
Pass Christian
Pass Christian Beach is a popular spot for locals and visitors alike.
This beautiful beach is great for families and is even known to be one of Theodore Roosevelt's favorite getaways.
Pass Christian Beach is known for boating and yachting, and you can't miss the golf course there as well. Make sure you stop by the Pass Christian War Memorial Park and other nearby nature preserves.
In December, you can participate in a marathon that begins right from Pass Christian Beach.
2. Ross Barnett Reservoir
Ross Barnett
With its 105-mile long shoreline, the Ross Barnett Reservoir definitely deserves to be named one of the best beaches in Mississippi.
Come check out several man-made beach areas where you can enjoy swimming, boating, fishing, camping, and even bird-watching.
Ross Barnett Reservoir is the host location for regular weekend regattas, and if you aren't competing it's still so much fun to watch all the sailboats vying for the top spot. There are also multiple festivals that take place here throughout the year.
3. Gulfport Beach
Gulfport
No list of the best beaches in Mississippi would be complete without including Gulfport Beach.
Situated in the well-known beach town of Gulfport, this spot is a favorite for locals and those just visiting the area. That's because it's very clean and comfortable, and it's also big enough that you'll never have to fight for a spot or feel overcrowded.
In fact, it makes up a section of the largest man-made beach on earth! Bring your full beach setup so you have everything you need for a full day of beach bumming.
Gulfport Beach is the place to be if you love outdoor activities. You can fish, charter a sailboat, rent equipment on the spot, and more.
4. Biloxi Beach
Biloxi
One of most well-known of Mississippi's best beaches is Biloxi Beach.
This beach is great for families and it has so much to do for everyone.
Take a dip in the very warm water, then lounge on the soft sand for an afternoon.
You can also enjoy steamboat tours, fishing, tons of water sports, a lighthouse trip on the water, and so much more.
Make a full day of it and head to one of the many restaurants and casinos in the area for lunch, dinner, and entertainment.
5. Sardis Lake
Lafayette, Panola, and Marshall counties
Sardis Lake is one of the most unique and best beaches in Mississippi.
Located on the Tallahatchie River in a state park, it wasn't always a recreational area. It was constructed in the 1930s as a way to control floods and later became a much-loved place to get out on the water.
Sardis Lake has no shortage of activities you can jump into including hiking, birding, watersports, boating, and fishing. It's also a great spot for a lovely picnic.
What makes it even better are the amenities available to you if you're visiting for the day or longer. You can stay in cabins, head out for a round of golf, and visit the recreation hall.
6. Ship Island
Gulf Coast
For an unforgettable experience at one of Mississippi's best beaches, take a trip to Ship Island.
This beach is actually made up of East and West Ship Islands, so you get double the sandy fun. These barrier islands near Gulfport are only accessible by boat, so you can really feel like you're getting away from it all.
If you're lucky, you might even spot a dolphin leaping through the water! Visitors often report seeing these magical sea creatures as they make their way to Ship Island.
While you're there, head over to the historic Fort Massachusetts where you can take tours and explore.
7. Lake Mars
Ocean Springs
While many of the best beaches in Mississippi have a lot going on, Lake Mars is for beachgoers who want something out of the way and quiet.
It's less accessible than other beaches, so it doesn't draw big crowds.
This is the perfect place for you to visit if you're a nature lover. Look out from the pier over the tidal marsh and natural sand beach.
Cast your net and try your luck fishing, and make sure you keep an eye out for the birds that frequent this environment.
8. Front Beach
Ocean Springs
The Gulf of Mexico creates some of the best beaches in Mississippi, and Front Beach is definitely one of them.
With great views of Mississippi Sound, this beach is very popular. Float around in the calm, shallow water that's perfect for kids.
There are also fishing piers and volleyball courts if you're looking for a little more activity, and you can even have a bonfire on the beach.
9. East Beach
Ocean Springs
What earns East Beach its spot on this list of the best beaches in Mississippi is that it's the perfect middle ground.
It's less of a tourist hotspot and is typically more for locals. That means it isn't usually crowded, so it's great for a quiet and relaxing beach day.
East Beach has plenty of space as well as fishing piers, and the calm water is ideal for kayaking.
Take a walk on the Weeks Bayou Nature Trail and wrap up your visit by heading over to one of the sweet little cafes along the beach. There are also plenty of convenient places to stay.
10. Bay St. Louis Beach
Bay St. Louis
Located in a great small town, Bay St. Louis is another of Mississippi's best beaches that don't rely on tons of attractions in the area.
With a feel similar to nearby Biloxi Beach but without the throngs of visitors, you'll love the laid-back atmosphere.
Stroll along the old streets and stop into all different types of shops. If you love a quiet spot but still want to have some options, Bay St. Louis offers fishing and other activities.
It's also known to be a great spot to catch the sunset.
11. Horn Island
Gulf Coast
If your idea of the best beaches in Mississippi is an island away from the hustle and bustle like Ship Island, Horn Island is another one you need to head to.
Among the barrier islands only accessible by boat, Horn Island boasts wildlife and quiet beaches.
Even better, you can being your camping gear and stay overnight under the stars. Wake up to the sound of waves and catch the sunrise.
12. Harrison County Sand Beach
Gulfport
An absolutely classic Mississippi beach is Harrison County Sand Beach.
If your kids have been bugging you for a beach trip, they'll love this beach. It boasts luxuriously soft sand and cool, refreshing water to help you escape the Mississippi heat.
The actual beach area is wide, perfect for family games that won't have you landing on someone else's space.
This is another camping-friendly beach! Bring your s'mores supplies and get a bonfire going for an experience you'll remember forever.
This beach and its facilities are also very accessible, so no one has to miss out on all the fun.
13. Waveland Beach
Waveland
Waveland Beach has earned its designation as one of the best beaches in Mississippi because of its incomparable views.
No commercial buildings are allowed to be built in the area, so it's just beautiful shoreline as far as the eye can see.
This beach speaks for itself without all the frills and fuss, making it less busy and a local favorite.
Catch a few fish and go crabbing to enjoy fresh local seafood.
Garfield Pier and Buccaneer State Park are right nearby if you're looking for more to do.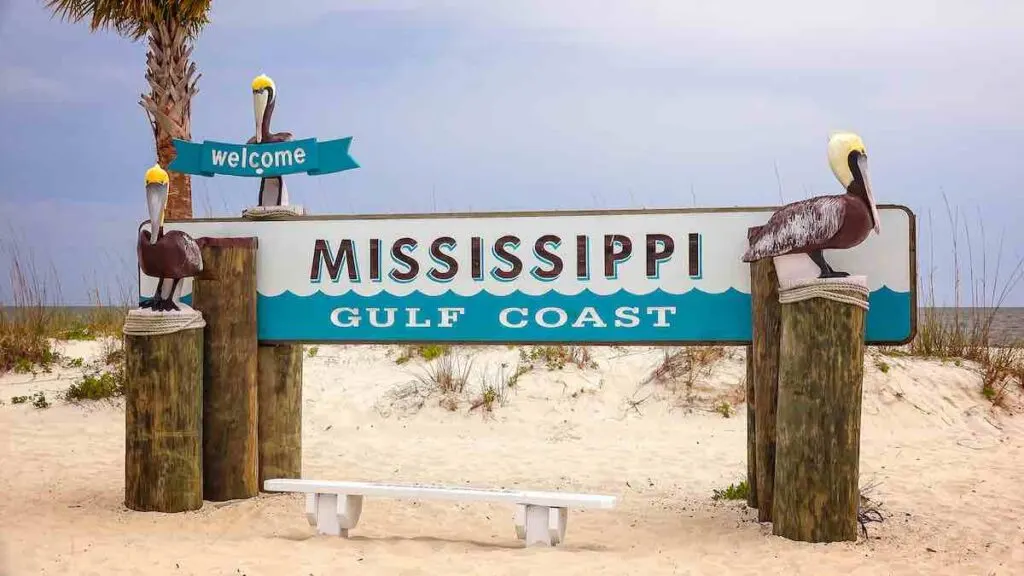 Mississippi Beaches Have Something for Everyone
Despite having a shorter coastline than neighboring states, you don't have to look far to find the best beaches in Mississippi.
Take your pick from so many different places to check out, each with something special and unique to offer. Whether you want bright lights and a buzzing atmosphere or you just want to hear the sound of waves and dig your toes in the sand, you can find whatever you're looking for.
Keep the sunshine going and take a look at our Sunflower Page!