Michigan is home to an impressive array of disc golf courses scattered throughout the state, catering to players of all skill levels and offering unique and enjoyable experiences. With nearly 500 disc golf courses across the region, there is always a new challenge to discover. The top-rated courses combine a careful mix of well-thought-out design, beautiful landscapes, and an emphasis on skill-based gameplay.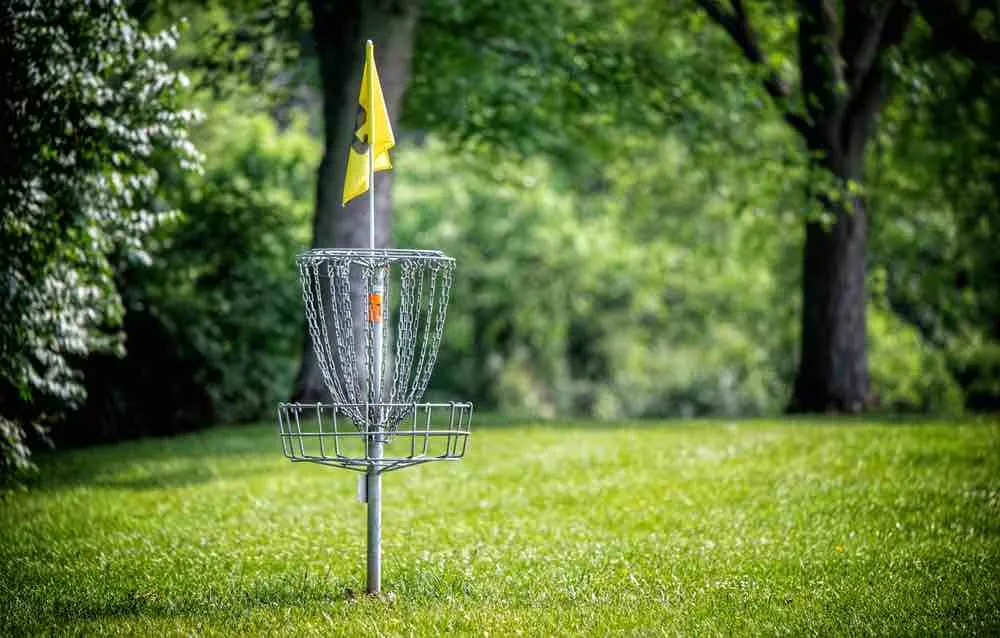 These courses in Michigan range from scenic mountain locations to tranquil lakeside layouts, providing disc golf enthusiasts with a wide variety of terrains and technical challenges. Many of these courses also offer amenities such as clubhouses and refreshments, ensuring a comfortable and memorable playing experience. Additionally, the disc golf community in Michigan is thriving, with numerous tournaments and clubs catering to players of all ages and skill levels.
Key Takeaways
Michigan boasts a diverse collection of top-rated disc golf courses to suit players of all abilities
Courses blend captivating landscapes with skill-testing layouts, offering a unique playing experience
Thriving disc golf community supports tournaments, clubs, and year-round playing conditions across the state
Top Disc Golf Courses in Michigan
Flip City Disc Golf Park
Located in Shelby, Flip City Disc Golf Park ranks as the top disc golf course in Michigan and is #9 in the World's Best Disc Golf Courses. The park offers a total of 24 holes with a variety of challenges for all skill levels. This course is set in a beautiful landscape with rolling hills and mature trees. The cost to play at Flip City is $5/day.
Hickory Hills
In Traverse City, Hickory Hills is another top-rated course near the West Grand Traverse Bay. The course is moderately wooded, providing both challenge and scenery. Hickory Hills has 24 holes that will test your skills as you navigate tight lines and elevation changes.
Silver Creek Disc Golf Park
Silver Creek Disc Golf Park in Harvey is an 18-hole, challenging and technical course in the Upper Peninsula of Michigan. The course is almost entirely wooded, making for a more difficult play experience. After a round, you can head to the nearby Bayou and Chocolay River Brewery to quench your thirst.
Wild Haven Disc Golf Resort
Situated in Charlevoix, Wild Haven Disc Golf Resort offers a fantastic disc golf experience in West Michigan. This course features 20 holes that take players through various terrains, including wooded areas, open fields, and around a beautiful lake. The resort also includes a pro shop and other amenities to enhance your visit.
Kensington Metropark
Kensington Metropark in Milford is a popular destination for disc golfers who want a well-maintained course with a variety of challenges. The course includes 27 holes with a mixture of open and wooded areas, providing a test for players at every skill level. The disc golf area is part of a larger metropark that offers additional recreational opportunities for visitors to enjoy.
Course Features and Design
Michigan is home to some of the best disc golf courses in the country, showcasing a wide range of designs, layouts, and challenges. These courses offer players a unique experience, marrying the sport with the state's natural beauty.
Many of the top courses in Michigan feature 18 to 24 holes, allowing for an immersive round of disc golf. The design of these courses incorporates the diverse landscape of the region, ranging from heavily wooded areas to open fields. This variety ensures that each hole offers a unique challenge for players of all skill levels.
One of the critical aspects that make these courses stand out is the incorporation of elevation changes, providing not only a physical challenge but also an engaging visual experience. The rolling hills and elevated tees require players to consider their shot angles, forcing strategic decision-making throughout the course.
Natural obstacles are a signature element of Michigan's disc golf courses. Dense forests create tight fairways that demand precision and control while navigating around trees, shrubs, and other natural obstructions. These obstacles make each hole memorable, pushing players to hone their skills and adapt their strategies.
Many courses also feature water hazards that come into play on several holes. Streams, ponds, and lakes serve to not only increase the challenge but also add a scenic touch to the courses. Players must carefully plan their shots to avoid losing discs and incurring penalty strokes, increasing the stakes on each throw.
Skill Requirements and Technicality
When it comes to disc golf in Michigan, there is a diverse mix of courses that cater to players of different skill levels. For novice players looking to hone their skills, there are courses that have a balance of open fairways and technical challenges. More experienced players will appreciate the intricate layouts and demanding terrain found on some of the state's top-rated disc golf courses.
Flip City in Shelby is considered the best disc golf course in Michigan, offering a variety of challenges for all skill levels. With 24 holes and a target line for each hole, players have multiple options for playing and will enjoy a well-rounded experience on this course.
Silver Creek Disc Golf Park in Harvey is another top choice, with its 18-hole layout primarily set within wooded areas in Chocolay. Many describe this course as especially challenging and technical, making it a great option for players looking to truly test their abilities.
-The Tailings in Iron River
-Green Lake DiscGolfPark
-Will Bendik Memorial DGC
-Civic Center South – The Bear's Den
-Black Locust – South Green
-Lake Arvesta Farms
Courses like Hunts Hideaway in Otisville and Kensington Metropark – Toboggan Course in Milford are also highly regarded for their difficulty, offering players a chance to develop their skills and tackle intricate, challenging layouts.
Players wanting to focus on the technical aspects of the game should consider visiting Sage Creek in Memphis, which features a variety of obstacles and hazards to navigate, further honing the skills required for success in more difficult courses.
Amenities and Nearby Attractions
Silver Creek Disc Golf Park in Harvey offers a challenging 18-hole course, playing through wooded areas. Nearby attractions include the Bayou and Chocolay River Brewery, perfect for quenching your thirst after a game.
If you're looking for a top-rated course, look no further than Flip City Disc Golf Park in Shelby. Not only is it highly ranked in Michigan, but it also holds the #9 spot in the World's Best Disc Golf Courses in 2022.
Near many of these disc golf courses, outdoor enthusiasts may find opportunities for biking, fishing, and other outdoor adventures. Multiple parks provide scenic settings to relax in between rounds or to engage in recreational outdoor activities. Be sure to explore the local areas for scenic trails and waterfront locations.
Some courses may offer disc golf pro shops on-site, giving players the chance to pick up gear or ask knowledgeable staff for advice on equipment and technique. These pro shops can help improve your game and ensure you're well-equipped for your disc golf experience.
Tournaments and Clubs
Michigan is home to a vibrant disc golf community with numerous clubs and tournaments taking place throughout the year. Players of all skill levels can find events to participate in, ranging from casual meetups to highly competitive tournaments.
One of the most prominent clubs in Michigan is the Disc Golf Scene, which hosts tournaments and events across the state. Their website provides a comprehensive list of upcoming disc golf tournaments in Michigan, making it easy for players to find an event that suits their schedule and skill level.
Several disc golf associations are also active in Michigan, such as the Michigan Disc Golf Organization (MDGO) and the Professional Disc Golf Association (PDGA). These organizations work together to promote the sport and coordinate various events, including the Michigan State Championships.
Tournaments in Michigan often take place at some of the top-rated disc golf courses in the state. Players can expect to compete at courses like Flip City in Shelby, BlueGill in Wayland, Hunts Hideaway in Otisville, and Kensington Metropark's Toboggan Course in Milford.
To join a local disc golf club, players can check out websites like the Awesome Mitten or the Michigan Disc Golf Course Directory for information on clubs and events near them. Local clubs often host weekly or monthly events, such as league play, doubles tournaments, and casual meetups, providing a great opportunity for players to hone their skills and meet fellow enthusiasts.
By participating in tournaments and joining clubs, disc golfers in Michigan can enjoy the camaraderie and competition that the sport offers, while also experiencing some of the best disc golf courses the state has to offer.
Different Seasons and Playing Conditions
Michigan's diverse weather conditions can have a significant impact on disc golf experiences. The state's distinct seasons – spring, fall, and winter – each bring varying challenges and opportunities for disc golfers.
Spring often welcomes milder temperatures and blossoming landscapes, making it an ideal time for players to dust off their discs. However, melting snow and frequent rain can result in muddy and slippery conditions on the course. Proper footwear and a towel for cleaning discs are essential during this season. In addition, wind can be a factor to consider when planning your shots and selecting the appropriate discs.
As temperatures begin to drop in fall, disc golfers can take advantage of the cooler, dryer conditions with comfortable playing conditions. Fall foliage adds a beautiful backdrop and makes it easier to spot discs amongst the vibrant colors of the tree line. Be aware of the shorter daylight hours, as playing time may become limited. Wear layers to stay warm and prepare for occasional showers.
Winter disc golf in Michigan presents a unique experience with snow-covered courses creating new challenges. Snow can make it difficult to navigate and locate discs, so using brightly colored or easily visible discs is highly recommended. Players should dress warmly and in layers, with waterproof clothing and boots to stay comfortable. Despite the cold, playing in winter can be exhilarating, offering a serene and peaceful atmosphere.
Remember, regardless of the season, players should always be prepared for sudden changes in weather and potential course hazards. By planning and adjusting your game to suit each season and weather conditions, you will enhance your disc golf experience in Michigan.
Disc Golf Course Directory
Michigan is a popular destination for disc golf enthusiasts with over 485 courses to choose from. Ranked as the 2nd best disc golf state in the United States, Michigan is home to numerous top-rated courses and challenging layouts for players of all skill levels.
Flip City in Shelby, MI, is one of the highest-rated disc golf courses. Established in 1980, it offers 24 holes and has garnered praise for its challenging design and well-maintained grounds. Another top-rated course is BlueGill in Wayland, MI, which was established in 2001 and features 20 holes (with 24 baskets). Many players find the course layout enjoyable, boasting varied terrain and an abundance of natural beauty.
For those seeking a more challenging experience, the Silver Creek Disc Golf Park located in Harvey is a must-visit. This 18-hole course weaves through wooded areas of Chocolay and is known for its technical play. When you've worked up a thirst, the course is conveniently located near the Bayou and Chocolay River Brewery.
Some other notable courses in Michigan include:
The Tailings in Iron River
Acorn Hills Disc Golf Center in Manistee, MI (Fox Squirrel)
Action Wake Park in Hudsonville, MI
Addison Oaks County Park in Leonard, MI (18 holes with 24 baskets)
Michigan also boasts a thriving disc golf scene, with 256 leagues and 93 stores selling disc golf gear. To find the best courses, view ratings, reviews, number of holes, current conditions, and difficulty levels, you can refer to various online resources and directories. These resources can help you easily locate courses, understand their layout, and compare your options for an enjoyable disc golf experience in Michigan.
Tips for Disc Golfers of All Ages
Disc golf is a fun and inclusive sport that can be enjoyed by players of all ages and skill levels. Whether you are a beginner or an experienced disc golfer, it is important to keep a few tips in mind when playing on Michigan's beautiful courses.
Be Prepared:
Before heading out to a disc golf course, make sure you have the necessary equipment. This includes discs (a driver, a mid-range, and a putter), comfortable footwear, and appropriate clothing for the weather. You can often find discs tailored for different ages and skill levels, so each member of your group can have the right equipment for a great game.
Know the Rules:
Familiarize yourself with the basic rules for playing disc golf. This will ensure a smooth and enjoyable experience for players of all ages. Although the rules can vary slightly depending on the course, most games require you to simply start at the tee pad, throw your disc towards the basket, and count the number of throws it takes to reach the basket; the lower the score, the better.
Safety First:
When playing disc golf, it is essential to prioritize safety for yourself and others on the course. Make sure to give other players enough space to throw, and always be aware of your surroundings to avoid accidentally hitting someone or encountering hazards like wildlife or water.
Be Respectful and Patient:
Disc golf is a sport where players of all ages can bond and share a fun experience. Be patient and supportive with new players and always be respectful of other people on the course. This not only creates a positive atmosphere but also helps foster a love for the sport within the community.
Have Fun!
Finally, remember to enjoy yourself and the outdoors. Disc golf offers a great opportunity to spend time with friends and family in a natural setting. Embrace the challenges, learn from your mistakes, and keep the spirit of friendly competition alive.
By following these tips, disc golfers of all ages can have a memorable time playing on Michigan's amazing courses.