Michigan is home to a diverse range of bike trails that cater to cyclists of all skill levels and interests. From scenic nature paths to urban routes, the state boasts an impressive selection of trails that showcase its breathtaking landscapes, charming towns, and vibrant cities. Whether you're seeking a leisurely ride through a picturesque wine region or an adrenaline-pumping mountain biking adventure, Michigan's bike trails have something for everyone.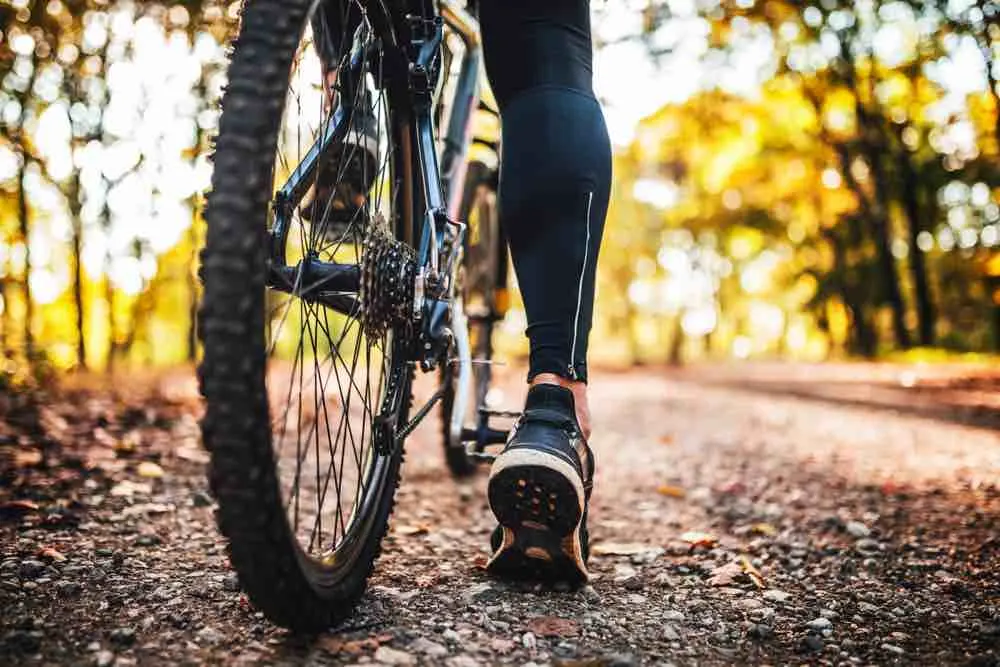 One of the highlights of Michigan's biking scene is the abundance of paved trails that provide smooth surfaces for easy riding. These well-maintained paths are ideal for families, novice cyclists, or those looking for a relaxing ride through beautiful surroundings. For a more off-the-beaten-path experience, Michigan also offers a number of nature trails that meander through dense forests and along pristine shorelines, providing a serene escape among the state's natural beauty. In addition to these scenic options, the state is home to several urban routes that help residents and tourists alike explore the vibrant cities of Michigan on two wheels.
Key Takeaways
Michigan offers a variety of bike trails, from paved paths to nature and urban routes.
Scenic options include trails through wine regions, forests, and along shorelines.
Resources are available to help plan your biking adventure in the state.
Best Paved Bike Trails
Fred Meijer White Pine Trail State Park
The Fred Meijer White Pine Trail State Park is a popular 92-mile trail that offers a mix of paved and crushed limestone sections. This trail connects Comstock Park and Cadillac, passing through small towns and beautiful scenery during the journey. One of the highlights of this trail is the easy ride between Rockford and Cedar Springs on paved path.
Kal-Haven Trail State Park
Stretching over 34 miles, the Kal-Haven Trail State Park links Kalamazoo and South Haven. The trail consists of crushed limestone and features captivating landscapes, such as lush greenery and open fields. Several former railroad towns can be found along the way, providing perfect spots for rest and replenishment.
Iron Belle Trail
The Iron Belle Trail is an ambitious project that aims to connect Detroit and Ironwood with two routes spanning over 2,000 miles. One portion of the trail features a designated biking path, which includes miles of paved segments, providing cyclists with a smooth ride through picturesque Michigan landscapes.
Little Traverse Wheelway
Offering stunning views of Lake Michigan's Little Traverse Bay, the 26-mile Little Traverse Wheelway is a favorite among cyclists in the Petoskey area. This asphalt-paved path runs from Charlevoix to Harbor Springs, offering breathtaking scenery along the shoreline.
Paint Creek Trail
The Paint Creek Trail is a 10-mile paved pathway stretching from Rochester to Lake Orion. It was Michigan's first non-motorized rail-to-trail and traverses through beautiful wooded areas with excellent opportunities to observe wildlife.
Clinton River Trail
The Clinton River Trail is a 16-mile paved and crushed limestone pathway that follows the winding path of the Clinton River. Running through Rochester Hills, Auburn Hills, Pontiac, and Waterford, this trail offers a diverse array of landscapes, from dense forests to urban surroundings.
Lansing River Trail
Covering 17 miles, the asphalt-paved Lansing River Trail connects Lansing's downtown with numerous parks and natural areas. The trail follows both the Grand River and the Red Cedar River, providing stunning waterfront views and easy access to Michigan State University's campus
Scenic Nature Trails
Huron Sunrise Trail
The Huron Sunrise Trail offers breathtaking views of Lake Huron and follows the river for an immersive experience in nature. As you bike along this path, you'll be surrounded by lush forests, wetlands, and picturesque views of the lake. The trail also passes through Rogers City, where you can take a break and explore local establishments.
Leelanau Trail
Traverse the serene Leelanau Trail, with its combination of forests, farmland, and vineyards. This peaceful trail is perfect for a leisurely ride, allowing you to take in the beautiful landscape and possibly spot various wildlife such as deer and birds along the way. The trail connects to the Grand Traverse Bay, providing cyclists with superb water views.
Sleeping Bear Heritage Trail
Explore the Sleeping Bear Heritage Trail, a path that winds through the heart of the Sleeping Bear Dunes National Lakeshore. On this trail, you'll find yourself surrounded by diverse scenery, including forests, dunes, and picturesque views of Lake Michigan. Keep an eye out for unique wildlife and plants as you ride this beautiful pathway.
Lakeshore Connector Path
The Lakeshore Connector Path is a serene trail that links the Little Traverse Wheelway and the Kal-Haven Trail State Park, providing an extended route for those interested in a longer adventure. As you bike along, you'll encounter stunning views of Lake Michigan, lush forests, and picturesque wetlands.
Betsie Valley Trail
Take a leisurely ride along the Betsie Valley Trail, as it meanders through wetlands, forests, and farmland. This rail-trail is perfect for all skill levels, whether you're a casual cyclist or an experienced mountain biker. The trail partners with the Betsie River, granting riders unparalleled sights and ample opportunities to spot wildlife.
Muskegon Lakeshore Trail
Experience the beauty of the Muskegon Lakeshore Trail, which offers riders magnificent views of Lake Michigan and the surrounding forests. With easy access to the shoreline, this trail provides plenty of opportunities to stop at various beaches and enjoy the refreshing lake breeze.
Saginaw Valley Rail Trail
Lastly, explore the Saginaw Valley Rail Trail, a popular haven for hikers, bikers, and outdoor enthusiasts. The trail encompasses a range of landscapes, including forests, wetlands, and farmland. Additionally, the trail's proximity to the scenic Paint Creek allows for incredible experiences with nature and the chance to observe various species of birds and other wildlife.
Mountain Bike Trails
Copper Harbor Trails
Copper Harbor Trails, located in Copper Harbor, Michigan, is an advanced mountain biking destination with 37 miles of fantastic singletrack trails. Situated in the beautiful Keweenaw Peninsula, these trails offer incredible scenic views and a variety of terrain, perfect for experienced mountain bikers looking for a challenge. The network consists of several well-maintained trails providing beginner-friendly options as well.
Some highlights of Copper Harbor Trails include:
Flow trails: Smooth, rolling trails with berms, jumps, and rollers
Technical trails: Challenging sections with rock gardens and steep ascents/descents
Scenic trails: Offering stunning views of Lake Superior and the surrounding forests
Iron Ore Heritage Trail
The Iron Ore Heritage Trail is a 47-mile multi-use trail that runs through Marquette County in Michigan's Upper Peninsula. While not a dedicated mountain biking trail, it offers an excellent opportunity for bikers to explore the region's rich history and natural beauty. From Marquette to Muskegon, this trail follows a former railroad corridor that once transported iron ore and takes riders past historical landmarks and through picturesque forests and wetlands.
Key features of the Iron Ore Heritage Trail for mountain bikers include:
Shade: Much of the trail is shaded by lush forests, providing natural sun protection and cooler temperatures during hot summer days
Heritage sites: Along the trail, bikers can discover remnants of the region's mining history, such as old mining towns and iron ore processing facilities
Trail surface: The majority of the trail is crushed limestone, making for a comfortable and relatively smooth ride
Both Copper Harbor Trails and the Iron Ore Heritage Trail offer unique mountain biking experiences in Michigan, catering to riders with various skill levels and interests. So, gear up and hit the trails to explore the state's stunning natural landscapes and fascinating history.
Urban Bike Trails
Belle Isle Park Loop
Belle Isle Park Loop is a scenic bike trail located in Detroit, Michigan. This 6-mile loop around the island park offers cyclists a flat, paved path with stunning views of the Detroit River and downtown skyline. The trail is perfect for riders of all skill levels, as it offers a safe and enjoyable environment for leisurely rides or more intense workouts. The park itself features numerous attractions, such as the Anna Scripps Whitcomb Conservatory, Dossin Great Lakes Museum, and James Scott Memorial Fountain, adding variety and educational opportunities to your biking experience.
Tawas Bay Pedestrian and Bike Path
The Tawas Bay Pedestrian and Bike Path, in northeastern Michigan, runs along the beautiful Lake Huron shoreline. This picturesque 10-mile route offers cyclists a mix of boardwalks, paved trails, and wooded sections that weave through the charming town of Tawas. The bike path is well-maintained and provides ample opportunities for enjoying the splendid views of Lake Huron's vivid blues. Stop by local shops and restaurants to refuel during your ride, or just relax and relish the peaceful atmosphere of the bay.
Island Lake Recreation Area
Island Lake Recreation Area, located in central Michigan near the town of Brighton, offers plenty of outdoor activities for bike enthusiasts. With over 14 miles of mountain bike trails, this area is an excellent choice for those looking to challenge themselves on varied terrain. The trails are well-marked and range from beginner to advanced levels, ensuring cyclists can find a route suited to their abilities. The recreation area also features paved paths for more leisurely rides, and the park's beautiful scenery, including lake views and lush forested areas, makes it a perfect spot for a day of biking fun.
Trail Planning and Resources
Best Trail Apps
When planning your biking adventure on Michigan trails, utilizing trail apps can be a helpful and efficient way to find the best trails for your skill level and preferences. Some popular trail apps to consider include:
TrailLink: This app offers detailed information about various trails in Michigan, including maps, photos, and reviews. You can search for bike trails based on your location or desired difficulty level.
MTB Project: Focused on mountain biking trails, this app is an excellent resource for those seeking more challenging off-road adventures, such as the Copper Harbor Trail system.
Trail Reviews
Reading trail reviews from fellow cyclists can help you choose the perfect trail for your biking adventure. Some top-rated cycling trails in Michigan are:
Little Traverse Wheelway: A 26-mile asphalt-paved path that runs along the stunning Lake Michigan's Little Traverse Bay, from Charlevoix to Harbor Springs, offering scenic views.
Copper Harbor Trails: Located on the Keweenaw Peninsula, this trail system offers 40 miles of challenging singletrack dirt trails surrounded by Michigan's natural beauty.
Fred Meijer Grand River Valley Trail: Connecting the cities of Lowell and Saranac, this trail winds through woodlands, wetlands, and agricultural lands, offering a variety of beautiful landscapes.
Fred Meijer Berry Junction Trail: This trail stretches over 10 miles through the heart of Muskegon County, connecting communities and providing an excellent resource for local residents and visitors.
By using trail apps and consulting user reviews, you can make well-informed decisions for trail planning and ensure a fantastic cycling experience in the beautiful state of Michigan.