Pumpkins are a unique squash uniquely appreciated in America. And, here in Indiana, we love everything from pumpkin pies to jack-o'-lanterns to pumpkin spice candles. And one place you can find more pumpkins than you can shake a stick at are pumpkin patches. These magical pumpkin paradises are fun places to visit for the entire family, and searching for the best pumpkin patch in Indiana makes for a fantastic road trip.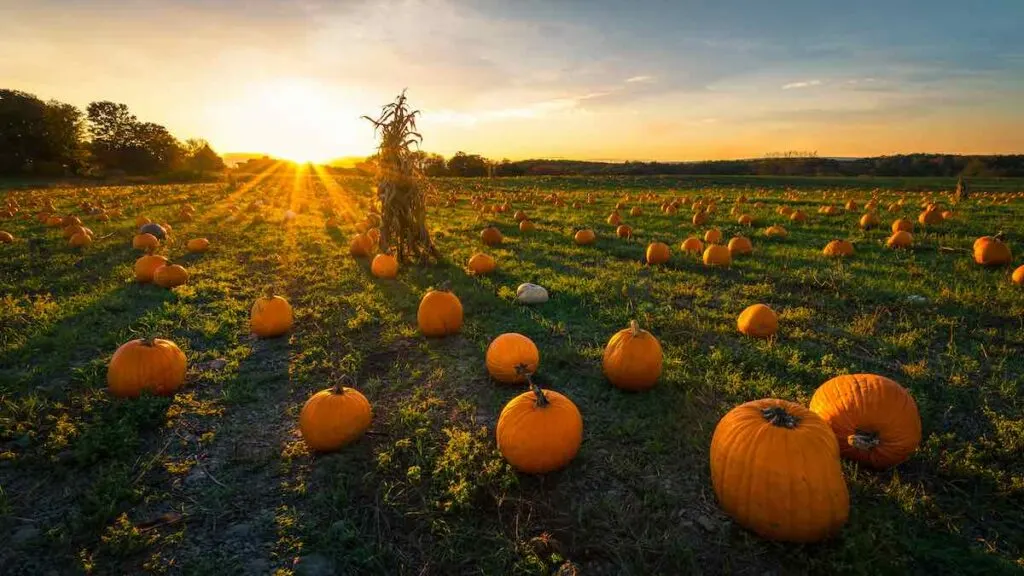 Best Pumpkin Patches Northern Indiana
1. Steele Farms
Perhaps the best pumpkin patch in Indiana, Steele Farms, located in Decatur, is a fantastic place to pick some beautiful pumpkins. Whether you're looking for some homemade pumpkin pie ingredients or that perfect Jack-O'-Lantern, you're likely to find what you're looking for this fall. You can enjoy their challenging corn maze and tasty refreshments like fresh baked cookies, hot dogs, and nachos.
2. Pumpkin Kingdom
Pumpkin Kingdom located in Montpelier is wholes fun for the whole family. The stand features pumpkins of all shapes and sizes, plus squashes, gourds, mums, and corn stalks. And the kiddos will have a blast exploring their challenging corn maze labyrinth and can take a wagon ride!
3. Wholesome Meadows Farm
Another candidate for the best pumpkin patch in Indiana is Wholesome Meadows Farm, located in Huntington. The farm is home to thousands of pumpkins that are home-grown and great for all your pumpkin needs. You can choose your pumpkin canvas for carving or painting, but they also have an excellent selection of pumpkins specifically for making pumpkin pie. They also sell gourds, sweet corn, squash, and other produce grown at the farm.
4. Ridenour Acres
At Rodempir Acres, located in Angola, their fall motto is "if you can lift it, you can pick it." Pay a visit to their expansive pumpkin patch and browse their hundreds of unique pumpkins for sale. They also have hayrides, a corn maze, bouncy houses, along with other activities that are fun for the whole family.
5. Knollbrook Farm
Many in Northern Indiana swear Knollbroo Farm is the best pumpkin patch in Indiana. The farm is located in Goshen, and guests are free to wander around their gorgeous patch that features white, orange, and even a few green pumpkins for sale during their fall harvest. While here, you can also check out their fun activities such as an animal petting corral, scavenger hunt corn labyrinth, and their popular pumpkin slingshot!
6. Kent's Cucurbits
In Brookston, families can enjoy a fun day at Kent's Cucurbits. They offer hand-picked pumpkins that are perfect for kids who wish to choose their ideal canvas to create their masterpiece. Plus, you can grab other unique products such as garden mums, Indian corn, and courts. Plus, they have a fun corn maze the entire family can explore.
7. Coulter's Produce
Colter's produce is another great contender for the best pumpkin patch in Indiana, Westville. While their market's open year-round, it shines when fall comes around. You and your family can enjoy hayrides through eh pumpkin patch, which is overflowing with a wide variety of unique pumpkins that make incredible decorations or pumpkin pies! Kids can also enjoy face painting, pony rides, and their corn maze. Also, don't forget to stock up on a few mums, apples, and Indian corn, along with some of their other fresh produce.
8. Thistleberry Farm
Located in South Bend, Thristleberry Farm offers thousands of great pumpkins to choose from, making it a haven for pumpkin lovers. The patch is around five acres and delivers a wonderful experience for guests of all ages. They also feature kid-friendly activities such as hayrides, corn mazes, and a petting farm.
9. Scheeringa Farms
Ask any local in Highland, and they'll tell you Scheeringa Farms is the best pumpkin patch in Indiana — hands down. The farm not only has a wide selection of squash, pumpkins, and gourds you can purchase, but they also offer attractions such as hayrides, a petting zoo, and tons of photo opportunities.
Best Pumpkin Patches Central Indiana
10. Eklund's Crazy Acres
Get a little crazy in Connersville at Eklund's Crazy Acres, where they sell great pumpkins while providing lots of family-friendly farm fun for the entire family. Trek through their expansive seven-acre corn maze that some claim is haunted during the evenings. You can also enjoy relaxing hayrides and delicious food at their concession stand.
11. Harper Valley Family Farms
At Harper Valley Family Farms, located in Westport, you can choose from hundreds of pumpkins while enjoying some fresh, country air. Their 8-acre patch features pumpkins of all shapes and sizes, so you're sure to find one that's perfect for your festive project. They also host the Pumpkin Patch Days Festival every October 8th and 9th.
12. Smith Family Farms
Ask any resident of Pendleton, and they'll say the best pumpkin patch in Indiana is at Smith Family Farms. This family-owned farm's been around for 100 years, and these folks know a thing or two about growing pumpkins. In addition to pumpkins, they also offer amazing food like caramel apples and burgers!
13. Wendel Farms
Take your kiddos on a trip to Brookville and visit Wendel Farms, where they can enjoy a fun-filled day of pumpkin picking and other activities. Your adventure will begin with a free hayride to their massive pumpkin patch. They also have a petting farm, corn maze, and offer pony rides.
14. Hobson's Adventure Farm
Folks in Rockville say that Hobson's Adventure Farm is by far the best pumpkin patch in Indiana. It's a great place if you're looking for a weekend getaway. You and your family can stroll through their pumpkin patch and corn maze or have a blast shooting their pumpkin cannon!
15. Hog Wallow Farm
Hog Wallow Farm, located in Dana, is as fun as the name suggests! You and your family can wallow in a plethora of entertaining activities such as the tower of slices, a petting zoo, a corn maze, and a weekend hayride. Not to mention they have tons of beautiful pumpkins!
16. Pleasant View Orchard
Another promising candidate for the best pumpkin patch in Indiana is Pleasant View Orchard, located in Fairland. You can select from hundreds of beautiful pumpkins in a magical setting that encapsulates the beauty of the fall season. While enjoying pumpkin wagon rides, you can also dine on delicious homemade foods like elephant ears, apple cobbler, and their popular apple cider slush.
17. Landess Farm
At Landess Farm, located in Daleville, you can find everything from a pint-sized pumpkin to an orange giant in their beautiful and expansive pumpkin patch. They have a fun corn maze, offer hayrides, and sell other great products such as fall mums and much more.
18. Lark Ranch
If you're looking for a fantastic time in Greenfield, then you've got to visit Lark Ranch. It's not only home to a humongous 20-acre pumpkin patch featuring pumpkins larger than a small child, but they also offer tons of fun activities such as a bounce house, pumpkin cannon, pony rides, and 1,000-foot zip-line.
19. Whitetail Tree Farm
Located in Springport, Whitetail Tree Farm offers tons of fun activities, and folks look forward to their annual pumpkin fest. You can sit by the bonfire and enjoy a few good stories or compete with friends and family to be the first one to complete the corn maze.
Best Pumpkin Patches Southern Indiana
20. Huber's Orchard & Winery
For fans on the Buber's Orchard & Winery bandwagon, they offer the best pumpkin patch in Indiana. Located in Borden, Huber's provides an outstanding selection of pumpkins and big, plump, and juicy apples. The kiddos will have a blast in their rope maze and enjoy their mountain slides and pedal carts.
21. Goebel Farms
October in Indiana means a trip to Evansville to visit Goebel Farms, where you can pick from a patch of gorgeous pumpkin along with winter squash that's perfect for baking or carving. You'll also enjoy chauffeured hayrides to and from the patch. Kids can also enjoy their free barn slide and themed corn maze!
22. Applacres
Applacres, located in Bedford, features a cornucopia of fresh veggies and fruits during their fall harvest. Plus, you can pick your favorite pumpkin from their expansive selection of green, white, and orange pumpkins. They also offer mouth-watering crisp apples, and you can pick up some fantastic mums, squash, and homemade apple cider.
23. Cornucopia Farm
The legendary Cornucopia Farm is located in Scottsburg and features popular ninety pumpkin varieties such as Jack-be-Quicks to Atlantic Giants. They even sell pink pumpkins, which you can purchase to help support the Pink Pumpkin Patch Foundation American Cancer Society Relay for Life to help battle breast cancer. Other attractions include a soybean maze, corn maze, and petting farm.
Best Pumpkin Patch in Indiana: Conclusion
As we've seen there, when it comes to finding the best pumpkin patch in Indiana, you've got tons of great choices. Each farm offers a unique experience along with friendly folks and excellent foods. This fall, finding that perfect pumpkin in Indiana can be a great adventure for the entire family!
If you are looking for more fun things to do in Indiana, take a look through our Indiana page for the best of everything!