The Santa Ana River runs along Riverside, California, separating it from the city of Jurupa Valley and earning the city its name. Established in 1870 by John North, Riverside has flourished into a bustling social area with plenty of shops, restaurants, and amusements for friends and family of all ages.
If you're considering visiting Riverside, take a look at our list of the best things to do in Riverside, California, as you plan your trip so you can be sure to add all the best places to your itinerary. Get ready for some fun!
The Best Restaurants in Riverside, California
1. The Salted Pig
What could be better than a gastropub plus a scratch kitchen in the same place when it comes to the best things to do in Riverside, California? A gastropub is a pub whose focus is on serving high-quality food rather than just something halfway decent to eat with your beer. A scratch kitchen is a kitchen serving only fresh ingredients, which means nothing is frozen, and the menu changes seasonally to accommodate what ingredients are available fresh. The Salted Pig is both. It serves the highest quality beer from local and internationally renowned breweries, but it also serves only the very best in-season dishes with quality, fresh ingredients.
After opening on Valentine's Day in 2011, The Salted Pig quickly became a favorite for locals and tourists. You can't go wrong with starters like the pig board and grilled sourdough with Fuji apple jam. When in season, the Ikan Goreng – fried sea bass with "sambal, sweet soy, and steamed rice" – is a classic, and the based duck with cherry glaze. In addition to beer, you'll also find a list of superb cocktails on The Salted Pig's menu. The Nothing But the Truth cocktail, consisting of "aged rum, allspice dram, toasted oats, cider, orange peel, and lemon," is a delicious choice you can't miss when you check out this location on our list of things to do in Riverside, California.
2. Le Chat Noir French Restaurant
If you're hunting for some fine French cuisine in Riverside, look no further than Le Chat Noir. After the success of its sister restaurant, Le Rendez-Vous, in San Bernadino, restaurant owners decided to open another Frech food place in Riverside. Translating to "The Black Cat," La Chat Noir has quickly caught up to the success of Le Rendez-Vous. And with the incredible food on the menu, it's no wonder.
How does smoked salmon in a shallot vinegarette sauce sound? Or flambeed brie with Calvados? They also have excellent French escargot, mussels, and shrimp dishes, in case you're looking for seafood with a French flair. They offer creme brulee, chocolate mousse, and ice cream, and if you are looking for the best dessert, the dessert coffee is a must-taste on this list of things to do in Riverside, California.
3. Market Broiler
Our list of things to do in Riverside, California, wouldn't be complete without the best local place to get some quality seafood. Market Broiler, dating back to the 1950s, is a casual full-service restaurant where award-winning chefs prepare fresh fish and seafood. With locally sourced, sustainably produced scallops, oysters, artichokes, kale, avocadoes, and dairy, eating at the Market Broiler is also helping out the environment and the future of Riverside as a whole. Some of the tastiest menu items are mahi-mahi tacos, lobster-and-crab cake sliders, sizzling sea bass, fisherman's stew, lobster ravioli, carmelized salmon, and the honey walnut shrimp bowl.
If you want to keep your drink options open rather than committing to only one type of alcohol, Market Broiler's extensive beer list, wine list, and craft cocktails will appeal to you. For beer, the finest options are:
The ballast point sculpin IPA.
The Market Broiler blonde ale.
The pizza port red ale.
There's a fantastic Balletto pinot grigio, Blackstone Merlot, and Starborough sauvignon blanc for wine. When it comes to its house-made cocktails, it offers even more possibilities. Try the neft black gold, Mission Bay mai tai, smokin' old-fashioned, spring fling, Market Broiler Mary, or the caramelized pineapple margarita.
Interesting Natural and Historical Sites in Riverside, California
4. Rubidoux Park
Just a short drive west of Riverside, Mt. Rubidoux Park is full of historic landmarks and is also the location in which the largest non-denominational Easter service in the United States has been held every April since 1909. One of the landmarks you can find here is a large cross mounted at the top of the peak dedicated to Father Junípero Serra, a catholic priest who founded several missions in the area.
The 161-acre park contains 3.5 miles of paved trails and a large number of dirt trails as well. Cars are not allowed inside the park – only joggers, walkers, and bikers are permitted on these roads. At the bottom of the mountain, the Santa Ana River flows peacefully by and separates the city of Riverside from the city of Jurupa Valley.
5. California Citrus State Historic Park
Riverside is one of the many areas of Southern California that became known for its production of citrus fruits several decades ago. So the next thing on this list of things to do in Riverside, California, is to visit The California Citrus State Historic Park, which contains a lot of the history surrounding the expansion of citrus groves in the area. The museum and visitor's center on the grounds is modeled after an old-fashioned citrus packing house.
Outside, guests are welcome to explore the trails through the Citrus Varietal Grove, where they can see different kinds of citrus being grown and enjoy a picnic and beautiful views of the park. Don't forget to visit the visitor's center once more on your way out, where you'll find Eliza's Emporium Gift shop, full of edible citrus-related items, teeshirts, and other souvenirs.
The Best Places to Shop' Til You Drop in Riverside, California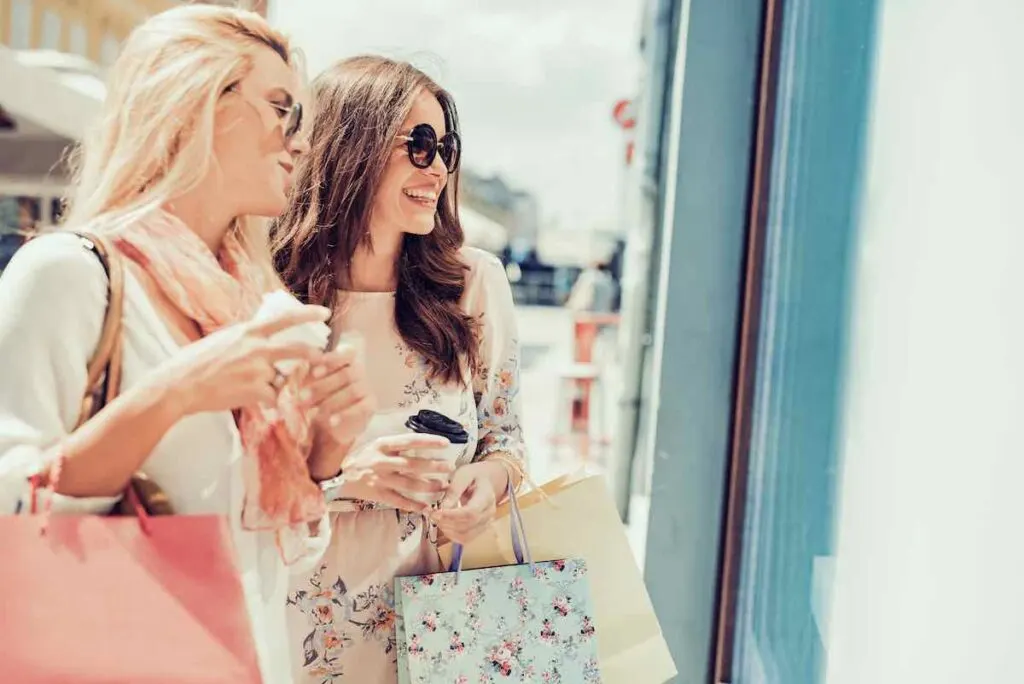 6. University Village Mall
This list of things to do in Riverside, California, wouldn't be complete without a couple of shopping opportunities. The perfect place to shop, dine, and people-watch, University Village has a lot of restaurants and a scattering of other stores. While there are many great things here, there aren't a lot of clothing stores. So if you're on the hunt for the opportunity to add to your wardrobe, keep reading.
Restaurants include Jersey Mike's, Hotties Fried Chicken, KimchiChanga, ZiZi BBQ House, Uncle Chuang's Bakery, VegGo, an ice cream place, and a Boba Cafe. If you're feeling hungry after reading that, you're not alone!
7. Riverside Plaza
If you're looking for deals on clothes, Riverside Plaza has a lot to offer. Burlington, Chicko's Nordstrom Rack, Marchall's, and Tilly's all carry clothing on the more affordable side. And don't worry – if you get hungry while shopping for clothes, there are plenty of restaurants in the area, including Ooka Japanese Restaurant, Pier 76 Fish Grill, Islands Fine Burgers and Drinks, Epic Wings, and Chipotle. Juice It Up, and The Coffee Bean is close by if you need a little pick-me-up.
Exciting Things for Kids to Do in Riverside, California
8. Kiddos 101
Kiddos 101 is a child-led learning environment where kids are encouraged to have fun and use their creativity during unstructured playtime. This time in which kids can play however they choose can help them grow in both their physical and mental capacities.
Kiddos 101 is focused on enriching the lives of young children during the earliest development phases (6 weeks through 6 years of age) and is ideal if used regularly. It is also an excellent place to temporarily leave your child or children in a safe learning environment while you run errands or get some rest. Kiddos 101 is the best thing to do with little kids on this list of things to do in Riverside, California.
9. Castle Park
An ideal vacation spot to visit with older children, Castle Park, has a variety of attractions, a kiddie land, and an arcade for all generations to enjoy. Castle Park contains around 25 attractions, with some specifically for children only, teenagers only, adults-only, or some combination of those sets.
The Castle Park Railroad is for all audiences, including children at least 36 inches tall. The Fire Ball is an intense inverted roller coaster that is great for teenagers and adults but not for younger children. The Flying Animals ride is like a carousel and is excellent for kids and families. No matter how old your kids are, there will be something fun for them to do at Castle Park.
10. Inland Empire Escape Rooms
Net on this list of things to do in Riverside, California, is another fantastic family amusement for families with older kids. The Inland Empire Escape Rooms feature the Panic Room, The Captain's Dungeon, and The Heist. Each of these adventures is for private parties only – so you don't have to share the room with strangers.
Book your family or friends' event, and you can rest assured that you'll have the whole adventure to yourselves. Reservations are not required, but they are recommended since they fill up fast, and you don't want to miss your chance of getting the adventure you want most.
11. Riverside Art Museum
Last but not least, on this list of things to do in Riverside, California, is a beautiful art museum. With new exhibits passing through all the time and about 2,000 pieces of art permanently on display, the Riverside Art Museum has a lot of things to look at. The most notable artists contributing to this collection include "Karl Benjamin, Rex Brandt, Millard Sheets, Toulouse Lautrec, Marc Chagall, Alberto Giacometti, Shepard Fairey, and Sister Corita Kent, according to the museum.
The museum also supplies docent-led Walk and Wonder Tours. Participants can get a behind-the-scenes look at some of the permanent and temporary exhibits and get an art lesson on a specific artist and their art style—the gift shop stocks many small, inexpensive items that are interesting for children.
Wrapping Up Things to Do in Riverside, California
Now that you know all about the many fun and exciting things to do in Riverside, California, it's time to pick out your favorite ones and plan your trip! Whether you're planning an escape for yourself or a group trip for your family and friends, you'll find lots of exciting things for all involved on this list.
If you'd like to learn more about the kinds of food you can get in California, check out our post on California Cuisine.