Finding the best steakhouse in Georgia is more than finding the tastiest cut of beef. Dining at a steak restaurant is an immersive experience, with many factors, not just the food.
Culture also plays a significant role as many restaurants carry specific themes. And while in Georgia, you want to get a taste of the rich culture while dining on their savory food. This list includes restaurants, each of which fans have made a case for being the best steakhouse in Georgia.
The Best Steakhouse in Georgia: The Mouthwatering Candidates
1. Kaiser's Chophouse
Another promising candidate for the best steakhouse in Georgia is Kaiser's Chophouse. At Kaiser's, they understand the atmosphere is essential, so they feature chic and modern interiors that are inviting and luxurious.
Their bar has a warm and cozy feel with comfy oversized chairs that welcome you to sit and enjoy a cocktail.
The spherical chandeliers are dimly lit in the dining room, giving the space with its wooden tables and booths a warm ambiance. Elegant finishing touches from modern wall art to flowing curtains complete the look.
And of course, their food is simply first-class with barrel-cut filets, dry-aged porterhouse steaks, juicy ribeyes, and seafood such as shellfish towers and Main lobster tail,
2. Kevin Rathbun Steak
A critic's choice, Keven Rathbun Steak is among the best in the Atlanta area, and many argue in the United States.
They are located in a renovated old cotton warehouse with metal pillars, dim lighting, a combination of wooden and brick walls, and leather booths offering a dark, muscular, industrial-modern atmosphere that brings out your inner carnivore.
They source their steaks from the Chicago-based Allen Brothers, who stock Choice, USDA Prime, and Wagyu steaks. The steakhouse also offers aged steak (we assume they are wet-aged).
And their menu offers many traditional steak entrees such as The Wedge salad, Roasted Bone Marrow, Thick Cut Bacon, onion rings, roasted asparagus, mac & cheese, and many baked potato options.
3. Ticonderoga Club
The Ticonderoga Club, located in the Krog Street Market, has a New England tavern-style unique among the other southern-style restaurants.
Here you can find delicious offerings such as an Ipswich clam roll, veal sweetbreads, and some of the city's finest cocktails and wines.
And for those who love a good steak dinner to feed a larger group, try the chuckwagon feast. They announce the arrival of your platter with a dinner bell.
Then they sit a 48-ounce medium cooked black Angus chuck roast on your table that comes with wort, fresh horseradish, a red onion salad, and your choice of two sides. This meal easily feeds up to six people.
4. C. Ellet's Steakhouse
C. Ellet's Steakhouse is another promising prospect for the best steakhouse in Georgia. It was opened in 2017 by James Beard award-winning chef Linton Hopkins (formerly of Holeman & Finch), and it's located at the Battery Atlanta.
New Orleans inspires the atmosphere, and they serve a delicious mix of surf and turf that includes raw oysters. And when it comes to steak, they offer everything from 35-day dry-aged, bone-in Kansas City Strips up to 20 ounces to smaller steaks such as their 8-ounce flat iron.
You can even have your steak served Oscar-style with Lump blue crab and Hollandaise. There's also au Poivre and surf and turf with lobster.
5. Chops Lobster Bar
An Atlanta icon, Chops Lobster Bar is considered an Art Deco masterpiece with its old-school atmosphere that radiates warmth and style, featuring dark wood trimmings, Guastavino tile ceilings, and art deco chandeliers.
They, of course, offer a wide variety of seafood options such as Maryland-style jumbo crab cakes, Hawaiian ahi tuna, steamed lobsters, shrimp cocktails, and oysters. And their lobster mac & cheese is to die for.
And when it comes to steaks, you can indulge in everything from their big and juicy porterhouses to their elite Kobe wagyu beef filets. Garnish your steak dinner with savory accompaniments such as truffle butter, foie gras, or Bearnaise sauce.
6. Cooks & Soldiers
Another great candidate for the best steakhouse in Georgia is Cooks & Sliders. They feature a huge, nearly 2½ pound ribeye served on a wooden cutting board along with sides of green salad and tempranillo bordelaise sauce.
This dish is certainly meant to be shared, although you can imagine a few brave (foolish) souls have tried to tackle it alone.
The restaurant draws inspiration from the cuisine and culture of Basque Country in France and Spain. Federico Castellucci owns Cooks & Sliders, and his brother John is the Executive Chef.
7. Hal's "The Steakhouse"
Hal's "The Steakhouse" is another New Orleans-inspired restaurant that debuted 30 years ago.
They offer a casual dining experience with a comfortable, warm, and relaxed ambiance that includes live entertainment.
Their menu features many famous New Orleans dishes such as Trout with Crabmeat, Louisiana gumbo, Shrimp Remoulade, along with traditional items like rack of lamb, Caesar salad, roasted chicken, and steamed broccoli, and sautéed onions.
8. Bones Restaurant
Make no bones about it. Since 1979, Bones Restaurant has been a classy old-school steakhouse with a strict dress code and no phone policy in the dining area. They demand top-dollar for their food, which most patrons agree is worth every penny.
Over the last 30 years, Bones has either held or currently holds the Best of Atlanta Steakhouse award and has been regarded by Zagat's for offering some of the best service and food in America.
Of course, their steaks are top-grade and delicious, but their desserts, such as their signature corn pudding and pecan pie with praline sauce a la mode, will steal your heart.
9. Little Alley Steak
Critically acclaimed and often called the best steakhouse in Georgia, Little Alley Steak features a fun retro-chic vibe with locations in Buckhead and Roswell, Georgia.
The atmosphere is casual, warm, and elegant. However, the space can sometimes get a bit noisy because of its popularity.
One thing patrons appreciate is the abundance of ceiling light. However, there is a dress code, so you may wish to consult their website.
They offer 28 and 35-day wet-aged steak options and 38, 45, and 60-day dry-aged steaks.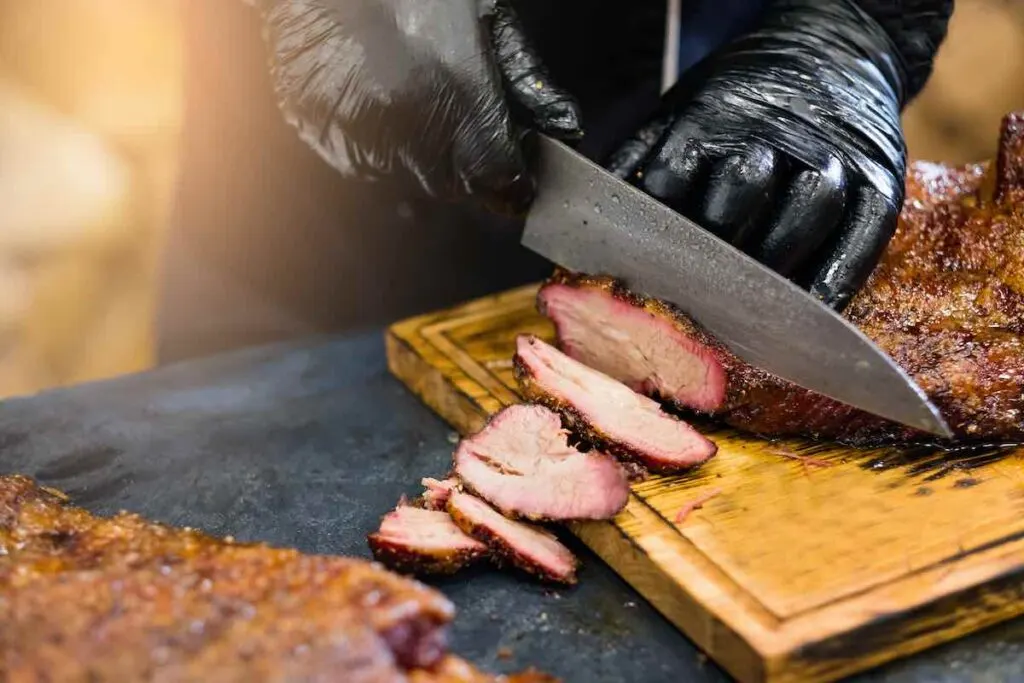 10. 101 Steak
Located on Vinings Slope in Atlanta, 101 Steak is an upscale yet unpretentious establishment that features delicious steaks such as New York strip, steak Delmonico, and filet mignon.
They also offer seafood dishes such as caviar, petite seafood tower, jumbo shrimp cocktail, and overlook seafood tower.
Some of their specials include Wagyu Beef Carpaccio, Tempura Maine Lobster Tail, Tuna Tartare, Six Spice Eggrolls, Brick-roasted Joyce Farms Airline Chicken Breast, and their famous Green Egg Pork Chop.
There's always a limited number of seats, so don't forget to make a reservation.
11. Arnette's Chop Shop
When it comes to discussions about the best steakhouse in Georgia, Arnett's Chop Shop frequently ends up in the conversation.
Located in Brookhaven, a city just north of Atlanta, Arnette's offers a wide variety of meat cuts and steaks, including a big, juicy 36-ounce porterhouse and a savory 14-ounce bone-in filet.
They also have dry-aged options, such as their 40-ounce old-world tomahawk, plus sandwiched such as a prime rib sandwich and mouthwatering hamburgers. The dining room is on the main level and the raw bar, bar, and chef's table.
12. The Local on 17
Making its debut in 2016, The Local on 17 is a family-run steakhouse located in the Richmond Hill area that delivers juicy, flavorful USDA Prime steaks.
Plus, they dry-age their prime-grade steaks on-site. The menu also includes an array of fresh seafood and side dishes made with locally-sourced ingredients.
Guests rave about their surf and turf meal that features a 6-ounce steak and shrimp with a baked potato. And for lunch, you must try their mind-blowing chicken-fried steak served with french fries and gravy.
13. Marcel
Marcel made its debut in Atlanta's Westside Provisions District in 2015. The restaurant is named in honor of the iconic French romantic and fighter Marcel Cerdan.
And if you're searching for a high-quality steakhouse sporting Chicago influences, then Marcel is worth a visit.
The atmosphere features maroon leather booths with painted brick walls with decorative boxing gloves.
They offer USDA steak cuts sourced from Meats by Linz, a premium butcher in Chicago.
The steaks are 100 percent black hide, Angus, from the Midwest's corn-bled region. They serve classic steaks such as bone-in filets, cote de boeuf, the New York strip, and their famous Beef Wellington.
The menu also features French classics such as Caviar, Bearnaise sauce, and Crème Brulee.
14. Bone Island Grillhouse
Finally, we have the famous Bone Island Grill house with two locations in Eatonton and Athens, Georgia. This restaurant is adored by locals who rave over their attention to detail and incredible menu.
They feature a lot of spicy Cajun cuisine, such as seafood gumbo featuring sweet crawfish, plump shrimp, and savory, spicy andouille sausage served with a big piece of cornbread.
As for their steaks, offer succulent filet mignon or ribeyes served with fluffy Yukon Gold mashed potatoes and your choice of sides. We suggest trying their creamed spinach.
The Best Steakhouse in Georgia: Our Final Verdict
It may seem like a bit of a cop-out, but it's nearly impossible to pick the best steakhouse in Georgia out of this group since they are all so amazing. However, based on its online reputation and collective scores from food critics, we've found that Marcel finds itself at the top of the list more often than not.
But, by all means, we encourage you to explore all of these fantastic candidates and judge for yourself. After all, the best steakhouse in Georgia is the one that speaks to your perfect steakhouse experience.
For more things to do in Georgia, check out this list of the best things to do and see in Georgia.