Much of the culinary life of the southern United States revolves around barbecue. Whether waiting for you inside a roadside barbecue joint, cooking over a friend's grill, or enticing you to attend a political rally, the low and slow preparation of pork meat infuses Southern culture.
That may be particularly true in Alabama, where barbecue joints abound, all dedicated to producing best-it-can-be pork lovingly tended over shimmering wood coals and then slathered with just-right sauce. Read on for a look at where to find the best BBQ in Alabama.
Best BBQ in Alabama: Northern Alabama
1. Saw's BBQ
Homewood, Alabama
The Homewood location, just outside Brimingham, is one of a handful of Saw's BBQ locations pioneered by Mike Wilson, a trained chef with a degree from the University of Alabama in restaurant and hospitality management whose career included time at gourmet foods retailer Dean & Deluca.
Wilson, who grew up barbecuing with friends, opened the first Saw's BBQ — the Homewood location — in 2009. Since the beginning, according to the chain's website, Saw's BBQ has operated on the premise that great barbecue joints are great because they focus more on food than decor and furnishings.
The menu for the Homewood location, leading off with pulled pork and smoked chicken, and including classic BBQ sides like macaroni and cheese, greens and potato salad, proves the commitment to focusing on food that makes Saw's BBQ some of the best BBQ in Alabama.
Plus, there's banana pudding — another simple 'cue joint staple — for dessert.
2. Brooks Barbeque
Muscle Shoals, Alabama
Want some of the best BBQ in Alabama, based on something other than just word of mouth? You should head to Brooks Barbeque in Muscle Shoals, where the barbecue is good enough to have earned a place in the Alabama BBQ Hall of Fame.
The hickory-smoked pork barbecue, rib and chicken plates at Brooks Barbeque come with the classic sides — slaw, baked beans and potato salad, all homemade — and for dessert, there's apple, sweet potato, pecan or coconut pie.
In addition to its great barbecue, Brooks Barbeque also offers its take on the soul-food classic chicken and waffles, pairing three smoked whole chicken wings with a waffle, butter and syrup.
3. Dreamland BBQ
Huntsville, Alabama
Just one of the great things about Dreamland BBQ is that its Huntsville location isn't its only location. With restaurants also in Birmingham, Tuscaloosa, Montgomery and Mobile, and in metropolitan Atlanta, Georgia, and Tallahassee, Florida, the magic that is Dreamland BBQ is spreading.
Here are just a couple of the recent rave reviews of the Huntsville location of Dreamland BBQ that cement its reputation for some of the best BBQ in Alabama: One Nicelocal reviewer called the barbecue "Absolutely Amazing!", while another said the "… service is impeccable and the flavors are fantastic."
Best BBQ in Alabama: Central Alabama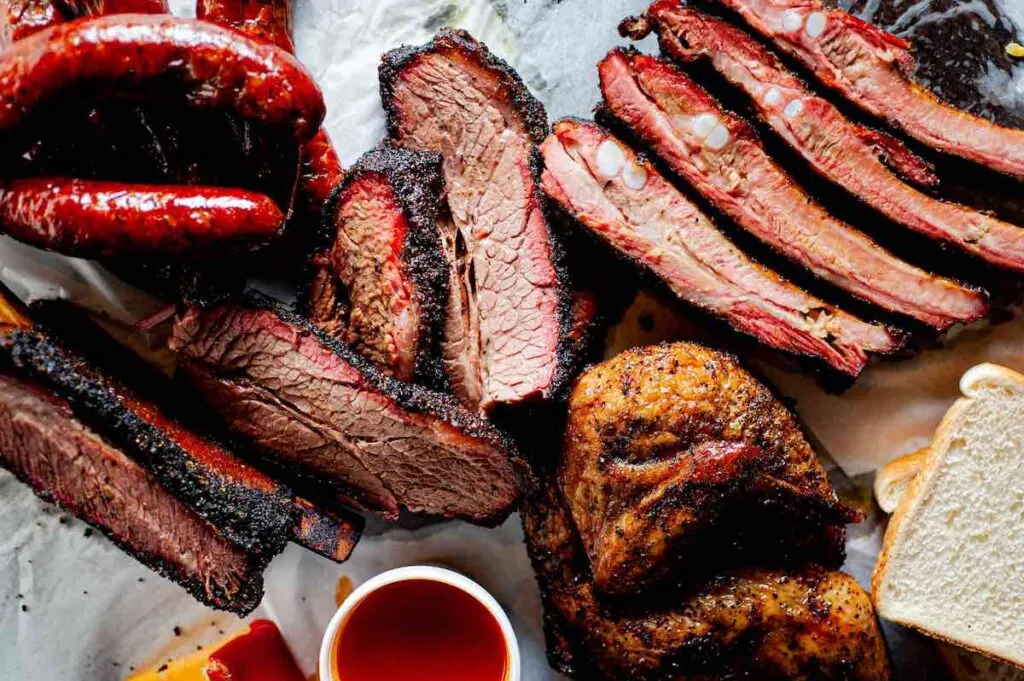 4. Miss Myra's Pit Bar-B-Q
Birmingham, Alabama
It doesn't take anything more than a quick minute gazing at the website for Miss Myra's Pit Bar-B-Q to recognize it has earned its place among the finest barbecue joints in Alabama.
The website features photographs of menu items — a barbecue sandwich dripping in sauce, a barbecue chicken nestled with potato salad and cole slaw, and a delectable meringue-topped pie — guaranteed to entice you to visit Miss Myra's.
The menu itself includes a choice of barbecue pork, chicken or beef plates or sandwiches, with a full complement of sides from potato salad, baked beans and slaw to turnip greens and green beans — and even deviled eggs.
As proof of its place among the best BBQ in Alabama, Miss Myra's Pit-Bar-B-Q has earned a four-star rating on the five-star scale at tripadvisor.com, with enthusiastic customers noting that it serves the "best banana pudding known to man!" and offers "fair prices, good variety, large servings."
5. Lil Smokey's BBQ
Dadeville, Alabama
Described by one Yelp online reviewer as "a hidden gem" that marks it as serving some of the best BBQ in Alabama, the traditional menu at Lil Smokey's BBQ includes plates of ribs, or chopped pork, or barbecue chicken, with your choice of two sides from among baked beans, macaroni and cheese, potato salad, cole slaw or Brunswick stew.
If you're not that hungry, you can get a barbecue sandwich, and if you're looking for something a little special on Saturday, you can get smoked chicken wings at Lil Smokey's BBQ.
Lil Smokey's has been consistently good enough to earn an overall five-star rating — the highest possible — on Yelp. In addition being called a "hidden gem," another Yelp reviewer said that not only the meat, but the cole slaw and the potato salad at Lil Smokey's BBQ, were the best he'd ever eaten.
6. Heards BBQ and Soul Food
Maplesville, Alabama
A first look at the Heards BBQ and Soul Food menu, with chopped pork and pulled chicken at the top of the chalkboard, marks it as a typical 'cue joint. But look further down the menu, and you'll find unique offerings like baked potatoes loaded with your favorite meat, or even seafood.
And take a look at the restaurant's Facebook page before you go, to see its latest offerings, which lately have included a seafood grilled cheese sandwich and a pecan pie cobbler, giving it a unique place among the best BBQ in Alabama.
So, if you're looking for a place to eat with friends who might want something other than BBQ, Heards BBQ and Soul Food would be a great choice.
Best BBQ in Alabama: South Alabama
7. Meat Boss
Mobile, Alabama
The simple phrase "Hope you're hungry" on the menu on the Meat Boss website sets the stage for this no-nonsense barbecue restaurant to be rated among the best BBQ in Alabama.
Website visitors get a preview of the ordering process, which includes choosing your meat, your bread (if you want any), your sauce, your toppings, your sides and your drink, and then settling in to enjoy your meal.
The meats available at Meat Boss include Boston butt, beef brisket, ribs, smoked turkey, smoked ham, chicken, sliced port loin or chicken. And if you're not in a BBQ mood, there's a burger option and a chicken salad option.
Meat Boss offers a full range of sauces, listed on the menu as sweet, sweet and spicy, Carolina, spicy Carolina and white. The sides are time-honored BBQ place fare, and include slaw, potato salad, beans, macaroni and cheese, and "banana puddin'" for dessert.
8. L.A. Barbeque
Summerdale, Alabama
If you like a little mystery with your barbecue, you need to try L.A. Barbeque (the L.A. stands for Lower Alabama) in Summerdale. As noted on its website, every piece of meat served at L.A. Barbeque "is hand-rubbed with our top secret blend of seasonings," making it some of the best BBQ in Alabama.
Another claim to fame for L.A. Barbeque is its top-five ranking in the state for its barbecue chicken sandwich. But that's just one of the sandwich offerings on a menu that includes chopped pork, beef brisket and chopped chicken sandwiches, and a pork wrap with coleslaw and jalapeno ranch dressing.
Of course, L.A. Barbeque also serves plates with chopped pork, chicken, ribs and beef brisket and a choice of two side dishes, and for families enjoying a beach vacation, the restaurant offers package deals with a mix of meat and sides that can serve as many as 10 people.
9. Down South BBQ
Foley, Alabama
If you're planning a beach trip to the Gulf Coast of Florida, you owe it to yourself to make time for a visit to Down South BBQ in Foley, just a few miles north of the resort community of Gulf Shores.
In true southern style, Down South BBQ uses pecan wood, rather than the traditional hickory, to smoke its ribs and other pork meat, as well as its beef brisket, chicken, sausage and even turkey. And that's just one reason Down South BBQ is among the best BBQ in Alabama.
An oasis of smoked meat in a culinary landscape focused in large part on seafood taken from the close-by Gulf of Mexico, Down South BBQ also advertises itself as a perfect place for visitors making a long trek to the beach from states farther north to stop for a great meal to start their vacation.
If you want to feed a crowd, like maybe your vacationing family, Down South BBQ has you covered with bulk barbecued pork, ribs, whole chickens and turkey priced either by the pound or at the market price at the time of your visit.
Wrapping up the Best BBQ in Alabama
We hope this post on where to find the best BBQ in Alabama has prompted you to consider stopping by one of the real soon, whether you live nearby, are looking for a road trip destination, or are just passing through.
For more on finding great barbecue in your travels around the southern United States, check out this post on Tennessee at Life in the USA.