Suppose you're looking for the best breweries in Charlottesville, Virginia. In that case, you're in for quite a treat because this city has over a dozen spectacular breweries, each with a unique character and style.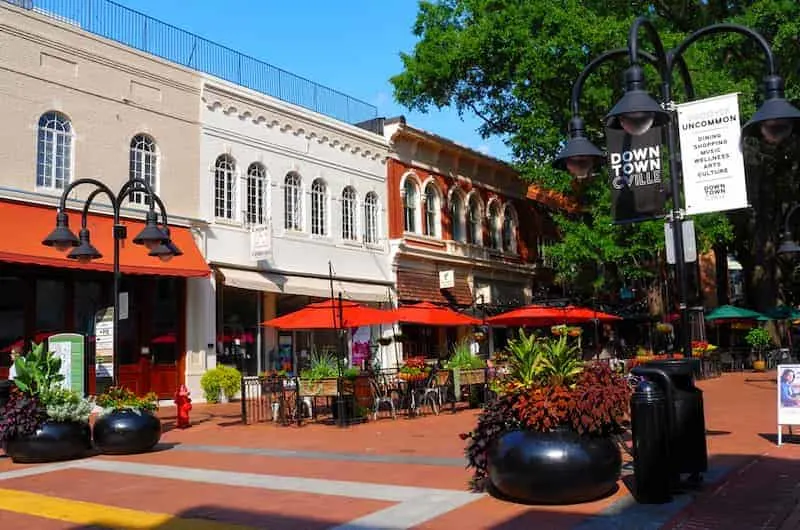 The city of Charlottesville is the gateway to Shenandoah National Park and is sophisticated metro with a cozy small-town feel featuring Appalachia's gorgeous Blue Ridge Mountains in the backdrop. As you can imagine, a city like this has lots of colorful characters, and the variety of independent beers brewed here reflects Charllotesville's unique culture.
Allow us to take you on a personal tour of some of the best breweries in Charlottesville.
Introducing the Best Breweries in Charlottesville.
Below we've listed 11 of the very best breweries in Charlottesville, each featuring unique beers, styles, atmospheres, and attitudes.
Charlottesville Breweries With Colorful Character
#1. Selvedge Brewing
Selvedge Brewing features a great ambiance with seating areas that give customers plenty of space to enjoy themselves without feeling crowded.
Their made from scratch food menu has something for all tastes, including what many consider to be the best Fish and Chips in town. You can also enjoy their locally-sourced slow-roasted Peruvian Chicken served with aioli, green sauce, limes, and cilantro.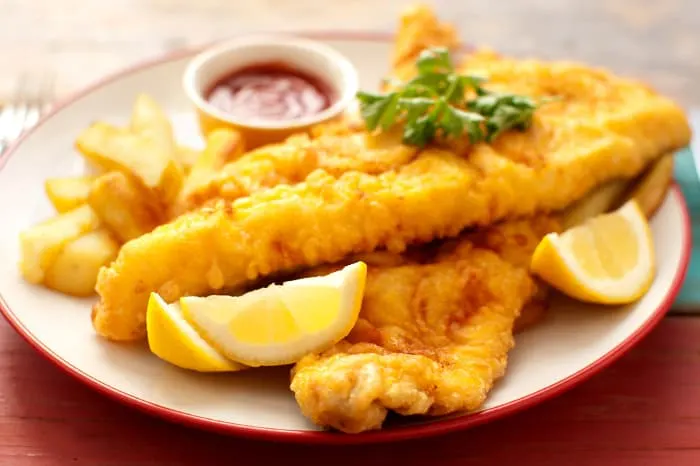 Plus, you can save time by ordering everything from your phone on their handy mobile app, which also makes paying your bill quick and easy.
A few of their Selvedge's original beers include:
Denim
Fleece (Served on Nitro)
Smoking Jacket
Three Sheeps to the Wind
#2. Decipher Brewing
Decipher Brewing is slightly off the beaten path, but customers are rewarded with a relaxed and chill atmosphere, super friendly and helpful staff, and outstanding beers. They offer a fantastic selection of different beer styles on tap, and folks can't seem to say enough great things about their Pale and Scottish Ales.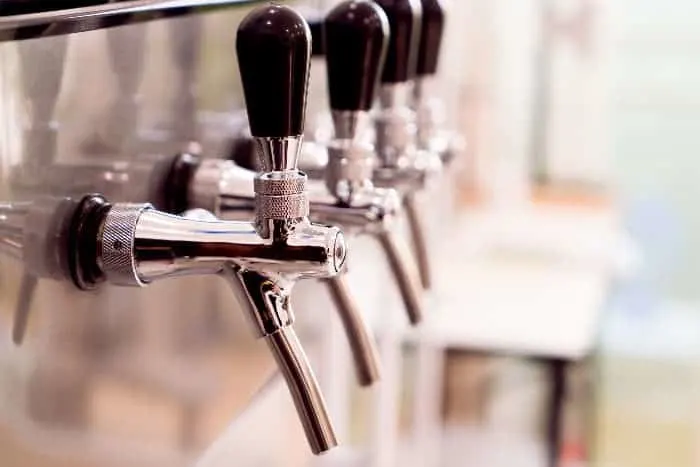 A few other beers Decipher offer include:
Scytale (Nitro Oatmeal Stout)
Colossal Nightmare (American Barleywine)
Broken Logic (West Coast IPA)
Spy CAMRA ESP (Strong Bitter Extra Special)
Ruled by Mars (Saison)
Limping Lady (Blanche Raspberry witbier/wheat beer)
#3. North American Sake Brewery
Not all of the best breweries in Charlottesville brew beer. North American Sake Brewery is the first and, so far, the only sake brewery in Virginia and one of only 20 in the United States. In addition to sake, they offer incredible Japanese cuisines such as Ramen bowls, sushi, and hand-rolled dumplings.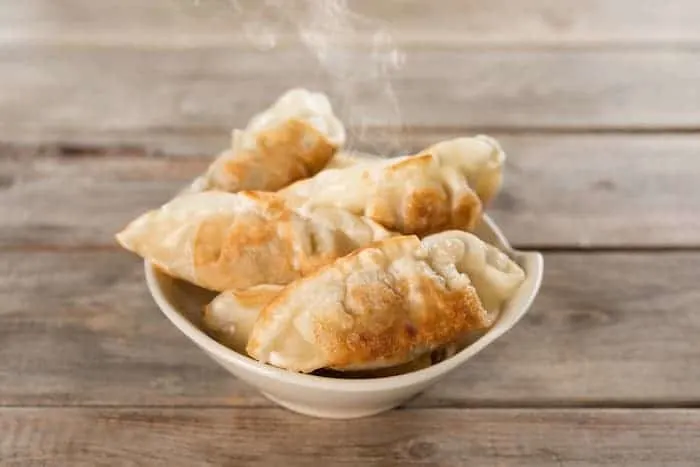 You can enjoy amazing food and saki on their expansive open-air patio. A few of North American Sake Brewery's original sake creations include:
Quiet Giant
Real Magic
Big Baby
Olympus
Serenity Now!
And if you fall in love with their Sake, you can order your favorites online and have them shipped to your door (in most states).
#4. Pro Re Nata Brewing Company
Another one of the best breweries in Charlottesville, Pro Re Nata Brewing Company, offers sensational craft beers and hosts live music and other events.
Pro Re Nata features a very spacious outdoor seating area with a terrific view of the mountains while serving wine, cider, craft beer, incredible gourmet foods from Hops Kitchen, and Detroit Style pizzas from Za Spot.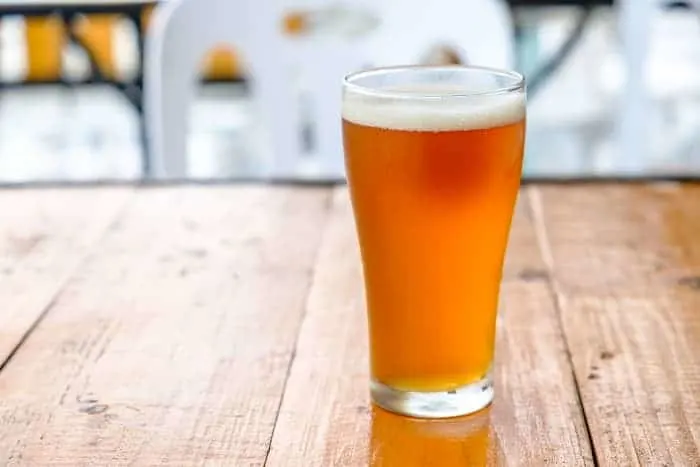 Some of the beers they offer include:
Hop Drone
Sound Check American Lager
Leave it at the Door
Garden Variety Blonde Ale
Open Wide
Doctor's Orders
Nelson's Law
#5. Reason Beer
Reason Beer was founded in 2017 by friends Jeff Raileanu, Mark Fulton, and J. Patrick Adair and is the product of two decades of friendship, passion, and over a decade of brewing expertise.
At Reason Beer, the focus is entirely on the beer. The taproom also has an outdoor patio section with astroturf, space heaters, and some festive lighting.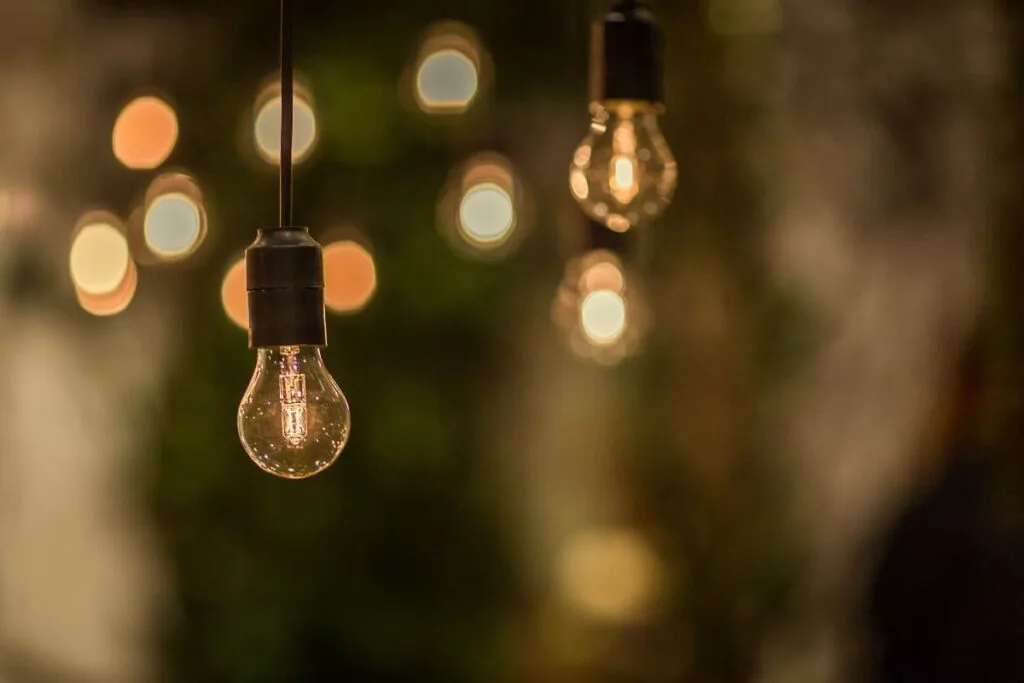 They are also dog-friendly, offering pups their own personal water bowls. The atmosphere definitely has a warehouse-start-up feel, somewhat spartan but very clean and orderly.
Some of the best brews include:
Pattern Recognition
Simcoe For SARA
Exact Sentiments!
Inexorable
Strange Currencies
Lost Tide
Charlottesville's Ale Trail Breweries
Here are some of the best breweries in Charlottesville located on their famous "Ale Trail," along with a handy map.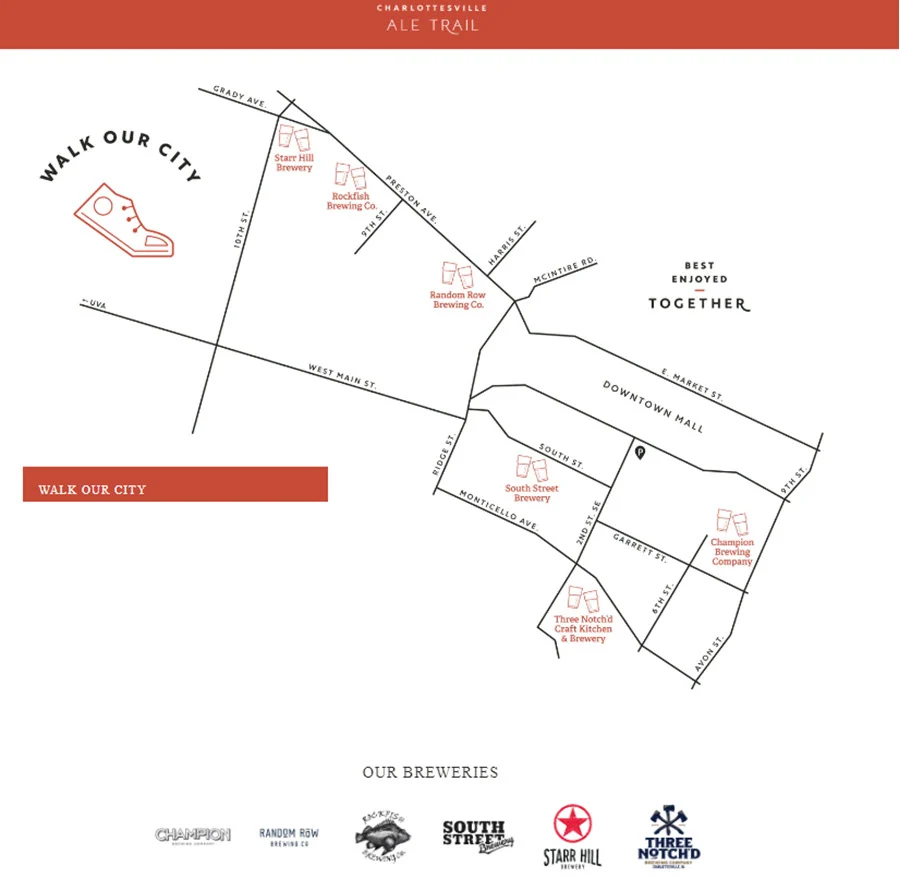 #6. Rockfish Brewing Company
Starting our journey on Charlottesville's famous Ale Trail, we stop to visit the Rockfish Brewing Company, one of the city's newest breweries that serve both beer and food. They have two locations in the city, one at Preston Avenue and the another at the Downtown Mall.
You're guaranteed to love the warm and inviting vibes indoors and really appreciate the outdoor heating lamps that allow you to enjoy your cold brews even on those cold evenings. One customer also raved about their "excellent" porter with a deep, thick texture that's flavorful but with no bitter aftertaste.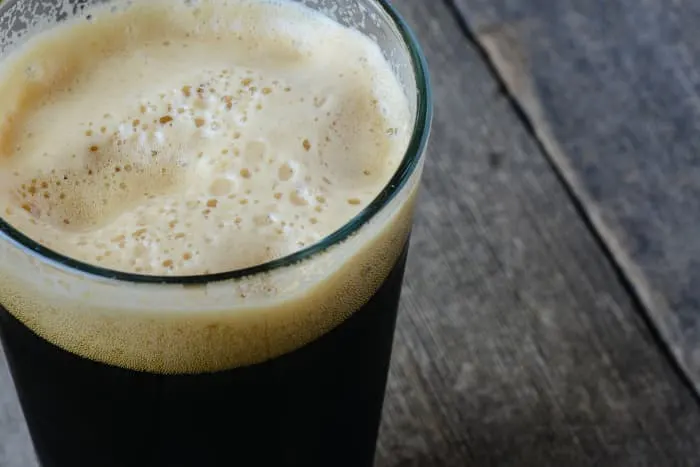 Some of Rockfish's food offerings include tacos, wings, empanadas, Yucca Fritta, Huarache, Rockfish Tacos, and Nachos. And a few of the brews they have on tap include:
Rockfish Belgian Witbier
Rockfish American Strong Ale
Rockfish Irish Red Ale
Rockfish New England IPA
Rockfish Irish Stout (Nitro)
#7. Champion Brewery
Sharing the same building with Reason Beer, Champion Brewery has made quite a reputation as an up-in-comer on the craft being scene. They offer various styles, including a Gose called "The Face Melter" that's fruity, tart, and super refreshing."
Plus, you'll really enjoy the well-crafted beer glass which has a unique design that reflects Champion's quirky attitude.
Aside from great brews, you can enjoy a variety of gourmet food trucks that park nearby, offering folks a variety of delicious options.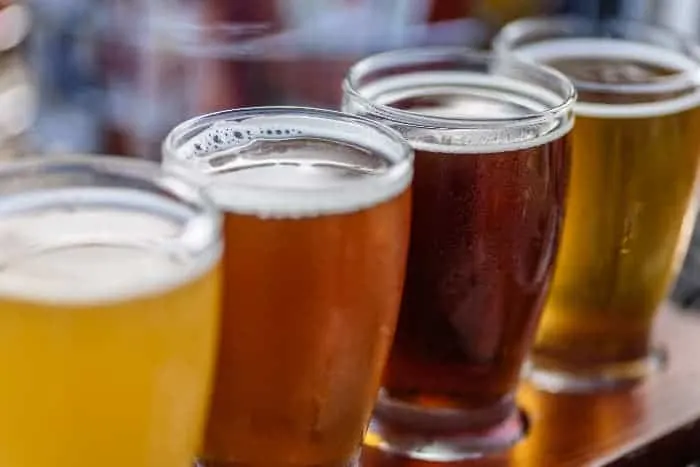 Here are just a few of the exciting Champion brews:
Roadbuilder
True Love
Hatchback Lyfe
Shower Beer
Missle
Vision Quest
And some of their limited edition brews include:
Santa's Cookes
Fruitbasket
Spring Break Forever
Family Recipe
#8. Starr Hill Brewery
Another one of the best breweries in Charlottesville, the Starr Hill Brewery, doesn't serve food, but there are usually amazing food trucks in the area for those looking for a bite to eat. Nevertheless, their brews are the show's " stars " as they offer some truly unique concept beers like milk coffee and hazelnut (mix the two together for something magical).
Fans love the range of beer styles, and Starr Hill's bold experimentation keeps your tastebuds guessing. They also feature live music.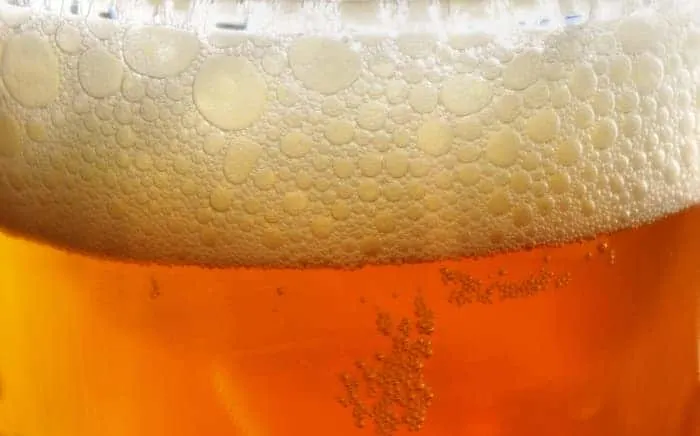 Some of their popular beers include:
Sonic Haze
Ramble On
Roxanne
Northern Lights
The Love
#9. Random Row Brewing
Random Row Brewery is one of those great spots friends and family head out for to relax, enjoy some great classic rock, and the flavors of their delicious food and brews.
We have Billy Pie, based out of Richmond on the food front, which delivers Neapolitan-style pizza that's made to order in their stone oven and is served every day in Random Row's taproom. Seriously, people are in love with Billy Pie's pies!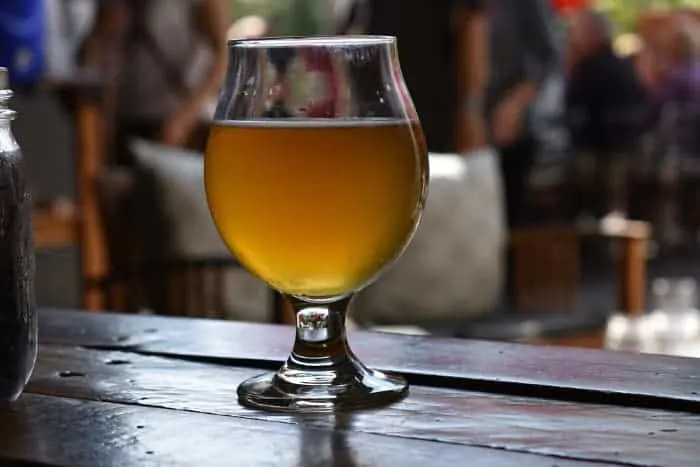 Random Row also host fun events like trivia night, adding to the fun and casual atmosphere where you just want to hang out and soak in the good vibes.
Here are a few examples of the beers they offer:
Grapefruit Mosaic
Mosaic
Windsewell
Pack Line Pilsner
100 Degree Hefe
St. Love Abbey Ale
Eagle Swoop Bitter
Lupulo IPA
#10. South Street Brewery
The South Street Brewery is one of those places where you are guaranteed to leave happy if you have an appetite for amazing food and cold craft brews.
They feature delicious appetizers, salads, sandwiches, burgers, platters, a kids menu, sides, desserts, and even brunch!
A few standouts from their menu include their breakfast biscuits, beer floats (yup, a dessert), jalapeno-corn coleslaw, pulled pork sandwich, Deep South Burger, Hot Honey Chicken Sandwich, and their cheesy chicken corn chowder.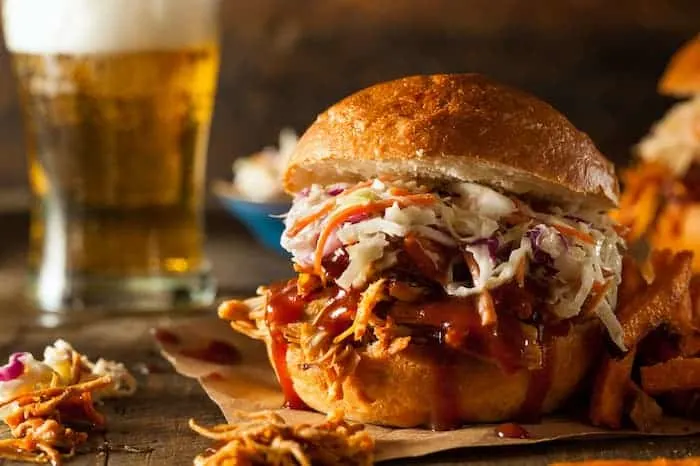 A few of South Street Brewery's most popular brews are:
Satan's Pony
Slippery When Wit
Barhopper
Virginia Lager
Anastasia's Chocolate Fantasy
Acoustic Kitty
#11. Three Notc'd Craft Kitchen Brewery
Our last brewery on our list of the best breweries in Charlottesville is perhaps one of the most popular. Three Notch'd Brewing Company has made big waves and is considered a favorite among beer connoisseurs.
The story behind their name dates back to colonial times and is absolutely fascinating to learn about. They first opened in 2013 and have since gone on to wind several brewing awards at events like Virginia Craft Brewers fest.
They also serve a "beer-infused menu" that includes mouthwatering dishes like roasted beet salad, parmesan garlic fries, the Mad Hatter Burger, the 40 Mile Philly, and the High on Hog pulled pork sandwich, Steak Frites, and much more.
And for nacho fans, their braised chicken nachos will send your taste buds to heaven!
Much like the storied history of Three Notch'd Road, the brewing company has made its mark on the local craft brewing scene with incredible beers such as:
Ghost of the 43rd APA
40 Mile IPA
Minute Man IPA
Hydraulion Red
Three Notch'd Passionfruit Gose
Three Notch'd Watermelon Gose
Sour Apple Radler
Big Slice Juicy IPA
Zombie Killin' Ale Black Rye Double IPA
The Best Breweries in Charlottesville: Last Call
We've just reviewed the best breweries in Charlottesville, and it's easy to see why this quaint little city is a beer lover's paradise.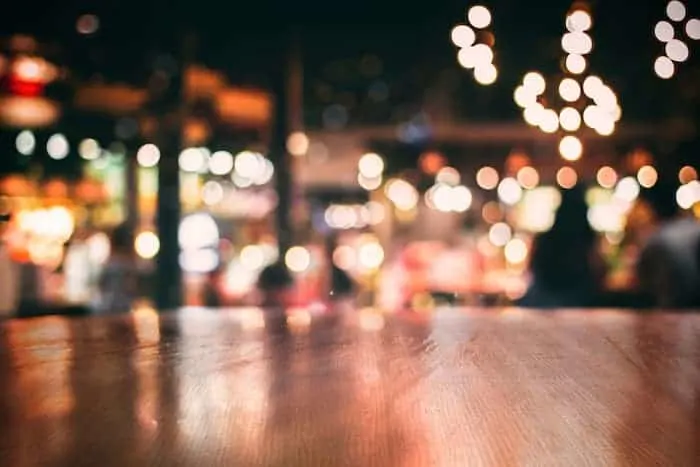 From C'Ville-lan Brewing Company to Three Notc'd Craft Kitchen Brewery, Charlottesville breweries offer something you won't find anywhere else. Plus, the city's cozy small-town atmosphere makes it a pleasure to walk their famous "Ale Trail."