Chattanooga, Tennessee is a city with a lot of history and charm and with local Chattanooga breweries filling pint glasses as far back as the 1800s, the city's history is full of delicious brews. Though prohibition and cultural changes caused the popularity of local beers to fall in the 1900s, the brewing scene in Chattanooga is back in full force.
We hope you're ready to beat the heat in this southern town with a cold craft beer — the best breweries in Chattanooga await you!
1. Chattanooga Brewing Company
In 2010 the Chattanooga Brewing Company was reborn! Before opening, the new owners poured themselves into research about the original company, which opened in the 1890s and closed during prohibition, and took information about their business and their brews into account as they started a new chapter for this historic brewing company. In a nod to this history, Chattanooga Brewing Company likes to keep it classic, with German ales and lagers, but do regularly have things a little more funky on tap.
The Beer to Order Here
Their best seller is the tasty Chesnut St. Brown Ale. This classic harkens to the past they're committed to preserving, but we recommend giving their Hot Mama a taste! This spicy brew is infused with fresh habanero peppers grown by farmers at the Main St. Farmer's Market, each unique batch goes directly from farm to barrel (making this Chattanooga brewery a must-visit)!
2. Wanderlinger Brewing Co.
What makes WanderLinger Brewing Co. one of the best Chattanooga breweries? It's not just their skill at the art of brewing! They're committed to art of all kinds! From the paintings on the walls to musicians that perform at one of Chatanooga's best small stages, this brewery values its place in a vibrant artistic community. And nothing pairs better with their commitment to art, than their commitment to the artistry it takes to make good food and great beer!
A visit to Wanderlinger Brewing Co. is a celebration of the arts in Chattanooga. As their tagline says "We are art: See it. Hear it. Taste it."
The Beer to Order Here
Their adventurous beers are works of art themselves and are a thrill to the palate. Pucker up for their Blackberry Hug Sour. A fruity and tart beer that still goes down smooth. This strong over-the-top brew has an almost red-wind-like flavor!
3. Terminal Brewhouse
Terminal Brewhouse is committed to keeping it local! This locally owned and operated business believes that what makes Chattanooga breweries special is Chatanooga! Their belief in sustainability and community means their food and beer are made with locally sourced products whenever possible and keeping things local keeps their flavors fresh.
Their investment in their community is as serious as their investment in their beer, crafted with the same care and passion they use to source the high-quality products they brew with.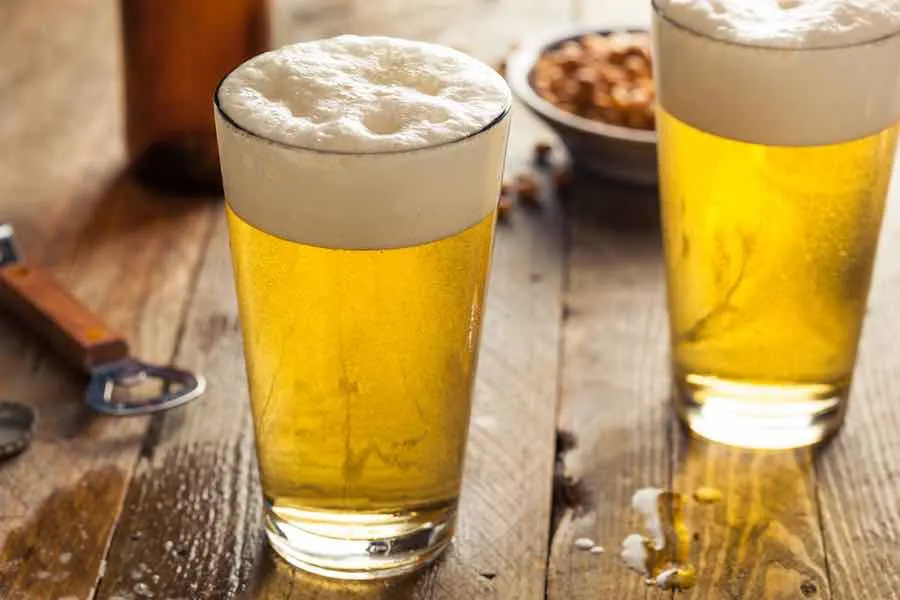 The Beer to Order Here
Give their Magnum P.A. a sip, this West Coast double IPA has big hops and a subtle finish!
4. Oddstory Brewing Co.
Oddstory Brewing Co. believes the key to a good beer is a good time. With no TV screens, Oddstory asks its patrons to focus on music, friendship, community, and of course beer. To help keep the walls bright and alive they've hung plants all over their space, that are propagated and sold in their taproom each summer.
Oddstory's beers are made with four hours strains of yeast, to create four flagship beers! They've got a little bit of everything on tap at this Chattanooga brewery — from German Lagers and historic Trappist Ales to mixed-culture Sour Ales, dessert-inspired Stouts, and so much more. Their boundary-pushing creativity tries to balance tradition and innovation to make their special taste!
The Beer to Order Here
Anything but calamitous their Queen's Calamity is sure to please, this strong and dark Belgian brew is a rich and boozy treat conditioned on strawberry and rhubarb.
5. Naked River Brewing
The largest of Chattenoga's Breweries, Naked River Brewing loves craft beer and craft BBQ! In 2017 owners Jake and Liz Raulston started Naked River Brewing out of an old foundry building, believed to be one of the oldest buildings in the city! This large space has been remodeled and far from its original use, it is now a friendly and open gathering space.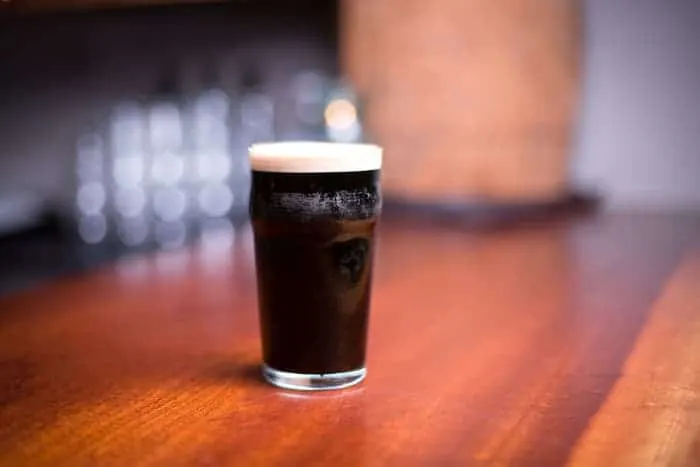 The Beer to Order Here.
We recommend trying the beer that started it all! The Chocolate Moonpie® Stout was first brewed as a small batch for Jake and Liz's wedding before the brewery's existence and now this rich, creamy stout — brewed with MoonPie®'s made by Chattanooga Bakery Inc.— continues, in large batches, still made with love.
6. Big River Grille and Brewing Works
With two Chattanooga locations, the Big River Grille and Brewing Works is a fixture of the city. Their original location is in a historic trolley barn along the Tennessee River, and this heritage as the home of riverboats is echoed in their award-winning lagers and ales!
Their brewery is housed in the same building as their tasting room and, their delicious beers are served up with regional cuisine by friendly staff.
The Beer to Order Here
We recommend their Southern Flyer Light Lager, the lightest beer they have on tap, this low-calorie lager goes down easy and has a subtle flavor perfect to drink ice cold on a hot day!
7. Hutton & Smith Brewing Company
If you're hunting for the best breweries in Chattanooga you must visit Hutton & Smith Brewing Company. Named for James Hutton and William "Strata" Smith, the fathers of modern geology, Hutton & Smith Brewing Company brews complex layered beers with a geologic sense of time. The patience that goes into their complex brews speaks to a passion for the esoteric, the undiscovered, and the truly unique!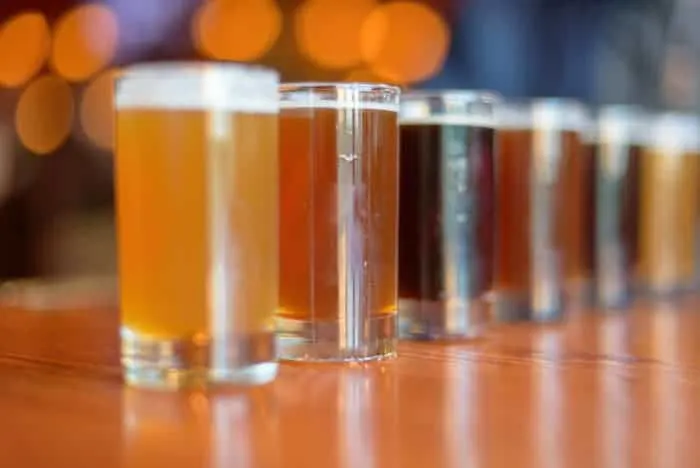 The Beer to Order Here
Give their Xenocryst a try! This barrel-aged red sour is a blend of Hungarian Oak wine barrel and American Oak whiskey barrel-aged brews. Aged for over a year this beer is as complex as the crystals it's named for, fruity, yet creamy with notes of cherry, blueberry, blackberry, coconut, and vanilla. With a finish of coffee and caramel, this brew will take you on a taste journey.
8. Heaven & Ale Brewing Co.
When it rains, they pour! Heaven & Ale Brewing Co. offers $2 pints when it's raining, so be sure to drop in during a shower. But their hop-centric ales don't need the rain to shine! Step into their upscale taphouse for an elevated tasting and dining experience that is sure to please any craft beer aficionado.
The Beer to Order Here
The name may not sound tasty, but we promise their Devil's Armpit is worth a taste. This dank and resinous West Coast IPA is hoppy, dry, and extremely drinkable.
9. Mad Knight Brewing Company
Opened in 2017 Mad Knight Brewing Company has a simple philosophy "We brew the beers we like to drink!" But don't take their word for it! They stand by their delicious brews for good reason, and while their selection is not as varied or as innovative as other craft breweries, their commitment to the brewing process means you're guaranteed a well-crafted, often tested, beer.
Their unique tasting room has a medieval vibe, with stone walls and wooden taps. It's the perfect place to pull back a pint! They host music, games, and good times for their weekly "Court of Songs" and are always up for a medieval good time.
The Beer to Order Here
Their Big Boss Man is the beer they love to drink! This pale ale is dry-hopped and creamy with a strong fruit aroma.
10. Five Wits Brewing Company
Step into Five Wits Brewing Company's cool, modern taproom, which opens to a large covered porch, for a well-crafted craft beer. Five Wits Brewing Company is passionate about creating a depth of flavor in every one of their beers, and a comfortable and contemporary atmosphere where you can appreciate them.
The Beer to Order Here
Spend a long day sipping on their low ABV Old Heller Helles Lager, this mellow brew has a hint of fruit with a biscuity finish. A classic flavor perfect for savoring a long summer evening. The best breweries don't need to be fussy to be excellent!
11. Tanasi Brewing & Supplies
Tanasi Brewing & Supplies is a small batch brewery with an outdoor brew garden and an always-changing selection of 10 taps. With a commitment to the craft of homebrew, they are always experimenting with heritage brews like their Harvest Moon brewed in the Kentucky Common style, a style that originated in the US during the 1800s and was brewed through prohibition, and with experimental styles. Since there's always something different on tap, and each batch is limited, you can always visit to try something new!
But they aren't only brewing — as the only home-brew supply store in Chattanooga they believe that their passion will inspire your passion! Come in and taste and then take home the supplies to craft your own bathtub or garage brew, and maybe start one of the next best breweries in Chattanooga yourself!
Final Words
Paired with porches, good times, and good southern food, these breweries all have a little bit of that Southern something that makes Chattanooga breweries great! Whether you visit one of the city's best breweries for a day out or commit to trying them all there is certainly no shortage of great breweries to visit.
We know the brewery scene in Chattanooga continues to grow and new players are getting into the game all the time.