Do you enjoy antique shopping? Here you'll find a list of the best antique stores in Tennessee that carry all sorts of unique items from estate jewelry to comic books and everything in between. Whether you're hunting for one of a kind treasure or the perfect gift for someone who has everything, you're sure to find it in one of these Tennessee antique stores.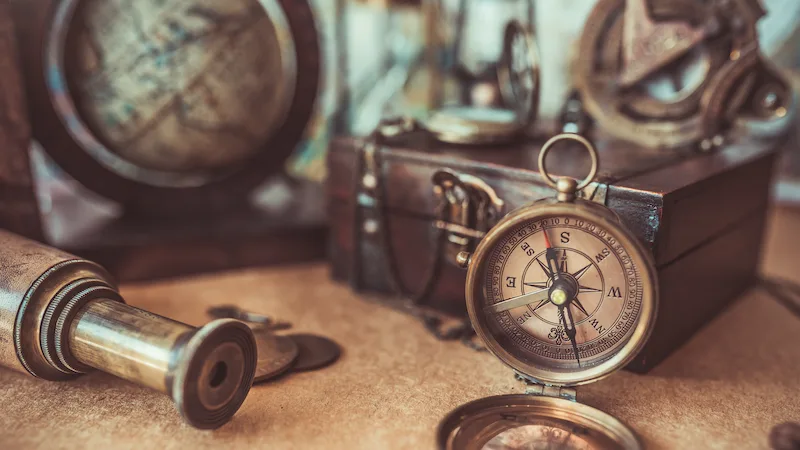 Best Antique Stores in Tennessee – Middle Tennessee
1. Decent Folk Vintage
Nashville
Located in the Woodbine area of South Nashville, Decent Folk Vintage offers antique and vintage furnishings, accessories, and other items that are primarily from the 1880's to 1980's.
The bright blue storefront is welcoming and cheerful. Stop in and hunt for unique treasures. The staff is friendly and happy to help.
2. Franklin Antique Mall
Franklin
The Franklin Antique Mall offers a large selection of antique items for the home including furnishings, decor, and accessories.
There are several different rooms to browse full of interesting items from kitschy to high end. You may find things like books, furniture, vintage cameras, estate jewelry, and much more.
3. City Farmhouse
Franklin
At City Farmhouse you will find carefully curated antiques that blend in perfectly with a modern or classic farmhouse style. The store also carries new boutique clothing and jewelry.
Prices here are not cheap, but you will find unique item of excellent quality that may be worth spending more on.
The store is located in picturesque downtown Franklin just off the main square.
4. Goodlettsville Antique Mall
Goodlettsville
When looking for the best antique stores in Tennessee, don't miss downtown Goodlettsville. A number of antique shops are located within walkable distance of each other right by the charming city hall.
Spend some time at the Goodlettsville Antique Mall where you can find unique vintage and antique pieces at affordable prices, then browse the other nearby antique shops. If you need a break, you can sit down on one of the rocking chairs on the front porch of city hall.
5. Antique Archaeology
Nashville
You may recognize Antique Archaeology from the show American Pickers. If you're a fan of the show this is a can't miss Tennessee antique store. Shop vintage items handpicked by Mike Wolfe.
The store is located inside the unique shopping area of Marathon Village just outside of downtown Nashville. The buildings were originally home of Marathon Motor Works, the first factory to produce complete automobiles in the Southern United States.
Free parking is available on Clinton Street and 14th Avenue. There is also a paid lot right across the street from the store.
Best Antique Stores in Tennessee – West Tennessee
6. Butler's Antique Mall
Jackson
At Butler's Antique Mall you can find all sorts of one of a kind treasures from classic toys and comic books to war relics to kitchen ware and more. Browse the collection of Elvis records or check out the clothing racks where you can find vintage clothing from every decade.
7. McKenzie Antique Mall
McKenzie
There is something for everyone at the McKenzie Antique Mall. Shop from hundreds of different vendors all under one roof. Each vendor offers their own selection of items including things like toys, tools, furniture, clothing, and much more.
The mall is open Wednesday-Sunday.
8. Back Roads Market
Henderson
Backroads Market is another antique mall. Here you can browse from 100 vendors with an endless variety of antiques. Items are added daily so there's always something new to see.
If you can't find what you're looking for they are happy to help you find it! The market is open Monday – Saturday from 10am-5pm.
9. The Darn Yankee
Jackson
The Darn Yankee is thoughtfully arranged and organized so it's easy and pleasant to browse. The staff is friendly and welcoming and they often have a good story to share.
The store frequently offer sales making it easy to find a good deal.
10. The Way We Were Antiques and Resale
Dyersburg
The Way We Were Antiques and Resale is an antique mall offering antique and vintage items. They have a number of different vendors, each offering their own selection. Sometimes you can even find fresh bread for sale!
The vendors carry a wide variety of items including fine jewelry and china, furniture, knick-knacks, and secondhand designer handbags. Follow the The Way We Were on Facebook to see new items added frequently.
Best Antique Stores in Tennessee – East Tennessee
11. Four Seasons Vintage Decor & More
Knoxville
At Four Seasons Vintage you can shop from over 40 different vendors to find unique items for every season of the year. Located on Kingston Pike in Knoxville, this bright and cheerful store offers a range of items including vintage clothes, retro lamps, antique furniture, and classic toys.
The staff is very friendly and are happy to help you find what you're looking for. The store is quite large so you can easily spend all day browsing and hunting for treasure.
12. West End Antique Mall
Knoxville
The West End Antique Mall is a perfect spot for collectors. They have a good selection of high quality furniture and antique art, plus many other items including knick-knacks, kitchen ware, antique jewelry, and more.
The staff is friendly and welcoming. They are happy to answer any questions you have while you browse.
13. Corner Antiques
Clinton
The historic and charming area of downtown Clinton has a lovely antique district with some of the best antique stores in Tennessee.
Corner Antiques has a great selection of high quality antiques at reasonable prices. They specialize in country and primitive items. If you're looking for true antiques that are at least a hundred years old, Corner Antiques is a great place to shop.
When you're done there, stop in at some of the other antique shops along Main Street.
14. Bears Valley Antiques
Sevierville
Bears Valley Antiques offers a nice variety of antique and vintage items. A Number of vendors fill the historic building with different treasures.
A friendly dog named Boogie is there to welcome you as you arrive. You can easily spend an afternoon browsing the many sections of antiques from toys to glassware to flasks and more.
15. A Long Story Short Company
Pigeon Forge
Last, but not least on our best antique stores in Tennessee is A Long Story Short. It is located in the heart of Pigeon Forge in the Old Mill district. It's a lovely little shop carrying used and vintage books, antiques, steam punk items, home decor, local art, and more. They specialize in unique, whimsical, one of a kind items.
They are continually adding to the collections on their shelves. You'll see something new on every visit.
Time To Shop the Best Antique Stores in Tennessee
There are so many charming and unique places to shop for antiques in Tennessee. Whatever you're looking for, one of these antique stores is sure to have it. When you're done shopping at the best antique stores in Tennessee, you might be feeling hungry! Check out this article for the best BBQ in Tennessee.