Just two hours south of Portland and less than half its size, Eugene might seem like a second sibling to its more famous neighbor, but make no mistake: "Brew-gene" packs a mighty punch when it comes to craft brewing!
Eugene's beer scene pays tribute to European traditions while boldly embracing innovation and creativity. This comprehensive guide to some of the city's must-visit breweries will help you make the most of your beer-focused visit. Keep reading to learn about some of the best breweries in Eugene, Oregon.
1. Ninkasi Brewing
First on our list of Eugene's best breweries is Ninkasi. Named after the Sumerian goddess of fermentation, it's one of Eugene's oldest and most popular breweries and offers a year-round series focused on India Pale Ales. Hazy, juicy, red, West Coast, or East; Nikanski has your IPA cravings covered! Their Megalodon Legendary IPA is a flavorful heavy-hitter at 10% ABV and a blend of seven different hops.
The Better Living Room is a restaurant and taproom that offers Ninkasi's standard selections along with the chance to sample small-batch innovations that you can't find anywhere else. With indoor and outdoor seating and a creative pub menu focused on locally-sourced food, you'll enjoy exploring Nankasi's creations in a vibrant and friendly atmosphere.
Don't Miss
Total Domination Northwest IPA
The beer that started it all for Ninkasi, Total domination features Summit, Amarillo, and Crystal hops for a sweet and piney flavor.
2. Oakshire Brewing
Just a short walk from Nikansi in Eugene's eclectic Whiteaker neighborhood, Oakshire Brewing's Public House is a warm and inviting venue for sampling their large selection of small-batch beers. This Eugene brewery has a "core" selection of year-round brews as well as an innovative pilot program. The core options include an oatmeal espresso stout, several fruited sours, and a crisp, floral Italian-style pilsner brewed with Czech and German hops.
Food at Oaskshire is provided by a regular rotation of food trucks that include poutine, Jamaican food, BBQ, and a bakery. Kegs, cans, and bottles can be purchased at the Public House as well as at retailers throughout the Pacific Northwest and in Colorado.
Don't Miss
Salted Caramel and Chocolate Covered Pretzel Imperial Stout
From Oakshire's pilot program, this irresistible imperial stout combines flavors of cocoa nibs, dark chocolate, caramel, and salted pretzels. It also packs a wallop at 12% ABV, so plan accordingly!
3. Hop Valley Brewing Co
Stay a little longer in the Whiteaker neighborhood and head over to Hop Valley Brewing Company's tasting room to try some of the twenty beers available on tap. You'll notice in the lineup a creative use of fruit such as grapefruit and mango and a reliance on Cryo hops for a wide selection of New England-style IPAs. Hop Valley also offers a Nano Series as well as seasonal beers. The tasting room also offers a full menu of pub fare in a warm, friendly environment that earns it a spot on our list of best breweries in Eugene.
Hop Valley Brewing will fill growlers and crowlers at the tasting room, and cans can be purchased throughout Eugene.
Don't Miss
Stash Panda Hazy Pale Ale
Citra and Cryo hops plus grapefruit peel give this tropical ale a bright flavor and aroma.
4. ColdFire Brewing Company
Focused on European brewing traditions and an appreciation for the noble hops, ColdFire is a creative small-batch operation with roughly 14 beers on tap in an ever-changing rotation. Always refining the craft, their barrel-aged beers spend months and even years in oak casks before bottling. Their excellence in beer making is why we've listed them as one of the best Eugene breweries.
Coldfire's tasting room features a rotation of food trucks ranging from barbecue to wood-fired Neapolitan pizza. A well-rounded selection of ColdFire beers is available in cans throughout the state. At the tasting room, they will fill growlers and corny kegs.
Don't Miss
Seeds of Infinity
A silver medal winner at the GABF, this barrel-aged Brett Saison is dry-hopped with Galaxy, Amarillo, and Azacca. It's a perfect example of ColdFire's blending of old world and new traditions. You've got to visit this Eugene brewery if only to try this award-winning beer!
5. Falling Sky Brewing
"Let it pour" is Falling Sky's motto, and at their downtown brewery near the University campus, you'll be deluged with options! The brewpub offers well over a dozen beers on tap in a wide selection of styles ranging from lagers to summer ales and IPAs as well as standard pub fare in a lively, colorful atmosphere that makes it one of Eugene's best breweries.
Growlers can be purchased at the pub, and beer and food can be pre-ordered.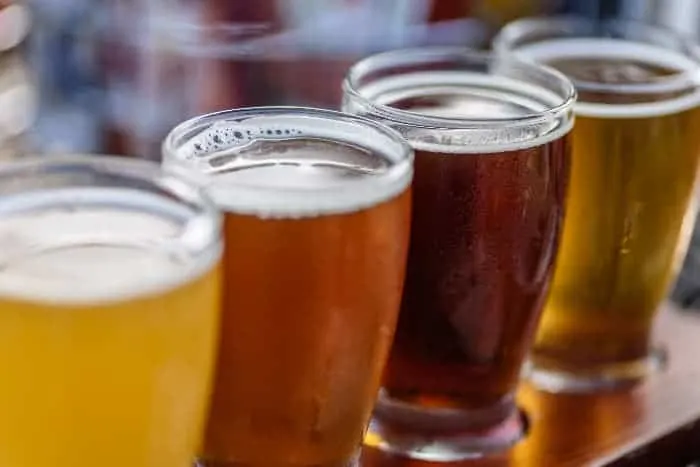 Don't Miss
Tank Top Summer Ale
Very drinkable with flavors of orange rind. A great beer on a warm day or after some outdoor adventure.
6. Gratitude Brewing
Gratitude is a small, creative Eugene brewery where you'll find everything from its Hummingbird Chocolate Porter to a flight of West Coast IPAs. Gratitude offers several sours as well as their signature hazy IPA called "Keep it Hazy, Eugene." "Through the Pines and Into the Woods" is a red ale made with crustal malts and American hops and aged in a pinot noir barrel.
Dine in for a hearty pub menu featuring everything from nachos to a New Orleans-style Muffaletta.
Don't Miss
"Daddy Said I could Have Unicorns " is Gratitude's award-winning cranberry-tangerine sour; give this juicy, tart treat a try!
7. Elk Horn Brewery
With fifteen beers on tap, Elk Horn Brewery offers a well-rounded selection of award-winning brews with an extensive selection of IPAs. Some of its more creative offerings are a lime hefeweizen, "Beet Cancer," which is a beet IPA, and a "New Orleans Stout" flavored with chicory root. Elk Horn also offers a variety of ciders.
Their extensive pub menu has a strong southern flair. Check out their shrimp and grits, chicken and waffles, and po'boy selection! Enjoy sampling at the pub or have a growler filled to go. Great beer and great food are why we've selected it for our list of best Eugene breweries!
Don't Miss
Dad Bod Imperial Hazy IPA is a very juicy New England IPA with flavors of apricot and tangerine with a hint of lupulin.
8. Claim 52 Brewing
Claim Brewing has two locations in Eugene, a taproom located at their brewery and The Claim 52 Kitchen. At either location, you'll find a truly unprecedented and ever-evolving selection of tropical-themed beers and fruited sours. Their "Thicc" series of puree goses is conditioned on a wild variety of tropical fruits. Their "Stuffed" dessert sours brewed with milk sugar With the incredible variety offered here, you owe it to yourself to sample a "flight" that spans their repertoire.
Don't Miss
Thicc: Lemon Blackberry Tart
This is a gose conditioned on blackberry and lemon puree and it is deliciously fluffy, thick, and fruity.
9. McKenzie Brewing
Next on our list of best breweries in Eugene, McKenzie Brewing is the outside distribution line of Steelhead Brewing Company and Restaurant and has been brewing since 1991, earning an impressive 40 gold medals. Savor their famous root beer while enjoying hand-crafted dishes. Their beer-braised Reuben sandwich or halibut tacos go perfectly with a Hopasaurus Rex Imperial IPA or Raging Rhino Red Ale. Twisted Meniscus is an unfiltered Northwest IPA with notes of floral, citrus, and stone fruit.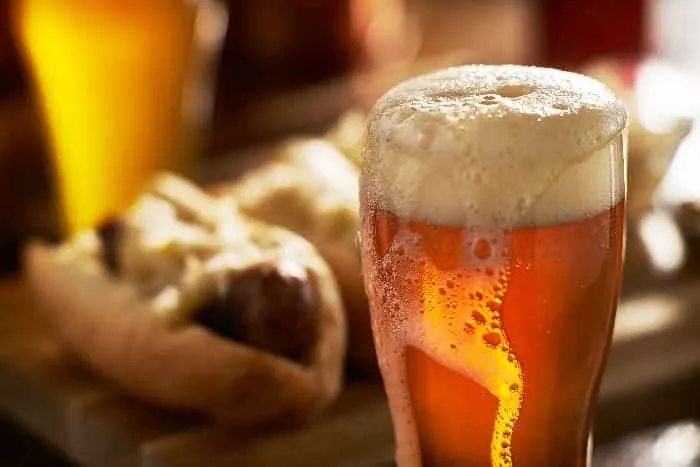 Don't Miss
MacKenzie's Keller Kolsch won a gold medal at the US Open Beer Championship and is a pale, German-style seasonal offering with Pilsner malt and Saaz hops. It's a great brew to enjoy outside in the warm sun.
10. The Wheel Apizza Pub
Wheel Apizza is an artisan pizza and brewery featuring New Haven-style pizza with a focus on locally-sourced ingredients. The incredibly varied pizza menu includes a portobello and pear with bleu cheese, arugula, and roasted garlic. Wings and salads complement the pizza selection.
Featuring well over a dozen craft beers made in-house at this Eugene brewery, Wheel Apizza offers a number of IPA styles, a "Dire Wolf" Strong Ale, and a single malt barleywine made with Ekuanot hops. Their Girlz N' Boyz N' Berry Sour features Oregon-grown boysenberries in a creamy, jammy-esque tart sour.
Don't Miss
Thrice as Sauvvy
This unique ale blurs the line between wine and beer and features Nelson Sauvin hops as well as sauvignon blanc grapes for a smooth and tropical flavor that calls to mind a sort of brut IPA.
11. Sunriver Brewing Company
Located in heart of Eugene, Sunriver's Oakway Pub has an impressive array of tap handles pouring core favorites as well as innovative limited releases. The "haze factory" is a rotating selection of thirteen different hazy IPAs, and their selection is balanced out with a chocolate milk stout that features three different chocolate malts. Fuzztail Hefeweizen uses Green Bullet, Lemon Drop, and Cascade Hops to produce a refreshing wheat beer with hints of grapefruit and lemon.
The Oakway Pub offers creative and healthy food options including Wagyu beef sliders, Steelhead Banh Mi, and an elote dip, while traditional pub burgers, nachos, and mac & cheese balance out the menu.
Don't Miss
Vicious Mosquito IPA is Sunriver's flagship IPA and combines Warrior, Cascade, Centennial, Columbus, and Simcoe hops to produce a well-balanced flavor with hints of pine and grapefruit.
12. Viking Braggot
For something a bit out of the ordinary in your Eugene brewing adventure, be sure to visit Viking Braggot Company. A modern revival of old Norse traditions, Viking's brews combine elements of craft beer and different varieties of fermented honey to produce a truly unique drink. They are the only brewery in the US to offer a full line of braggots, which range from several different IPAs, to amber, red, and brown ales.
The Southtowne Pub offers Viking Braggot's version of Scandinavian comfort food, which includes Frikadelkker (Danish meatballs), beet fritters, and Danish pancake snacks, all made with local ingredients. The brewery offers a unique traveling service with its 8-tap "Battle Cat" van that serves as a portable bar.
Don't Miss
Valkyrie Belgian Amber with blackberry purée and Tulsi Tea. Brewed with blackberry honey.
Final Words On Best Breweries in Eugene
Eugene is an essential stop on any West Coast craft-beer pilgrimage. Travel down the Willamette and pay homage to this beautiful, culturally vibrant city and its incredibly creative brewery culture by stopping in at one or more of our Best Breweries in Eugene.
The brewery scene is dynamic, with new players emerging all the time and we know Eugene is no exception.