Oregon's rugged rocky coastline meets tangled forests, providing some of the most incredible vistas in the country.
You don't need to choose between the mountains and the ocean when you visit this breathtaking state. Oregon's beautiful shores provide visitors with the best of both worlds!
Plan your next vacation to the Pacific Northwest and visit some of the following best beaches in Oregon.
---
1. Cannon Beach
Cannon Beach, Oregon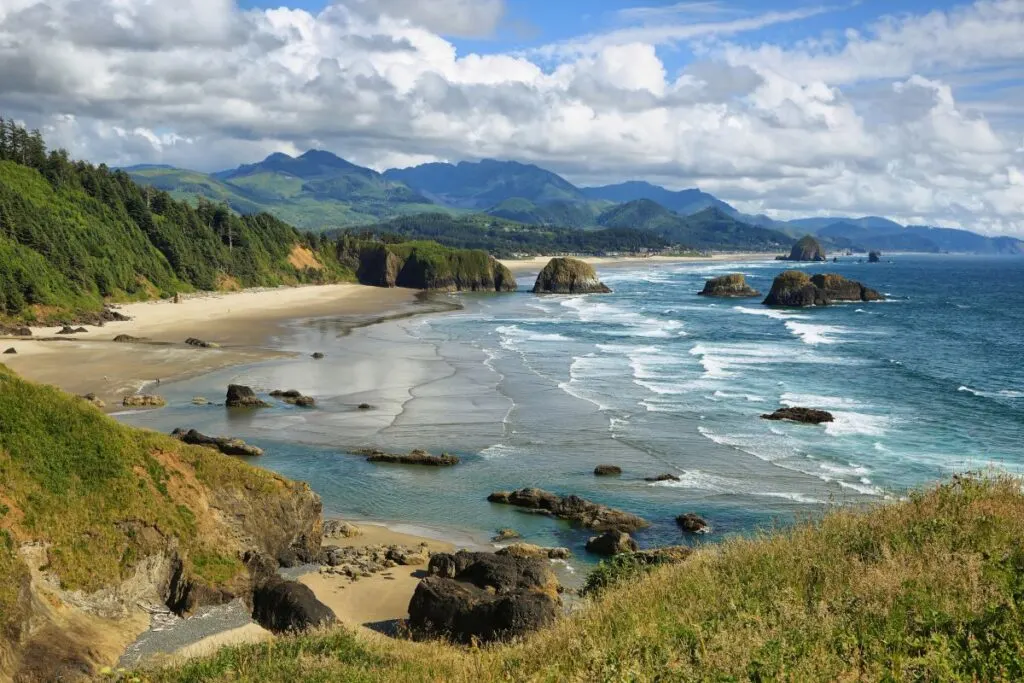 Cannon Beach is a gem of the Pacific Northwest and is widely considered the best beach in Oregon. It has even secured a spot in National Geographic's top 100 most beautiful places.
Haystack Rock is a massive basalt pillar that draws tourists to Cannon Beach during low tide when you can walk right up to it. The intertidal area surrounding the rock is one of Oregon's Seven Marine Gardens, home to Tufted puffins, sea stars, and other fascinating wildlife.
The rest of the area comprises an expansive white-sand beach curtained by forested foothills and lush foliage. Once you get your fill of the ocean, you should explore some of the extensive hiking paths winding throughout Cannon Beach, Oregon.
2. Nye Beach
Newport, Oregon
Newport is home to some of the best beaches in Oregon that you must see. Within Newport, Nye Beach is a beautiful coastline that's well-loved by locals and tourists alike.
Nye Beach has been a popular summer destination for over 130 years. The blue waves of the Pacific Ocean ripple over rocky white beaches ideal for combing and treasure hunting.
After you are done having fun in the sun, discover the quaint seaside shops and restaurants in Newport. Nana's Irish Pub is a cozy place to grab a drink and sample local cuisine that you will love.
3. Manzanita Beach
Manzanita, Oregon
Manzanita Beach is a dreamy ocean cove nestled in the mountains. The beautiful beach and titular town boast stunning views of the Pacific Ocean from high-elevation crests easily accessible by hiking trails.
This area is a fantastic place for combing and scavenging. Bring along a basket to collect the gorgeous shells, sand dollars, and sea glass you will find. Hike the even sandy beach all day long or hit the water for some prime surfing opportunities.
The town of Manzanita has plenty of food and fun to offer visitors. Enjoy delicious clam chowder from one of the top-rated restaurants, then settle down and watch the sunset over one of the best beaches in Oregon.
4. Rockaway Beach
Rockaway Beach, Oregon
On your quest to find the best beach in Oregon, don't overlook this sleepy little ocean town. Rockaway Beach offers visitors seven miles of smooth golden sand for hiking and crystal-clear water for wading.
Remember to bring your camera to this picturesque shoreline, as you will want to take plenty of photos. Build a campfire and stick around until dusk to snap breathtaking shots of the sunset.
Rockaway Beach, Oregon, is a small town, but it still has plenty to do once the sun goes down. Peruse local shops and catch a bite to eat at a gourmet seafood restaurant before retiring to one of the nearby scenic hotels or campgrounds.
5. Lincoln City Beach
Lincoln City, Oregon
At Lincoln City Beach, you can drive down to a flat, hard-packed area if you have a four-wheel drive vehicle. Set up chairs, start a bonfire, and unwind in the sun this summer.
Be careful if you bring your car, and stay in the dense sand and well away from the ocean waves. Nearer to the water, you'll encounter soft sand and living tide pools that you shouldn't drive over.
The teal intertidal pools are brimming with fascinating ocean life. See coral, sea anemones, starfish, and more during low tide.
This is one of the best beaches in Oregon that attracts plenty of seasonal visitors. If you become one yourself, you will surely find food and lodging along this gorgeous coastline that suits your tastes.
6. Yachats Recreation Area Beach
Yachats, Oregon
Yachats State Recreation Area is a stunning state park on the Pacific Northwest coast. This is the best beach in Oregon to spot whales traversing the choppy waves as they travel thousands of miles during seasonal migration.
The rugged shoreline is often subject to high winds and stormy waters. If you are lucky enough to visit this beach on a calm day, you can climb down the rocky shoreline and see beautiful tidal pools up close.
There are also plenty of fabulous fishing spots located at this beach, so remember to bring your fishing gear. Check out nearby Yachats Ocean Road State Natural Site and Smelt Sands State Park for even more breathtaking vistas and angling opportunities.
7. Del Rey Beach State Recreation Area
Warrenton, Oregon
Del Rey Beach is an awesome place to bring your four-wheel drive vehicle for a cruise along the shoreline. The wide sandy beach is firm and offers plenty of space to drive. Just keep it slow and watch out for other beach-goers.
This beach is home to hikers, equestrians, surfers, and families enjoying the sun. When night descends upon the beach, the parties start in the summer air.
This is the best beach in Oregon for tailgating right on the shore. Bring your cars, picnic tables, and chairs, and start a bonfire with your friends on Del Rey Beach.
8. Hug Point State Park Beach
Arch Cape, Oregon
Hug Point State Park Beach is a gorgeous spot you should visit if you want some gorgeous views. This spot is a paradise for nature photographers and hiking enthusiasts.
Numerous basalt towers and arches rise along the shore in spectacular displays of natural beauty. Plus, a stunning waterfall runs through the middle of the beach where Fall Creek joins the Pacific Ocean.
You should, however, exercise caution if you venture out during low tide. The tide can change quickly here due to the influx of fresh water, which could leave inexperienced beach-goers stranded.
9. North Jetty Beach
Florence, Oregon
North Jetty Beach is a slender shoreline with picturesque views where the Siuslaw River empties into the Pacific Ocean. It is certainly a destination that you should bring your camera along to.
You can venture out onto the rocky jetty to get incredible photos of the mountainous coast to the east and a spectacular sunset over the water to the west.
Florence has plenty of modern amenities, tasty restaurants, and comfortable lodging options. This town is just an hour's drive west of Eugene, so consider trying 12 of the Best Breweries in Eugene, Oregon while you are there.
10. Bandon Beach
Bandon Beach, Oregon
Bandon Beach is a coastal town with breathtaking geologic formations. This is the best beach in Oregon for adventurers seeking to explore unique coastlines.
Over millions of years, ocean waves have eroded the volcanic rock that forms the jagged coast of Bandon Beach. This has left the landscape dotted with tidal coves and caves just waiting for exploration.
The numerous basalt pillars make it dangerous to surf here, so leave your board in the car. Instead, head out onto the shore during low tide to see some amazing natural sights.
11. South Beach State Park
Newport, Oregon
Newport takes another spot on this list with South Beach State Park. This is the best beach in Oregon for family-friendly recreational activities.
Visit this beautiful beach and state park to enjoy scenic bike trails, horseshoe pits, a disc golf course, and a playground for kids.
Stay the night at one of the many campsites, including over 220 RV sites with electric and water hookups, 60 tent sites, 27 yurts, and three primitive group camps.
12. Sunset Bay State Park Beach
Coos Bay, Oregon
Coos Bay is a well-known vacation destination on the Oregon coast. Sunset Bay State Park Beach draws tourists to this lovely area every summer.
This aptly-named park is one of the best beaches in Oregon for catching the sunset over rocky outcroppings. Visit during low tide to see the anemones, crabs, starfish, and more tidal critters.
There is still plenty to enjoy once you finish exploring the shore. See the local museum, hit the casino, or rent an ATV and tear through the nearby Oregon Dunes OHV Horsfall Area.
13. Waldport Beach
Waldport, Oregon
Waldport is a cozy forested shore town that is home to the best beach in Oregon for surfers. Bring your wetsuit to ride the crisp waves or stretch out on the smooth sandy beach to catch some rays.
The town sits on a scenic peninsula formed by the Alsea River. Along with shaping the current to form perfect cruising waves, this provides incredible trails and views you won't forget.
Are you new to riding the waves? Check out the local surf shops to rent a board and get lessons on hanging ten in no time.
14. Gold Beach
Gold Beach, Oregon
The small town of Gold Beach is so-named for the gold rush that brought settlers here nearly 200 years ago.
This is one of the best beaches in Oregon that offers mild weather all summer long. It is the northernmost subtropical climate in North America, making it a favorite vacation spot for locals.
While you are there, you must see the primary scenic attraction: Kissing Rock. This is another of Oregon's famous natural rock formations with gorgeous photo opportunities.
15. Pacific City Beach
Pacific City, Oregon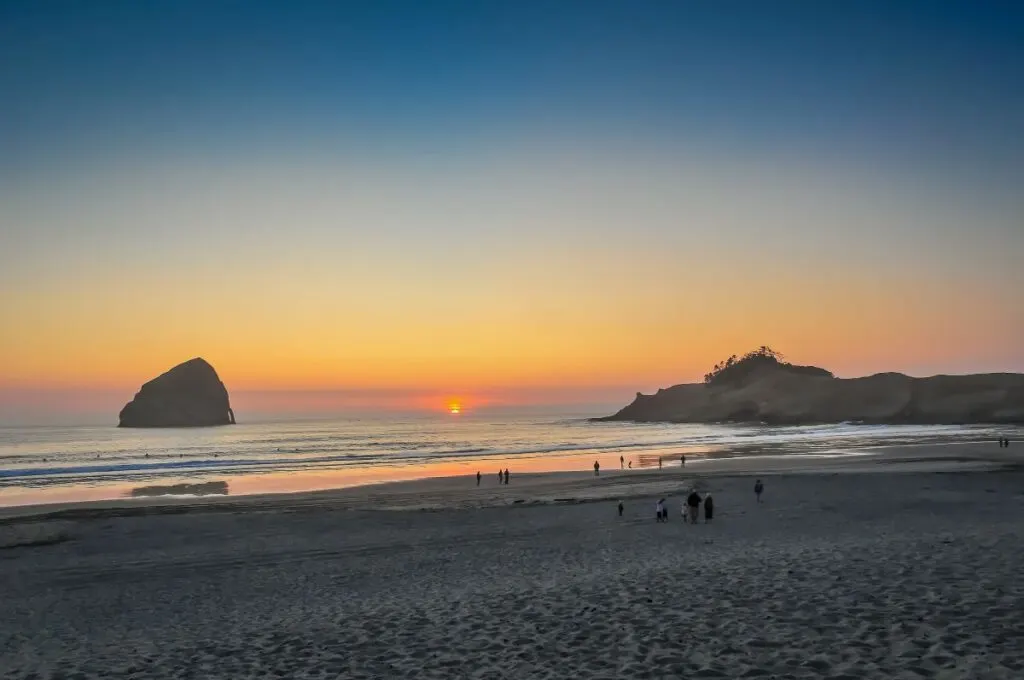 Pacific City Beach is last on this list of the best beaches in Oregon, but it's certainly not the least. This is one of the most popular coastal towns in Oregon, and the beach attracts tourists from all over each summer.
Visit to see breathtaking views from the rugged cliffs and climb the towering dunes that overlook the shore. While you are there, explore the nearby nature preserves and recreation areas that highlight the beauty of the Oregon coast.
---
What to Bring to the Best Beach in Oregon
You will need the right gear if you want to plan the perfect vacation. Don't forget to pack the following must-haves for the best beach in Oregon.
The Pacific Northwest is not known for sunny skies, but you should still bring some UV protection. Equip yourself with polarized sunglasses and water-resistant sunscreen to keep yourself safe from the sun.
Are you planning on taking a brisk dip in the ocean? Even the best beach in Oregon has chilly water due to the state's high latitude. For this reason, you should pack a shorty wetsuit for swimming, paddling, and surfing.
If you plan to bring your camera and phone to the shore, you must protect them from splashes of corrosive saltwater. This waterproof pouch is a hands-free way to keep your gear dry and organized.
The entire coast is insulated by mountains and forests that are perfect for hiking. So if you want to get the most out of your trip, you should choose the right footwear. Look for waterproof shoes that provide excellent traction on slippery rocks.
For the ultimate beach and trail versatility, you might look into hiking sandals. Try out KEEN Newport H2 Hiking Sandals for men and KEEN Whisper Hiking Sandals for women.
---
Visiting the Best Beaches in Oregon
The Pacific Northwestern coast is one of the most beautiful places in the world. After reading this guide, you likely cannot wait to visit the best beach in Oregon to see these stunning sights in person.
While you are there, you should experience more of the culture and entertainment The Beaver State has to offer. Check out our visitor's guide landing page to discover the best things to do, food to eat, and places to stay in Oregon!