Are you planning to spend some time in Oyster Bay, New York? This beautiful area on Long Island has no shortage of interesting sights and activities to enjoy. Whether you want to visit historical sites, spend some time on the water, or find a way to keep the kids entertained, keep reading to discover some of the best things to do in Oyster Bay.
Things to do in Oyster Bay for History Fans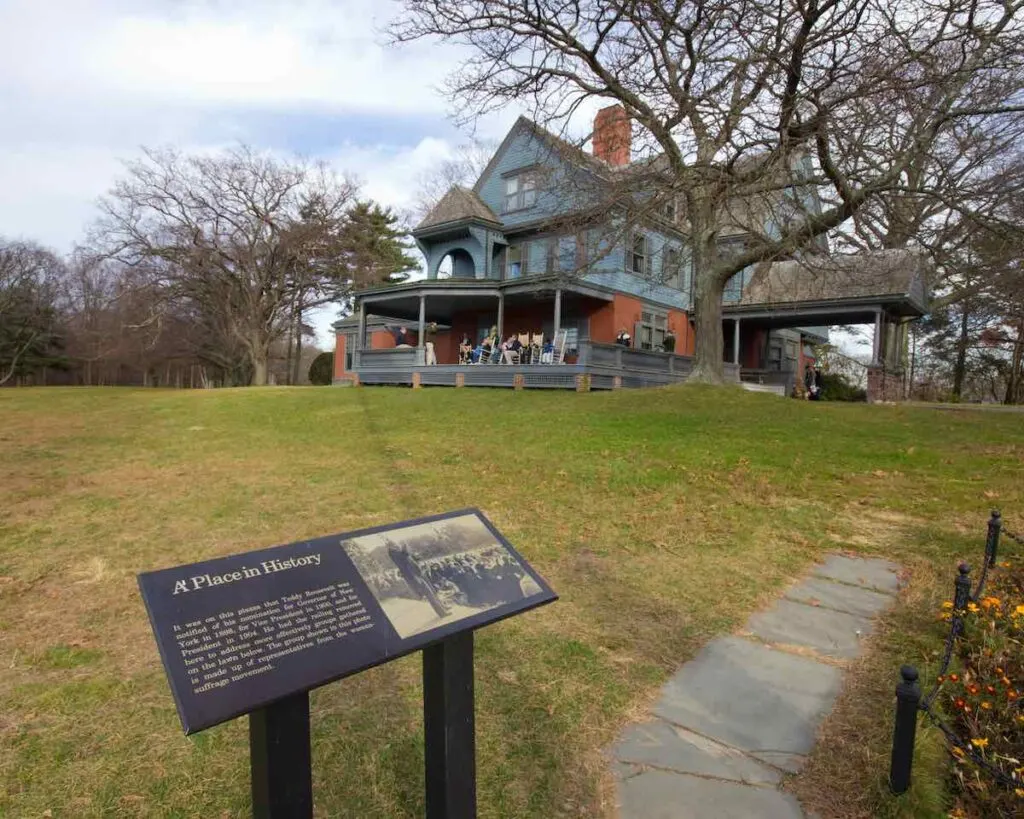 1. Sagamore Hill
Sagamore Hill was once the home of former president Theodore Roosevelt, and he lived there for nearly thirty-five years, from 1885 until he died in 1919. During his presidency, he lived in the White House in Washington D.C., but he would visit Sagamore Hill in the summer, and it came to be known as "The Summer White House."
The house is set on eighty-three acres. The grounds are free to explore and are open daily from sunrise to thirty minutes after sunset. If you'd like to see inside the Roosevelt house, you can do so with a guided tour.
2. Youngs Memorial Cemetery
Not far from Sagamore Hill, you'll find Youngs Cemetery, the final resting place of Theodore Roosevelt. He is buried next to his wife, Edith, at the top of the hill.
The cemetery is a serene place to visit, with lovely views of Oyster Bay, especially from the top of the hill where Theodore Roosevelt's grave is located.
3. Raynham Hall Museum
Learn about early American history when you visit the Raynham Hall Museum. Set in a nearly 300-year-old home that once belonged to the Townsend family, the museum is full of antiques and artifacts that show what life was like during the American revolution in Oyster Bay.
During the war, Robert Townsend was a spy for General George Washington. When you visit the museum, you can learn more about Robert and what spying was like in the late 1700s.
Admission is $12 for adults and $8 for children, students, and seniors. Military personnel, members, and children under five are free.
Things to do in Oyster Bay for Nature Lovers
4. Planting Fields Arboretum
Planting Fields Arboretum is set on a large estate that dates back to the 1920s. There are 409 acres of wooded paths, formal gardens, greenhouses, and expansive, well-manicured lawns.
The gardens are gorgeous, with many different styles and plants. They have over ten gardens to explore in addition to the greenhouses where you can find things growing year-round.
The Arboretum is open daily from 9:00 am to 5:00 pm. Coe Hall and the visitor center are open Wednesday-Sunday if you'd like to tour the mansion. Tickets for the tour are available online. If you're not taking a tour, admission to the grounds and greenhouses is free; no tickets are required. Parking is $8 per vehicle.
5. Theodore Roosevelt Sanctuary and Audubon Center
The Theodore Roosevelt Sanctuary was first established in 1923. The sanctuary is home to many native plants and animals, especially birds like Ospreys, Goldfinches, Hummingbirds, and many more.
The sanctuary has fourteen acres with ponds, hiking trails, and plenty of quiet spaces to enjoy. It's a beautiful place to take a walk and enjoy some time in nature.
6. Big River Barn Rescue
Big River Barn Rescue is one of the best activities in Oyster Bay for horse lovers. They offer horseback riding on a beautiful trail system through hundreds of acres of woods and fields. There are miles of trails to explore with the horses. Beginners and advanced riders are welcome to get out on the trail with experienced guides from Big River Barn.
Rides usually last around seventy-five minutes and are $150 per person. Make a reservation for your ride by texting 516-650-0016.
7. Oyster Bay National Wildlife Refuge
Officially called the Congressman Lester Wolff Oyster Bay National Wildlife Refuge, this beautiful spot on the north side of Oyster Bay provides a safe haven for native wildlife. The refuge includes 3,209 acres in and around Oyster Bay Harbor and is only accessible by boat.
The refuge is open twenty-four hours daily for boating, fishing, and viewing wildlife. A saltwater fishing license is required for New York state to fish in the bay, and you can get information about fishing licenses and regulations at the New York state website.
Where to be Active in Oyster Bay
8. The Waterfront Center
On a beautiful summer day, getting out on the water is the perfect way to be active in Oyster Bay. The Waterfront Center is a non-profit organization that connects people to the water, and they offer rentals, lessons, and other programs to help you make the most of your time on the water in Oyster Bay.
Learn how to sail, take a tour on a historic sailboat, or rent a kayak or stand-up paddle board.
9. Oyster Bay Water Sports
If you enjoy being active and spending time on the water, Oyster Bay Water Sports should definitely be on your list of things to do in Oyster Bay.
Take a private charter out on the water with a fully trained crew for wakeboarding, wake surfing, waterskiing, or tubing. The tours are perfect for both new and experienced water sports enthusiasts. Whether you're just trying something out for the first time or have lots of experience, the crew provides helpful support and instruction to ensure you have a great time.
10. Caumsett State Historic Park Preserve
The Caumsett State Historic Park has miles of trails perfect for walking, jogging, or biking. The park is situated on a peninsula that extends into Long Island Sound.
Natural views in the park are very diverse. You'll see meadows, rocky shorelines, beautiful gardens, salt marshes, and wooded areas. Take it slow with a leisurely walk, or get your heart rate up with a jog or bike ride.
Things to Do in Oyster Bay with Kids
11. Theodore Roosevelt Memorial Park
The Theodore Roosevelt Memorial park is perfect for families. There is plenty to do at this waterfront park, like walking trails, a playground for the kids, plenty of fields to run and play in, and benches where parents can sit and rest.
Play a game of tennis, basketball, or softball on the park fields, or bring a picnic to enjoy the park even longer.
12. Oyster Bay Railroad Museum
If there is someone in your group who likes trains, the Oyster Bay Railroad Museum is one of the best places to go in Oyster Bay.
Learn about the history of trains, see how they work, play with model trains, and step inside a real train where you can touch the controls. The museum is small, but there is still plenty to see, especially for someone who loves trains.
Where to Eat and Drink in Oyster Bay
13. Oyster Bay Brewing Company
Oyster Bay Brewing Company is one of the top things to do in Oyster Bay if you're a fan of beer. The tap room offers several craft beers plus bottles and cans you can take home for later. Whether you prefer pale ale or rich, dark stout, you're sure to find something you like at Oyster Bay Brewing Company.
14. Cooper Bluff
Cooper Bluff is one of the best places to go in Oyster Bay for drinks with a view. Enjoy a spiked slushie or signature cocktail as you take in the scenery, then grab dinner from the food truck.
The on-site food truck serves sandwiches, seafood, and snacks, as well as several vegetarian selections and kid-friendly options.
15. Bonanza Stand
With so many activities in Oyster Bay to keep you busy, you're sure to work up an appetite. Grab a hot dog or homemade Italian Ice at Bonanza Stand. The family-owned and operated hot dog stand has served customers in Oyster Bay for over 100 years.
The Italian ices are perfect for cooling off on a hot summer day. They have dozens of flavors, so there's something for everyone. If you're feeling hungry, there's plenty to eat. In addition to hot dogs, they have chicken tenders, pretzels, mozzarella sticks, fries, chips, and more.
Where to Relax in Oyster Bay
16. Blue Water Spa
If relaxing is high on your list of things to do in Oyster Bay, you won't want to miss the Blue Water Spa. Take a little time to pamper yourself with some spa services like a massage or facial.
Once you're perfectly relaxed, you'll be ready to take on some of the other fun things to do in Oyster Bay.
17. Tobay Beach
Grab a beach chair or towel and soak up the sun at Tobay Beach. Whether you want to swim, relax under an umbrella, or work on your tan, Tobay Beach is one of the best places to go in Oyster Bay to spend a relaxing day.
Even if it's too cold to go swimming, the beach is a great place to spend a quiet afternoon reading, walking, or just sitting and listening to the calming sound of the waves.
Wrapping up Things to do in Oyster Bay
Which of these things to do in Oyster Bay do you want to try first? If you're planning a trip to the state of New York and you're wondering when is the best time to go, check out our seasonal guide for planning a trip to New York. For restaurant recommendations, while you're there, check out the best restaurants in New York.