Are you looking for the best pizza in New York? We've scoured the state from Lake Placid to New York City and everywhere in between to find the best pizza restaurants in New York for every pizza lover. Whether you like thin crust New York-style pizza, thick Sicilian pizza, or Neapolitan pizza, New York has a pizza you're sure to love. Keep reading to discover the best Pizza in New York and get ready to eat!
The Best Pizza in Upstate New York
1. Big Slide Brewery and Public House
Lake Placid, New York
Big Slide Brewery and Public House serves house-made craft beer, elevated pub fare, and fresh pizza cooked in a brick oven.
What makes their pizza so great? High-quality fresh ingredients and thoughtful recipes. The pizza dough is made in small batches by hand for incredible flavor and texture. The toppings are sourced from local farmers and cheesemakers so they're as fresh as possible.
If you're up for something different, try a unique flavor like pepperoni with peppers, tomatoes, and honey drizzle, or vegan Korean BBQ chicken. If you're feeling like something classic, try the Margherita or sausage pizza with fresh mozzarella cheese.
2. Caffe Rustica
Lake Placid, New York
Caffe Rustica is a hidden gem located off of the well-known main street area in Lake Placid. The restaurant serves delicious Italian food and wood-fired pizza. The dining room has a cozy atmosphere that's perfect for a date night or a quiet dinner with friends or family.
If you like mushrooms, try the bianco funghi pizza with roasted mushrooms and Italian sausage. It's one of the most popular items on the menu and hands down one of the best pizzas in New York!
The other pizzas on the menu are delicious as well, as are the pastas, steak, and seafood. If you're hungry enough for an appetizer, the meatballs and Ceasar salad are both excellent.
If you enjoy a glass of wine with your dinner, the wine list has plenty of options to complement whatever dish you decide to order.
3. The Owl's Nest Pizzeria
Saranac Lake, New York
The Owl's Nest Pizzeria serves New York-style pizza, subs, wings, and snacks. They have some of the best New York Pizza you can get outside of New York City. The crust is thin and perfect for folding up your slice.
The restaurant is located on the historic main street in Saranac Lake. The service is fast and pizzas are always served hot and fresh. The prices are very reasonable so you can feed the whole family without breaking the bank.
Dine in or get your pizza to go. They also offer delivery from 3:00 pm until closing time. The Owl's Nest is open Monday-Friday only.
4. Wise Guys Ristorante
Chaumont, New York
Wise Guys Ristorante serves Italian favorites like pasta and pizza plus specialty cocktails and homemade desserts.
Get hand-tossed, New York-style thin crust or thick crust pizza. All of their pizzas come with homemade tomato or garlic sauce, and your choice of toppings.
If you enjoy cocktails you'll definitely want to try one of the signature cocktails. They are both beautiful and delicious and make the perfect accompaniment to your pizza.
The restaurant has an upscale, elegant atmosphere while still feeling approachable and welcoming. There is a beautiful outdoor patio with water views of Sawmill Bay. Reservations are available online.
5. Big Sal's Pizzeria
Plattsburg, New York
Visit Big Sal's for tasty pizza and wings plus subs, pasta, burgers, and more. The restaurant is cozy and the food is delicious. The owner is friendly and the staff is always happy to take care of their customers.
The crust is part of what makes the pizza at Big Sal's so special. It has an amazing texture that is soft on the inside and slightly crisp on the outside. You can't have the best pizza in New York without perfecting the crust, and Big Sal's does not disappoint! Along with the tasty toppings and melty cheese, their pizza is sure to satisfy.
Big Sal's is open daily for lunch and dinner.
The Best New York Pizza Near Niagara Falls and Buffalo
6. SNY Slice of New York
Buffalo, New York
SNY Slice of New York is one of the top pizza spots in Buffalo, and for good reason! The pizza toppings are so fresh and delicious and the customer service can't be beat.
Whether you're in the mood for a plain cheese pizza or something unique like chicken tandoori, you're sure to love the pies at SNY Slice of New York. You can get pizza by the slice or whole pizzas so order as much as you're hungry for.
In addition to the yummy pizzas, they offer a large selection of other items like shawarma, gyros, Philly fries, wings, and more.
7. Tappo Wood Fired Pizza
Buffalo, New York
Tappo Wood Fired Pizza is one of the newer pizza places in the area. In 2019 Tappo restaurant joined forces with Thin Man Brewery to bring a unique experience to the Chandler Street neighborhood in Buffalo.
Sample craft beer along with delicious, wood-fired pizzas in the large dining room. Outdoor seating on the patio is available when the weather is nice. They often have live music and other fun events like trivia.
They work with local vendors to get fresh, high-quality ingredients to make their pizza stand out from the rest. The pizza crust is perfectly soft and doughy on the inside while being crispy on the outside. The dough is fermented for three days which gives it the most delicious tangy flavor. The brick oven adds another layer of flavor with a hint of smoky essence.
8. Brando's Pizza and Wings
North Tonawanda, New York and Niagara Falls, New York
Brando's Pizza and Wings has two locations where they serve some of the best pizza in New York to hungry customers.
They have a ton of pizzas to choose from or create your own from the wide selection of toppings. They make traditional round pizzas in a variety of sizes and large sheet pizzas with square slices that are perfect for feeding a crowd.
You can save some money by taking advantage of one of the daily specials. If you're feeling really hungry get some wings, subs, or an appetizer to go with your pizza!
The Best Pizza in Central New York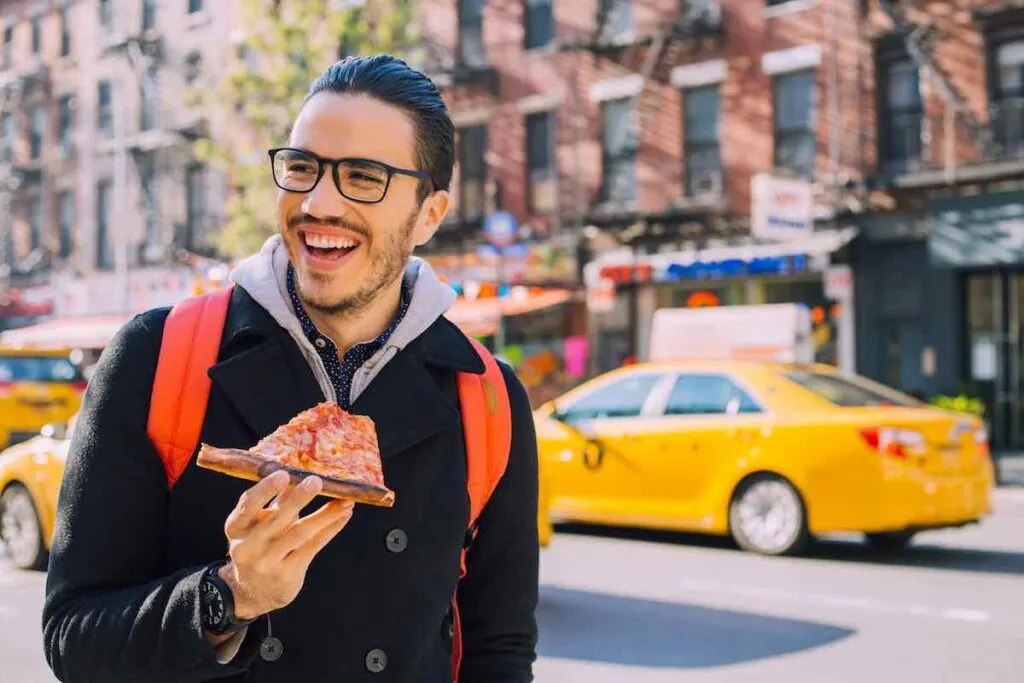 9. Apizza Regionale
Syracuse, New York
At Apizza Regionale they blend the best of New York-style pizza with Neapolitan pizza for a unique flavor that is out of this world. Pizzas are wood-fired in the special pizza oven that was imported from Naples, Italy where it was made by hand.
Fresh, local ingredients give their pizza an extra delicious flavor. A Map of New York right on the wall lists the farms and other businesses their ingredients come from. In addition to the pizza, get fresh salads, pasta, and other items. The menu changes frequently depending on what is fresh and in season.
The restaurant has a cozy, intimate atmosphere with brick walls and hanging string lights. It's the perfect place to go for a quiet or romantic evening to enjoy some of the best pizza in New York.
10. Mario and Salvo's Pizzeria
Syracuse, New York
Mario and Salvo's Pizzeria offers some of the best pizza in New York at very affordable prices. If you like thin crust, try one of the Neapolitan-style pizzas. There are plenty of options to choose from or create your own. They even have a broccoli pizza! Chewy crust is covered with your choice of red sauce or garlic sauce, plenty of cheese, and topped with broccoli.
If you like thick crust, get the Sicilian pizza that comes with tomato sauce, mozzarella cheese, and basil. Whatever type of pizza you decide to get, it's sure to hit the spot. They also serve hot and cold sandwiches, pasta, wings, and more.
11. DeFazio's Pizzeria
Troy, New York and Albany, New York.
DeFazio's Pizzeria is a family-owned restaurant serving fresh and delicious wood-fired pizza. They have two convenient locations to choose from, one in Troy and one in Albany.
The Troy location has indoor and outdoor seating. The restaurant is small so reservations are recommended if you'd like to dine in. You can make a reservation by calling 518-271-1111.
The Albany location is a part of Albany Distilling Company Bar. You can get pizza for dine-in or takeout at the pizza counter next to the bar.
Both restaurants have authentic, Italian recipes for truly fantastic pizza. Gluten-free crust and vegan cheese are available for those with dietary restrictions.
12. Villa di Como Ristorante
Albany, New York
Villa di Como is an authentic Italian restaurant and farm distillery. Many of their ingredients are imported from Italy for a truly authentic, Italian flavor.
Their pizzas are made with special 00 soft wheat flour from the Amalfi Coast in Italy. 00 flour is very finely ground for a smooth and silky dough that bakes up perfectly crisp on the outside and chewy on the inside. If you're looking for something authentic, Villa di Como has some of the best pizza in New York.
After enjoying your pizza, get a bottle of small-batch limoncello, orangecello, or homemade sauce to take home. They are open Wednesday through Saturday for dinner by reservation only. Text 518-475-7777 to request a reservation.
The Best Pizza in New York City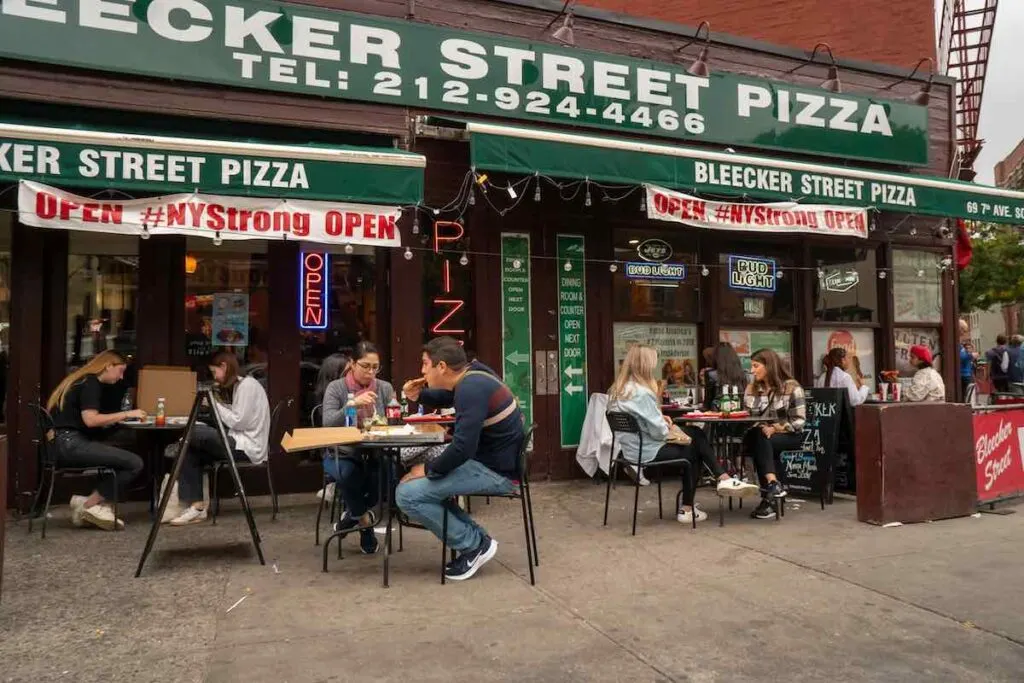 13. Bleecker Street Pizza
New York, New York
Bleecker Street Pizza has been called the best pizza in New York by many sources including the Food Network, USA Today, and Trip Advisor.
One of their best-selling pizzas is the Nonna-Maria pie. A thin crust pizza with homemade marinara sauce, fresh mozzarella, parmesan cheese, and fresh basil leaves. The pizza is based on an old family recipe and has been well-loved by customers since the restaurant first opened in 2014.
Try Bleecker Street for yourself and see if they've earned the title of the best pizza in New York!
14. Sottocasa
New York, New York and Brooklyn, New York
Sottocasa has two great locations, one in Harlem and one in Brooklyn. Both restaurants are owned by native Italians who really know their pizza.
Each location offers a wide selection of tasty, authentic Neapolitan-style pizzas. Try traditional or unique flavors like white pizza with smoked mozzarella and homemade truffle spread, or tomato pizza with spicy Italian sausage, gorgonzola, and mushrooms.
They offer vegan mozzarella and gluten-free crust which you can request on any of their pizzas.
The wine list features red, white, pink, and sparkling wines from all over Italy. They change the menu seasonally so there is always something new to try.
15. NY Pizza Suprema
New York, New York
NY Pizza Suprema has been in the same family for over forty-five years. The restaurant was first opened by an Italian immigrant named Salvatore Riggio in 1964. Sal's son Joe started working in the restaurant when he was ten years old and now he runs the show.
At NY Pizza suprema, they specialize in pizza. You won't find a menu full of burgers, hotdogs, and wings. They focus on pizza and they do it well. That's a big part of what makes them one of the best places to get pizza in New York.
They have three different homemade sauces that are made fresh every morning. House-made mozzarella cheese gives their pizza an extra special flavor. They never skimp on the quality or freshness of any of their ingredients. Believe it or not, the regular, plain cheese pizza is one of the most popular menu items. Keeping things simple can be incredibly delicious.
16. Posto NYC
Posto NYC offers thin crust, New York pizza along with salads, appetizers, pasta, and dessert. If you're looking for the best New York pizza, you'll definitely want to try Posto. The pizza is delicious with an incredibly thin, crisp crust.
The toppings are always fresh and delicious and the pizza is perfectly balanced with just the right amount of sauce and mozzarella cheese.
They are open seven days a week for lunch or dinner. Visit their website to get free delivery or order pick-up.
Time to eat the Best Pizza in New York
From casual pizza joints to upscale Italian restaurants, New York has no shortage of places to get excellent pizza. Try some of these restaurants and decide for yourself which one has the best pizza in New York! Looking for the best time to visit New York, check out our reasons for each season!