Michigan is a state that boasts a variety of zoos and aquariums, offering visitors the opportunity to witness and learn about its diverse wildlife. Ranging from large, well-known establishments to smaller, unique venues, these attractions bring the wonders of the animal kingdom to life for people of all ages. Throughout the state, these zoos and aquariums not only focus on showcasing the incredible animals that reside there, but also prioritize conservation and education efforts to promote the preservation of these species and their environments.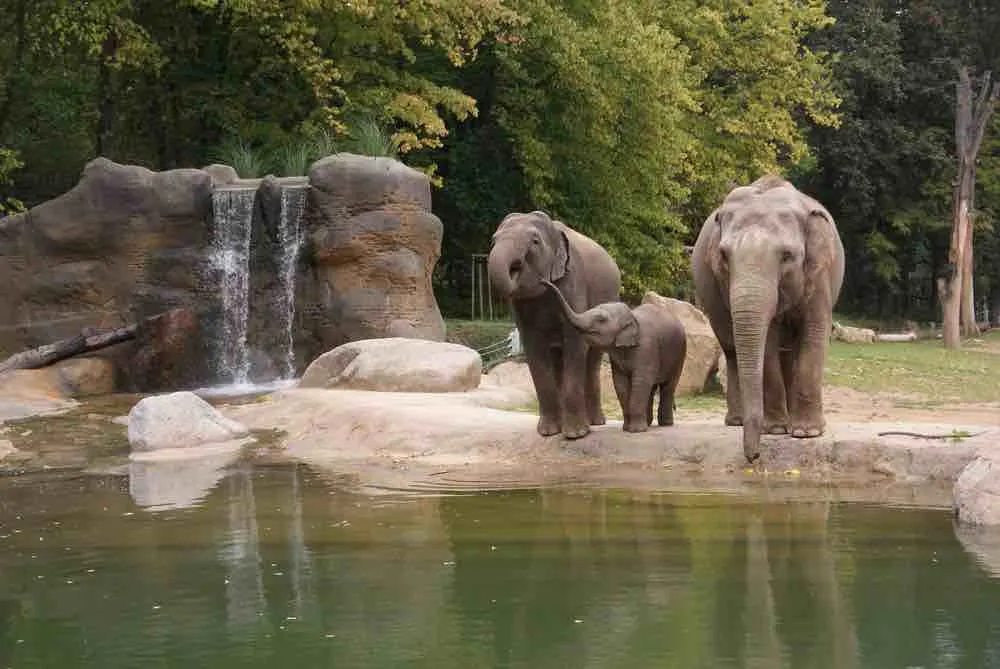 With such an array of spectacular locations to choose from, families and wildlife enthusiasts visiting Michigan will undoubtedly have memorable experiences exploring the state's zoological treasures. Visitors can marvel at the majestic creatures in their naturalistic habitats, participate in interactive learning opportunities, and even get up close and personal with some of the animals. As a result, Michigan zoos and aquariums have become popular attractions and essential stops on any trip to the area.
Key Takeaways
Michigan boasts a range of zoos and aquariums, offering diverse wildlife experiences for visitors.
These attractions focus on conservation, education, and showcasing animals in naturalistic settings.
Visiting Michigan zoos is a popular activity that provides memorable experiences for families and wildlife enthusiasts.
Best Zoos in Michigan
Binder Park Zoo
Located in Battle Creek, Binder Park Zoo offers visitors a chance to observe a diverse range of wild animals in a naturalistic setting. Home to over 500 animals and an impressive 140 different species, this zoo is known for its expansive Wild Africa exhibit. Here, guests can even feed the giraffes and watch as zebras, antelopes, and ostriches roam free.
Detroit Zoo
Situated in Royal Oak, the Detroit Zoo features more than 2,500 mammals, birds, reptiles, amphibians, fish, and invertebrates from 280 different species across its 125 acres. Most notably, the zoo's Arctic Ring of Life exhibit showcases polar bears and seals in a stunning environment. Additionally, the Polk Penguin Conservation Center offers an up-close experience with penguins, making it a must-visit for avid animal-lovers.
Potter Park Zoo
Potter Park Zoo, located in Lansing, houses over 500 animals from nearly 100 species. Known for its captivating red panda exhibit, this zoo provides visitors with a memorable experience through its camel rides and children's zoo area. The park strives to educate visitors on conservation and animal care.
John Ball Zoo
Found in Grand Rapids, the John Ball Zoo provides a diverse collection of animals, including tigers, bears, and primates. Known for its unique ropes course and zip line, the zoo offers both thrilling experiences and educational encounters. With immersive exhibits, visitors can learn about different habitats and species while enjoying close encounters with the animals.
Roscommon Zoo
The Roscommon Zoo is a small, family-owned establishment that offers intimate encounters with an array of animals, including lemurs, wolves, and exotic birds. Located in Roscommon, the zoo prides itself on providing personal experiences and education for its visitors, making it a perfect destination for families with young children.
Saginaw Children's Zoo
A family-oriented destination, the Saginaw Children's Zoo is ideal for young kids and families alike. With a focus on hands-on experiences, the zoo houses an assortment of animals such as zebras, alligators, and farm animals. Highlights include the miniature train ride and the carousel, which are enjoyable by both children and adults, making it a memorable trip for everyone.
Small and Unique Zoos
Boulder Ridge Wild Animal Park
Boulder Ridge Wild Animal Park, located in Alto, offers a unique experience with a variety of exotic animals, reptiles, and birds. The park is dedicated to providing an educational and interactive experience for its visitors, allowing them to get close and connect with the incredible wildlife. From the majestic bald eagle to the gentle sloth, Boulder Ridge offers a memorable experience for all ages.
Wilderness Trails Zoo
Wilderness Trails Zoo is situated in Birch Run and features a combination of mammals, reptiles, and birds. The zoo is known for its farmyard edventures, giving visitors a chance to interact with cuddly animals and enjoy an enriching experience. Walk through the invigorating trails and witness animals like the lioness or marvel at the fascinating reptiles to make your visit worthwhile.
Garlyn Zoo
Garlyn Zoo, located in Naubinway, is home to a diverse array of mammals, reptiles, and exotic animals. They're committed to engaging their guests through wildlife encounters and promoting conservation efforts. The zoo offers a unique experience by embracing Michigan's natural beauty, giving visitors a chance to see animals like the graceful bald eagle or the captivating Wallace.
Deyoung Family Zoo
The Deyoung Family Zoo in Wallace provides an intimate and entertaining experience for animal lovers. With an emphasis on personal interactions, the zoo allows visitors to connect closely with various animals, including mammals, birds, and reptiles. The zoo is dedicated to creating an unforgettable experience for all its visitors while preserving the natural habitats of these incredible creatures.
Indian Creek Zoo
Indian Creek Zoo, nestled in Lambertville, allows visitors to explore and learn about a wide variety of animals. From exotic mammals to awe-inspiring reptiles, the zoo provides an experience that is both educational and entertaining. Encounter animals like the sloth and immerse yourself in the wonders of Indian Creek Zoo to create lasting memories.
Immersive Experiences
Michigan boasts a handful of excellent zoos that cater to conservation, education, and adventure. Visitors of all ages can enjoy engaging tours and interactive playgrounds, all while learning about the diverse habitats and animals that call these well-maintained establishments home.
The Detroit Zoo provides an immersive experience, allowing visitors a glimpse into the fascinating world of reptiles and amphibians. Its Reptile House and Amphibian House are unique spaces that guarantee an educational and memorable visit for both children and adults.
John Ball Zoo in Grand Rapids goes above and beyond expectations with a clean, activity-packed environment that houses a variety of animals. In addition to interactive exhibits, this esteemed zoo offers educational and up-close animal encounter experiences, prioritizing a deeper understanding of the wildlife and their habitats.
Another standout Michigan zoo, the Potter Park Zoo in Lansing bridges the gap between adventure and education by offering exciting animal viewing opportunities alongside engaging and informative exhibits.
Located in Saginaw, the Saginaw Children's Zoo combines fun playgrounds and hands-on exhibits to create an educational environment where kids are encouraged to explore and learn about the animal kingdom.
For visitors seeking a truly unique experience, the Boulder Ridge Wild Animal Park delivers a taste of the African savannah within its 80-acre private facility, allowing for plenty of up-close interaction with a diverse array of wildlife.
Michigan Wildlife
Michigan is home to a diverse range of wildlife, and there are several top zoos and wildlife parks located throughout the state. From the bustling Detroit Zoo to the serene Upper Peninsula sanctuaries, there is something for everyone to explore and enjoy.
Detroit Zoo, situated in Royal Oak, spans 125 acres and houses more than 2,500 animals from 280 different species. It features naturalistic exhibits, including mammals, birds, reptiles, amphibians, and fish. The Reptile house and Amphibian house are particularly noteworthy for their immersive and educational experiences.
In Grand Rapids, you'll find John Ball Zoo, which consistently exceeds visitors' expectations with its clean park, numerous activities, and a wide array of animals to see. Another must-visit is the Binder Park Zoo in Battle Creek, which offers an exciting journey through unique environments, allowing guests to observe and learn about various animal species.
The Upper Peninsula of Michigan is home to several wildlife sanctuaries. One such notable destination is Oswald's Bear Ranch in Newberry. This ranch is dedicated to rescuing orphaned cubs and providing them with a secure, nurturing environment. It offers an up-close encounter with these beautiful animals, making it an unforgettable experience for visitors.
For those interested in marine life, SEA LIFE Michigan Aquarium in Auburn Hills should not be missed. With interactive exhibits and thousands of aquatic creatures, guests can dive into a world of underwater exploration.
Additionally, Michigan's wildlife sanctuaries focus on preserving native species and their habitats. The Saginaw Children's Zoo and Potter Park Zoo in Lansing are two locations that provide educational opportunities for children to learn the importance of conservation and environmental stewardship.
Aquariums in Michigan
Michigan is home to a variety of aquariums, offering visitors a chance to explore and learn about marine life and aquatic ecosystems. These aquariums feature various species of fish and sea life, ensuring a captivating experience for all ages.
One of the notable aquariums in Michigan is the SEA LIFE Michigan Aquarium. Located in Auburn Hills, this family-friendly attraction houses thousands of sea creatures, including colorful fish, sharks, stingrays, and seahorses. With interactive exhibits and touch pools, visitors can engage closely with the underwater world. Educational talks and feedings give insight into the behavior and habitats of these fascinating creatures.
Another prominent Michigan aquarium is the Belle Isle Aquarium. Situated on Detroit's scenic Belle Isle Park, this historic gem has been entertaining visitors since 1904. Featuring over 1,000 fish from around the world, the collection includes both freshwater and saltwater species. The unique architecture, with its stunning green tile ceiling, adds an extra layer of charm to the visitor experience.
While not solely an aquarium, the Museum Ship Valley Camp in Sault Ste. Marie warrants attention within this context. Primarily a maritime museum, the Valley Camp hosts an aquarium showcasing species native to the Great Lakes. Visitors can learn about the freighter shipping history of the region while enjoying the chance to observe local aquatic life up close.
Popular Attractions and Activities
Michigan is home to a variety of zoos, each offering unique experiences and attractions for visitors. At the Detroit Zoo, guests can enjoy the Reptile House, Amphibian House, and admire numerous animals on display. The John Ball Zoo in Grand Rapids provides a clean park environment, with ample activities and a diverse collection of animals to observe.
A trip to the Binder Park Zoo in Battle Creek reveals an immersive experience for your family, offering a carousel, camel rides, and train rides. Children and adults alike can enjoy these interactive attractions, making it a memorable visit for all. The Saginaw Children's Zoo focuses on engaging younger audiences, with various feeding and interaction opportunities with animals.
For a more thrilling adventure, the Deyoung Family Zoo in Wallace has a ropes course that challenges visitors and provides a unique perspective to explore. In addition to these activities, Michigan's zoos host various events throughout the year, such as holiday celebrations and educational programs for all ages.
While visiting any of these zoos, guests will find conveniently located gift shops and restaurants within the premises. The gift shops offer souvenirs and items to remember your visit, while the restaurants provide various dining options to replenish your energy for more exploration.
Furthermore, several zoos have dedicated feed stations and animal encounter areas, where visitors can enjoy up-close experiences with the animals. Don't miss the chance to try the funicular at some zoos, offering a unique mode of transportation and a scenic view of the zoogrounds.
Conservation and Education
Michigan is home to several zoos that focus on conservation efforts and educational activities. These establishments work tirelessly to preserve animal species and their natural habitats while teaching visitors about their importance.
The Detroit Zoo, located in Royal Oak, is a prime example of a facility committed to wildlife conservation. With over 1.6 million visitors per year, the zoo uses stories of rescued animals and ongoing research as effective tools to increase awareness and inspire action. Many animals living at the Detroit Zoo are also part of critical assurance populations to guard against extinction.
Another noteworthy zoo in Michigan, the John Ball Zoo in Grand Rapids, offers various engaging and interactive programs for all ages. Through hands-on learning experiences, visitors have the opportunity to understand the intricacies of different ecosystems and the challenges animals face in the wild. The zoo is an ambassador for conservation, emphasizing the importance of protecting habitats and supporting endangered species.
At the Binder Park Zoo in Battle Creek, education about wildlife and conservation is essential. Featuring educational programs for school groups, summer camps, and special events, the zoo instills valuable knowledge about wildlife conservation and environmental stewardship in the minds of the visitors.
In addition to these prominent zoos, Michigan houses the Potter Park Zoo in Lansing and the Saginaw Children's Zoo. Both establishments contribute immensely to the state's collective conservation efforts and education initiatives, providing remarkable learning experiences for families and students alike.
Michigan's zoos work in unison to present information on conservation efforts, ensuring that every visitor leaves with a deeper understanding and appreciation for the planet's diverse and precious wildlife.
Guide to Planning Your Visit
When planning a visit to the best zoos in Michigan, a great starting point is Tripadvisor. It is an excellent resource to find visitor reviews, tips, and suggestions for specific locations. Zoos in Michigan often have clear directional signage and well-maintained walking trails to ensure convenience and ease of exploration for all visitors.
Remember that Michigan can experience cold and snowy winters, so it's essential to dress appropriately if visiting during this season. Some facilities may have indoor exhibits, like the amphibian and reptile house, which can offer a warm respite while still enjoying the attractions.
To make the most of your visit, be sure to check the opening and closing times for each zoo. This will help you allocate enough time to explore the exhibits and attractions without feeling rushed. Many zoos and aquariums in Michigan also have educational programs and special events, so it's a good idea to check their websites for additional information and schedules.
If you have a service dog, be sure to review the specific policies of the zoos you plan to visit. While service dogs are generally permitted in most public spaces, there may be certain restrictions or considerations due to the animals within the zoo.
Here are a few top zoos in Michigan to consider visiting:
Detroit Zoo: Located in Royal Oak, it features 125 acres of naturalistic exhibits with more than 2,500 mammals, birds, reptiles, amphibians, fish, and invertebrates of 280 different species.
John Ball Zoo: This zoo in Grand Rapids offers a clean park with many activities, exhibits, and a diverse array of animals to see.
Museum Ship Valley Camp: Although not a traditional zoo, this unique location in Sault Ste. Marie provides insight into the aquatic life of Michigan's Great Lakes region.
Animal Species Found in Michigan Zoos
Michigan zoos are home to a diverse range of animal species that are sure to delight and fascinate visitors. In this section, we will discuss some of the most popular animals found in these zoos, including lions, tigers, polar bears, penguins, giraffes, zebras, bears, lemurs, wolves, camels, rhinos, and leopards.
Lions and Tigers: Two of the most iconic big cats, lions and tigers can be found at the Detroit Zoo and John Ball Zoo. These powerful predators are known for their grace, strength, and beauty, captivating visitors with their confident and majestic presence.
Polar Bears and Penguins: These cold-dwelling species can be found at Michigan zoos like the Detroit Zoo and John Ball Zoo. The zoos have carefully designed habitats that aim to replicate the Arctic conditions these creatures need to thrive, allowing guests to learn more about their fascinating lives in the wild.
Giraffes and Zebras: The tall, graceful giraffes and the unmistakable striped zebras are popular residents in zoos like Detroit Zoo and Binder Park Zoo. These African animals are often seen in enclosures designed to resemble the savannah, providing an immersive experience for visitors.
Bears: Multiple species of bears, including black bears and grizzly bears, can be found at zoos in Michigan. They inhabit enclosures that mimic their natural habitats, allowing visitors to gain insights into their behavior and ecology.
Lemurs, Wolves, and Camels: These three unique animals can be found across a variety of Michigan zoos like John Ball Zoo and Binder Park Zoo. Lemurs are primates native to Madagascar with striking features and social behaviors. Wolves, as North American predators, bring a sense of wildness to the zoos, while camels display the fascinating adaptations that help them survive in harsh desert environments.
Rhinos and Leopards: Among the iconic African wildlife, rhinos and leopards can be seen at zoos like the Detroit Zoo and Binder Park Zoo. Rhinos are known for their large size and impressive horns, while leopards, with their unmistakable spotted coats, stealthily navigate their environments.