Michigan, a state known for its abundant natural beauty and diverse landscapes, is also steadily gaining recognition as a prominent wine-producing region in the United States. Boasting over 100 wineries and multiple wine trails, Michigan offers an incredible variety of unique tasting experiences for both casual wine enthusiasts and connoisseurs alike. The state's diverse climate and rich soil contribute to the production of an array of high-quality grape varieties, making Michigan's vineyards the perfect destination for those looking to explore new wines and indulge in the distinctive flavors of the region.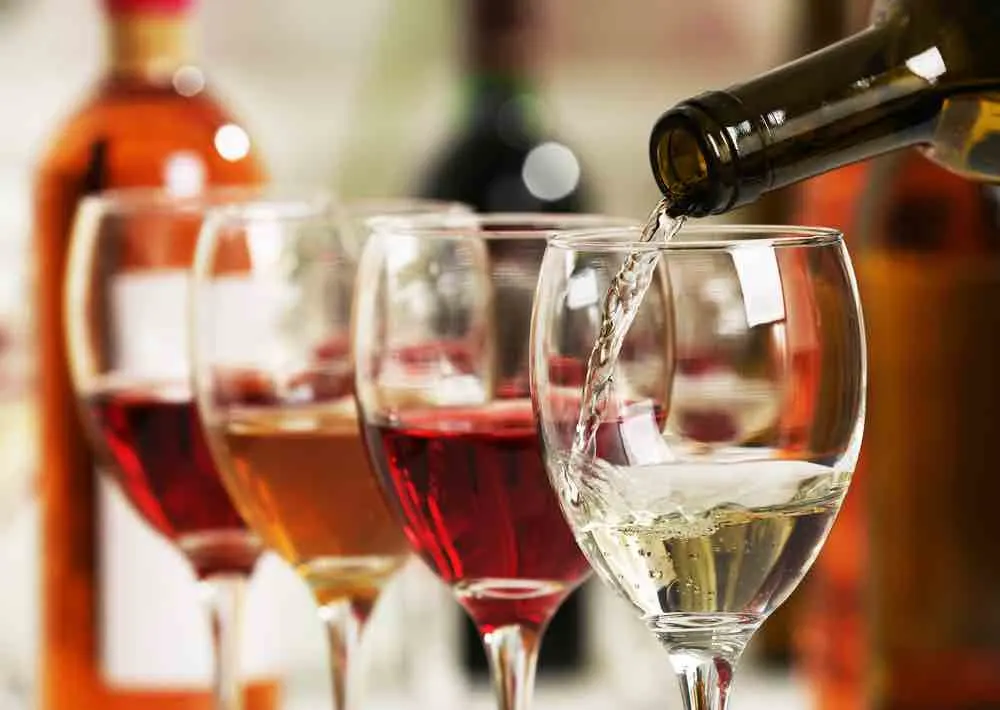 Located primarily in the southwestern and northwestern areas of the state, Michigan's premier wine regions offer diverse settings and scenery, with each winery featuring its own distinct character and charm. From rustic to contemporary, these award-winning wineries are dedicated to providing guests with unforgettable experiences, often including fine dining, upscale lodging, and scenic views. Whether sipping on a robust Cabernet Franc or indulging in a luscious ice wine, a visit to some of the best Michigan wineries promises to be a delightful journey for the senses.
Key Takeaways
Michigan is an emerging wine-producing region with over 100 wineries offering diverse tasting experiences.
The state's wine regions feature unique landscapes, award-winning wineries, and an array of grape varieties.
A visit to Michigan wineries often includes additional offerings such as fine dining, lodging, and scenic views.
Best Wineries in Michigan
Michigan is home to a growing number of impressive wineries, with a focus on producing high-quality, award-winning wines. The state's diverse climate and varied soil types provide an excellent environment for growing a wide range of grape varietals. Here are some outstanding wineries in Michigan you should consider visiting:
Black Star Farms in Suttons Bay is a wine and culinary destination that operates two wineries and three tasting rooms. Known for their exceptional wines, they have a reputation for offering a great experience surrounded by beautiful landscapes.
Chateau Chantal Winery is located on the Old Mission Peninsula in Traverse City. One of the oldest vineyards in the area, this sprawling mansion estate offers breathtaking views and a variety of award-winning wines. Chateau Chantal is renowned for its elegant ambiance and delicious wines.
Peninsula Cellars is a family-run winery on the Old Mission Peninsula. They are dedicated to growing only high-quality grapes, which are used to produce exceptional wines. The on-site tasting room provides a cozy environment for guests to enjoy these exquisite offerings.
Some of the major wine trails include the Leelanau Peninsula Wine Trail, Old Mission Peninsula Wine Trail, Southeast Michigan Pioneer Wine Trail, and the Thumbs Up Wine Trail. These trails feature a variety of wineries, providing visitors with a diverse and enjoyable wine tasting experience.
In addition to these popular wineries, Michigan is also home to several smaller, boutique wineries that are worth exploring. A few examples include Glen Arbor Village and the wineries of the Southeast Michigan Pioneer Wine Trail. These smaller wineries often offer unique and innovative wines that showcase the creativity and talent of Michigan's winemakers.
When visiting these wineries, be sure to take your time, savor the wines, and enjoy the picturesque landscapes that Michigan has to offer. The combination of great wines, beautiful scenery, and warm hospitality ensures that your experience will be memorable and one to cherish.
Michigan Wine Regions
Traverse City Area
Traverse City, known as the cherry capital of the country, is also an essential destination for wine enthusiasts. Located in Northern Michigan, it offers picturesque scenery and numerous wineries for visitors. Moreover, the region is gaining recognition for producing high-quality Rieslings, Pinot Grigios, and Cabernet Francs. Many of these wineries are along the Traverse Wine Coast, which offers breathtaking views of Grand Traverse Bay.
Leelanau Peninsula
The Leelanau Peninsula is another significant wine-producing region in northern Michigan, bordering Lake Michigan. It has over 25 wineries and vineyards to explore, and the area is appreciated for its unique wines, resulting from its exceptional soil and climate. Some of the popular grape varieties grown here include Riesling, Pinot Grigio, and Cabernet Franc. In addition, the peninsula is known for captivating scenery and abundance of recreational activities.
Old Mission Peninsula
Located just north of Traverse City, the Old Mission Peninsula is a narrow stretch of land that extends into Grand Traverse Bay. This region is home to several wineries, offering a diverse range of wines such as Chardonnay, Riesling, and Pinot Noir. Additionally, Old Mission Peninsula benefits from its proximity to Lake Michigan, as the lake helps moderate the climate, allowing grapes to thrive. Visitors can experience beautiful landscapes, historic lighthouses, and stunning waterfront views here.
Lake Michigan Shore
The Lake Michigan Shore region is situated along the southwestern coast of Michigan and boasts numerous wineries. This area is ideal for cultivating grapes due to its temperate climate influenced by Lake Michigan. Cabernet Sauvignon, Merlot, and Syrah are some of the popular grape varieties grown in this region. Furthermore, visiting the Lake Michigan Shore wine trail can provide an unforgettable experience for wine lovers, with scenic lake views and picturesque vineyards.
Grand Rapids Area
The Grand Rapids area is not only known for its thriving brewery scene, but also for its growing wine industry. Positioned in the heart of Michigan's fruit belt, this region is increasingly recognized for its production of quality wines. Vineyards in the Grand Rapids area grow varieties such as Merlot, Chardonnay, and Riesling. Visitors can enjoy tastings and tours at local wineries while exploring the beautiful landscape and vibrant city of Grand Rapids.
Notable Wineries
Chateau Chantal
Chateau Chantal is a picturesque winery located on Old Mission Peninsula in Traverse City. Known for its stunning views and diverse selection of wines, this winery offers something for every palate. Featuring a range of red, white, and sparkling wines, Chateau Chantal prides itself on producing high-quality vintages in an idyllic setting. Wine tastings and tours are available for visitors to fully experience the beauty and flavors of this Michigan gem.
St. Julian Winery
Established in 1921, St. Julian Winery is the oldest and largest winery in Michigan. With a rich history and a commitment to quality, they produce over 100 different wines, including award-winning reds, whites, and specialty products. Known for its diverse offerings and welcoming atmosphere, St. Julian Winery provides guests with a memorable experience in the heart of Michigan's wine country.
Black Star Farms
Nestled among the rolling hills of Leelanau Peninsula, Black Star Farms is a unique winery that offers a range of high-quality wines. With an emphasis on producing premium red and white wines, they have garnered recognition and awards for their exceptional products. Visitors can enjoy tastings, tours, and events at this stunning vineyard, making it a must-visit destination for wine lovers in Michigan.
Two Lads Winery
Two Lads Winery, also located on Old Mission Peninsula, showcases a modern approach to winemaking with a focus on producing sustainable and innovative wines. Specializing in cool-climate red and sparkling wines, they offer tastings and tours that highlight the beautiful landscape and cutting-edge practices. Visitors are sure to appreciate the striking architecture and scenic views that bring a unique experience to their visit.
Round Barn Winery
Round Barn Winery, situated in the heart of Southwest Michigan, is an unforgettable winery with a distinctive barn-shaped building. Offering a diverse range of wines, including award-winning reds, whites, and dessert wines, the winery ensures a memorable tasting experience. Guests at Round Barn can also enjoy brewery and distillery products, making it a perfect destination for those looking to explore a variety of beverages in Michigan's wine country.
Wine Varieties in Michigan
Michigan is home to a diverse range of wine varieties, thanks to its unique climate and rich soil. The state's wineries are known for producing both classic and innovative wines that cater to a wide range of tastes.
Riesling is one of the most popular varieties in the region, known for its versatility and ability to express the terroir. Michigan's cooler climate allows Riesling grapes to develop a bright acidity and nuanced flavors, ranging from crisp and dry to rich and sweet.
Cabernet Franc and Cabernet Sauvignon are two prominent red wine varieties found in Michigan. Cabernet Franc is often used as a blending grape but can also produce elegant and structured wines with red fruit, pepper, and vegetal flavors. Cabernet Sauvignon, on the other hand, is famous for its full-bodied red wines with dark fruit flavors, firm tannins, and oak influence.
While Chardonnay is a classic white wine variety worldwide, Michigan wineries have managed to bring out its best qualities, producing wines with balanced acidity, complex flavors, and a creamy texture. The wines can range from unoaked and crisp to oaked and buttery, depending on the winemaker's intention.
Merlot is another popular red wine grown in the region, which is known for its plush textures, medium body, and flavors of plum, black cherry, and chocolate. Michigan Merlot is often blended with other varieties like Cabernet Franc, but can also stand alone as an elegant wine.
Moving on to the lighter side of the spectrum, Pinot Grigio and Pinot Noir are two versatile varieties that excel in Michigan's cool climate. Pinot Grigio is a widely grown white grape, producing refreshing wines with citrus and green fruit flavors, while Pinot Noir is a delicate red grape that offers red fruit and earthy characteristics, often with a velvety texture.
Ice Wine is a unique and delightful dessert wine originating from grapes left on the vine to freeze. Michigan's colder temperatures provide the ideal conditions for the production of ice wine, which is revered for its intense sweetness, rich flavors of honey and tropical fruits, and balancing acidity.
Lastly, Michigan is also known for its assortment of Fruit Wines. Wineries in the region often use locally grown fruits, such as cherries, raspberries, and blueberries, to craft delightful and approachable fruit-based wines.
Michigan's diverse wine varieties ensure that there is something for every palate and preference, making it a must-visit destination for wine enthusiasts.
Winemaking Process
In Michigan, the winemaking process begins in the vineyard, where a variety of grapes are grown to produce distinctive wines. Some of the popular grape varieties include cabernet sauvignon, cabernet franc, merlot, pinot blanc, pinot grigio, riesling, fruit wines, Marquette, frontenac, vidal blanc, and ice wines.
The climate in Michigan plays a significant role in grape growing and wine production. The state experiences cold winters, which can be challenging for some grape varieties. However, Michigan's proximity to the Great Lakes helps moderate the climate, providing ideal conditions for certain grape types and leading to the production of high-quality wines.
To combat the harsh cold temperatures, Michigan vineyards often plant cold-hardy hybrids. These hybrid grape varieties are designed to withstand extreme weather conditions and still produce quality fruit. As a result, these hybrids enable wineries to flourish even in colder climates like Michigan.
Wine production in Michigan follows a process similar to other wine-producing regions. Once the grapes are harvested, they are sorted and destemmed before being gently crushed. Depending on the type of wine being produced, the grape juice may be fermented with or without the grape skins. During fermentation, yeast consumes the sugar in the grape juice, converting it into alcohol and carbon dioxide. This process can take anywhere from a few days to several weeks, depending on the type of wine and the desired outcome.
After fermentation, wines are typically aged in barrels or stainless-steel tanks to further develop their flavors and aromas. The aging process can vary greatly depending on the style of wine and the winemaker's preferences – some wines may be aged for a few months, while others can be aged for several years.
Throughout the winemaking process, attention to detail and care is paramount to ensuring the quality of Michigan wines. As the industry continues to grow, wineries across the state are working tirelessly to perfect their craft and produce exceptional wines for both local and international markets.
Wine Tasting Experiences
Michigan is home to a diverse range of wineries that offer unforgettable wine tasting experiences. These establishments boast modern, unique, and cozy tasting rooms that are sure to impress both first-time visitors and seasoned wine enthusiasts.
One notable spot for an exceptional wine tasting experience is Peninsula Cellars, a family-run winery located on the scenic Old Mission Peninsula. This winery is known for using high-quality grapes to craft a wide array of exceptional wines. Their tastings are hosted in a warm and inviting tasting room that beautifully combines the charm of tradition with modern vibes. Reservations are recommended for the best experience, though walk-ins are also welcome.
If you're seeking a truly unique wine tasting adventure, consider visiting the Fruitful Vine Winery Tours. They offer the notable Wine-o-Wagon tour, which involves a comfortable, roofed deck on wheels, hauled by a tractor that takes visitors on a luxurious countryside ride between select Southwest Michigan wineries. This distinctive tasting experience includes fresh air and picturesque views while you savor some of Michigan's finest wines. Keep in mind that reservations are required for this tour.
There are, of course, plenty more wineries to explore across the state. With over 140 wineries to choose from, you'll find stops that cater to your preferences and tastes. Overall, whether you're a sweet wine lover or prefer more dry and robust flavors, Michigan's wineries offer a wide array of wine tasting experiences that will leave you delighted and wanting more.
Additional Offerings at Michigan Wineries
Restaurant and Cafés
Many Michigan wineries offer more than just tastings, they also have onsite restaurants and cafés to complement the wine experience. Enjoy locally sourced seasonal menus, delightful desserts, and more while taking in the beautiful vineyard settings. For instance, Chateau Chantal in Traverse City boasts gourmet dining options, making it an ideal destination for food and wine lovers alike.
Wine Bars
In addition to wineries, Michigan also features a selection of cozy wine bars where visitors can relax and savor great wine. You can discover top Michigan wines by the glass or bottle, typically accompanied by small plates or tapas-style dining options.
Breweries and Distilleries
Wine isn't the only beverage that has made a mark in Michigan. Many wineries are expanding their offerings to include breweries and distilleries as part of the overall experience. This allows guests to indulge in local craft beers and handcrafted spirits such as whiskey, gin, and vodka, showcasing an even broader array of Michigan's beverage scene.
Events and Concerts
The wineries in Michigan also serve as fantastic venues for a variety of events and concerts throughout the year. Wine enthusiasts can attend wine-release parties, tastings, and pairing dinners to enhance their knowledge and appreciation of the local offerings. Moreover, some wineries host jazz concerts and other musical performances, adding a new dimension to your winery experience.
Wine Trails and Tours
Michigan boasts a diverse and thriving wine industry, attracting millions of tourists annually who seek to explore its many wine trails and take in the region's spectacular views along the way. One popular trail is the Leelanau Peninsula Wine Trail, which offers a unique wine-tasting experience across picturesque landscapes.
Visitors looking to immerse themselves in Michigan's wine culture can choose from several wine trails which often include award-winning wineries. Sipping a glass of Pinot Noir, Cabernet Franc, or Merlot while touring vineyards nestled along the 45th parallel (the same latitude as Bordeaux or Chianti) is a testament to the region's flourishing wine production.
Some notable wine trails in Michigan include:
Sleeping Bear Loop
Petoskey Wine Region
Michigan Wine Country
The Petoskey Wine Region, located along the Little Traverse Bay and Lake Michigan coastal area, is another worthy destination. This wine trail is situated in Northern Michigan's newest American Viticultural Area, the Tip of the Mitt AVA, and features 14 unique wineries.
Wine enthusiasts can enjoy a variety of wine tasting experiences, such as biking along a wine trail. For instance, renting a bike from Grand Traverse Bike Tours allows visitors to cycle through a flat, wooded terrain while visiting eight to ten wineries. This self-guided tour also offers the convenience of having the tour company map the route and pick up any wine purchase.