Michigan is home to a thriving thrift store scene, with a wide range of stores offering everything from vintage clothing to unique housewares and furniture.
Not only is thrifting a more sustainable way to shop, but several of the best thrift stores in Michigan are also non-profits, meaning that your money will have a positive impact on a community and/or cause.
Whether you're looking for a great deal or something one-of-a-kind, keep reading for our 8 best thrift stores in Michigan.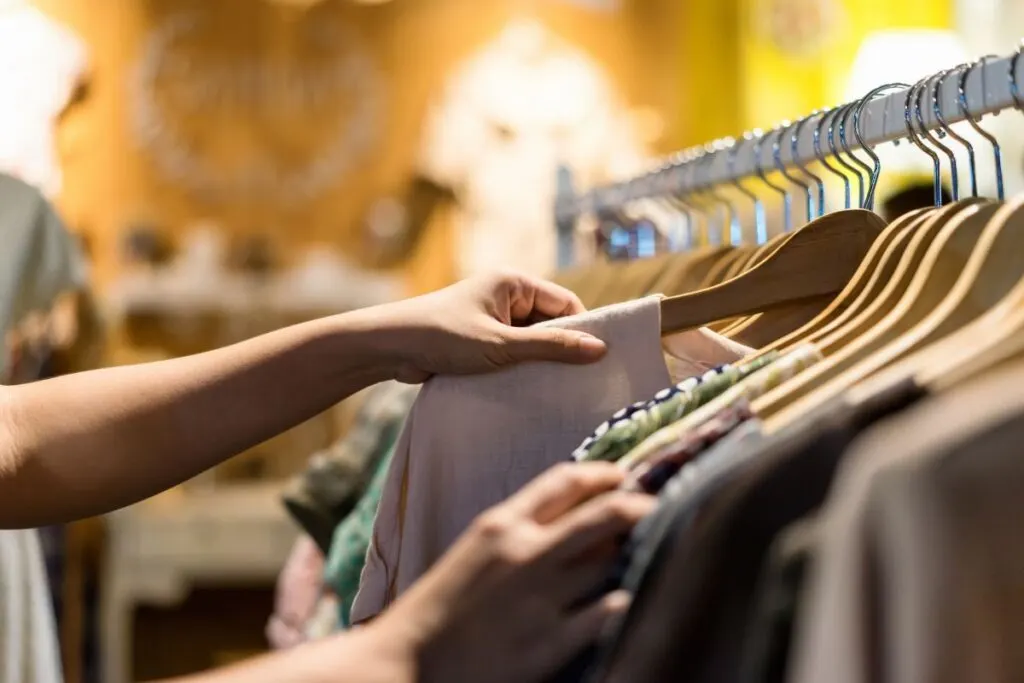 St. Vincent de Paul Thrift Store
Detroit, MI
St Vincent de Paul is a nonprofit thrift store with multiple locations in the Metro-Detroit area that sells clothing, furniture, and household items at low prices.
The items sold at the store are donated by individuals and businesses in the community, and the proceeds from the sales are used to support St. Vincent de Paul's mission to help the community by providing job training and education programs.
This is one of the best thrift stores in Michigan because of its large array merchandise, low prices, and noble mission.
Lost and Found Vintage
Royal Oak, MI
Lost and Found Vintage is a thrift store that offers unique and high-quality clothing items from various eras, as well as accessories, furniture, and home decor.
This store is known for selling men's and women's vintage clothing and ephemera from the 1900s through the 1980s, with a unique and eclectic collection of vintage items from popular brands such as Levi's, Pendleton, and Harley Davidson. They also offer a range of vintage accessories such as hats, belts, and jewelry.
It has also been voted the "Best Vintage Clothing Store" for several years by CBS Detroit, Hour Detroit, Metro Times and Real Detroit Weekly, making it one of the best thrift stores in Michigan,
The store has a cozy and welcoming atmosphere, with friendly staff who are knowledgeable about vintage fashion and style.
Habitat for Humanity ReStore
Several Locations
With several locations throughout Michigan, Habitat for Humanity ReStore offers a wide range of furniture, appliances, and building materials at affordable prices. The proceeds support Habitat for Humanity's mission to provide affordable housing.
Habitat for Humanity ReStore is the best thrift store in Michigan for homeowners, contractors, and DIY enthusiasts in Michigan who are looking for affordable building materials and home improvement items. The stores offer a unique and sustainable way to shop for home improvement needs, while also supporting a worthy cause.
---
Thrifting Tips & Tricks
Thrifting can be a great way to save money and find unique items, but it can also be overwhelming if you're not sure what to look for. Here are some things to keep in mind when you're thrifting in the best thrift stores in Michigan:
When you're thrifting, it's important to verify the quality of the items you're interested in. Check for any stains, tears, or damage that may make the item unusable. You should also check the condition of zippers, buttons, and seams, as these can be costly to repair.
Thrift stores often have high-end brands at a fraction of the cost. Look for brand names and designer labels that are typically out of your price range. You may be able to find a great deal on a high-quality item.
While trends may come and go, timeless pieces will always be in style. Look for classic items like a well-made blazer or a pair of jeans that will last you for years to come.
Thrift stores often have limited sizes available, so it's important to keep an open mind and be willing to try on items that may not be your exact size. You can also look for items that can be altered or tailored to fit you better.
While thrift store prices are typically lower than retail, it's still important to consider the cost of the item and whether it's worth it. When possible, look up the original price of the item before making a purchase.
---
Thrifting: Tendy & Sustainable Shopping
Michigan is home to a diverse range of thrift stores, offering something for everyone. Whether you're looking for designer clothing, unique housewares, or just a great deal, these 8 best thrift stores in Michigan are definitely worth checking out.
By shopping at these stores, not only are you getting a great deal, but you're also supporting the local community and making a positive impact.
Feeling hungry after all this shopping? Check out our picks for the best restaurants in Michigan! and all the other great things to do in Michigan!