If you're looking for a comprehensive guide to the best breweries in Michigan, look no further. Below, you'll find 15 must-see Michigan breweries scattered throughout the mitten state.
Whether you're lounging by Lake Michigan or making a day trip to Michigan's capital, you'll be sure to find the perfect brewery to make your vacation even more special.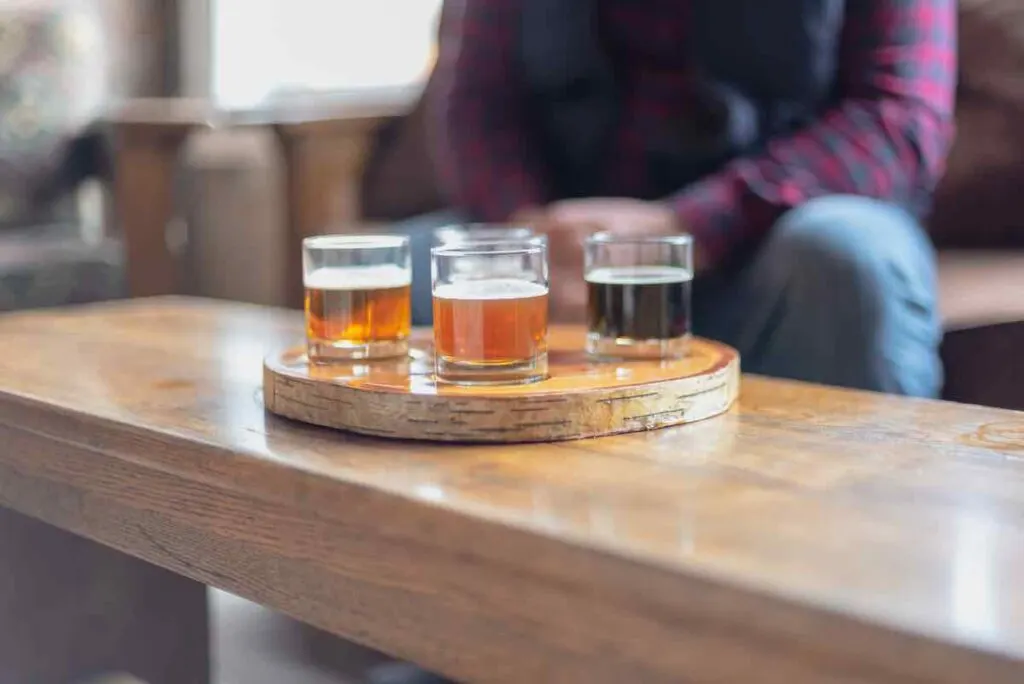 Best Northern Breweries in Michigan
If you find yourself in the scenic Upper Peninsula this summer, you won't want to miss one of these breweries in Michigan. What better way to cool off from a day of hiking than to sip on a nice crisp pint of craft beer?
1. Petoskey Brewing Company
Petoskey, Michigan
Check out Petoskey brewing company if you're a fan of industrial-chic decor and great-tasting beer. You'll love sipping on craft ale while taking in the beauty of the 115-year-old building. If you visit the acclaimed brewery, you'll find various beers on tap that range from a juicy IPA to classic Belgian-style ale.
If beer isn't your jam, check out their wide selection of craft seltzers, including their most popular Michigan Cherry Hard Seltzer.
No visit to the small northern town is complete without swinging by Petoskey Brewing Company.
2. Upperhand Brewing Company
Escanaba, Michigan
Upperhand Brewing Company snags the spot for being one of the newest additions to this list of Michigan breweries, and already the Northern staple is making waves.
The Escanaba brewing company was founded by a team of outdoor enthusiasts that created their beer as a love letter to the scenic Upper Peninsula.
Getting to this brewery is half the fun; expect to traverse through dense woods to find this hidden gem nestled by Portage Creek. Once you're there, you'll find generous hospitality and a wide selection of tasty brews.
Start planning your visit to Upperhand Brewing Company.
3. Upper Peninsula Brewing Co.
Negaunee, Michigan
There's a reason why the Upper Peninsula Brewing Co. tops our list of the best breweries in Michigan. As soon as you step inside the historic brewery, you'll be immediately sent back to the turn of the century. The only thing better than the industrial decor is the high-quality craft beer served on tap.
If you're looking for a place to enjoy some delicious brews with friends, you can't beat a visit to Upper Peninsula Brewing Co.
Best Central Breweries in Michigan
Next time your travels take you to the middle of the mitten state, make some time to visit one of these Central Michigan breweries.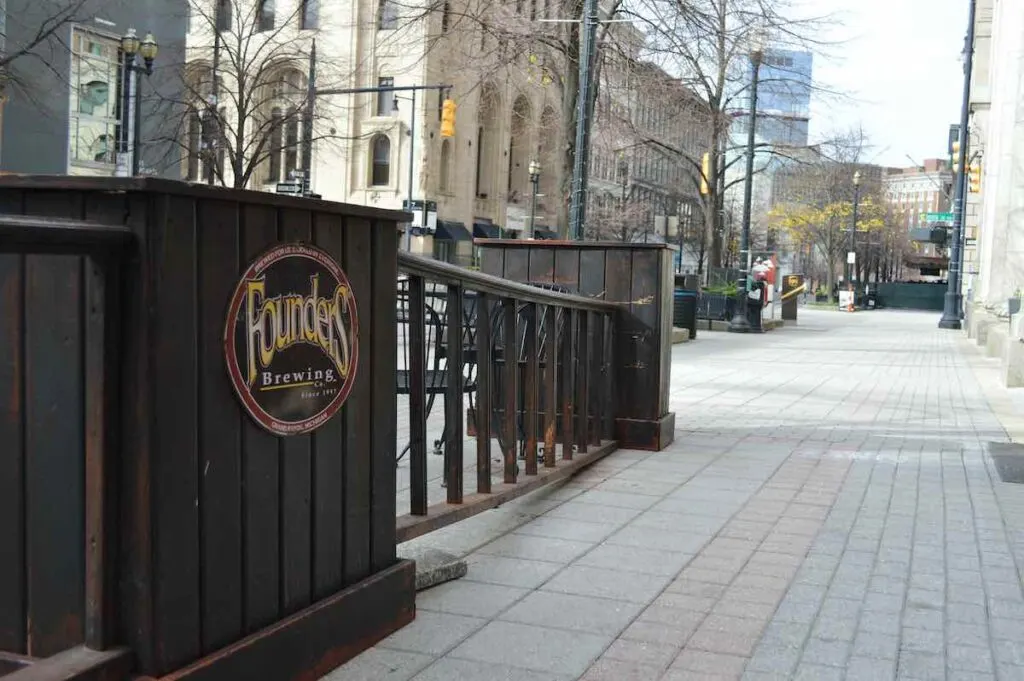 4. Founder's Brewing Co.
Grand Rapids, Michigan
If you're soaking up the scene in downtown Grand Rapids, you'll probably come across Founder's Brewing Co. You'll love the cool ambiance of the brewery that was once a trucking depot, now transformed into a German beer hall-inspired space.
You'll find many exclusive, handcrafted beers only available in the taproom. If you're a beer enthusiast looking for a great Michigan brewery, be sure to swing by Founder's Brewing Co.
5. Tri-City Brewing Company
Bay City, Michigan
Are your summer plans taking you to Bay City, Saginaw, or Midland? If you're anywhere near the tri-city area, you won't want to miss a visit to this famous brewery.
You'll find an extensive list of beers on tap, ranging from milk stouts to scotch ales. If you're unsure where to start, the friendly Tri-City bar staff can help you choose the right beer for your taste buds.
Start planning your visit to Tri-City Brewing Company today.
6. Loggers Brewing Company
Saginaw, Michigan
If you're looking for the perfect place to nerd out about beer, you can find all that and more at Loggers Brewing Company.
Between the peanut-flavored stout or the cherry pale ale, you'll surely be able to find something you've never tried before.
If you'd rather enjoy a beer that tastes like well beer, Logger's has you covered in that department too. You'll find a large selection of traditional lager that will remind you of your favorite classic bevy.
Check out Loggers Brewing Company for more information.
7. Frankenmuth Brewery
Frankenmuth, Michigan
Do you dream about going to America's oldest brewery? Make your fantasy a reality by checking out Frankenmuth Brewery!
This small-town locale has been in the beer business since 1862, and the expertise shows in the product. No matter when you visit, there will always be at least 15 different craft beers on tap, all brewed freshly on-site.
Between the mixture of experimental brews and classic lagers, you'll be hard-pressed to find a beer you don't like.
Start planning your trip to Frankenmuth Brewery today!
Best Southern Breweries in Michigan
Whether you're checking out the scenic shores of Saugatuck or touring the Henry Ford museum in Dearborn, you don't want to miss these Southern breweries in Michigan.
8. Saugatuck Brewing Company
Saugatuck, Michigan
If you're spending an afternoon taking a dip in Lake Michigan, cool off by visiting Saugatuck Brewery. You'll love sipping on a cool brewski while lounging on the outdoor patio.
If you like experimental beer, then you're in the right place. At Saugatuck Brewing Company, you'll find unique brews like a peanut butter porter, Neapolitan milk stout, and a blueberry maple lager.
Are you inspired to make the trip? Check out Saugatuck Brewing Company for more information.
9. Lansing Brewing Company
Lansing, Michigan
Next time you're catching a concert in Lansing's stadium district, enjoy some pre-show libations at Lansing Brewing Company.
Not only is the location conveniently nestled in the middle of downtown, but the beer is out of this world. You'll love the wide variety of craft lagers ranging from barley wine to pale ales.
Start planning your trip to Lansing Brewing Company today.
10. Thornapple Brewing Company
Grand Rapids, Michigan
No trip to Grand Rapids is complete without swinging by Thornapple Brewing Company. If you get a chance to check out the vast brewery, you'll be delighted by the endless food and drink options.
Whether you're in the mood for some all-American comfort food or want to try some fruity, Michigan-made ciders, you're in the right place.
Next time you're looking to take the family on an outing, keep Thornapple Brewing Company in mind.
11. Drafting Table Brewing Company
Wixom, Michigan
If you're passing through the suburb of Wixon, Michigan, be sure to stop at Drafting Table Brewing Company. What better way to spend a weekend afternoon than tasting different craft beers, all made in-house?
Suppose you're feeling peckish; not to worry! Drafting Table invites local food trucks on-site to provide tasty food pairings for their brews.
Not only will you find delicious food and drink, but you can enjoy your libations in a welcoming, warm environment that was designed after a German beer hall.
Be sure to check out Drafting Table Brewing Company for some warm hospitality and tasty brews.
12. Dearborn Brewing
Dearborn, Michigan
Next time you work up an appetite after walking around Greenfield Village, stop by Dearborn Brewing for some tasty replenishment.
You'll love the no-frills beer menu that includes lagers, IPAs, stouts, and hard seltzers. Don't forget to check out the food menu for some tasty, locally sourced-snacks.
When visiting the Detroit suburb, swing by Dearborn Brewing to indulge in some tasty brews.
13. Urbanrest Brewing Company
Ferndale, Michigan
Are you thinking of taking a trip to the Motor City? Consider checking out the suburb of Ferndale for some vibrant offerings, like the Urbanrest Brewing Company.
A visit to the Urbanrest Taproom will make you feel like you're in a traditional beer hall with high ceilings, industrial picnic tables, and atmospheric lighting. You can easily enjoy the warm ambiance while sipping on one of the many delicious beers brewed on-site.
If you're looking for the perfect snack to accompany your bevy, check out the house-made charcuterie boards from local farmers.
Whether you're looking to hit the town with some friends or want to plan the perfect date with that special someone, be sure to check out Urbanrest Brewing Company for all your nightlife needs.
14. Brooks Brewing
Shelby Township, Michigan
You'll find Brooks Brewing in a nondescript strip mall on Van Dyke Road. If you're looking for a fantastic spot to watch the game or hang with pals, check out the Shelby Township staple.
Not only will you find an extensive menu of beer offerings, but you'll also love the vast industrial space, complete with large vats of beer and fun arcade games.
You can't beat Brooks Brewing for a fun night out on the town. Start planning your trip to the acclaimed brewery today!
15. Ironbark Brewing Company
Jackson, Michigan
Next time you're passing through the small midwestern city, you won't want to miss checking out Ironbark Brewing Company. Located on Jackson's south side, you'll find this cozy neighborhood brewery with a huge tap list and welcoming atmosphere.
If you're craving something to soak up the beer, you'll love the no-fuss offerings of sandwiches, hot dogs, and other bar snacks to tide you over.
If you like great beer, warm staff, and delicious food, you'll love Ironbark Brewing Company.
Plan Your Visit to the Best Breweries in Michigan Today
Whether you're exploring the urban oasis of Detroit or hiking in the Upper Peninsula, make your trip even better by visiting one of these Michigan breweries. You definitely can't beat the warm atmosphere and delicious brews.
Are you looking for more fun-packed activities in the mitten state? Check out this list of the best beaches in Michigan to enjoy some fun in the sun.