Known as the "Mill City," the city of Lowell in Massachusetts is the perfect place to visit if you're a bit of a history nerd! Thanks to the mills that earned this city its nickname, Lowell played a large part in the American Industrial Revolution, and to this day it's filled to the brim with rich historical importance. But what exactly is there to do in Lowell? Read on for the best things to do in Lowell, Massachusetts!
Things To Do in Lowell, MA
1. Kerouac Park
Kicking off my list of things to do in Lowell is Kerouac Park! Kerouac Park is a gorgeous outdoor space in the heart of Lowell dedicated to author and poet Jack Kerouac, who penned such works as On the Road, Big Sur, and Scattered Poems. Lowell was the hometown of this world-renowned author, and though he passed away in Florida, his grave is located in Lowell.
If you're not big into reading, don't worry—Kerouac Park offers all kinds of activities whether you're a literature enthusiast or not! While this is a great place to sit and bury your nose in a book, you'll also find ample opportunities for outdoor activities such as picnicking, frisbee, chess or checkers, or maybe even a card game if it's not too windy!
2. Western Avenue Studios
If you're a bit more of a creative soul or simply hold a great appreciation for art in all its mediums, Western Avenue Studios is the place for you. This beautiful brick building is home to over 350 artists, offering studios for rent that give artists an affordable workspace…or, in some cases, even housing! One of the coolest things about Western Avenue Studios is that they've made a commitment to offering affordable housing and workspaces for artists, who too often find themselves having to choose between their craft and putting food on the table (you've likely heard the term "starving artist" before, right?). This is one of the best things to do in Lowell if you're passionate about art and want to support a really wonderful establishment.
There's an abundance of events happening pretty much constantly at Western Avenue, so check out their events calendar to see when you can get the most out of your trip. Or, if you don't want to wait, you can always take a self-guided tour through the galleries!
3. Lowell National Historical Park
This is where the history enthusiasts will want to gather! Next on my list of things to do in Lowell is Lowell National Historical Park. Here you can learn all about the history of Lowell's textile mills, go on a guided tour of the park, and have a fantastic experience learning more about the Industrial Revolution and the part Lowell played in it.
4. National Streetcar Museum
If you're looking to delve even deeper into history while visiting Lowell National Historical Park, one of the places you can check out within the park is the National Streetcar Museum! This museum features the trolleys that used to populate the Lowell streets, and you can even take a trolley ride while visiting the park if you like.
5. Brush Art Gallery & Studios
While done on a slightly smaller scale than Western Avenue, my next recommendation for things to do in Lowell is also an artist's haven! Brush Art Gallery also allows artists to use studio space, though you'll only find eleven artists doing their work here. This is a great place to go to observe art and ask some of the resident artists questions about their work, and the best part? Admission is free!
6. Boott Cotton Mills Museum
The Boott Cotton Mills Museum is one of the best things to do in Lowell if you're hoping to get up close and personal with the city's history. Located in the Lowell Historical National Park, you can head to this museum to get a look at the "weave room" that houses dozens of 100-year-old power looms that still function as they did so long ago! You won't want to miss out on this attraction.
7. Greater Merrimack Valley
While the Greater Merrimack Valley technically contains many cities and towns, it makes its home base in Lowell! You can contact the Greater Merrimack Valley Convention & Visitors Bureau for more recommendations on the best ways to explore Lowell and other towns and cities in the area.
8. Lowell-Dracut-Tyngsborough State Forest
Next on my list of things to do in Lowell, the Lowell-Dracut-Tyngsborough State Forest (sometimes spelled Tyngsboro) is a great place for those who are more outdoors-minded rather than history-loving. If you're hoping to get some fishing or boating done during your trip, or if you're looking for some scenic hikes to stretch your legs, this state forest needs to go on your itinerary!
9. Rynne Beach
While this isn't going to be the most crystal-clear beach you have ever visited, Rynne Beach comes well-recommended by those who have visited! If you have kids with you, this is a safe and fun place to let them get in the water and swim for a bit. Bring along a picnic lunch and some sunscreen and you'll be all set to spend an afternoon here!
10. The Luna Theater
Hoping to catch a movie before leaving town? While you're not going to find the latest blockbusters here, the Luna Theater is a good place to go if you're looking for a unique movie night in an equally unique theater! If you're looking to have this place all to yourself, you can even rent out a space on weekends to enjoy with just you and a group of friends and family. You can even arrange for concessions if you like.
11. Mill No. 5
When it comes to the best things to do in Lowell, you can't miss out on visiting Mill No. 5. Technically you can find the Luna Theater inside this Mill, but that's not the only thing you'll see! According to its website, Mill No. 5 is home to "an indoor streetscape of salvaged storefronts with great coffee, a movie theater, farmer's market, independent shopping, and events" and it's simply a must-visit!
12. LeLacheur Park
Itching for a dose of sports to balance out history and art? For the athletic enthusiasts among you, there's LeLacheur Park! This baseball park hosts the games of the River Hawks, the baseball team of UMass Lowell, and if you get the chance to catch a game before leaving town, you won't be disappointed!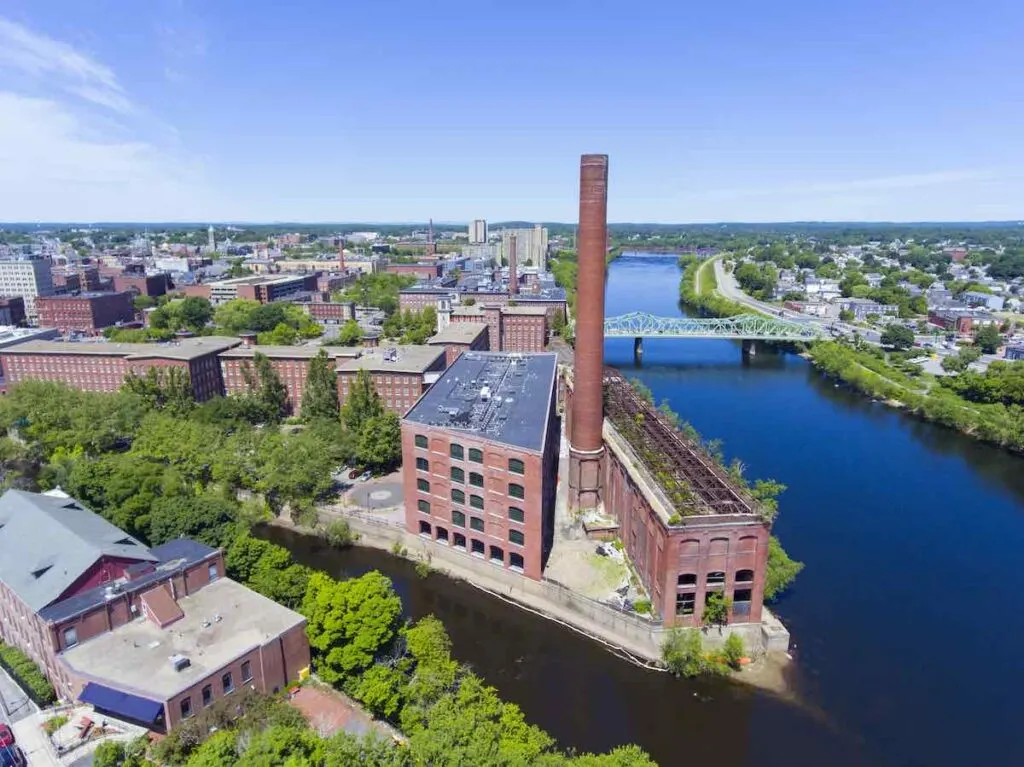 13. Lowell Cemetery
If you're looking for some things to do in Lowell that land on the slightly spookier side of history, look no further than Lowell Cemetery. This cemetery offers walking tours for exploring the grassy expanse, and you'll be able to visit the graves of several notable figures from history…though, not Jack Kerouac's grave. If you're looking to pay your respects to the Lowell-native author, you'll have to visit Edson Cemetery instead.
14. Craft Breweries
Ready to take a load off after all that exploring? Lowell is home to numerous craft breweries, and you're sure to have a great time taking your own tour of them! Pick a designated driver and head off to sample some of the best brews Lowell has to offer.
15. Lowell Kayaking
Did you know that one of the more fun things to do in Lowell is kayaking? While it's not the first activity that might come to mind in a city so focused on history, there are plenty of opportunities to take park in some Lowell Kayaking. While technically associated with UMass Lowell, this establishment also offers rentals and tours to the public, and it's a great way to further explore some corners of Lowell you might miss otherwise.
16. Muldoon Park
Muldoon Park is another fun, quiet place to go to take in some nature in peace. Though there aren't really trails to explore here, it is a great place to take a kayak if you own one, and there's at least one area available to rent if you're looking to host a family picnic or other kind of event.
17. Tsongas Center
This is another great destination for things to do in Lowell if you're a sports fan at heart. Hockey enthusiasts will be thrilled at the chance to catch a UMass hockey game while in town, so if you're less excited about baseball and looking for something a bit more intense, take a look at Tsongas Center for upcoming events and book your tickets right away!
18. New England Quilt Museum
Compared to a hockey game at Tsongas, this next idea for things to do in Lowell might seem a bit tame. But if you're looking for a quieter activity that provides some educational value, you should absolutely visit the New England Quilt Museum! Don't walk in here expecting to see just any ordinary quilts—these pieces are works of art themselves. You'll have the chance to take in several colorful quilts, as well as visit the museum's store to take a piece of beauty home yourself!
19. Visitor's Center
Last but not least on the list of things to do in Lowell, stop in and take some time to visit the Visitor's Center in Lowel National Historical Park! In fact, though it's last on my list, it really should be the first place you go. The information center is the best place to go to really make sure you're making the most out of your Lowell trip, and they'll be happy to answer any questions you may have!
Wrapping Up the Best Things to Do In Lowell
Well, what are you waiting for? If you're looking for a place that truly has it all, pack your bags and set off to Lowell for a taste of art, history, sports, and even more!
While vacationing in Mill City, check out this list of 21 Best Things To Do In Cambridge, Massachusetts. You might find another place you have to visit!