Whether you're an under-traveled local or a sightseer, there's a vast array of fantastic things to do in Stockton, California. From festivals to gardens and sporting events, Stockton is vibrant with life and culture. Find yourself some good eats and go for a stroll.
If you're ready to plan your Stockton, California getaway, dive right into this list of venues awaiting your enjoyment.
Free Things to Do in Stockton, California
1. Port of Stockton
There's nothing like relaxing by the water and watching ships sail by. Several sections of the northside channels will give you access to this beautiful view at the Port of Stockton. One famous spot for ship watching is "Dad's Point" near Louis Park.
2. Magnolia Historic Neighborhood
One of the free yet enriching things to do in Stockton, CA is to take a leisurely jaunt through the Magnolia Historic Neighborhood. Here, you can enjoy the tree-lined avenues and the numerous architectural styles that shaped the early days of California. Take a trek to Midtown Stockton to absorb some sunlight and history all at once.
3. Downtown Stockton Self-Guided Walking Tour
Walking through downtown is a great opportunity to immerse yourself in one of the best cultural things to do in Stockton, CA. Enjoy a self-guided tour of historical architecture, public art, and little wonders that you might otherwise miss while exploring this great city. Be sure to check out some local talent at the Downtown art galleries when you're in the area.
Family-Friendly Things to Do in Stockton, California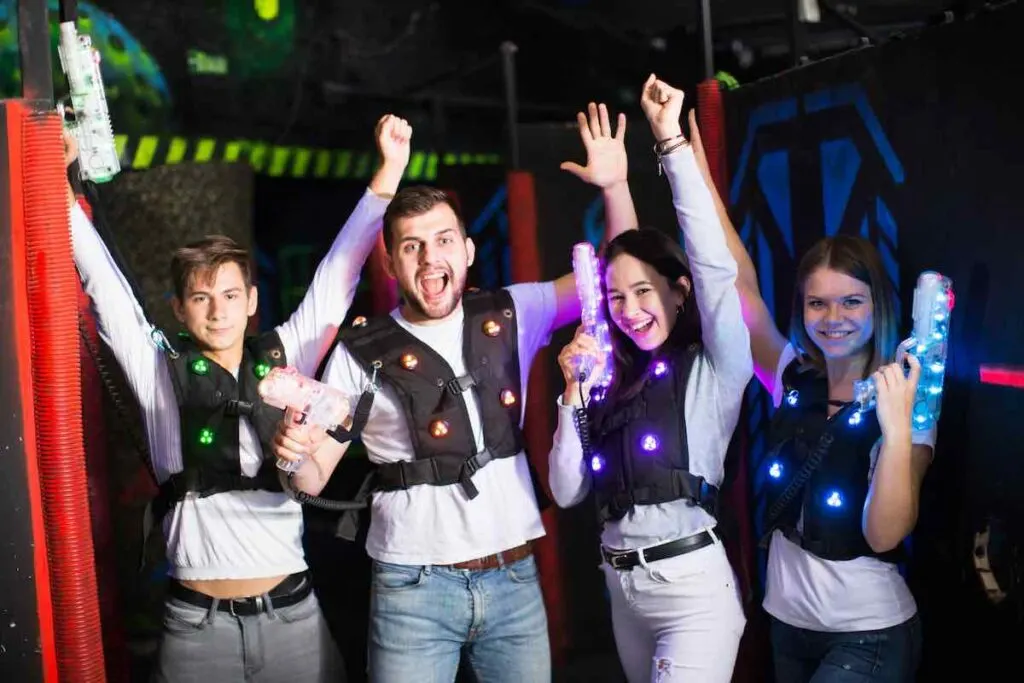 4. Children's Museum of Stockton
A teacher dreamed of creating a safe space for children and families to enjoy learning and playing together, and now it's one of the best family-friendly things to do in Stockton, California. With more than 40 interactive exhibits, including the Galaxy Room, the Nature Station, and the Lego Derby area, this is an ideal location to get inspired while your little ones explore and create to their hearts' content.
5. The Zap Zone
Let the kids burn some energy, and even join in the fun yourself, at this family-owned entertainment center in Stockton, CA. From specialty laser tag to an extensive arcade, this is a welcome environment for families who love to let loose. Grab some pizza while you're there, and maybe join in a friendly tournament, too. The Zap Zone is the place to be for fun!
Artsy Things to Do in Stockton, California
6. Bob Hope Theatre
Enjoy a stunning tour through this historic home of the arts. Marvel at the marble mosaic floor spanning 1,200 square feet of lobby space, and see an antique theater organ that's nearly 100 years old. You can even view a dance show, classic movie, or concert at this variety venue. Enjoy the cool air, dramatic lighting, and ready-made snacks at this most charming of things to do in Stockton, California.
7. The Delta Center for the Arts
While you're checking off your list of things to do in Stockton, California, remember to visit the Delta Center for the Arts at San Joaquin Delta College. The dazzling events hosted here include drama and dance productions, art exhibitions, and classical music performances by the Stockton Symphony Association. Support local students as they share their flair.
Cultural Things to Do in Stockton, California
8. Stockton Cambodian Buddhist Temple
The lovely Stockton Cambodian Buddhist Temple is a spiritual safe space created by and for Cambodian refugees escaping the realities of war. This is a monument to peace and cultural preservation for Cambodian-Americans living in and around the Stockton area. Enjoy almost 100 jeweled statues celebrating the Cambodian Buddha, and join in the Cambodian New Year Celebration when you visit in April.
While enjoying this free immersion into the life story of the Buddha, remember to arrive dressed in clothing with sufficient body coverage as a mark of respect to the worshippers. Exploring this sanctuary is one of the top things to do in Stockton, California for those looking to deepen their connection with Buddhism.
9. Little Manila
Little Manila is a Stockton, California gem that formed as a result of segregation against Filipino Americans. Here lies one of the nation's most endangered historic spaces, and you can see the former hotels, restaurants, shops, and stores being restored to their former glory. Pay homage to the indomitable spirit of those who created a space for themselves in the face of prejudice.
10. Mexican Heritage Center and Gallery
Come celebrate Dia de Los Muertos and Las Posadas at this home of Mexican traditions. Enjoy learning about the renowned artists of Mexico as you enjoy amazing dances, musical performances, paintings, figurines, pottery, and other embodiments of the Mexican spirit. You'll leave richer than you arrived.
11. The Stockton Community Pow Wow
Gather around to support Indigenous Americans as they celebrate Native heritage and traditions. Come for an annual three-day festival that includes intertribal dance exhibitions and breathtaking competitions. Learn about Indigenous beliefs and lifestyles while honoring their journey whenever you witness ground ceremonies, drum circles, and bird dances for yourself.
Remember to support the community by purchasing some handmade arts and crafts, unlike any others. Attending these festivities is one of the most exhilarating things to do in Stockton, California.
12. Shocktoberfest
Have fun with keg-lifting contests, craft beers, bratwurst, and chicken dance dance-offs at this German celebration. Join the party by the Historic Waterfront Warehouse for some October fun in surroundings filled with live music and endless food.
13. The Stockton Chinese New Years Parade
Immerse yourself in various Asian cuisines, live entertainment, and a professional lion dance at this free event that the whole family can enjoy. If you're visiting when this festival is taking place, make sure that participating in the traditions of Chinese New Year is at the top of your list of things to do in Stockton, CA.
14. The Haggin Museum
Housed in Victory Park, this beautiful museum full of classic art and local history is free to enjoy on the first Saturday of each month. This three-level institute features galleries devoted to Stockton's history where you can walk into the past, viewing recreations of rooms and businesses containing period-appropriate artifacts and archival pieces.
Culinary Things to Do in Stockton, California
15. The Fruit Bowl
Come for the homemade pies and stay for the variety of fresh fruits and vegetables to enjoy from this historic family-owned business. It all began with a roadside fruit stand hosted by Ina and Frank Lucchetti in 1947, with a bowl of samples for passers-by. Now, the next generation is keeping their tradition alive. Visiting The Fruit Bowl is one of the best things to do in Stockton, California for those with a love for warm pastries, fresh produce, and supporting a family business.
16. Weberstown Mall Thursday Farmers' Market
These open-air markets are free to peruse and rewarding to invest in. Local farmers offer a delectable variety of fresh fruits, vegetables, herbs, honey, pastries, and floral arrangements. Absorb the radiant colors, sounds, and smells of Stockton farmers sharing their latest harvests. Bring cash to support dozens of local vendors selling their wares.
17. Dave Wong's Restaurant & Deli
Enjoy mouthwatering Cantonese cuisine in a restaurant founded by two young Chinese men who began their American food careers as busboys and prep cooks. Dave Wong's is one of their restaurants that represents the culmination of their culinary dreams. Enjoy a refined ambiance of contemporary and classic art pieces while sampling dishes that take your breath away.
Outdoorsy Things to Do in Stockton, California
18. University Park World Peace Rose Garden
A gorgeous garden was initiated by Sandy and Kevin Huber in 2015 when they planted 250 roses in their barn. They donated these to the Rose Garden sponsored by the International World Peace Rose Gardens organization. It is now known as the University Park World Peace Rose Garden.
Stay awhile to stroll through 102 acres of beauty and messages of peace, which were submitted by students and displayed on plaques throughout the garden. This is an ideal space to bask in a tranquil atmosphere that revitalizes the senses, making space to meditate and retreat from the busy pace of life.
19. Japanese Garden
Bask in a garden filled with blossoming cherry trees. The luscious space was created by World War II veteran Duke Yoshimura in 1959. This is one of the best things to do in Stockton, California if you wish to see a koi fish pool, abundant greenery, dazzling lanterns, and a gorgeous five story pagoda at an inspirational paradise.
Let your worries drift away as you cross a special bridge, positioned at an angle, which aligns with the Chinese belief that evil spirits cannot cross the bridge into the garden since they can only travel in straight lines. Enjoy this section of serenity in the heart of Micke Grove Park.
Sporty Things to Do in Stockton, California
20. The Delta Speedway
The Delta Speedway dirt track is open every Saturday night from April through October. Bring the whole family out for thrills while watching Micro Springs, Junior Sprints, and Super 600 classes race along this oval-shaped course that spans a seventh of a mile. Arrive early to make the most of the awesome snacks and entertainment.
21. Banner Island Ballpark
Formally known as the Stockton Ballpark, locals endearingly renamed this downtown baseball stadium Banner Island Ballpark. The park is equipped with more than 5,000 seats and two picnic areas. The Stockton Ports, California's minor league baseball team, can be seen playing here during the season. Don't miss out!
Time to Visit Stockton, California
Now you're ready to engage in the best things to do in Stockton, California. From festivals to delicious foods and scenic trails, Stockton has something for everyone to enjoy. What's at the top of your list?
And when you visit the Golden State, be sure to make your selection from these 20 Best Museums in California that are worth your while!