There's no shortage of things to do in Mishawaka, Indiana, especially if you are looking for group event locations. Mishawaka has a surprising number of large amusement facilities including things like ax-throwing, trampolining, jousting, zip-lining, and boutique bowling (read on to find out what that even means).
Whether you're planning a family vacation for the kids or a group event for adults, there are a lot of fun things to do in Mishawaka, Indiana. And of course, there are a number of excellent restaurants and shopping opportunities as well.
The Best Restaurants in Mishawaka, Indiana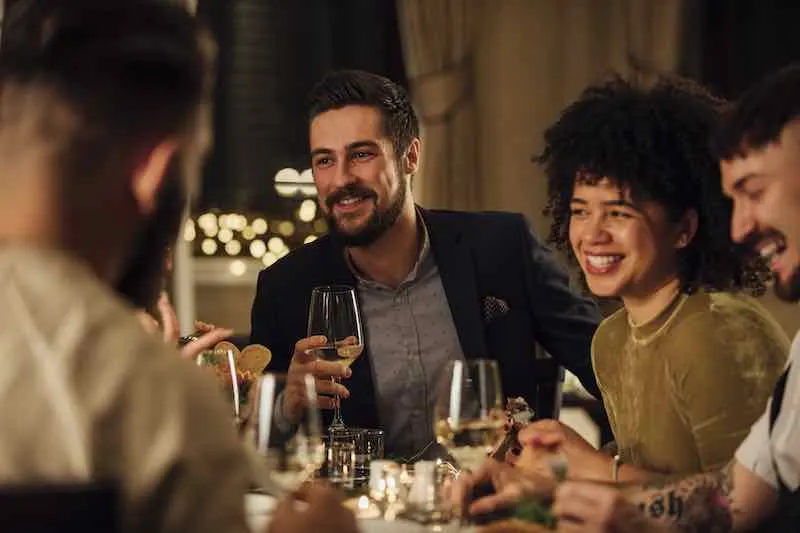 Corndance Tavern
Despite its barefoot barnyard-sounding name, Corndance Tavern is a top-notch fine dining experience with farm-fresh, locally-sourced ingredients to offer. Their menu changes seasonally as the ingredients available locally flux with the change. The symbiotic relationship they are careful to maintain between great food and sustainable practices keep them in touch with nature.
If you decide to visit this stop on our list of things to do in Mishawaka, Indiana, make sure you take the time to enjoy their butcher's steak tartare, fire-roasted crab dip, steak fondue, or bison bites for an appetizer before dinner. They also have an excellent butcher's wedge salad and a Ceasar salad if you're looking for a starter on the lighter side. For dinner, they offer chicken and shrimp fettuccine, lobster mac, bison meatloaf, steakhouse burger, or filet mignon. For a true carnivore's experience, ask about what dry-aged meats they have available when you visit.
Table 97
This full bar and restaurant is family-friendly and offers a variety of dishes in a slightly lower price range than the Corndance Tavern. When it comes to appetizers, they have everything from the "big ass pretzel" to vegetable eggrolls and crispy Brussels sprouts. Their entree menu consists of salads, sandwiches, and burgers, including the Asian steak salad, a BLT sandwich, and a bacon cheeseburger.
Table 97's grilled entrees are also available, including but not limited to teriyaki glazed salmon, grilled shrimp tacos, and ribeye. A mix of healthy sides and more indulgent sides include regular french fries, sweet potato fries, steamed broccoli, coleslaw, black beans, and mac and cheese.
Koto Casual Asian Dining
The Koto Casual Asian Dining restaurant is dedicated to bringing a quality Pan-Asian dining experience to its guests. Their edamame, calamari katsu, and barbecue squid are excellent starter choices, though they have a much larger number to choose from. They also offer several soups, including miso and Osumashi soup, and salads such as avocado salad, mango kani salad, and tako salad.
They offer a number of classic and signature sushi rolls, including but not limited to a tiger roll, dragon roll, Godzilla roll, pink lady roll, amazing tuna roll, volcano roll, and a fantastic lobster tempura roll. Their assortment of sushi combos makes it easier to enjoy all the rolls you want family style. With hibachi entrees from mixed vegetables to filet mignon steak and various teriyaki dishes including shrimp and salmon, there's something here for every pallet. There's even a Pad Thai menu and a number of bento boxes if that's more your style.
Fanello's Authentic Italian Restaraunt
If you're looking for made-from-scratch, homestyle Italian cooking, then you've found the place for you on our list of things to do in Mishawaka, Indiana. Fanello's dressings, sauces, pizzas, desserts, and entree recipes are all made from scratch on-site – nothing is ever frozen here. This family-owned business serves recipes that have been passed down through many generations.
Their fried ravioli is an especially delicious appetizer. For entrees, they offer dishes such as shrimp pomodori, chicken carbonara, veal parmesan, Italian stuffed shells, broccoli amore, and eggplant parmesan. Desserts include items such as Tuscan-style cheesecake, tiramisu, and "oooh fudge."
Monterrey Mexican Bar and Grill
Unlike most Mexican restaurants, Monterrey Mexican Bar and Grill opens at seven AM most mornings to serve their Mexican breakfast menu. Huevos Rancheros and Huevos Mexicanos are breakfast egg dishes you could try, and the bacon, egg, and cheese tacos are another tasty breakfast option.
Their Monterrey specials include carne asada, chili Verde, and fish tacos, among others. They offer a variety of burritos, quesadillas, enchiladas, rice bowls, and vegetarian options. They also have soups and salads if you're looking for a lighter meal. If you're looking for a little more in your first meal of the day, check out their breakfast omelets, toast, and combos.
Interesting Natural and Historical Sites in Mishawaka, Indiana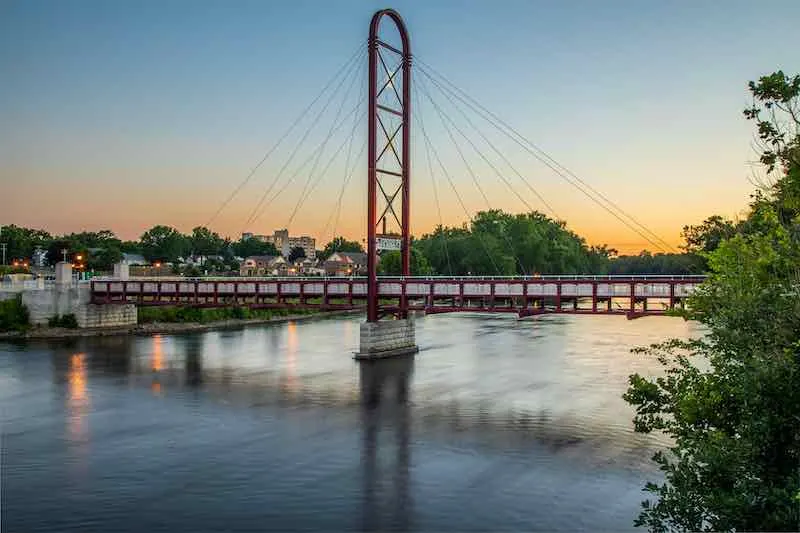 Mishawaka Riverwalk
The first natural site on our list of things to do in Mishawaka, Indiana, is the Mishawaka Riverwalk. Also called the "River St. Joseph of the Miamis Trail," the Mishawaka Riverwalk is a circular system of pathways for pedestrians and bicyclists that covers both banks of the St. Joseph River. Several bridges connect the banks throughout. The path is well-lighted and the river itself, along with the beautiful signage scattered along it, make for a beautiful strolling experience.
Shiojiri Niwa Garden
Located at 1000 East Mishawaka Avenue, the 1.3-acre Shiojiri Niwa Garden represents the Sister-City relationship between Mishawaka, Indiana, and Shiojiri City, Japan. It is one of the few Japanese-style gardens in Indiana and it contains over 200 large boulders and more than twenty different varieties of large plants. A donated statue and treehouse pavilion are also situated within.
Mishawaka Civil War Soldiers Monument
Our first historical stop on our list of things to do in Mishawaka, Indiana is the Mishawaka Civil War Soldiers Monument. Erected in 1884 by the citizens of St. Joseph County, the Mishawaka Civil War Soldiers Monument stands at the corner of Mishawaka Ave and Charlotte Ave in the eastern part of Battell Park. Several other items of historical interest sit within walking distance of this one, including Mishawaka Wars of the Nation Memorial (approx. 0.2 miles away); Ball-Band Factory (approx. ¼ mile away); Perkins Windmill (approx. ¼ mile away); and the Kamm & Schellinger Brewery (approx. 0.3 miles away).
Mishawaka Historical Museum
The Mishawaka Historical Museum recently received its tax-exempt status as a 5013c not-for-profit business. Its mission is to preserve and celebrate Mishawaka's history, culture, and civic identity. It was renovated in 2021 and is proud to display many historical items donated by local patrons. The Facebook page run by the museum team is more up-to-date than its website, so check it out if you're considering visiting the museum.
The Best Places to Shop 'Til You Drop in Mishawaka, Indiana
InRugCo Studio and Gift Shop
If you're looking for souvenirs to bring back to family and friends, or for a nice way to remember this trip for yourself, look no further than InRugCo Studio and Gift Shop. While they are a rug shop, they also carry teeshirts and other Mishawaka souvenir items and gifts. And not only that, they also have a bakery that sells pastries, breads, and jams. Ym!
The 13th Zodiac Mishawaka
The 13th Zodiac is a new-age clothing and crystal store that carries a wide range of body jewelry, colorful tie-dye tees/hoodies, Reiki & Crystal, incense selections, band tees, and women's clothing. They've recently increased their offerings in the women's plus-size collections. They also carry items like blankets, rugs, and tarot decks.
Ten Thousand Villages
Featuring the widest collection of fairtrade home items and gifts in all of Mishawaka and the surrounding areas, Ten Thousand Villages uses sustainable business practices to benefit its business and its customers. They carry jewelry, women's clothing, men's clothing, children's clothing, kitchen supplies, textiles, candles, incense, leather items, metal items, wall art, baskets, and other novelty items.
Exciting Things for Kids to Do in Mishawaka, Indiana
Mega Play Family Entertainment Center
The Mega Play Family Entertainment Center has been bringing fun to all ages in Mishawaka, Indiana, for the past twenty-five years. The 39,000 sq. ft. facility features a giant Play Land complete with a bounce house, ball pit, climbing ropes, tunnels, and slides; an arcade will of video games and arcade machines; an eighteen-hole mini-golf course; and a giant jousting arena. There's fun for all ages and the passes to each section are surprisingly affordable.
Skyzone Trampoline Park
Skyzone is an incredibly fun place with a literal warehouse room full of trampolines covering the floor and walls, and one of the most fun places to visit on our list of things to do in Mishawaka, Indiana. Not only do they have the trampoline park, but there's also a sky ladder, a zipline, a warped climbing wall, a battle beam jousting areana, and a Ninja Warrior course. This is a great place for family fun as well as for large parties and groups of adults and/or children.
Generations AdventurePlex
Generations AdventurePlex as a two-story adventure scape building full of food, fun, sport-viewing opportunities, and amusement attractions. The first level contains the arcade and large TVs for viewing the Notre Dame or NFL games. The boutique-style bowling lanes upstairs feature full-service dining. There's a restaurant and ax den upstairs as well where you can eat delicious American cuisine while sharpening your ax-throwing skills.
Wrapping Up Things to Do in Mishawaka, Indiana
Mishawaka, Indiana has a lot of exciting opportunities for family fun as well as group bonding at their many large playscape facilities. And their assortment of restaurants is impressive and worth another look. Whether you're looking for a quiet nature walk through the Shiojiri Niwa Garden, or a high-octane extrovert adventure with friends, you're sure to have a good time in Mishawaka.
Want to learn even more about Indiana? Check out our Indiana page.