Good Indiana BBQ may sound like an oxymoron, but the Hoosier state is chock full of delicious barbeque.
In the 1800s, the development of the railroad system and the rise of manufacturing brought different cultures flooding into Indiana, creating a melting pot of cuisine that lasts to this day. Indiana BBQ is a mashup of cultures and culinary tastes, creating something wholly new and original. Read on to discover the best BBQ in Indiana!
1. Bombers BBQ – Munster
Enjoy savory smoked meats with a side of craft beer from their extensive drink menu. They smoke their meat for sixteen hours to get its mouth-watering taste just right. Dig into moist and juicy brisket and ribs that are so tender you won't even need to use a knife. Make sure you get one of their signature appetizers like brisket BBQ nachos, and get your ribs with a side of jalapeno cheddar cornbread.
Bombers recently installed a new smoker that will allow them to smoke 5x amount of meat, so bring your appetite!
2. Squealer's BBQ Grill – Indianapolis
Located on the Northwest side of Indy, if you meet a local, chances are they'll recommend Squealer's. Sink your teeth into their smoked brisket, turkey, pulled pork, or their award-winning baby back ribs. For the side, ditch the standard fries which you can get anywhere and get their signature BBQ beans, which are baked beans drowned in one of their homemade BBQ sauces. Choose between the Smokey Sweet, Smokin Hot, Carolina Red or Mustard Madness.
3. Gomez BBQ – Indianapolis
Pitmaster Mike Gomez cooks his meat over sharp Indiana hickory and fruit woods. The menu is filled top-to-bottom with interesting selections like the smoked scotch egg salad sandwich to the smoked chicken soup. The piece de resistance is the Bourbon BBQ Dog. Treat your taste buds to a footlong dog topped with tender, smoked pulled pork, bourbon-spiked corn, sizzling hot red barbecue sauce and spicy slaw on a fresh, toasted bun. Gomez BBQ had to be on our best bbq in Indiana – it's delicious!
4. Half Liter BBQ & Beer Hall – Indianapolis
If you are looking for the best bbq in Indiana, you have to visit Half Liter when the weather warms up so you can take advantage of dining in their expansive back lot lined with picnic tables.
Treat your taste buds to monster brisket sandwiches, blue-cheese-smothered smoked burgers, or fall-from-the-bone ribs, all served Texas style on sheet pans. You can pair your meat with their collard greens which are made in the true Southern style, a.k.a. lots of butter and pork. Wash down your food with their Big Lug Beers or fun cocktails. The smoker is stationed in the corner of the lot, and you're welcome to pick up barbeque tips straight from the chef.
5. Patrick's Smokehouse Kitchen – Carmel
In 2007, married couple Beth and Patrick realized a lifelong dream to open a BBQ restaurant. They've run the kitchen in Bier Brewery North since 2011, where they're known for their tangy, salty brisket sandwiches smothered in greasy onions. You can get your BBQ served traditional or banh mi style. Which is the reason we added Patrick's Smokehouse Kitchen to our best bbq in Indiana list!
6. Big Hoffa's BBQ – Westfield
For nearly twenty years, chef Adam Hoffman has dedicated himself to creating the best BBQ in Indiana. His decadent creations will send your mouth into a trance.
First and foremost is the signature Buccaneer, a half-pound of pork piled high on a garlic butter bun with a sweet and smoky sauce, accompanied by Crispy California coleslaw. Smoked pork ribs fall right off the bone after being smoked for over 12 hours. The Beef Brisket is smoked for over 30 hours.
No meal at Big Hoffa's is complete without the Hoffanator, seasoned fries topped with mac & cheese, baked beans, pulled pork, barbeque sauce and ranch dressing.
7. Fisher's Tips-and-Chips – Mishawaka
Come into Fisher's Tips-and-Chips for the generous portions. They have one of the most expansive BBQ Tips menu. You can get a variety of different rib tips, like the snack pack (tips and bread only) or go big with their monster tips. Soul Food Saturdays is a cost-efficient option that lets you have meat and 2 sides (choice of rib tips, chicken breast, or ribs). Sides change every week, so you may just have to come back.
8. Frankie's BBQ – South Bend
Frankie's is an old standby in South Bend beloved by locals who rave about their pulled pork and ribs slathered in mouthwatering BBQ sauce made from scratch. Sizzling, crispy fried mushrooms make for a mouth-watering side dish that adds to the greasy spoon feel of the place. Frankie's isn't really a sit down place, so carry out and eat on one of the nearby quads of the Notre Dame campus.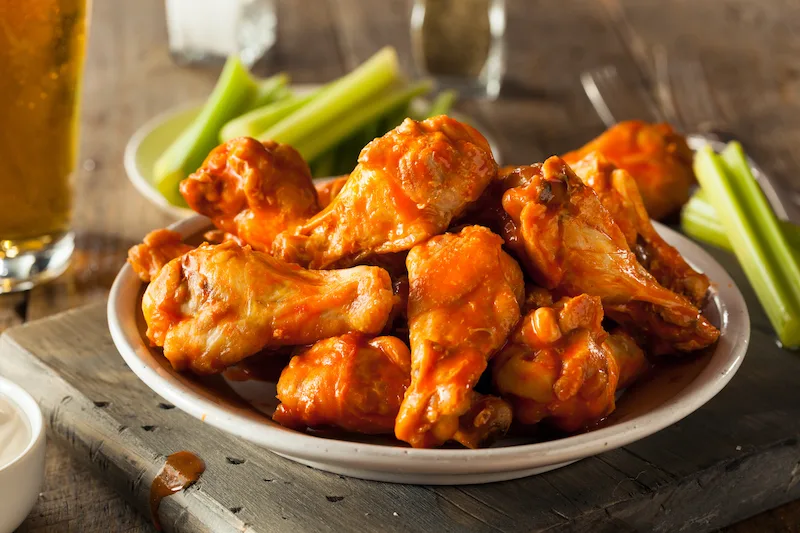 9. Fat Cap Smoked Meats – South Bend
Just down the street from Notre Dame, Fat Cap Smoked Meats is a cozy joint known for its delicious pulled pork and BBQ. Order at the counter and watch them make your savory meal right in front of you.
Chow down on mac 'n cheese drizzled with their signature, smoky sauce. Enjoy their perfectly cooked pound cakes and tasty corn cakes, two of their most popular dishes. And stay for dessert. Their peach cobbler is the ideal sweet treat to go with your savory meal.
10. Hickory Pit Stop Championship BBQ – Evansville
Grab some tasty Hickory Pit Stop Championship BBQ before catching a Triple-A baseball game at Bosse Field across the street. It's the third oldest continuously used baseball stadium in the United States behind Fenway Park and Wrigley Field.
If you're looking for something on the lighter side, try their BBQ salad, which has BBQ-drenched chicken over a bed of greens. To indulge your decadent side, order the Big Mama, a half pound of pork topped with their award winning BBQ sauce.
11. Marx BBQ – Evansville
We aren't done with our best bbq in Indiana list! Thank goodness because located on Evansville's west side, Marx BBQ is tucked away behind the historic Hilltop Inn. In business since 1955, they've been nicknamed Evansville's Picnic Headquarters with good reason. Their BBQ and relaxed atmosphere make for an enjoyable dining experience. Blow your taste buds to smithereens with their signature pork grenades. Homemade pork sausage balls wrapped in bacon and smothered in their signature Sweet & Sassy sauce.
12. Ziffles Rib Bar – Fort Wayne
Ziffles has been named Fort Wayne's Best Ribs eighteen years running, so bring your appetite – and maybe wear some maternity pants to be safe.
Ziffles Rib Bar serves truly enormous rib portions. The Barnyard is their platter filled with ribs, tips, pulled pork, chicken wings, french fries, garlic bread, and coleslaw. Rib Tip Tuesdays lets you order a one pound basket of rip tips and french fries. Gather your friends to share some Hog Trough, fries slathered in cheese, pork, and slaw. You may need to designate a driver since you'll be leaving in a food coma.
13. Smokin' Jack's Rib Shack – Bloomington
If you're looking for the best BBQ in Indiana and traveling to IU to cheer on the Hoosiers, check out Smokin' Jack's Rib Shack. They specialize in southern-tinged BBQ that will light your mouth on fire. The jumbo smoked chicken wings will satiate your hunger, especially since you can get them up to forty wings in a bucket. To make the most of your time in Bloomington, check out our roundup of the 12 Best Things to Do in Bloomington.
Don't let the corn fool you: Indiana is a state overflowing with amazing BBQ.
The cherry and hickory wood of our forests make for sizzling, tender smoked meats. You can find a wide variety of BBQ meats and sauces, as well as decadent sides to satisfy your cravings. The heartburn will be worth it. Learn more about what makes Indiana such a special place.