Thrifting may be a term you have heard before, but what does it mean? Thrifting is defined as using cash and other resources to save money and help prevent future waste. You have clicked on the right article if this is a significant value you wish to use in your life. In our ever-changing world, saving money while preserving the earth is more important to many people than ever.
So whether you are traveling through or live in the fabulous state, we will show you the top eleven best thrift stores in Illinois. This list has it all. These thrift stores are here to impress, no matter what you are on the prowl for, clothing, furniture, high-end pieces, vintage, or more.
1. Pass It On Thrift Center
Leading our list of best thrift stores in Illinois is Pass It On Thrift Center. Located in Crestwood, Illinois, it was first opened in 1999. Large to small this thrift store has it all, from refrigerators to small appliances to housewares and clothing. The center was opened to support Christian schooling in the South Suburbs of Illinois.
Make sure to check this giant thrift store full of any item you could need. All items are donated, and the center does not purchase anything for resale. Whatever you need, Pass It On Thrift Center possibly has it on the shelf today while supporting an excellent cause.
2. AbleLight Thrift Shop
Located in Crystal Lake, Illinois, AbleLight Thrift Shop offers an abundance of the best quality second-hand items you can find, making it one of the best thrift stores in Illinois. AbleLight Thrift Shop opened its doors to prove that the world shines brighter when people with developmental disabilities achieve their full potential. AbleLight gives people from all walks of life opportunities to shine.
You will find clothing, household items, books, furniture, antiques of all types, collectibles, toys, small electronics, holiday decor, and much more at this thrift store.
3. Encore Thrift Store
When looking for one of the best thrift stores in Illinois, you must visit Encore Thrift Store in the city of Clinton. Encore is another fantastic location that's mission is to assist adults with disabilities and learning difficulties.
This second-hand thrift shop has everything you could need. Furniture from gently used to almost brand new in condition, clothing, electronics, books, and even prom dresses, Encore Thrift Store is a vast store to get some fantastic deals.
4. The Thrift Shop
The Thrift Shop, located in Carbondale, is a non for profit organization that was first started in 1966 and has grown into one of the best thrift stores in Illinois. Customers rave about the cleanliness of this store and the multitude of items available.
They carry a wide assortment of furniture, sometimes barely used, antiques, clothing, housewares, etc. This thrift store has quite the following and constantly brings in new items to sell. Make sure you check them out when traveling south.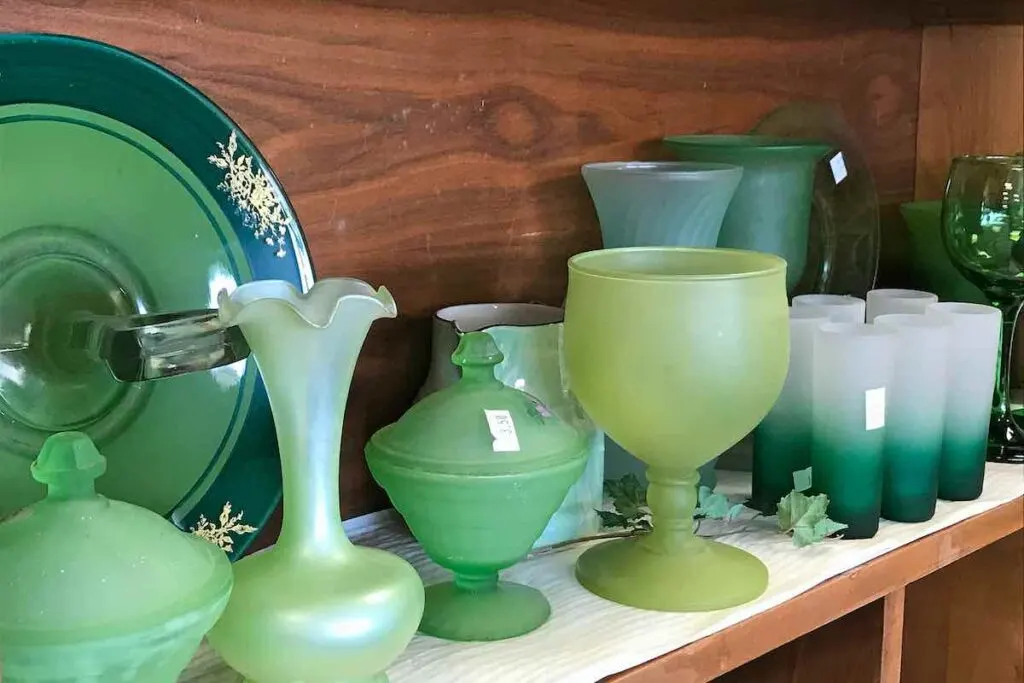 5. The Bridge Thrift Store
You must visit The Bridge Thrift Store in Orland Park, Illinois, when shopping for new treasures. Every day the team sorts and tags new items to place on the floor, so you are always in for a surprise when shopping.
The Bridge Thrift store offers a wide array of things such as books, clothing, furniture, antiques, electronics, accessories, and anything and everything you can imagine neatly lines the shelves of this store. Noted as one of the best thrift stores in Illinois, you cannot beat the organized and clean shelves of vintage items. No matter what you are searching for, this store may have it.
6. Brown Elephant
The Brown Elephant is another excellent one-stop shop for all your thrifting pleasures, and with three locations, there is sure to be one close to you. The Brown Elephant helps the LGBTQ community by offering health care to the uninsured or underinsured, ensuring everyone has the right to primary healthcare and screenings.
Once inside, you are greeted with an abundance of unique finds. You have tons to shop around for, including but not limited to furniture, clothing, home decor, and electronics. You're in luck if you're searching for vintage pieces as well. They carry tons of vintage items such as records, jewelry, and furniture sets.
7. Community Threads
Community Threads is located in Arlington Heights, Illinois, within a quiet strip mall. Community Threads were founded to assist women and children who have fallen on hard times and found themselves homeless and needing a helping hand. Funds from the store go to helping shelters, housing, and outreach centers.
This is one of the best thrift stores in Illinois, not only for the excellent non for profit work they do but for the goodies you find within their 22,000-square-foot store. Inside, you feel as if you are walking through an upscale boutique while perusing through the perfectly placed items such as furniture, decor, clothing, housewares, books, and more.
8. Twisted Trunk
Twisted Trunk is located in Glenview and has made the list of best thrift stores in Illinois because this isn't your average thrift store. This second-hand shop is dedicated to upscale furnishings, think Pottery Barn, or high-end vintage furniture pieces. So when wanting to browse for only furniture and home decor, the Twisted Trunk is the perfect place for you.
Browse hundreds of items such as lighting, rugs, dining sets, outdoor furniture, indoor furniture, artwork, and more. Make sure to check out their website if you would like to get a peek at what they have available at their store today.
9. Kelsey Resale Boutique
If you find yourself roaming around Hinsdale, Illinois, make sure you stop to visit Kelsey Resale Boutique. This store offers all those name brands you know and love at reasonable prices. This shop only accepts the best, so you know you are purchasing quality second-hand threads.
Not only do they have high-end fashion clothing, but they also carry designer handbags and jewelry. If you need to have that Chanel bag but cannot bring yourself to pay department store prices, you must visit Kelsey Resale Boutique, one of the best thrift stores in Illinois.
10. The Hope Chest
One of the best reasons to shop at thrift stores such as The Hope Chest, located in LaGrange, Illinois, is because of the causes they stand for and support. In the early 1990s, this thrift store was opened to directly support the Pillars Community Health's Morris House, which serves women and children who suffered domestic abuse.
When shopping at The Hope Chest, you not only support an amazing charity, but you will also find premium and classic fashion pieces and a variety of woman's fashion and accessories. So many items rotate the stuffed racks of this fantastic thrift store, and new items come in daily.
11. My Friends Closet
At My Friends Closet in the small town of Lena, Illinois, you get a small-town thrifting experience like none other. The staff is incredibly friendly and helpful and constantly brings new stock onto the floor.
Even though this may be a small thrift store, it had to make the list of the best in Illinois because it doesn't lack an abundance of fabulous finds. Clothing, vintage items, glassware, and more line the shelves at My Friends Closet. You can always check out their Facebook page, where they will present some of their best finds.
Why Shop Thrift Stores and Second-Hand Shops?
Some people may have an old-school stereotypical idea regarding thrift stores and second-hand shops, but it is time for the stereotype to be broken.
Most thrift stores are non-profit organizations, meaning they function under a cause, such as a charity or a sponsor. This means the money you spend goes towards that cause, helping others in need while you find the things you need at discounted prices.
Another reason to shop in thrift and second-hand shops is that it helps our environment. Instead of filling our already filled landfills, repurposing and reusing older items is a great way to keep these things out of said landfills. There is something about repurposing items that give you a great sense of accomplishment and feeling green.
Wrapping up the Best Thrift Shops in Illinois
No matter why you visit the thrift shop, Illinois has some of the best. Whether you are looking for a new designer handbag or some new vintage duds depending on the thrift store you visit, you are sure to find a unique treasure. Here we only mentioned eleven of our favorites, but there are many more thrift stores around the state to check out, not to mention the abundance of antique stores. So there is no better time to go shopping.
Take a look at other Illinois posts to find out more things to do and see in this beautiful midwest state.