Like many other towns across Alaska, Juneau's beginnings are traced to the discovery of gold. Juneau's 1880 gold rush, though, was supplanted in the early 1900s by tourism.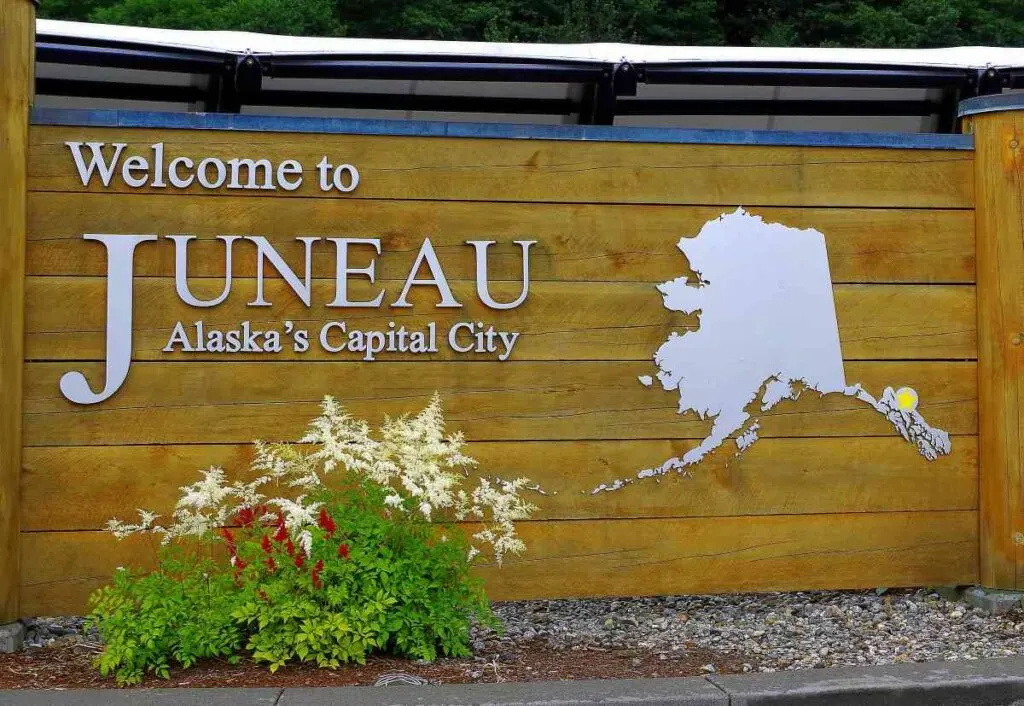 Nestled in the southeastern corner of the state along the Gastineau Channel, Juneau today remains a great tourist destination.
Read on to learn about the things to do in Juneau that await visitors to Alaska's capital city.
---
Arts and Culture in Juneau
Sampling the arts and culture of Juneau is a great way to get to know the city. And given Juneau's ninth-place ranking by the Western States Art Federation for creative vitality among 930 cities, you know you're getting a top-notch experience.
1. Gold Town Theater
If you're a movie buff, or if you just want to see a film you'll not likely find on screens in many other places, your list of things to do in Juneau should include a visit to the Gold Town Theater.
Tucked away behind Juneau City Hall, the Gold Town Theater is Alaska's only art-house theater, showing independently produced films along with foreign films and documentaries.
But if art-house fare isn't your cinematic preference, don't worry. Gold Town Theater also operates a drive-in at Egan Drive and Willoughby Avenue featuring the best in Hollywood fare.
2. Theatre in the Rough
For more than 30 years now, Theatre in the Rough has been bringing live theatre to town as one of the many entertaining things to do in Juneau.
The nonprofit enterprise focuses on the works of William Shakespeare, but leaves plenty of room for other performing arts, including dance, music and puppetry.
Performances staged by Theatre in the Rough are held at McPhetres Hall on Gold Street.
3. Sealaska Heritage Institute
Located on Seward Street, the Sealaska Heritage Institute comprises native Alaskan people preserving and presenting the native Alaskan story. Focused on Alaska's Tlingit, Haida and Tsimshian people, the institute provides a look across 10,000 years of history.
Among the things you'll see and do during your visit to the Sealaska Heritage Institute, one of the great things to do in Juneau, is to take a walk through an authentic wood clan house.
You'll also see native Alaskan art, some of which is for sale in the institute's Heritage Store. And you should know that your visit to the Sealaska Heritage Institute will support Native Alaskan artists and fund workshops and other cross-cultural programming.
---
Places to Tour in Juneau
One of the great things to do in Juneau is to take advantage of the various places where you can gain insights into the area. Here are just a few examples of places you need to see during your visit to Juneau.
4. Last Chance Mining Museum
Operated by the Gastineau Channel Historical Society, the Last Chance Mining Museum provides a great way to understand how the rush for gold in Alaska formed the area's history.
The museum is located inside a compressor building used by the Alaska-Juneau Gold Mining Company in the first half of the 20th century. The compressor could operate more than three dozen machine drills at once for commercial gold mining.
Also at the museum, one of the most exciting things to do in Juneau, visitors can see a vast array of other industrial mining tools and the locomotives and rail cars that took men into the mine and transported ore out of the mine.
Access to the museum is via a short hike over uneven terrain. Visitors who my need assistance can, however, contact the museum in advance for help with access.
5. Aunt Claudia's Dolls
Aunt Claudia's Dolls on South Franklin Street is a truly unique museum, which means that a visit should be on your list of things to do in Juneau when you visit.
Open to the public at no charge, Aunt Claudia's Dolls features a broad collection of antique dolls and ethnic dolls assembled by the late Claudia Kelsey. She came to Juneau after World War II to pursue life as an artist, and brought her doll collection with her.
After her death, a friend opened Kelsey's home to the public to give people a chance to enjoy the doll collection. The collection comprises items ranging from teddy bears and other stuffed animals to delicate figures depicting fishermen.
In addition to Alaska, items in the collection come from Canada, Siberia, Iceland and other locations across the globe.
The home now serves as the studio of renowned doll artists Mary Ellen Frank. A visit to the museum could include a chance to see Frank at work on one of her creations.
6. Alaska State Museum
Located on Whittier Street, the Alaska State Museum should be among the things to do in Juneau during any visit to the city.
If you're looking for a comprehensive view of Alaska's cultural diversity, along with its history of mining, forestry, and tourism and its place in Russian-American relations, the Alaska State Museum is the place to get it.
Admission is free for young people up to age 18, making it a perfect family activity among the things to do in Juneau. Admission is $14 for adults from 19 to 64 years of age, and $13 for senior citizens 65 years old and above.
---
Exploring Nature in Juneau
As you might expect, Juneau's location makes it a gateway to the natural wonderland that is Alaska. In fact, getting out into nature is one of the easiest things to do in Juneau. Here are a few places you should see on a visit to the city.
7. Mount Roberts Trail
You should know up front that the 7.6-mile out-and-back Mount Roberts Trail, accessed via Basin Road, is rated as a difficult walk. But if you do decide to explore it, the trail is one of the things to do in Juneau that comes with plenty of rewards.
In addition to the stunning scenery, featuring amazing views of the Gastineau Channel and Juneau, you'll likely see marmots and a variety of birds as you rise nearly 4,000 feet during the hike.
If you don't want to hike the entire distance to the top of Mount Roberts, there is a tram station less than three miles into the hike where you can catch a ride to the summit.
8. Mendenhall Glacier
The Mendenhall Glacier is a natural wonder that simply must make it onto your list of things to do in Juneau when you come for a visit.
The glacier stretches for more than a dozen miles from the Juneau Icefield, dropping nearly 5,000 feet across that distance. Vistas along and near the majestic glacier include waterfalls and lush forests.
There are a number of companies offering tours of the Mendenhall Glacier, but you can also get to it on your own by car, since it is the only glacier in southeastern Alaska accessible by road. You can even take public transit to the glacier, if you're willing to walk the last 1.5 miles to the public visitor center.
In fact, the Mendenhall Glacier Visitor Center is a great place from which to learn about and see the glacier. The center includes an indoor viewing area, along with a 15-minute film explaining the dynamics of the moving wall of ice.
The visitor center also marks the start of a half-mile trail to Photo Point, which frames the glacier against its lake and the mountains beyond for a stunning memento of your visit.
---
Shopping in Juneau
It might surprise you, but it is possible to find some exciting shopping opportunities among things to do in Juneau. Listed below are just a few places you might want to try.
9. Trove
If you're looking for a diverse and personalized shopping experience, Trove on Franklin Street is one of the things to do in Juneau that you shouldn't miss.
Offering a stunning array of clothing, jewelry, accessories and household gift items, something from Trove will undoubtedly be the perfect item to remind you of your time in Juneau.
Trove is consistently rated as an impressive source for unique gift items, including made-in-Alaska products.
10. Glacier Smoothie
If you're looking for a unique memento of your trip to Juneau, Glacier Smoothie is a definite must among the things to do in Juneau.
Located on Franklin Street, Glacier Smoothie is the only source for trademarked Glacier Silt Soap. Each bar of the soap includes a very fine clay power, rich in minerals, produced as glaciers slide their way toward the sea.
Combined with other quality ingredients, the glacier silt both polishes and mildly exfoliates skin, according to its manufacturers.
---
Youthful Things to Do in Juneau
Among the things to do in Juneau are any number of kid-friendly activities. Here are just a couple of things you might want to try during your visit.
11. Gold panning
One activity that might connect your young visitors to Juneau with the area's past is an opportunity to pan for their own gold.
One opportunity to do that is provided through Alaska Travel Adventures, which offers an excursion outside of Juneau to Last Chance Basin.
Armed with tips from guides as to how to maneuver your pan in the creek, you'll get a chance at trying to coax some shiny bits out of the water and dirt.
12. Cope Park
If the young ones accompanying you on your trip to Juneau need to burn off some energy, one of the best places to do just that is Cope Park, located in an edge of downtown Juneau.
The park features swing sets, a climbing structure and hiking trails, and there's even a picnic table and grill for an impromptu family cookout.
Wrapping Up Things to Do in Juneau
We hope this post on things to do in Juneau has provided some insight into enhancing a visit to the city. For more tips on visiting cities across the United States, check out Life in the USA.