Nestled in the heart of Alabama, the charming city of Troy offers a wide variety of activities and attractions for residents and visitors alike. With its rich history, vibrant arts scene, and numerous outdoor recreation opportunities, there's truly something for everyone in this quintessential Southern town. From strolling through historic downtown to exploring fascinating museums and enjoying the great outdoors, you'll be sure to create lasting memories during your time in Troy.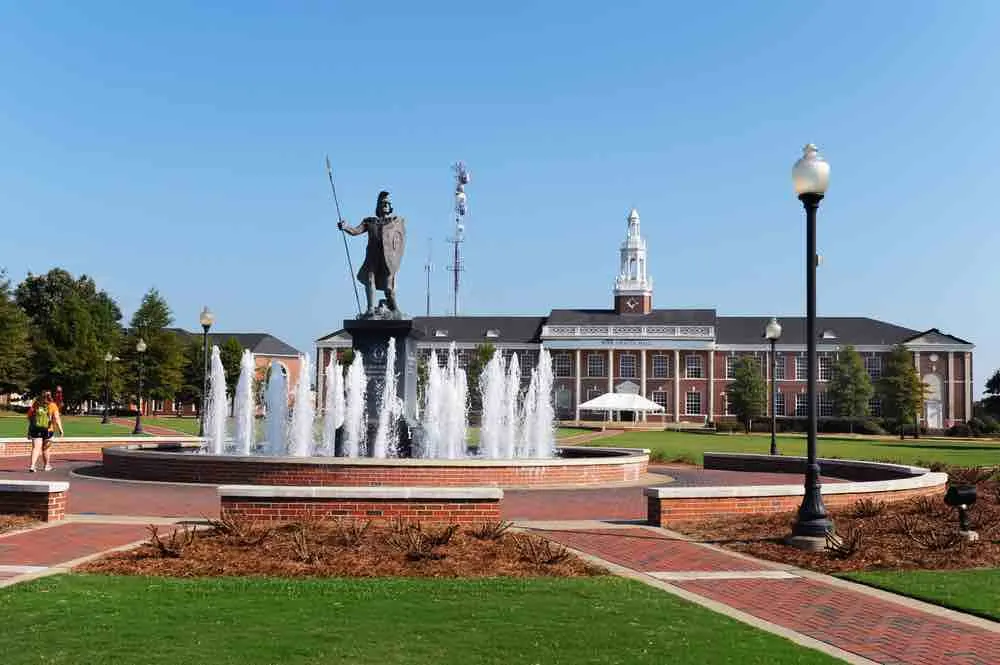 As you delve into its offerings, you'll discover an impressive array of art galleries, historic landmarks, and a thriving culinary scene. Built on a foundation of tradition and heritage, Troy also features exciting festivals and events throughout the year, showcasing its dynamic culture and fostering a strong sense of community. Whether you're on a family vacation, a romantic getaway, or a solo adventure, one thing is certain – you'll leave this charming town with a newfound appreciation for Southern hospitality.
Key Takeaways
Troy, Alabama offers a mix of history, arts, and outdoor activities, providing a well-rounded experience for visitors.
A stroll through historic downtown reveals charming art galleries, eateries, and landmarks that showcase the city's rich heritage.
With frequent festivals and events, Troy maintains an active sense of community and celebrates its vibrant culture throughout the year.
Arts and Culture
Troy, Alabama has a rich arts and culture scene that both residents and tourists can enjoy. In this section, we will focus on two prominent destinations within the city: the Johnson Center for The Arts and the Downtown Art Galleries.
Johnson Center for The Arts
The Johnson Center for the Arts, located in the heart of Troy's historic downtown, is a fantastic museum housed in a fully restored 1911 Post Office building. This art center showcases a wide range of exhibits, featuring both local and international artists. Visitors can explore various types of art, from paintings and sculptures to photography and mixed media. The center also hosts educational programs and events that cater to art enthusiasts of all ages.
Downtown Art Galleries
Within the Historic Downtown Square of Troy lies an assortment of charming art galleries, each offering their own unique collections of artwork. Visitors can walk through the picturesque streets, stopping at various galleries to browse and appreciate the talents of local artists. Many of these galleries also offer souvenirs and pieces available for purchase, allowing guests to take a piece of Troy's art scene home with them.
In addition to the visual arts, the downtown area is also home to several vibrant eateries that serve delicious Southern dishes. These establishments provide a great opportunity for visitors to truly immerse themselves in the area's rich culture and history. Enjoying a meal in the Historical Downtown Square of Troy is an excellent way to conclude a day of exploring the city's various artistic offerings.
Museums
Pioneer Museum of Alabama
The Pioneer Museum of Alabama is nestled in the heart of Troy, providing visitors with an interactive experience of the region's past. Founded in 1971, the museum is a testament to the collaborative efforts of locals who came together to preserve their heritage. It covers a 35-acre park and houses a diverse collection of artifacts that give insight into the early history of the area.
The museum offers educational programs aimed at providing visitors with a broader understanding of the past. Admission tickets start from $23.00 (source). Be prepared for an engaging journey through Alabama's history in this well-preserved space.
Conecuh River Depot Military Museum
For history enthusiasts and military buffs, the Conecuh River Depot Military Museum is a must-visit. The museum features artifacts from major American conflicts such as World War I, World War II, the Korean War, the Vietnam War, and Operation Iraqi Freedom.
Visitors to the museum can explore an extensive collection of war-related items, including uniforms, weapons, and vehicles. The museum also offers educational programs designed to provide a comprehensive understanding of the various conflicts and the roles played by American men and women.
In Troy, Alabama, you'll find a rich history waiting to be explored through the museums that showcase the area's vibrant past. Both the Pioneer Museum of Alabama and Conecuh River Depot Military Museum offer engaging exhibits, shedding light on the distinct aspects of local and national history.
Outdoor Recreation
Pike County Lake
Pike County Lake is a popular destination for outdoor enthusiasts looking for fishing, boating, and canoeing activities. The lake offers a serene setting for visitors to relax and enjoy nature. Anglers can cast their lines to catch fish and bird-watchers can spot various species in their natural habitat. For those interested in exploring the area, the nearby Heart of Dixie Trail offers hiking and walking trails for visitors to enjoy.
Troy Arboretum
Outdoor enthusiasts will appreciate the array of trails and natural beauty at Troy Arboretum. The picturesque and biodiverse area includes a 2.5-mile-long nature trail featuring ponds, streams, and a swamp. This well-maintained space allows visitors to enjoy bird-watching and partake in a relaxing picnic under a shady tree with friends and family. The arboretum also features an amphitheater, where events can be enjoyed during the warmer months.
Trojan Oaks Golf Course
For golf enthusiasts, the Trojan Oaks Golf Course offers a chance to test your skills on their challenging layout. The course features well-manicured greens and fairways, providing an enjoyable experience for both novice and experienced golfers. With its beautiful setting and convenient location, this golf course is a great option for those seeking outdoor sports activities during their visit to Troy, Alabama.
Visitors to Troy can find diverse outdoor recreation options to suit their interests and passions, from leisurely strolls in nature to exciting sports and water-based activities. With the variety of parks, trails, and lakes available, there's something for everyone to enjoy in Troy's great outdoors.
Sports and Activities
Camp Butter and Egg
Camp Butter and Egg, located near Troy, offers various sports and activities for visitors. The camp provides adventure camps, outdoor laser tag, and kayaking opportunities. It's an ideal destination for families and groups looking for exciting outdoor experiences.
Continental Cinemas
If you're a movie lover, the Continental Cinemas in downtown Troy will satisfy your cravings. This modern movie theater offers a variety of films, including the latest releases in a comfortable setting. Don't forget to grab some popcorn and enjoy a relaxing time catching the latest flick.
Troy University Sports Facilities
Troy University has state-of-the-art sports facilities for basketball, baseball, and football. Even if you're not a student, you can attend the games and cheer on the home team. The university's sports facilities are significant points of interest and landmarks that locals take pride in.
At the campus, you can also find a disc golf course for those looking for a more casual sporting experience. Furthermore, the gym at the university may host special events for community members. So, make sure to keep an eye on their schedule for any upcoming activities.
With these options and more, sports enthusiasts and outdoor adventurers will find plenty to explore and enjoy in Troy, Alabama.
Historic Districts and Landmarks
Troy, Alabama, is a city with a rich history and numerous landmarks that showcase its Southern charm. This section highlights the Historic Districts and Landmarks of Troy that are worth exploring, such as the Old Country Store and National Register of Historic Places Monuments.
Old Country Store
The Old Country Store is a delightful destination in Troy's historic district, where visitors can find an authentic experience of the city's past. The Pioneer Museum of Alabama, situated in the heart of Troy, is home to various structures, memorabilia, and demonstration cabins from its history. Founded in 1971 by the collective efforts of locals, the interactive museum aims to preserve the area's disappearing heritage.
The museum is located near the scenic Conecuh River, surrounded by beautiful flora, providing a picturesque atmosphere for a day trip. In addition to the historical structures, the Pioneer Museum of Alabama also houses pavilions and memorial sites, including a cemetery that showcases the rich history of Troy.
National Register of Historic Places Monuments
Troy, Alabama, is home to various monuments recognized by the National Register of Historic Places. Among these monuments is the notable statue located in the Historic Downtown Square of Troy. This square embodies Southern charm, with an array of art galleries, boutiques, and vibrant eateries.
Moreover, the historic district hosts numerous bars and restaurants, ideal for those looking to further immerse themselves in the culture of Troy. This area is perfect for a day trip, offering a unique experience for travelers seeking a taste of the city's history and atmosphere.
Festivals and Events
Troy, Alabama is a small town with a vibrant array of festivals, concerts, and special events for locals and visitors alike to enjoy. Many of these events cater to a wide-ranging audience, offering educational programs and family-friendly activities.
One popular event in Troy is Brushes & Bob Paint Along, held at the Big Brick Market on Fridays. This event offers participants the opportunity to paint while enjoying live music and mingling with others in a relaxed atmosphere. It's a great option for those looking to try something creative and social in a casual environment.
The Pike County Distinguished Young Women program, hosted at the First Baptist Church, showcases the talents of young women from the area. This event, held annually in July, includes educational, talent, and fitness components, focusing on empowering young women and promoting a positive image for the community.
For sports enthusiasts, the Reggie Barlow's 1st Co-Ed Football Skills Camp is a great opportunity to engage in an educational and athletic program. Held in August, the camp offers hands-on instruction from experienced coaches in a fun and supportive environment, catering to all skill levels.
For those seeking a more spiritual experience, the Awakening: Free 21 days of Spiritual Meditation for Peace event takes place in August and is facilitated through Zoom. Participants can learn techniques to enhance their meditation practice and experience a greater sense of peace and well-being.
Troy is also home to various concerts and musical performances throughout the year. Keep an eye on local event calendars and venues, such as the Pike County Cattlemen's Association – Cattleman Park, for upcoming shows and performances.
In addition to these events, Troy is known for hosting an array of educational programs and workshops covering a variety of topics. From art classes to cooking demonstrations, there is something for everyone in this charming small town.
Shopping and Dining in Troy, Alabama
Downtown Troy offers a variety of shopping and dining options for visitors and residents alike. Explore local stores, such as the Johnson Center for the Arts, home to beautiful art collections, as well as speciality and gift shops like TJ's Fabrics. The charming streets of Troy, AL make for a delightful walk between stores and eateries.
When it comes to dining, you'll be spoiled for choice with an array of excellent restaurants available, each offering a unique experience. Some popular options include Sisters' Restaurant, renowned for their American cuisine, and Hook's BBQ, hailed for their delicious barbecue dishes and fast service. Craving pizza? Sips On The Square is a popular spot offering mouthwatering pizza and a family-friendly atmosphere. Rodeo Mexican Restaurant is another fantastic choice, perfect for those who love authentic Mexican flavors.
In addition to shopping and dining, Troy, Alabama provides plentiful options for outdoor recreation and entertainment. For animal enthusiasts, a visit to the Montgomery Zoo is a must. If adventure is what you're after, Troy's heart of dixie trails and green spaces provide an ideal setting for activities such as hiking, biking, and more.
As for entertainment, Troy has a lively nightlife scene with various bars and clubs, catering to different tastes and preferences. Also, the city is known for hosting vibrant events, festivals, and live performances throughout the year. With something for everyone, a visit to Troy, Alabama guarantees an enjoyable time full of unique experiences, delicious food, and unforgettable memories.