Nestled in the heart of eastern Alabama, Opelika boasts a rich history, diverse culture, and picturesque landscape that makes it an ideal destination for visitors and locals alike. Its charming downtown area, replete with historic buildings, trendy shops, and mouthwatering dining options, sets the stage for a memorable day of exploration. Beyond the city's center, nature enthusiasts will delight in the abundance of parks, trails, and outdoor activities that showcase the region's natural beauty.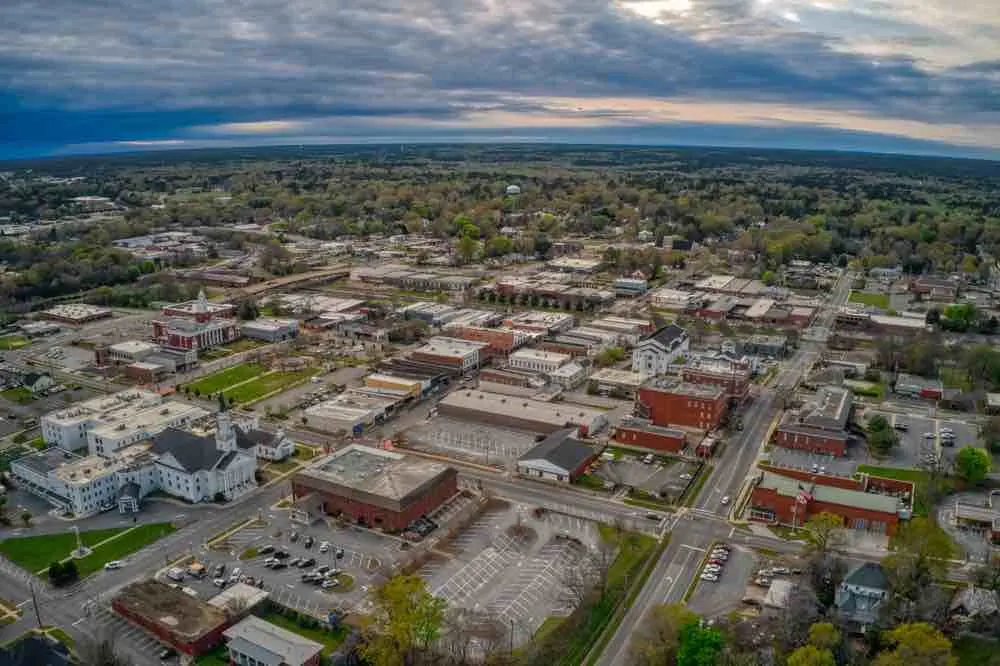 In addition to its lively entertainment scene, Opelika also places a significant emphasis on preserving its history and celebrating the arts. Visitors will find an array of fascinating museums and landmarks throughout the city, offering a glimpse into its storied past. The thriving arts scene, featuring galleries, theaters, and local events, provides opportunities to engage in the area's creative spirit. From family-friendly centers to unique, off-the-beaten-track experiences, there's something for everyone in this delightful southern city.
Key Takeaways
Opelika offers a mix of historical attractions, charming downtown area, and an abundance of outdoor activities.
The city is home to numerous museums, landmarks, and thriving arts scene, providing cultural enrichment opportunities.
Visitors can enjoy diverse family-friendly attractions, shopping, dining, and other activities throughout the city.
History and City
Opelika, a charming city located in Lee County, Alabama, is deeply rooted in history and culture. Nestled near Auburn, this beautiful city boasts a rich heritage that dates back to the time of Native American settlements in the area.
The city of Opelika was formally established in 1854, following the West Point Railroad Company's establishment of a railway route connecting Montgomery, AL, and West Point, GA. This new railway access enabled rapid growth in trade and transportation, drawing settlers to the region.
Home to various historic landmarks, Opelika's downtown area showcases the city's industrial heritage and architectural beauty. Among these landmarks is the Salem-Shotwell Covered Bridge, a picturesque structure built in the early 1900s, which can be found at the end of Municipal Park in Downtown Opelika.
One of the remarkable aspects of Opelika's history is the wealth of preserved Victorian architecture, especially evident during the Victorian Front Porch Tour, an event that takes visitors through the city's historic neighborhoods. The tour serves as an opportunity to appreciate the opulent homes and buildings that have withstood the test of time.
Opelika's love for arts is apparent throughout the city with numerous murals decorating local landmarks. The "Greetings from Opelika" mural is a favorite amongst both residents and visitors, representing the vibrant community spirit present in the city.
The Museum of East Alabama, situated in Opelika, is a treasure trove of history, showcasing artifacts and exhibits that highlight the city's past and its ongoing journey through time. Alongside the museum, the city is home to a historic Methodist church, contributing to the rich spiritual heritage of the region.
Opelika, Alabama, a city with deep historical roots and a thriving cultural scene, continues to captivate the hearts of those who visit, living up to its reputation as a must-see destination.
Downtown Opelika
Downtown Opelika, at the heart of this charming Alabama city, offers a unique blend of culture, history, and community. With its well-preserved buildings and stunning architecture, the downtown historic district is a testament to the city's rich past.
Visitors will find a wide array of attractions in downtown Opelika, from art galleries to specialty shops. As you stroll through the streets, you'll appreciate the friendly atmosphere that makes this area so special. The downtown area is home to several museums, where you can delve into the region's history and learn more about its cultural significance.
Outdoor enthusiasts will appreciate the easy access to parks and trails within the vicinity of downtown Opelika. These green spaces provide a perfect setting for activities such as hiking, cycling, and picnics with family or friends. Furthermore, the community organizes various events and gatherings throughout the year, fostering a sense of camaraderie among residents and visitors alike.
In downtown Opelika, dining options abound. From traditional Southern cuisine to international fare, there's something to satisfy every palate. And if you're looking for a taste of the local craft, be sure to visit the Red Clay Brewing Company, which offers an impressive assortment of brews in a welcoming environment.
With its rich blend of history, culture, and community, downtown Opelika is undoubtedly a must-visit destination for anyone seeking an authentic and delightful experience in the heart of Alabama.
Museums and Landmarks
Museum of East Alabama
The Museum of East Alabama, located in Opelika, offers an excellent opportunity to learn about the history of the area. With various exhibits and displays, this specialty museum provides insight into the local culture and heritage.
Salem-Shotwell Covered Bridge
A picturesque local landmark, the Salem-Shotwell Covered Bridge, can be found in Opelika's Municipal Park. Constructed in the early 1900s, this bridge has become a symbol of the city's rich history and provides a lovely backdrop for photos and leisurely strolls.
Opelika Municipal Park
Home to the aforementioned Salem-Shotwell Covered Bridge, Opelika Municipal Park offers scenic surroundings for outdoor activities and a chance to soak up some local history. Located in downtown Opelika, it's a great place to unwind and enjoy nature.
Jule Collins Smith Museum
Though not located directly in Opelika, the Jule Collins Smith Museum of Fine Art is a worthwhile place to visit in the nearby city of Auburn. Housing collections of beautiful artwork and hosting a range of exhibitions, it's a perfect location for art enthusiasts.
Montgomery Landmarks
A short drive from Opelika will take you to Alabama's state capital, Montgomery. It is rich in history and offers several prominent landmarks, such as the Civil Rights Memorial, Dexter Avenue King Memorial Church, and the Alabama State Capitol. Consider taking a day trip to explore these and more.
Parks and Nature
Opelika, Alabama, offers a variety of parks and natural attractions for outdoor enthusiasts. From hiking trails to lakes and forests, there's something for everyone to enjoy.
One of the city's most popular parks is Chewacla State Park. This beautiful park is home to numerous outdoor activities and a 26-acre lake. Visitors can explore hiking trails, go fishing, or relax by the water. It's an excellent place for both locals and visitors to experience the natural beauty of eastern Alabama.
Another great place to visit is Municipal Park, located in downtown Opelika. This park features the historic Salem-Shotwell Covered Bridge, a picturesque landmark dating back to the early 1900s. Municipal Park also offers various recreational amenities, making it a family-friendly destination.
For those who enjoy hiking, the Wood Duck Heritage Preserve and Siddique Nature Trail is a must-visit. With 73 acres of wooded nature trails, it provides a peaceful escape from the urban environment. The trails are perfect for a leisurely walk or a more challenging hike.
In addition to parks within the city, Opelika is close to the Tuskegee National Forest. This expansive forest offers over 11,000 acres of land to explore, including hiking trails, horse trails, and a wildlife viewing area. Mountain bikers will also appreciate the forest's diverse terrain, providing opportunities for all skill levels.
If you're looking to cool off in the summer months, Spring Villa Park is another excellent choice. Set on 325 acres of wooded land, the park features a spring-filled swimming pool and picnic sites, perfect for a day outdoors with family or friends.
Outdoor Activities
Opelika, Alabama, offers a wide range of outdoor activities for visitors and residents to enjoy. From recreational sports like golfing and cycling to adventurous activities such as camping and horseback riding, there are plenty of options for all ages and skill levels.
Grand National Golf Course is a popular destination for golf enthusiasts. This 136-course facility is part of the prestigious Robert Trent Jones Golf Trail, offering a challenging yet enjoyable experience for players of all levels. Make sure to get the trail card if you plan on playing more than one course on the RTJ trail.
For those who prefer cycling, the city boasts numerous scenic routes and trails, perfect for exploring the beautiful landscapes of Opelika. Cycling through the city's historic downtown, or venturing further afield to the picturesque Lake Saugahatchee, offers an invigorating way to stay active and explore the outdoors.
Lake Saugahatchee is an excellent spot for various recreational activities such as fishing, kayaking, and boating. With its serene surroundings and clear waters, it's an ideal location for a relaxing day out.
If you're a fan of horseback riding, Opelika offers several equestrian centers and stables that cater to riders of all levels, making it a perfect way to enjoy the beautiful countryside while bonding with these majestic animals.
Camping enthusiasts will find ample opportunities to set up camp and unwind in the tranquility of nature. Opelika has numerous campgrounds and parks, each offering a unique experience in the great outdoors.
Lastly, for those looking for a more unconventional outdoor activity, disc golf is an increasingly popular sport in the area. With several courses available, you can challenge yourself and your friends to a fun and engaging game while enjoying the outdoors.
Shopping and Dining
Opelika, Alabama offers a variety of shopping and dining options for both locals and tourists. Tiger Town is a popular shopping destination that features a range of retail stores for all tastes and preferences. With its convenient location near Interstate 85, it is a major hub for shopping, entertainment, and dining experiences.
For a unique and local shopping adventure, Angel's Antiques and Flea Mall is an excellent choice. With over 68,000 square feet and 400 vendors, you can find various antiques and specialty items that are sure to pique your interest. Another great boutique that showcases unique fashion pieces is Studio 3:19, where you can find stylish clothing and accessories.
In addition to shopping, Opelika's dining scene is also quite diverse. One recommended spot is Zazu Gastropub, where you'll find delicious American cuisine with a Southern twist. This restaurant offers a comfortable and inviting atmosphere, ideal for gatherings with friends and family.
For a more casual dining choice, be sure to explore Southern Crossing, an area that has several eateries and cafés. This is a perfect location to grab a quick bite while taking a break from shopping or sightseeing activities.
Breweries and Distilleries
Opelika, Alabama has a couple of notable establishments for those interested in exploring the craft of brewing and distilling. Red Clay Brewing Company and John Emerald Distilling Company are two highlights in the area.
Red Clay Brewing Company is a popular brewery known for its excellent selection of beers on tap. Their beers are brewed with carefully chosen ingredients and a passion for craftsmanship. Visitors can sample a variety of beers alongside knowledgeable staff members who can provide insights into each brew. The relaxed atmosphere and friendly service make this a must-visit destination for beer enthusiasts.
John Emerald Distilling Company is a father-son duo-owned establishment that offers a range of high-quality spirits, including whiskey, gin, and rum. They pride themselves on producing handcrafted, small-batch spirits inspired by Southern traditions. In addition to their quality spirits, the company offers tours of their distillery, providing a unique opportunity for visitors to learn about the distillation process and the history behind their brand. Sampling is also a key part of the tour experience, allowing guests to taste the different spirits and appreciating the unique flavors each one has to offer.
Whether you prefer beer or spirits, exploring the breweries and distilleries of Opelika allows for an enjoyable and informative experience. Visiting Red Clay Brewing Company and John Emerald Distilling Company provides the perfect opportunity to indulge in the art of craft beverages while also learning from the passionate and knowledgeable individuals behind these establishments.
Arts and Culture
Opelika, Alabama, boasts a vibrant arts and culture scene that attracts both locals and tourists alike. The city's heritage is showcased through its red clay murals, which beautifully depict the region's history and charm. Art enthusiasts can find an array of galleries and spaces that showcase the talents of local artists.
Craft brew lovers will be delighted by the variety of breweries in the area. These establishments not only offer flavorful beverages, but they also serve as a hub for community gatherings and live music performances. Enjoy a cold brew while listening to talented artists, and immerse yourself in the town's lively atmosphere.
Coffee aficionados can find solace in Opelika's trendy coffee shops, offering a cozy space to relax and recharge. These spots often double as venues for live music and art displays, making them the perfect place to experience the city's creative spirit. Be sure to keep an eye out for Roanoke dolls, a unique folk art tradition native to the region.
Families visiting Opelika with kids can expect a variety of options to entertain and inspire the little ones. Engaging workshops and art classes provide an opportunity for children to explore their creativity while learning about different aspects of arts and culture.
Summertime in Opelika means the return of the Summer Swing, a popular concert series that showcases local musicians in an outdoor setting. The event is a must-attend for music lovers and a fantastic way to spend an evening in the warm Alabama air.
Family Fun Center
Opelika, Alabama, offers a variety of activities that cater to families seeking a fun time. One popular destination is the family fun center, where kids and adults can enjoy various games and entertainment options.
At these centers, you can immerse yourself in exciting games like laser tag, which provides an adrenaline-pumping experience for all ages. Team up with your family members and challenge other teams in a thrilling battle of wits, strategy, and agility.
Mini golf is another enjoyable activity available in Opelika's family fun centers. This classic game requires skill and precision, and it is suitable for individuals of all ages. Bring your family together and engage in friendly competition as you navigate through unique and challenging courses in these mini golf attractions.
Just a short drive away, you will find the city of Phenix City, which offers additional family-centric experiences. At Camp Opelika Artifacts, you will encounter historical records and relics from the area's past, providing an educational aspect to your family outing.
The creek in Phenix City adds a serene touch of nature to your visit. Stroll along with the pathways and take in the flora and fauna that thrives along its banks. It is also a great location for a family picnic.
For families with a love for horseback riding, the Silver Lining Equestrian Center offers lessons and trail rides, giving you a chance to hone your horsemanship skills. Whether you are an experienced rider or new to the sport, the center's knowledgeable staff will ensure a safe and enjoyable experience for everyone.
Miscellaneous Activities
Opelika, Alabama offers a diverse range of activities for both locals and visitors. One fun-filled activity to try out is the CyberZone. This entertainment venue features state-of-the-art arcade games and offers a modern twist to traditional gaming experiences. If you are a fan of arcade games or looking for some indoor fun, CyberZone is the place to be.
Outdoor lovers will appreciate the stunning Pea Ridge Covered Bridge. This historic landmark is one of the few remaining covered bridges in Alabama and offers picturesque views of the surrounding countryside. A short hike or walk to the bridge allows you to soak in nature's beauty and provides excellent photo opportunities.
The city of Opelika boasts numerous recreational facilities and swimming areas for those who prefer to engage in physical activities and sports. The community is home to various parks and sports complexes, providing ample space for people to enjoy outdoor games, have picnics and spend quality time with family and friends.
Sports enthusiasts can catch the excitement of college sports by supporting the Auburn University Tigers. The Auburn University campus is just a short drive from Opelika, and attending a game can be an exhilarating experience for fans of all ages.
If you're more into food and beverages, Opelika has got you covered. Treat yourself to some delicious ice cream from local parlors that serve a wide variety of flavors and unique concoctions. On a hot Alabama day, there's nothing quite like a cold and refreshing ice cream to brighten your mood.
When it comes to spirits, the city embraces its southern heritage, and you can find establishments offering locally distilled whiskey. Savor the flavors of carefully crafted beverages and learn about the process that goes into creating these high-quality spirits.