Nestled in the heart of Alabama, Cullman is a charming city packed with a wide variety of activities and attractions that cater to people of all ages and interests. From historical sites and beautiful parks to unique shopping experiences and local culinary treats, Cullman guarantees an unforgettable visit. Steeped in history and surrounded by natural beauty, this small city offers a perfect blend of Southern charm and modern amenities for locals and tourists alike.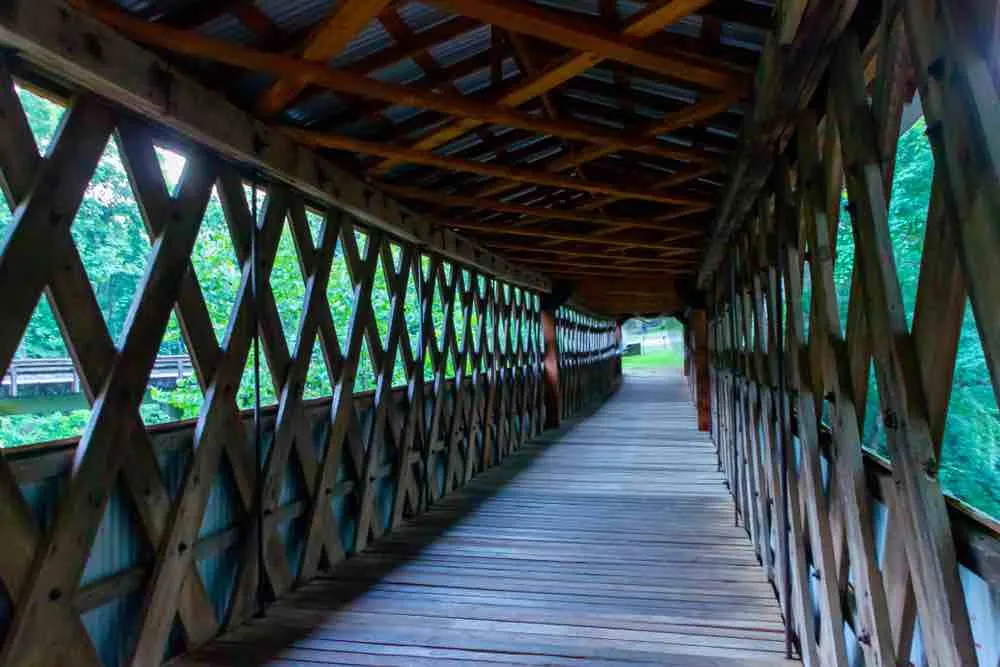 Visitors to Cullman can explore the picturesque Ave Maria Grotto, an enchanting park where they will find miniature reproductions of iconic religious structures from around the globe. For adrenaline seekers, Skydive Alabama provides breathtaking bird's-eye views of the region and an unforgettable experience. In addition to these attractions, Cullman offers a rich arts and culture scene, with local markets, shops, and a flourishing restaurant and brewery scene that promises to tantalize your taste buds.
Key Takeaways
Cullman offers diverse attractions from historical sites to outdoor adventures
The city has a vibrant arts and culture scene, including local markets and shops
Visitors can enjoy various dining experiences in the flourishing restaurant and brewery scene
Historical Sites
Cullman County Museum
The Cullman County Museum, located in Alabama, offers a glimpse into the history of the region. Visitors can explore exhibits featuring artifacts, photographs, and memorabilia highlighting the area's past. The museum also hosts special events and activities for a unique experience.
Ave Maria Grotto
Ave Maria Grotto, situated in a lush 4-acre park within St. Bernard Abbey, is one of the most popular tourist attractions in Cullman. The park showcases 125 miniature reproductions of famous religious structures from around the world. These intricate models provide a fascinating insight into global religious architecture.
St. Bernard Abbey
St. Bernard Abbey is a historic site in Cullman with a rich history of monastic life. Visitors can appreciate the beauty of the grounds and learn about the daily lives of the monks residing there. Moreover, the Abbey hosts spiritual retreats and other events throughout the year.
Clarkson Covered Bridge
Originally built in 1904, the Clarkson Covered Bridge is a historically rich site in Cullman. Listed on the National Register of Historic Places, the bridge was once a crucial route for travelers and farmers to get across Crooked Creek. Today, visitors can appreciate its preserved structure and the surrounding parkland.
Weiss Cottage
Weiss Cottage is the oldest residence in Cullman, Alabama, and is also listed on the National Register of Historic Places. This Victorian-style home offers guided tours, giving visitors a chance to explore the authentic furniture and artifacts that provide insight into life in the 19th century.
Dogtrot Log Cabin
The Dogtrot Log Cabin is another historic site in Cullman, showcasing traditional Alabama architecture. Built in the 19th century, the cabin is a perfect example of a dogtrot—an open hallway bisecting the structure, which allowed for natural airflow and respite from the heat. Visitors can appreciate the craftsmanship and design that has stood the test of time.
Outdoor Adventures
Smith Lake Park
Smith Lake Park offers a beautiful spot for a variety of outdoor activities. The park is located on the shore of Lewis Smith Lake, giving visitors the opportunity to enjoy swimming and fishing in the clear waters. There are also numerous hiking trails for those who prefer to explore on foot. For a more relaxed experience, picnic areas are available throughout the park. If you're planning a longer visit, camping and cabin options are available for overnight stays.
Sportsman Lake Park
Sportsman Lake Park is a family-friendly destination in Cullman that features a variety of outdoor activities for all ages. The park is centered around a shallow body of water, perfect for fishing and paddle boating. Picnic areas are available for families to enjoy a meal outdoors while taking in the surrounding beauty. The park is known for its lovely walking trails and biking paths for those who wish to explore on two wheels.
Hurricane Creek Park
Hurricane Creek Park is a natural gem in Cullman, offering a serene setting for outdoor enthusiasts. The park is known for its diverse hiking trails, which showcase the stunning landscape of bridges, waterfalls, and sandstone cliffs. Hickory wood forest adds to the beauty of this park, making it a great place for a peaceful stroll or an exciting adventure. While there, do not miss the opportunity for wildlife spotting and birdwatching.
Bankhead National Forest
Located just a short drive from Cullman, Bankhead National Forest provides a vast area for exploration and outdoor recreation. With over 180,000 acres, the forest is abundant in hiking trails, streams, and picturesque scenery. camping options are available for those who wish to immerse themselves in the beauty of the forest and get closer to nature. Some popular outdoor activities in the area include hiking, biking, fishing, and swimming.
Related activities:
Picnic
Hiking
Fishing
Swimming
Camping
Cabins
Paddle boats
Biking
Local Markets and Shops
Steele Orchard
Steele Orchard is a family-owned and operated farm known for its delicious homemade goods. Visitors can shop for various fruits such as apples and peaches, while also enjoying their cider selections like the Sipsey River Red. In addition, their market offers a range of products including fruit butter, jams, and jellies.
Southern Accents Architectural Antiques
At Southern Accents Architectural Antiques, you'll discover a treasure trove of unique American antiques. This is the perfect spot for shopping enthusiasts and fans of American Pickers. With a vast collection of items, you are sure to find interesting pieces to add to your home or collection.
Highway Pickers Antique Mall
Another must-visit shopping destination is the Highway Pickers Antique Mall. This large shopping center is filled with a variety of vendors offering antiques, collectibles, and other items. With a diverse range of products, you are bound to find the perfect piece to suit your taste.
Festhalle Farmers Market
Finally, the Festhalle Farmers Market offers an array of fresh produce, including vegetables, fruits, and other locally sourced goods. Here, you can find high-quality ingredients such as pork, bacon, and grits to create delicious and authentic Southern dishes. Make sure to visit Festhalle Farmers Market to support local vendors and enjoy the bounties of Cullman, Alabama.
Arts and Culture
Main Street
Cullman's Main Street is a rich source of arts and culture. It's lined with a variety of buildings that have historical significance, showcasing the town's architectural heritage. In addition, art enthusiasts can visit the various galleries and studios found throughout Main Street. Here, you'll find numerous works of art, ranging from paintings to sculptures, created by local artists.
Heritage Park Cullman
For history lovers, Heritage Park is a must-see in Cullman. This expansive park covers more than 70 acres and houses several attractions that showcase Cullman's rich past. One such attraction is the Heritage Park Museum, where you'll find collections of artifacts, photographs, and other items that shed light on the area's history. In fact, the Heritage Park area is known for regularly hosting Americana music events, where visitors can imbibe the musical culture that's unique to the region.
| Attraction | Description |
| --- | --- |
| Heritage Park Museum | A repository of artifacts, photographs, and historical items |
| Americana Music Events | Live outdoor concerts showcasing regional music |
Churches
Cullman's deep-rooted religious heritage is evident in the numerous churches that dot the landscape. These buildings, apart from being centers of worship, also serve as significant architectural landmarks. In particular, St. Bernard Abbey is a vital point of interest. Located within the grounds of the abbey is the famous Ave Maria Grotto, which features miniature reproductions of renowned religious structures from around the world.
Additionally, the churches themselves often host cultural events, including art exhibitions and musical performances, giving visitors an opportunity to explore the intersection of faith and art in Cullman.
Restaurants and Breweries
Goat Island Brewing
Goat Island Brewing is a popular local brewery in Cullman, offering a casual atmosphere and friendly staff. They have a great variety of craft beers to choose from, with the blood orange being a favorite among patrons. If you're visiting with kids, they have board games, cards, and crayons available, and the brewery is also dog-friendly, making it a welcoming place for the whole family. Their beer garden is a relaxing spot to enjoy a drink, and they host events almost every night.
Johnny's BBQ
For a true taste of Southern cuisine, head over to Johnny's BBQ. With over 289 positive reviews, it's no wonder that locals and visitors alike flock to this barbecue joint. The coleslaw, potato salad, and homemade BBQ sauce are particularly loved by patrons. Johnny's offers an authentic Southern dining experience, complete with delicious smoked ham being served as part of their menu.
Moe's Original Bar B Que
Moe's Original Bar B Que offers a different take on Southern flavors, combining traditional barbecue with ingredients such as cheeses to create unique and delicious dishes. The menu at Moe's caters to a wide range of tastes, ensuring that all guests find something to satisfy their appetite. While the focus is on barbecue, you'll also find an array of beers available to complement your meal. Whether you're a seasoned skydiver looking for some comfort food after a thrilling day or simply seeking out a great Southern meal, Moe's Original Bar B Que is a must-visit destination in Cullman.
Unique Experiences
Skydive Alabama
For adrenaline junkies, Skydive Alabama offers an unparalleled experience in Cullman. Known as a hidden gem, this skydiving center provides thrill-seekers with a breathtaking bird-eye view of the city's natural beauty. Expert instructors ensure your safety while you take in the stunning vistas during your unforgettable adventure.
Alabama Flyboard
Looking for a unique water sport activity? Head to nearby Smith Lake and try Alabama Flyboard. This innovative experience propels you over the water's surface using a jet-powered board, allowing you to fly, dive, and perform tricks. The crystal blue waters of Smith Lake provide a perfect setting for this one-of-a-kind adventure.
Cullman Wellness & Aquatic Center
In need of relaxation and rejuvenation? The Cullman Wellness & Aquatic Center offers a variety of activities and amenities to cater to different interests. Here, you can enjoy:
Fitness facilities
Indoor and outdoor pools
Water slides
Lazy river
The center also hosts various festivals, ensuring that there's always something exciting happening for both locals and visitors to enjoy.