Alabama, known for its rich culinary history and Southern comfort food, has quite a reputation when it comes to satisfying a good old-fashioned burger craving. From bustling cities like Birmingham and Montgomery to charming small towns, there's no shortage of mouthwatering burger joints for locals and visitors alike. In this article, we'll explore some of the state's best burger spots, featuring both classic and gourmet options that cater to a wide range of taste buds.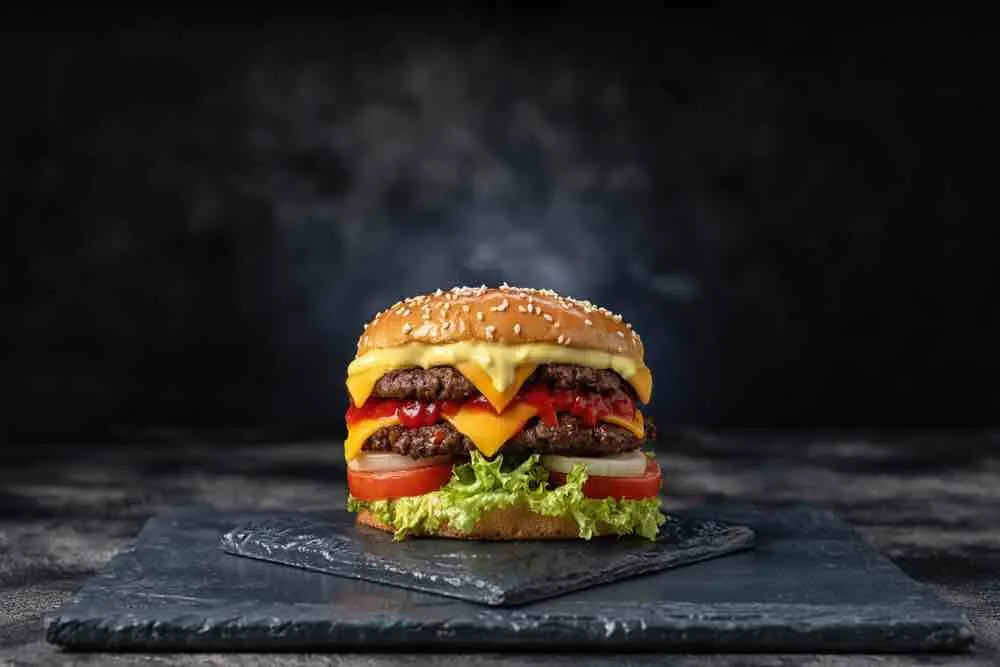 In our search for the best burgers in Alabama, we'll visit renowned establishments such as Jack Brown's Beer & Burger Joint in Birmingham, known for their Wagyu beef burgers, and Niffer's Place in Auburn, famous for their massive Niffasaurus Burgers. We'll also uncover hidden gems and hole-in-the-wall spots that might not be as widely known but are equally deserving of their praise. As we delve into the culinary scene, we'll discuss popular ingredients and toppings, as well as recommendations from both locals and experts.
Key Takeaways
Explore a variety of both classic and gourmet burger options across Alabama
Discover hidden gems and lesser-known burger joints for a unique dining experience
Learn about popular ingredients and toppings, as well as recommendations from locals and experts
Top Burgers in Major Alabama Cities
Birmingham
In Birmingham, you'll find a variety of mouth-watering burgers to satisfy your cravings. Farm Burger is known for its commitment to using the freshest ingredients from local suppliers, which results in a consistently delicious experience. Another popular spot is The Fig Tree, located in Cahaba Heights, where you can indulge in their signature Figgy Burger.
Mobile
Mobile is home to some fantastic burger joints well worth a visit. Cobalt the Restaurant on Perdido Beach Blvd offers not only a great atmosphere, but also a must-try gourmet burger. Additionally, LoDa Bier Garten stands out with its massive selection of beers and unique burger creations, prepared with high-quality ingredients.
Huntsville
Huntsville residents can enjoy a great cheeseburger from Farm Burger, which also ranked as one of the best burgers in the entire state. This chain focuses on sourcing ingredients from local suppliers, and the result is a top-notch burger that will keep you coming back for more.
Auburn
Auburn is not to be left behind on the burger scene. Niffer's Place has been serving up some of the finest burgers in the area since 1991, and they're best known for their famous Niffasaurus Burgers. Make sure to bring a hearty appetite as they're not only delicious but also quite filling.
Montgomery
In Montgomery, don't miss the chance to visit Hamburger King, a long-running local favorite, for a classic, no-frills burger experience. This spot is known for its old-school setting and consistently tasty burger offerings that have locals raving.
Tuscaloosa
Tuscaloosa is home to the Oasis Bar and Grille in Cottondale, which serves up an incredible classic cheeseburger. Locals and visitors alike rave about this burger's impeccable taste and quality that make it one of the best in Alabama.
Hidden Gems and Hole-in-the-Wall Burger Spots
Niffer's Place
Niffer's Place offers a variety of tasty burgers that will satisfy your cravings. Located in Auburn, Alabama, this cozy spot is known for its casual atmosphere, friendly service, and delightful food. The menu offers an array of burgers to choose from, ensuring there is something for everyone. Make sure to try the famed Niffasaurus burger, stacked with flavorful toppings.
Butch Cassidy's Cafe
A well-loved establishment in Mobile, Alabama, Butch Cassidy's Cafe takes burger craftsmanship seriously. The restaurant's motto, "It's what's between the buns that counts," speaks to their dedication to providing delicious and high-quality burgers. Their signature Butch Burger features a large grilled patty, bacon, cheese, and an assortment of toppings and condiments, making it a must-try for burger enthusiasts.
Vicki's Lunch Van
Located in Montgomery, Vicki's Lunch Van is a treasure trove for burger lovers seeking a hole-in-the-wall experience. Vicki's is praised for its mouthwatering burgers made from fresh ingredients and served in generous portions. Don't miss out on their signature burger, the Pimiento Cheeseburger, which combines a juicy beef patty with homemade pimiento cheese to create a unique and irresistible flavor sensation.
J&J Grocery & Deli
J&J Grocery & Deli, situated in Bessemer, Alabama, is nothing short of a hidden gem. This unassuming grocery store and deli serves up delicious, made-to-order burgers that have gained a loyal following. Customers rave about the Double Cheeseburger with its well-seasoned patties, melted cheese, and fresh toppings. It's a must-visit for those who appreciate an authentic hole-in-the-wall dining experience.
Classic and Gourmet Burger Offerings
Chez Fonfon
Chez Fonfon is a French-inspired bistro located in Birmingham, Alabama. They offer a delicately crafted burger known as the Hamburger Fonfon. This burger features a flavorful blend of chuck, brisket, and short rib, topped with comté cheese, grilled red onions, and red leaf lettuce. Served on a house-made bun, the Hamburger Fonfon is a burger lover's delight.
Farm Burger
Farm Burger, located in Huntsville, focuses on sourcing the freshest of ingredients from local suppliers. Their amazing cheeseburger is a testament to their commitment to quality. The key to this top-ranking burger is in the details, with the use of grass-fed beef, house-made condiments, and artisan cheeses. The customizable menu options allow you to craft your perfect burger experience.
Callaghan's Irish Social Club
Callaghan's Irish Social Club, a gem within Mobile's Oakleigh Garden District, is renowned for its award-winning L.A. (Lower Alabama) Burger. This mouth-watering burger is made with a mix of ground beef and Conecuh sausage, and is topped with melted pepper jack cheese, spicy mustard, and a hearty helping of sautéed onions and peppers. A must-try for those seeking a unique take on a classic burger.
Bleus Burger
Lastly, Bleus Burger, a food truck known for its inventive offerings, takes burger crafting to new heights. Some of their popular creations include the Seoul Burger, a Korean BBQ-inspired burger, and the El Guapo, featuring poblano peppers and queso fresco. With their mobile setup, Bleus Burger offers a gourmet touch to Alabama's burger scene, making them a must-visit when craving a high-quality, one-of-a-kind burger.
Best Burger Ingredients and Toppings
When it comes to the best burgers in Alabama, the secret often lies in the ingredients and toppings used. In this section, we will explore some popular choices for burger components that contribute to the overall deliciousness of these iconic Alabama burgers.
Starting with the base, it's essential to use only the freshest lettuce and tomatoes. They bring a welcome touch of freshness and texture to the sandwich, contrasting with the savory and juicy meat patty. At places like Farm Burger in Huntsville, they source their produce from local suppliers to achieve this crispness and flavor in their burgers.
Burger fans in Alabama are also known to enjoy a well-prepared patty made from fresh-ground beef. An 8-ounce hand-patted beef patty, like the one served at Avenue Pub in Birmingham, is the foundation of a truly satisfying burger—the kind that has earned its place among Alabama's best.
When it comes to cheese, there's a variety of options that can be used in a burger. For some, nothing beats the classic taste of American cheese, which melts beautifully and complements the patty without overpowering it. An example of a delicious burger featuring this beloved topping can be found at Butch Cassidy's Cafe in Mobile.
In contrast, some restaurants may opt for a more luxurious cheese choice like Swiss Gruyère. The Hamburger Fonfon at Chez Fonfon in Birmingham uses melted Comte cheese, a close relative of Swiss Gruyère, to add a robust flavor to their burger. This acclaimed sandwich has earned its spot on the list of 'The 101 Best Burgers in America.'
As for additional toppings, bread-and-butter pickles are a popular choice for their sweet and tangy flavor profile. They enhance a burger by adding an extra layer of taste and crunchiness that can elevate the overall experience.
Recommendations from Locals and Experts
When it comes to seeking trusted recommendations for the best burgers in Alabama, locals and experts' opinions play a crucial role. Here are some recommendations derived from various sources, including al.com, David Holloway, Bob Carlton, Allison Coker, Shauna Stuart, Yelp, and Keely Beasecker.
One highly recommended burger spot in Alabama is Farm Burger in Huntsville. Known for sourcing the freshest of ingredients from local suppliers, it has garnered appreciation from both residents and visitors alike.
Another popular choice among locals is the Rebel Burgers. Praised as "the best I've ever had" by some readers, these burgers have built a reputation for being a must-try for anyone in Alabama.
The Hamburger Fonfon at Frank and Pardis Stitt's French bistro Chez Fonfon also holds its ground among the best burgers in Alabama. This delicious burger has been often cited as the top choice by diners in the state.
On the other hand, Yelp lists the top 50 burgers in Alabama, with Cobalt the Restaurant in Orange Beach and The Fig Tree in Birmingham among the reputable choices garnering positive reviews.
Lastly, for a no-frills hamburger experience, Oasis Bar and Grill in Cottondale offers single-patty or double-patty hamburgers and cheeseburgers at reasonable prices. The Bear Burger Combo, which includes a double cheeseburger, fries, and a soft drink, is a favorite among locals.
Burgers in Alabama Sports and College Towns
Athens
In Athens, a college town where people love sports and burgers alike, Square Clock Coffee stands out with its delicious and juicy burger options. Their Classic Burger, made from high-quality beef and topped with fresh lettuce, tomato, and cheese, offers diners a simple and satisfying meal to enjoy while discussing the latest game. Square Clock Coffee is not only a great place to grab a burger in Athens, but it's also an enjoyable spot to unwind and meet with friends.
Cottondale
Moving on to Cottondale, a small town with a big appetite for sports and good food, The Cottondale Grill is a local favorite for mouthwatering burgers. Their signature Cottonville Burger features excellent beef topped with bacon, cheese, lettuce, tomato, and a special sauce that gives it a unique and unforgettable flavor. It's the perfect place for sports fans to gather and enjoy great food amid the excitement of the game. The Cottondale Grill's laid-back atmosphere, friendly service, and delicious food make it a must-visit destination when in Cottondale.
Lake Martin
Finally, for those who find themselves near the beautiful Lake Martin, Kowaliga Restaurant offers excellent burgers with a stunning lakeside view. Among their burger options, the Kowaliga Classic stands out, featuring a perfectly cooked patty, lettuce, tomato, cheese, and their special Kowaliga sauce. With outdoor seating available, diners can enjoy their meal while taking in the beautiful surroundings and clear waters of Lake Martin. Kowaliga Restaurant's mix of delicious burgers and a relaxing atmosphere makes it a perfect choice for an enjoyable day by the lake.
More than Just Burgers: Additional Dining Options
Alabama offers a diverse range of dining options for those seeking more than just delicious burgers. With a confident and knowledgeable tone, let's explore the various delightful meals and venues available in this southern state.
For those eager to indulge in a scrumptious lunch, many eateries offer diverse dishes that cater to various tastes and preferences. From classic sandwiches to refreshing salads, the lunch menus of Alabama establishments are sure to save you from a dull midday meal.
When it comes to barbecue, Alabama doesn't disappoint. With its deep-rooted southern culinary traditions, the state boasts a variety of smokehouses and barbecue joints that serve up mouth-watering fare. Slow-cooked meats, tangy sauces, and flavorful side dishes are staples in these venues, beckoning barbecue connoisseurs to indulge in an authentically southern dining experience.
Pizza lovers will also find a place in Alabama, as the state features numerous pizzerias that serve up expertly crafted pies. From classic, thin-crust New York-style slices to more experimental concoctions, you'll find tasty pizza options to suit just about everyone's taste buds.
Breakfast in Alabama is more than just a meal—it's an experience. You'll find cozy diners and cafes offering an array of delicious breakfast choices, ranging from hearty biscuits and gravy to lighter selections like Avocado toast and yogurt parfaits. Whatever your preference, the morning is sure to start right with a satisfying breakfast spread.
In addition to its myriad meal offerings, Alabama's dining scene also extends to beverages. The state is home to numerous breweries, wineries, and distilleries that produce a wide variety of drinks, adding a local, artisanal flair to the culinary experience. So whether you're in the mood for a refreshing craft beer, a bold local wine, or a meticulously crafted cocktail, Alabama establishments have you covered.
There you have it—a brief exploration of Alabama's diverse dining options beyond the marvelous world of burgers, all presented in a confident, knowledgeable, neutral, and clear tone.