Beaches are the ultimate, perfect summer getaway spot…and in some places you can continue to enjoy them in the cooler months, as well! South Carolina is one of those places, and you won't regret adding a beach trip to your list of adventures for the year!
Read on for a roundup of the best beaches in South Carolina, along with some must-have items to ensure you have the best beach adventure imaginable this year.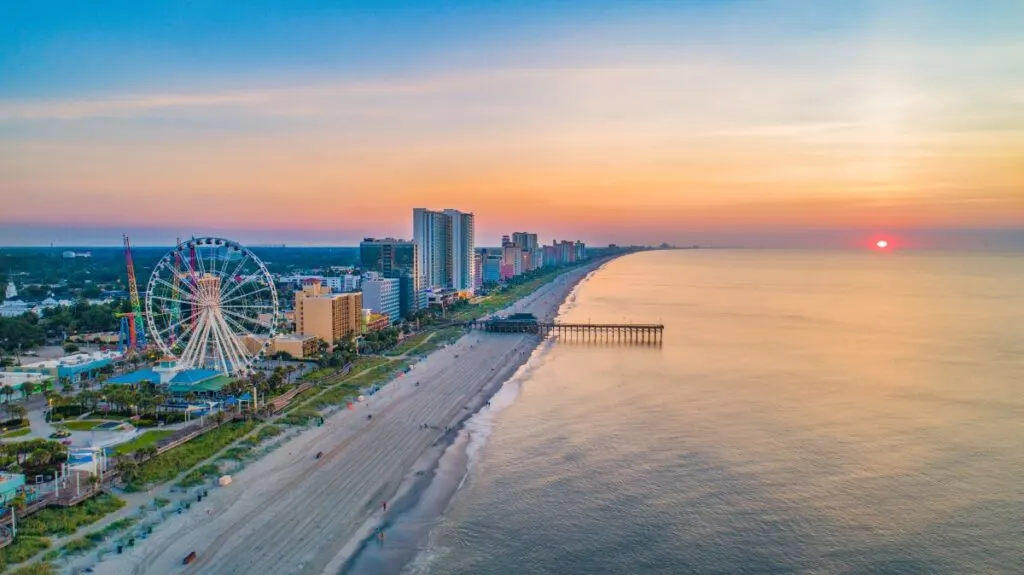 ---
Best Beaches in South Carolina
1. Myrtle Beach
Myrtle Beach, SC
When you think of the best beaches in South Carolina, chances are, you are already imagining at least a glimpse of Myrtle Beach…which is why it ranks in the top spot on our list. This is one of the best known and most beloved beaches in South Carolina, due in large part to its beautiful setting and the numerous attractions it boasts.
The beachfront itself at Myrtle Beach is nothing short of idyllic. You can enjoy the deep emerald and sapphire waters of the Atlantic Ocean for hours, whether in the waves or while lounging on the glittering white sands. There are lots of opportunities for fishing, kayaking, and more.
If you prefer to break up your time relaxing on the beach with some recreational inland fun, though, Myrtle Beach offers that, too! Boardwalks, restaurants, high rise resorts, and even a Ferris Wheel with a stunning view of the ocean are all awaiting visitors at Myrtle Beach.
These are just a few of the fun opportunities that rightfully makes Myrtle Beach one of the top best beaches in South Carolina.
2. East and West Beach
Kiawah Island, South Carolina
Friendly debate has raged for a long time between visitors as to which beach on Kiawah Island—East or West—is best. The good news is, whichever one you visit, you can't go wrong…both of these deserve a ranking among the best beaches in South Carolina! The 10 miles of white, sandy beaches on this island beckon visitors to relax in the sun, enjoy the warm water…and so much more.
In addition to its delightful beachgoing options, Kiawah Island can also be enjoyed via kayak and SUP rentals along the Tidal Trails. You can rent a villa or stay elsewhere in the island's resort to extend your recreational experience. There are also various food options and plenty of fun to be had!
Whether you land on East Beach or West Beach, there's no doubt you will have an amazing time visiting Kiawah Island and some of the best beaches in South Carolina.
3. Coligny Beach Park
Hilton Head Island, South Carolina
Coligny Beach Park on Hilton Head Island is among the more family friendly beaches and one of the most beaches in general popular because of it. It's easy to see how it has earned its reputation as one of the best beaches in South Carolina!
This beach park boasts 12 miles of the glistening pale sand for which much of South Carolina is famous. This beach park is also manned by life guards, which makes it highly appealing to families with little kiddos or inexperienced swimmers looking for a worry free day.
In terms of amenities, Coligny Beach Park also offers a public garden to enjoy if you need a break from the oceanside views. You can also take advantage of the parking lot and shuttle service to help you easily traverse the island from one place to the next.
It should be noted by anyone planning a visit here that this beach park tends to fill up rather quickly due to its high ranking popularity. If you are hoping to get a spot to enjoy Coligny Beach Park on a hot summer day, it's best to get there early!
4. Pawley's Island Beach
Pawley's Island, South Carolina
As one of the oldest summer resorts not just in the state, but along the entire East Coast, Pawley's Island Beach has been considered one of the best beaches in South Carolina for a long time. And for good reason!
Pawley's Island Beach is a free public access beach with plenty of beauty to enjoy. Not only does the beach allow canine family members to come enjoy a day in the sun and surf, but they also provide a beach wheelchair which can help folks of all different needs traverse the majestic white sands.
In addition to relaxing on the beach, you can also go surfing and bodyboarding, do some fishing off the piers, go shelling, or take a boat out on the waves.
Pawley's Island Beach is also a fantastic place for a day of family beach fun. It's also a great place for tourists to enjoy, with access to a wonderful town full of shopping opportunities, delicious restaurants, and live music.
5. Sullivan Island's Beach
Sullivan Island, South Carolina
Folks who are looking for one of the best beaches in South Carolina with all of the charm but far less of the hustle and bustle of big crowds will find all they are dreaming of and more at Sullivan Island's Beach! This historic beach is just a bit over 3 miles long, but has so much to offer in and around it, you won't miss out on anything!
The oceanfront itself is magnificent here, with a majestic view of the waves and miles of beautiful sand! The smaller size of this beach makes it a great spot to relax with a little more peace than you might find on some of the larger beaches—which is part of what makes it one of the best beaches in South Carolina!
Other waterfront activities include sailing, kayaking, kiteboarding, paddleboarding, and fishing. Many folks have also enjoyed the photography opportunities inherent in such a beautiful swath of the South Carolina coast.
If you're in need of a break from the beach after a long day in the sun, Sullivan Island has you covered! There is plenty of historic exploration to be had, as well as delicious oceanside dining, shops to dip into, and so much more.
6. Huntington Beach
Huntington Beach State Park, South Carolina
Dog loving beachgoers are going to find Huntington Beach to be truly one of the best beaches in South Carolina! Located within Huntington Beach State Park, this stretch of sandy shore is canine friendly and also perfect for human companions as well. This beach is nestled within Murrells Inlet and offers a great stretch of shore for beachgoers to enjoy.
Some of the recreational activities at Huntington Beach include fishing, boating, and swimming to your heart's content. But that's not all! State park lovers will find that Huntington Beach State Park is a great place to enjoy the best of the beach as well as some great camping opportunities.
There is a lot of history and architecture to be enjoyed in and around Huntington Beach, including an historic house.
If you are eager to learn all about the various camping and recreational opportunities that Huntington Beach and the surrounding state park at large have to offer, check out this fantastic Huntington Beach State Park Camping Guide. It will set you up for a memorable adventure to the park!
All of these attributes and more are what makes Huntington Beach State Park, not just a fantastic state park, but overall one of the best beaches in South Carolina.
---
What to Bring to the Beach
In order to maximize your time at any one of the best beaches in South Carolina, you want to ensure you come prepared with the best beach gear! Read on for some of the top essentials we recommend bringing to the beach.
Sunscreen
Whenever you are visiting a beach, it is always wise to bring some sort of sunblock. This can be particularly crucial if you're visiting some of the best beaches in South Carolina, as southern beaches tend to be quite warm and the sunlight very strong in this part of the hemisphere.
For a traditional sunscreen option that's water resistant up to 80 minutes, you might try EltaMD UV Sport Broad Spectrum SPF 50 Sunscreen Sport Lotion. For a more natural or organic-based sunblock, we recommend Two Peas Organics Sunscreen – also a safe sunscreen option for kids and babies!
You might also like to add a sunblocking item such as a broad hat, covering swimwear, or lightweight coverup. Whatever your preference, be sure to pack along something to help protect your skin from burning.
Seasonal Attire
One of the best things about visiting the best beaches in South Carolina is you can often enjoy them a lot later in the season than you would a northern beach! However, water and air temperatures will vary season to season, so it's important to pack accordingly.
If you are visiting during a cooler time of year, consider a long-sleeved swimsuit–such as one by popular athletics brand Hurley for women, for example. For men, TSLA's swim shirts are popular as well.
No matter the time of year, it's wise to bring some kind of cover or a fresh change of lighter, long-sleeved attire for after you get out of the water.
Portable Cooler
Bringing a small cooler to help keep your food and refreshments cool is an absolute must when visiting any of the best beaches in South Carolina! But you want to make sure to grab one that's not too bulky or too difficult to carry, as this can just be a headache in the midst of a fun day.
For a great collapsible small cooler than can hold all your beach food and drink needs, you might try out the Maelstrom Soft Cooler Bag. Or, if you prefer the more classic, hard sided cooler that can double as a beach seat, check out the Camp Zero 10.6 Quart Cooler.
You might also consider a backpack cooler, like the Voova Waterproof Backpack. This will allow you to keep your hands free while transporting your food, so you can carry even more of your necessities down to the waterfront hassle-free.
Beach Towels
Of course, no visit to any one of the best beaches in South Carolina would be complete without a beach towel to relax on! These can start to run on the expensive side, though, and depending on your space availability and the number of beachgoers in your crew, you may need to get creative when purchasing your beach towels.
If you're looking for some space saving options, check out the BAGAIL BASICS Microfiber beach towel—a compact option that comes in a wide variety of sizes for every member of your group or family!
For those on the hunt for some standard, no frills beach towel goodness for a large group, try out an 8 pack of quick drying, microfiber beach towels from the JML Store. Or, if you want a beach towel variety pack with a little more flare, the Genovega 4 Pack option has a variety of fun colors and designs the whole group can enjoy!
Seating and Shelter
Sometimes, when visiting the beach, you don't really want to sit on a towel on the sand. We get it—that's why beach lounge chairs are a great option to consider, too.
For optimal relaxation and shade, we recommend the Sport-Brella Beach Chair with a built in leg rest and umbrella to protect you from that sweltering southern sun! You can find a similar option for kiddos as well with the KIDS ONLY Beach Baby Umbrella Chair.
Both of these are great seating options, easy to carry, and perfect for the beach.
If you are looking for an even greater level of comfort while visiting some of the best beaches in South Carolina, another worthwhile investment is a beach shelter. These provide shade and an escape from the sand for multiple occupants at once. They are perfect for bringing babies to the beach as well.
For a sturdy and popular beach shelter option, check out the Gorich Beach Tent!
Food and Drink
Whenever you're visiting one of the best beaches in South Carolina, hydration and nourishment are a must. Nothing puts a damper on a fun beach day like hunger or dehydration!
Be sure to pack along plenty of water for everyone in your beachgoing group. If possible, mineral water is the best to help restore the minerals and electrolytes lost when sweating under that hot South Carolina sun!
You should also be mindful about the food you bring along to the beach, since lots of fun out in nature requires lots of fuel! Having plenty of protein-rich foods is a necessity when you're choosing what to bring along to the beach.
Whatever you choose to pack along for food and drink when visiting the beach, be sure you can fit it all comfortably in your portable cooler of choice!
---
Visit The Best Beaches in South Carolina!
Excited to visit some of the best beaches in South Carolina? These are just one fantastic thing to enjoy in this beautiful state. Check out our South Carolina content for other vacation destinations, day trip adventures, and even local fun to enjoy all year round.