Are you wondering when is the best time to visit New York? There are so many options of things to do and places to stay it can be hard to know where to start when planning a trip to the Empire State. Each season in New York offers different advantages and disadvantages making it hard to choose the best time to go.
This guide takes the guesswork out with helpful information about the good things and some drawbacks of visiting in each different season to help you decide when is the best time to take a trip to New York. Keep reading to learn all about the best times to visit New York and some things to do in each season.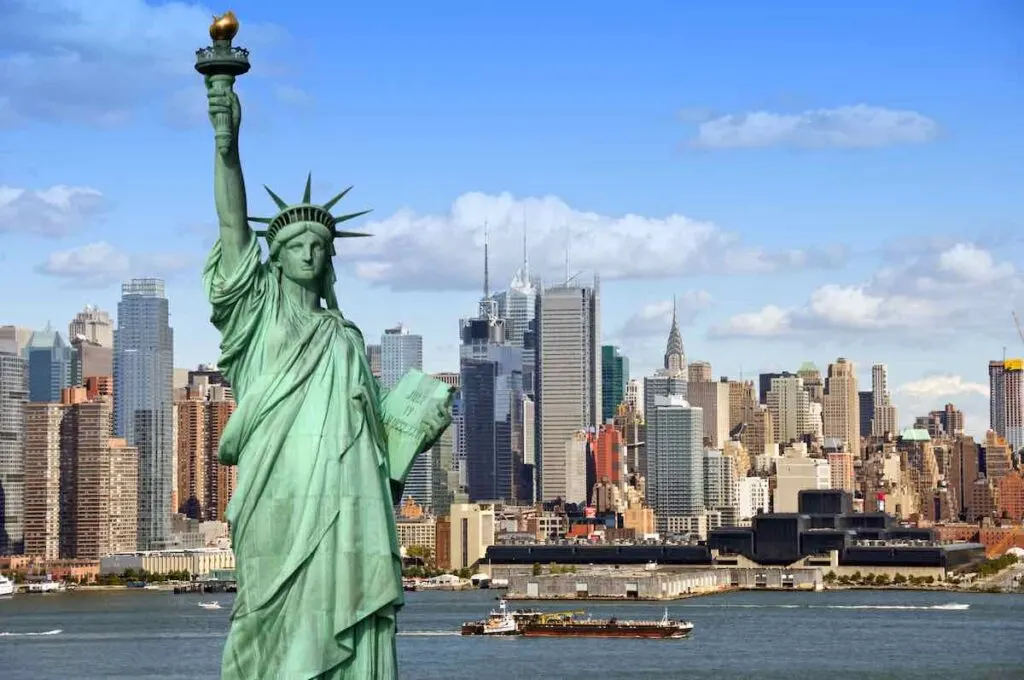 When is the Best time to visit New York?
New York is a beautiful state with so many things to do. Whether you want to spend some time in New York City, enjoy the beauty of nature in the Adirondacks, take in the wonder of Niagara Falls, or something else, there is no shortage of places to visit and things to do in New York.
So when is the best time to visit New York? Well, that depends on your goals, personal preferences, and budget. New York has something unique and exciting to offer each season. What you want to do, and how much you want to spend, will largely determine when the best time to visit New York is for you.
Read on to see what's special about New York each season to help you decide when is the best time for you to visit this beautiful state.
Visiting New York in Spring
Spring is a great time to visit New York. The temperatures are mild and prices are reasonable. You don't have to compete with summer crowds for hotels and activities so that keeps prices lower and makes it easier to find tickets and hotel reservations.
Keep in mind that spring break can be a slightly busier time during the spring months. For schools in New York, spring break is usually the week after Easter. Around the country spring break varies from early March-late April. Even with spring break travelers, crowds in March and April tend to be lower than in the summer months.
Weather
In Spring, the temperatures in New York range from around the low fifties to the low seventies during the day. It's the perfect weather to stay out all day without getting too hot or too cold.
The weather in spring can often be rainy, with April typically being the rainiest month of the year. If you don't mind a chance of rain, there is plenty to do outdoors in New York during spring.
Things to do
Springtime in New York is absolutely beautiful. The snow melts away and everything starts waking up with the new life of spring. The trees start filling with leaves and buds and spring flowers are in full bloom.
With comfortable temperatures and lower crowds, spring is one of the best times to visit New York if you enjoy spending time outside.
Visit Adirondack Park
Spanning over six million acres, Adirondack Park is the largest park in the United States outside of Alaska. There are so many adventures to have in the park from hiking trails to climb, waterfalls to visit, and wildflowers to see. There are many places to stay in the park as well whether you want a resort hotel, a quiet campground, or something in between.
See the Cherry Blossoms
Cherry Blossom season is usually in mid-April each year, though the time can vary a bit from year to year depending on the weather. Buffalo and New York City both have Cherry Blossom Festivals to celebrate the beautiful, blooming trees.
Be Active
Spring, especially late spring when the temperatures start warming up, is a good time to visit New York if you like being active. Enjoy many outdoor sports like running, biking, rock climbing, kayaking, and more while the weather is pleasant.
Visiting New York in Summer
Summer is one of the best times to visit New York for families with kids in school. You don't have to worry about scheduling your trip around school because the kids are out all summer. Plus there are a lot of educational things to do in New York to keep kids learning while they're out of school like visiting zoos, museums, and historical sites. Adults can even learn something too!
Because it's a popular time to visit New York, hotel prices are usually higher in the summer months between June and September.
You can save on hotels by staying in smaller cities further away from big attractions like New York City and Niagara Falls.
Weather
In summer, the weather in New York can be hot, especially in the southern parts of the state where the elevation is lower. July and August tend to be the hottest with an average high temperature of around eighty-four degrees. June is less hot with average highs around eighty degrees. Things start to cool down in September with average highs in the mid-seventies.
If you're planning to spend some time at the beach while you're in New York, hot weather won't be a problem for you.
It does sometimes rain frequently in the summertime but usually not for prolonged periods of time. Afternoon thunderstorms often roll through and then pass, leaving you with clear weather again by the evening.
Things to do
Visit Popular Attractions
All of the typical tourist attractions are open and ready for visitors in the summer. In New York City visit attractions like the Statue of Liberty, the Empire State Building, Rockefeller Center, Times Square, and Central Park.
Go to the Beach
New York may not be the first place you think of when it comes to a beach vacation but the state does have a number of places to enjoy beautiful beaches like Fire Island, Coney Island Beach, the Hamptons, and Montauk. Summer is definitely the best time to visit New York if you want to go to the beach!
Enjoy Central Park
If you're visiting New York City, Central Park is beautiful and has many fun things to do like free summer concerts, yoga and other fitness classes, and the central park zoo.
See Niagara Falls
Summer is the peak season for visiting Niagara Falls. The weather is warm and all of the popular tourist attractions are open. That means hotel prices are usually higher as well. To get the best deals, book your hotel and attraction tickets early.
Visit Museums
If it's too hot to be outside, why not spend the day checking out some of the great museums in the state. New York City is home to some truly great museums but there are fantastic museums in other parts of the state as well like the New York State Museum in Albany and the baseball hall of fame and museum in Cooperstown.
Explore the Great Outdoors
Summer is a good time to visit New York's many parks. Enjoy activities like hiking, mountain biking, white water rafting, and camping. The parks are more crowded in the summer than at other times of the year, but getting out into nature will mean fewer crowds than staying in the city.
Visiting New York in Fall
If you don't like the hot temperatures or bigger crowds of summer, you may want to consider visiting New York in the Fall. Fall in New York is a beautiful season, especially when the leaves begin to change from green to vibrant red, yellow, and orange.
The weeks before and after Thanksgiving are always a good time to visit New York City to enjoy all of the special events to kick off the Christmas season.
Early fall is a good time to enjoy fall foliage and spend time doing outdoor activities like hiking and camping before it gets too cold.
Weather
The temperatures cool down steadily in fall giving way to perfect sweater weather. Highs in September are in the seventies then slowly go down to the fifties in November.
Fall tends to be less rainy than other parts of the year with October being one of the driest months on average. Cooler temperatures and low chances of rain make fall in New York a great time to get outside and enjoy the natural beauty of the state.
Things to do
Watch the Thanksgiving Day Parade
If you are a fan of the annual Macy's Thanksgiving Day Parade, Thanksgiving week is a great time to visit New York. Watching the parade in person is a once-in-a-lifetime activity for many people. If you want to splurge, you can book a hotel room overlooking the parade route to watch the parade from your own private room.
Many restaurants overlooking the parade route offer special brunch tickets that include a meal and a view of the parade, or find a spot to stand along the parade route to get up close to the action.
View Fall Foliage
In early to mid-October the changing leaves make for a beautifully colorful display. The prime time to view fall foliage varies slightly from year to year depending on the weather. Adirondack Park and Bear Mountain State Park are both stunning places to go see fall foliage in New York.
There are several places to see fall foliage in and around New York City as well like Central Park, Greenbelt Nature Center on Staten Island, and Owl's Head Park in Brooklyn.
Pick Apples and Pumpkins
Visit an apple orchard or a pumpkin patch to enjoy the bounty of the fall harvest season. New York is second only to Washington when it comes to apple production in the United States. There are many apple orchards in New York to visit where you can get fresh, tasty, apples and enjoy other fall fun as well.
Visiting a pumpkin patch is a classic fall activity and the perfect way to enjoy the fall season in New York. Spend some time at a pumpkin patch to enjoy fun fall activities and maybe even get some pumpkins to take home with you.
Visiting New York in Winter
The weather may be cold but there are still many things to do in New York during winter. After New Year's, winter is usually the cheapest time of year to visit as crowds tend to be lower after the busy holiday season has passed. If you are a traveler on a budget, winter may be the best time to visit New York because you can save a lot of money.
Winter sports are one of the best reasons to visit New York in winter with lots of opportunities for skiing, sledding, tubing, and snowboarding. There are also plenty of indoor things to do like excellent museums, live theater, and shopping.
Weather
Winter in New York is cold and there can be a lot of snow, especially in January and February. Average low temperatures range from the teens to the low thirties depending on where you are in the state. Areas further north and those with higher elevation tend to be colder.
Things to do
Enjoy the Christmas Season
If you love Christmas, December may be the best time to visit New York for you. Christmas in New York is absolutely beautiful, especially when there's snow. The season is full of festive events and beautiful decorations in New York City, of Visit North Pole, New York to see Santa's workshop.
Go Ice skating
Winter is the perfect time to go ice skating. There are a number of outdoor ice skating rinks in the state to enjoy in the winter. If it's too cold outside, try an indoor ice skating rink.
Go Skiing
It may be cold, but that doesn't mean you can't get outside and enjoy your time in New York during the winter. Skiing in New York is actually pretty affordable when compared with some other states in the northeast so it's a great place to go for a ski vacation. Why not try skiing at Hunter Mountain, Lake Placid, or the Catskills.
Try Ice Fishing
Fish for panfish, pike, and perch on the ice in Lake Ontario. If you've never been ice fishing, try a guided ice fishing excursion or hire a guide to show you the ropes.
Shopping
New York City has no shortage of great shopping opportunities. The rest of the state has a lot of shopping as well including outlet malls, antique stores, small boutiques, and large, indoor shopping malls.
Wrapping up The Best Time to Visit New York
Whatever time you decide to visit, there are ways to have a good time in New York every time of year. So when do you think is the best time to visit New York? For more New York recommendations check out this list of the {best restaurants in New York} to visit on your trip. For more things to do nearby, check out 23 Things to do in Boston