When you think of Detroit, Michigan, the first thing that comes to mind is probably the automobile industry. But Detroit is far more than cars and machines—there are beautiful theaters, historic buildings, a thrilling sports scene, and more!
I've been all over Detroit, and I'm here to give you the insider scoop on all the best things to do in Detroit, MI. This city is bustling with life, beauty, education, and entertainment; you can't leave it off your USA bucket list. Read on to find my list of favorite places, things to see, and destinations to explore!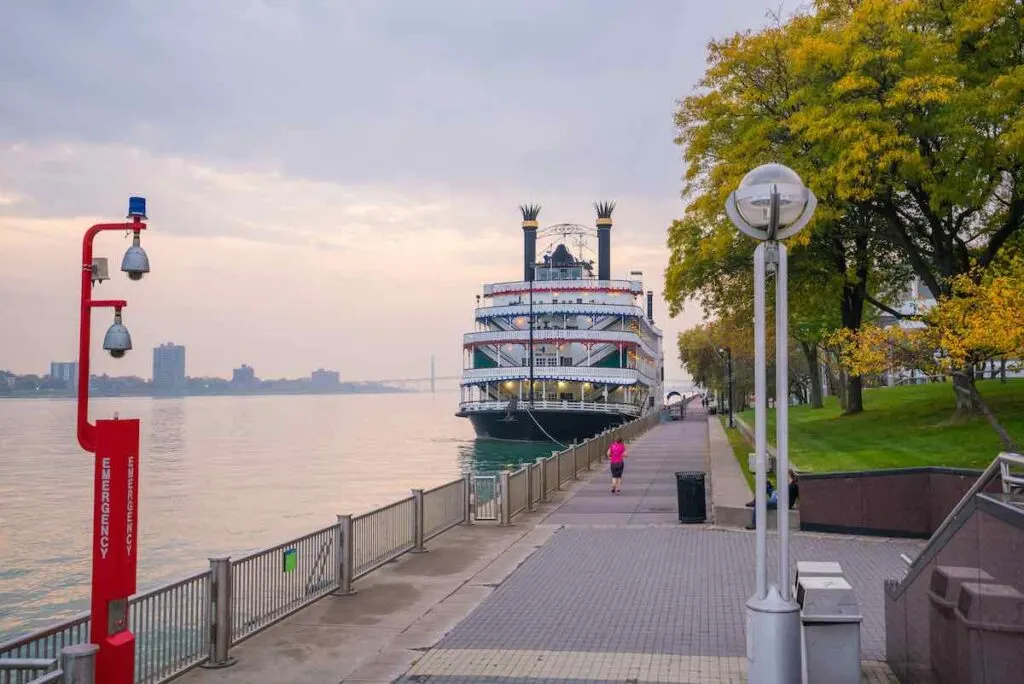 1. See a Show at the Fox Theater
There are hundreds of gorgeous theaters all around the country, but the Fox Theater is true without comparing things to do in Detroit. Its ornate interior and arresting exterior will take your breath away before your show starts! Even if you don't have time to stop in and see a show, you should at least visit the building and take a quick peek at it. It's a sight to behold when all the lights illuminate the building against the night sky.
Inside, the theater is gilded and opulent, full of vivid color and shimmering gold that will have your jaw on the gleaming floor. And this is all before you even get to your seat! The Fox will be playing host to comedy shows, musicals, shows for kids, and all sorts of other events this year. If you're visiting and looking for things to do in Detroit in the next couple of months, you could catch performances by John Mulaney, Chris Rock, Demi Lovato, and more! There's no shortage of things going on at this beautiful theater, and it should be near the top of your list of things to do in Detroit.
2. Tour the DIA
The Detroit Institute of Arts is another stunning location you can't miss during your time in Detroit. This tour is one of the best things to do in Detroit, especially if you happen to live in Wayne, Oakland, or Macomb county—if you do, you get in absolutely free. Don't worry if you don't live in these counties—it's not too expensive to get in. It'll run you about $14 for adults and $6 for children over five years old, plus $7 for parking, regardless of where you live. While there are events you can plan your visit around, even visiting on an ordinary day is enough to take your breath away. Their exhibitions are often changing, so no matter when you decide to visit, you'll likely encounter something you didn't see on a previous visit. If this is your first time, you'll experience something you might not get to see again! You'll see photography, paintings, sculptures, and all kinds of other pieces of art on display. The whole family will love adding this to your list of things to do in Detroit, regardless of age!
3. Drive by the Fisher Building
The Fisher Building isn't just home to Fisher Theater, another gorgeous staple of Detroit; it's also labeled a National Historic Landmark! It was built nearly 100 years ago; it's considered to be "Detroit's Largest Art Object." Though, standing at a whopping 30 stories—441 feet tall, if that helps you picture it—this one probably won't fit in a DIA display! While you can also catch a show here instead of or in addition to the Fox while looking for things to do in Detroit, if you don't have the time for all that, you should at least take the time to drive by and marvel at this art deco giant.
If you have room on your list of things to do in Detroit and decide to step inside, you'll be greeted by soaring mosaic ceilings, beautiful tiled floors, incredibly artful light fixtures, huge mirrors, and stunning columns. There's no shortage of photo ops here; if you're looking to make your friends and family jealous, snag a picture in one of the mirrors on the walls with the "Fisher Building" decal on them, or find a place to pose along the gold and black marble walls. In my opinion, it doesn't quite beat the splendor of the Fox, but you shouldn't miss visiting both if you can!
4. Walk Through Belle Isle Nature Center
Belle Isle Nature Center is located on, of course, Belle Isle Park. This island park is free to enter if you're walking or biking, but if you're going to be driving, make sure you purchase a Recreation Passport!
There are plenty of programs to participate in while visiting Belle Isle Nature Center and plenty of animals to look for as you make your way through the park! All programs are available free of charge, but you do need to make sure you register a spot to participate. It's one of the best things to do in Detroit for families!
Belle Isle is committed to educating all ages on best practices for conserving habitats and species. It's a great place to take your school-age kids or to learn something more yourself! It's run by the Detroit Zoological Society, which also runs the Detroit Zoo (we'll talk about that in a second!). The commitment to education and conservation stretches across both organizations. When it comes to things to do in Detroit, this is a great way to fit fun and education into one.
5. Catch a Game at Comerica Park
Goooo Tigers! Comerica Park is the place for baseball enthusiasts, and going to a game there is one of my favorite things to do in Detroit. There's nothing quite like the roar of the crowd and the thrill of rooting for your favorite player, and this is coming from someone who isn't super enthusiastic about sports, so you know it has to be fun! Here you can indulge in your inner sports fan as you cheer the Tigers on—or your home team if you're visiting from another state—with popcorn, hot dog, cotton candy, and roasted almonds in hand. This sport is a classically American summer activity you absolutely want to participate in while considering things to do in Detroit.
Unlike other sports arenas, you're not really going to find anything but baseball here, so don't plan on tracking down concerts or other performances at Comerica. This space is strictly a baseball-centered destination. Still, if you want to know which teams are going head-to-head throughout your trip, check the schedule to make sure you're coming into town at the right time to catch the game you want to see. After all, some are going to be more exciting than others!
6. Explore the Detroit Zoo
Now, this is my favorite of my favorites when it comes to things to do in Detroit. The Detroit Zoo is technically located in Royal Oak, but hey, Detroit's in the name—it counts! (Plus, Royal Oak is only about 15 minutes from Detroit proper; hardly a far trip if you're already hanging out in Detroit itself!) The Detroit Zoo falls under the umbrella of the Detroit Zoological Society, just like the Belle Isle Conservatory. They're committed to conservation work, improving animal welfare, educating guests, and more! The animals in the zoo have all kinds of backgrounds; some are part of efforts to increase endangered species populations through captive breeding (Panamanian Golden Frogs). Others were injured in the wild and couldn't return after recovery (bald eagles); still, others were born at the zoo (aardvarks, lionesses, and more!).
Another favorite thing to do in the Detroit Zoo is to visit the Wildlife Interpretive Gallery; it's home to art exhibits in the front of the building, but as you walk further in, you'll find yourself entering the butterfly garden! You can walk through this gorgeous garden among a host of beautiful butterfly species free-flying through the air, landing on butterfly feeders, flowers, and occasionally people! You're told to watch your every step to avoid squishing any of these jewel-toned little friends, and before you move on to the next section of the building, a volunteer will look you over to ensure you haven't accidentally picked up a stowaway! Sometimes the butterflies like to hitch rides on people's clothes.
Once you finish your time in the butterfly garden, you'll enter the free-flight aviary, similar to the butterfly garden, but this time, you'll be surrounded by bird species from pigeons to parrots! There's a walking path in this section of the gallery, so it's a bit less open than the butterfly garden, but you still might come across a bird or two in your path.
7. Tackle Boredom by Visiting Ford Field
This field might not be the first thing that comes to mind when you think of things to do in Detroit, but I promise, catching a Lion's game is a great experience!
Listen, you can't make a joke about the Detroit Lions that I haven't already heard, okay? But say what you will about their win/loss record, a Lions game will always leave you on the edge of your seat. They're a team with a habit of coming back in the last half or losing in the last half. But either way, you're definitely not going to be bored when you visit Ford Field. If you're lucky enough to catch them on a good day, you can brag to your friends that you're the good-luck charm!
Of course, football's not the only thing that happens at Ford Field. You can also catch concerts and other fun things going on! Just check the schedule of upcoming events and see which one(s) you want to attend!
8. Visit the Motown Museum
Music fans, this is one of the things to do in Detroit that you simply cannot miss! The Motown Museum is located in the original home of "Hitsville USA," the first Motown recording studio. According to the website, "As an irresistible force of social and cultural change, the legendary Motown catalog made its mark on not just the music industry, but society at large. With its catchy melodies and universal messages, the Motown Sound has become one of the most significant musical accomplishments and stunning success stories of the 20th century."
As far as things to do in Detroit, this is one of the most popular. In fact, it's so popular that Beyonce herself paid it a visit. According to the museum's website, she had to say: "My family and I visited the Motown Museum. I wouldn't be here if it wasn't for all of the sacrifice, the brain power, and the magic, and the talent from Berry Gordy, Diana Ross, Marvin Gaye, Stevie Wonder, Smokey Robinson—all of the legends that paved the way for me to be on the stage today."
9. Head to the Eastern Market
Are you a shopping addict at heart? Looking for some delicious local food and produce? Whatever the case, the Eastern Market is waiting for you! Depending on which day of the week you visit, you'll come across a different "market" available for perusing; for instance, if you visit on Tuesday, you'll mainly discover food (produce, baked goods, meat, and more!), but that's not all you'll find. If you're a bit of a fitness guru or want to become one, you'll also be able to participate in free fitness classes such as yoga! This market is the perfect place to go if you're looking to spend your money on something of substance instead of some touristy t-shirt or keychain—this is authentic Detroit at its finest!
Wrapping Up the Best Things to Do in Detroit
There you have it! All the best things to do in Detroit, MI. If you initially thought Detroit was only about cars, I hope this list has helped you realize there's so much more to this bustling, lively city! Whether you decide to try one, two, or all of these things to do in Detroit, you're sure to have the time of your life exploring the Motor City. I can't recommend it enough!
Expand your Michigan vacation even further by choosing from the best beaches in Michigan to visit.