Described as a 'down-home metropolis,' the city of Ann Arbor, bisected by the Huron River about 40 miles west of Detroit, is an intriguing mix of old and new underpinned by the presence of the University of Michigan, one of the top universities in the country.
Not surprisingly, the university gives Ann Arbor much of its cultural vibe. Still, a respect for the city's nearly 200-year history also contributes to giving Ann Arbor a sense of place that makes it attractive to visitors and residents.
Read on to learn about things to do in Ann Arbor city, Michigan, the best places, and the restaurants to visit.
Top Things to Do in Ann Arbor City
1. Ann Arbor Summer Festival
Although you've just missed it this year, don't fret — the Ann Arbor Summer Festival, shorthanded as A2SF — is one of the regular things to do in Ann Arbor city. Each year, A2SF brings a seemingly endless array of music, culture, and fun for all ages to the city from March to early July, with June crowded with events.
Among this year's A2SF events was a concert by eclectic Ann Arbor band Jive Colossus, a sidewalk chalk drawing day, and even a chance to make your pewter sand casting. You'll also watch circus performers and enjoy some of the best street food in the city.
2. Catch a Football Game at Michigan Stadium
One of the first things people think about Ann Arbor is the University of Michigan. This prestigious university is responsible for bringing a ton of commerce and business to the city, thanks largely to its athletic programs.
The Wolverines are among the country's best and most popular NCAA football teams, bringing tens of thousands of visitors to Ann Arbor annually. They play their games in a stadium nicknamed the "Big House," the largest stadium in the US and one of the biggest in the world. Attending a game in this historic stadium is easily one of the top things in Ann Arbor city.
3. Check Out Matthaei Botanical Gardens and Nichols Arboretum
If you're a fan of greenery and botanical gardens, visiting the Matthaei Botanical Gardens and Nichols Arboretum is two of the top things to do in Ann Arbor city. While they're separate entities, they're equally breathtaking and relaxing. Because they're both owned and managed by the University of Michigan, it makes sense to take both attractions in on the same day.
You'll have the chance to see more ecological and biological diversity than you ever thought possible in a place like Michigan. Everything from bonsai trees to desert plains to fields of wildflowers can be seen at these locations.
4. Visit the University of Michigan Museums of Art and Natural History
The Museums of Art and Natural History should be at the top of your list for those of you looking for educational things to do in Ann Arbor city. Once again, these are two separate museums, but the University of Michigan operates them.
These are also great spots to check out if you have kids or are looking for something free to do. You'll see a wide variety of exhibits and have the chance to participate in hands-on learning experiences.
5. Hit Up Legoland
While the Legoland Discovery Center is one of the best things to do in Ann Arbor city for kids, it's also a ton of fun for adults. It's as close to going to Disneyland as you can in Michigan.
The Discovery Center in Ann Arbor has everything from rides to a theater to arcade games and, of course, tons of legos! There's an aquarium and one of the biggest playgrounds you'll ever see.
6. Go Ice Skating
No matter what time of year you go to Ann Arbor, you'll have the opportunity to ice skate at one of the top skating rinks in the country. The Ann Arbor Ice Cube has not one but three different skating surfaces within the rink. They also have a cafe, fitness center, arcade area, deli, and more.
While ice skating is the top thing to do at this ice rink, it's a place for everyone, whether you like skating or not. It's a hotspot and one of Ann Arbor city's best things to do.
Top Places to Visit in Ann Arbor
7. Ann Arbor Hands-On Museum
Leading the category of fun-for-all-ages things to do in Ann Arbor city is the Ann Arbor Hands-On Museum, an interactive learning environment that surprises young and old alike from the minute of walking up the steps and activating the keys on a virtual piano.
The 250-exhibit museum also includes an H2O Room where various spouts and sprays teach lessons about water, a sound room where youngsters can make their music, a dance area with lasers that react to body heat, and a rock wall for climbing.
8. Kerrytown
Located a few blocks from downtown Ann Arbor, Kerrytown — named after County Kerry, Ireland — is a historic district that brings together the old and the new of the city.
Part of the original village of Ann Arbor, the old buildings of Kerrytown have converted into markets and shops six decades ago and have been scrupulously maintained since that time.
Today, the buildings host many mom-and-pop shops and cafes with outdoor seating. Kerrytown also is the setting for weekend farmer's markets and frequent music festivals arrayed along the neighborhood's red brick streets. With its ideal location and wide array of activities, visiting Kerrytown is one of the best things to do in Ann Arbor city.
9. Hudson Mills Metropark
Just north of Ann Arbor in the city of Dexter is the Hudson Mills Metropark. Located on the Huron River, the park offers visitors fishing, hiking, golfing (including disc golfers), and paddling.
The picturesque setting includes an 18-hole golf course, two 24-hole disc golf courses, and trails for hiking and biking. In winter, Hudson Mills Metropark offers cross-country ski trails, adding a seasonal twist to things to do in Ann Arbor city.
The Hudson Hills Metropark consists of 1,500 acres of sprawling terrain and is the best place in Ann Arbor to get fresh air outside the city.
10. Lillie Park
If you're looking for more outdoorsy things to do in Ann Arbor city, you should check out Lillie Park. This park isn't quite as big or grand as the Metropark listed above, but it's located in the center of Ann Arbor and is just a short drive from anywhere within the city.
The park has a few hiking and biking trails and is also the perfect spot for an afternoon picnic or to go fishing.
11. The Michigan Theatre
The Michigan Theatre was originally constructed in the 1920s, making it one of the oldest movie theaters in the country. While it's had its ups and downs throughout its century-long existence, the Michigan Theatre is now considered a state treasure. Attending a film or event here is easily one of the best things to do in Ann Arbor city.
12. Hill Auditorium
Staying in the entertainment vein, let's look at another historical place of music and theater – Hill Auditorium. Hill Auditorium is even older and more popular than the Michigan Theatre. It has hosted various musical and theatrical events, including everything from rock and heavy metal to classical and jazz.
Hill Auditorium is one of few buildings that has maintained its classic architecture while having excellent, modernized acoustics. It's undergone interior renovations throughout the years to improve certain aspects, but the structure's overall integrity has never been altered. There literally isn't a bad seat in the house!
Top Places to Eat in Ann Arbor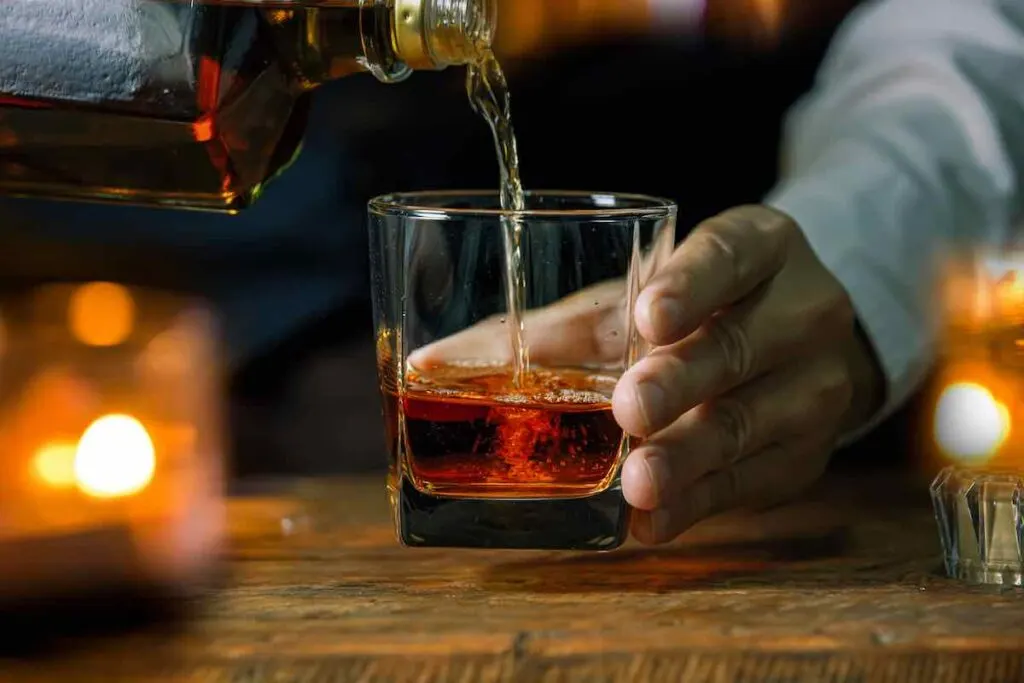 13. Krazy Jim's Blimpy Burger
Krazy Jim's Blimpy Burger, at 304 S. Ashley St., is the city's oldest burger joint, in operation since 1953. Your burger is made in front of you as you move along the serving line, so before you go, it might be helpful to get familiar with the Blimpy Burger ordering process, helpfully made available on its website.
The history and eclectic atmosphere of Krazy Jim's make this restaurant more than a great spot to grab a bite. They also make it a local attraction and one of the top things to do in Ann Arbor city.
14. HopCat
After doing a number of the top things in Ann Arbor city, you will need somewhere to refresh and relax. There are few better places to do that than at the historic HopCat. The HopCat is one of the top restaurants and breweries in the city, and they typically offer over 100 different beers to choose from and one of the best atmospheres in Ann Arbor.
If you're hungry, the HopCat also has an extensive menu of pub favorites, including wings, burgers, fries, and much more. You'll come for the beer and food but stay for the live music and special events that are typically held at the HopCat.
15. The Last Word
Whether you love speakeasies or have never been to one in your life, visiting The Last Word is a must. The Last Word has an underground location and one of the most interesting and comfortable interiors you'll find. As its name indicates, most of the cocktails and beverages at the Last Word have a literary theme, and the menu is in the form of a book.
While the style and concept might be a tad quirky, the drinks and food are absolutely to die for! The Last Word is one of the classiest bars in the city and a truly unique experience that you won't want to miss out on.
16. Chateau Aeronatique Winery
In most cases, wine and airplanes don't go together. However, at Chateau Aeronatique Winery, the two combine perfectly and make for one of the most unique and enjoyable things to do in Ann Arbor city.
Located just outside Ann Arbor in nearby Jackson, Michigan, this winery was founded by a former pilot, which explains the interesting decor. The winery's interior consists of airplane seats, faux grass runways, vintage planes, and anything else airplane related.
In addition to the unique decor, Chateau Aeronatique Winery has some of the best wines in the state. They also have a brewery on site and host a variety of music venues on weekends.
17. Zingerman's Bakehouse
If you're a foodie and you want one of the unique culinary experiences in Ann Arbor, you have to hit up Zingerman's Bakehouse. Not only does Zingerman's Bakehouse have a great name, but it's also the premier bakery in the city. They offer a wide variety of cakes, cookies, pastries, bread, free samples, and even cooking classes.
If you enjoy your experience at the bakehouse, you should head over to Zingerman's Creamery, Zingerman's Delicatessen, or Zingerman's Coffee Company. While each location offers a different delight, they're all made with the same Zingerman quality.
Wrapping Up the Best Things to Do in Ann Arbor City
As you can see, there are tons of fun places and things to do in Ann Arbor city. It truly is a hidden gem of a city tucked away in southeastern Michigan. From educational and informative stops to truly unique restaurants and experiences, you would do well to add Ann Arbor to your list of places to go.
Expand your Michigan vacation even further by choosing from the best beaches in Michigan to visit.