Michigan offers a diverse array of retirement communities that cater to seniors looking for a comfortable and engaging environment to spend their golden years. With a variety of amenities, recreational activities, and locations to choose from, retirees can find the perfect balance of convenience and charm in the Great Lakes State. The state boasts many benefits, such as affordable living, beautiful landscapes, and excellent healthcare facilities.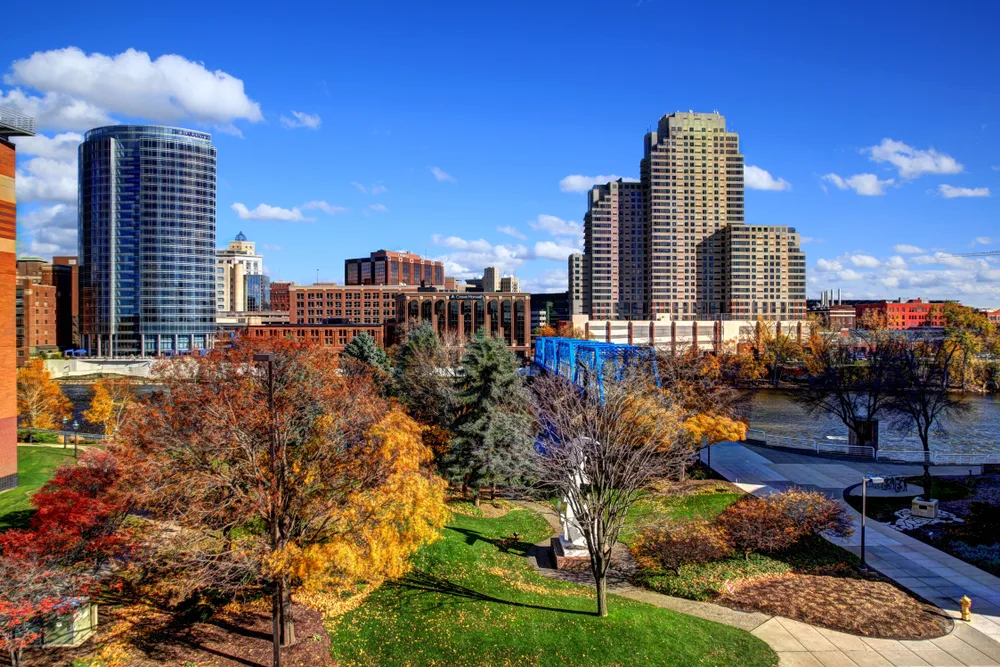 As retirees search for the best place to call home, they can consider various types of retirement communities that cater to diverse preferences and needs. From age-restricted communities to those that welcome all ages, Michigan offers plenty of options. Additionally, the state prides itself on prioritizing safety and healthcare through top-rated medical facilities and senior care centers.
Michigan's unique features, including its stunning lakes, offer a wealth of recreational activities and attractions for seniors to enjoy. Whether they prefer exploring nature or indulging in cultural events, there is something for everyone in Michigan's retirement communities. As retirees plan their future, considering these factors will help them make the best decision for their lifestyle and preferences.
Key Takeaways
Michigan offers diverse retirement communities with various amenities and features for seniors
Top priorities for retirees should include healthcare, safety, and recreational opportunities in the area
Consider the unique qualities and attractions of Michigan when planning retirement
Best Places to Retire in Michigan
Ann Arbor
Ann Arbor, home to the University of Michigan, offers retirees a vibrant and cultured atmosphere. This city features numerous art galleries, museums, and theaters, as well as top-notch healthcare services. The relatively low crime rate, various housing options, and abundant green spaces make Ann Arbor an ideal place to call home during retirement.
Grand Rapids
Located about an hour north of Kalamazoo, Grand Rapids is a diverse and dynamic city with a population of just under 200,000 residents. It offers a bustling urban environment while still maintaining a sense of small-town charm. With a thriving art scene, excellent healthcare facilities, and a range of housing options, Grand Rapids is another beautiful place to retire in Michigan.
Traverse City
Known for its "pinky finger" location on the Michigan mitten, Traverse City sits on the picturesque Grand Traverse Bay. With a population of around 15,000, this popular vacation resort area offers seniors top-notch healthcare services, scenic landscapes, and recreational opportunities. Traverse City's welcoming community makes it one of the best places to retire in Michigan.
Lake St. Clair
Situated between Lake Huron and Lake Erie, Lake St. Clair is a stunning freshwater lake that caters to retirees in search of natural beauty and outdoor activities. The surrounding communities provide a range of housing options, from waterfront homes to cozy family neighborhoods, all while still maintaining easy access to essential services and shopping centers.
Sterling Heights
As a suburb of Detroit, Sterling Heights provides retirees with a relaxed suburban environment, excellent healthcare facilities, and close proximity to the city's various cultural and recreational attractions. Sterling Heights is known for its well-maintained parks and recreational facilities, making it a perfect place for those seeking the ideal balance of city life and serene natural settings.
Types of Retirement Communities
Active Adult Communities
Active adult communities are designed for individuals 55 years and older, who seek an engaged, social and low-maintenance lifestyle. These communities typically offer a range of options, such as single-family homes, townhomes, and condominiums. They often feature amenities such as clubhouses, fitness centers, and organized social activities. Some examples in Michigan are:
Storypoint Rockford
Ganton's Countryside
Independent Living Communities
Independent living communities cater to seniors who desire a maintenance-free lifestyle without the need for extensive care services. These communities often include apartment-style living with communal areas for socializing, dining, and recreational activities. The 13 best independent living communities in Michigan, according to US News Health, offer a blend of comfort and convenience for retirees:
John Ganton's Countryside
Rochester
Assisted Living Communities
Assisted living communities provide a combination of housing, support services, and healthcare for seniors who need help with daily activities but don't require extensive medical care. These communities often offer personalized care plans, social activities, and on-site staff to help residents maintain their independence. Some top communities in Michigan include:
Storypoint Rockford
Ganton's Countryside
Memory Care Communities
Memory care communities are specifically tailored to meet the unique needs of seniors with Alzheimer's disease, dementia, and other memory-related conditions. These communities provide specialized care through trained staff, secured environments, and customized activities to enhance quality of life and promote cognitive support. Examples of Michigan memory care communities are:
Skilled Nursing Care Communities
Skilled nursing care communities, often part of a larger retirement community network, offer round-the-clock medical care and supervision for seniors with complex health needs. Residents have access to rehabilitation services, specialized care, and comprehensive medical attention. John Ganton's Countryside in Michigan is an example of a community providing skilled nursing care services.
Cost Considerations
When looking for the best retirement communities in Michigan, it's essential to consider the various costs associated with living in the state. These costs can include the overall cost of living, cost of assisted living, real estate prices, and the state's economy.
Michigan has a relatively low cost of living, making it an attractive destination for retirees. According to the Bureau of Labor Statistics' Consumer Expenditure Survey, the typical retirement-age American spent $52,141 in 2021. Adjusting this figure for the average state-level cost of living, inflation, and average life expectancy at age 65 – plus a 15% financial cushion – Michigan residents can reasonably expect to spend, on average, $1,250,105 over the course of their retirement.
The cost of assisted living in Michigan is also a crucial consideration for those looking for a retirement community. On average, the cost of assisted living in the state ranges from $3,000 to $7,000 per month, depending on factors such as location, size of the residence, and level of care provided. Keep in mind that these costs can vary, and it's essential to research the specific communities you are interested in to get a better understanding of their offerings and associated fees.
Real estate in Michigan can be quite affordable, making it an attractive option for retirees looking to downsize or invest in a new home. While prices vary depending on the area, the state as a whole has a median home value of around $170,000. Some popular retirement communities boast competitive real estate prices, allowing retirees to find suitable housing without breaking the bank.
Lastly, it's crucial to consider Michigan's economy when looking at retirement communities. The state has a diverse economy with industries such as automotive, healthcare, and information technology leading the way. This diverse economy provides ample job opportunities for retirees who may want to work part-time or start a new career in their golden years. Additionally, the stable economy can positively impact the real estate market and overall cost of living, making Michigan an overall attractive option for retirees.
Safety and Healthcare
Retirement communities in Michigan prioritize safety and healthcare to support their senior residents. With access to quality medical facilities and specialized care services, elderly residents can maintain their wellbeing throughout their retirement years.
Michigan's retirement communities provide a safe environment for retirees. Many facilities offer security features such as gated entrances, 24-hour emergency services, and well-lit walking paths. Additionally, these communities implement safety measures to reduce the risk of falls and accidents, such as installing grab bars in bathrooms, spacious hallways, and non-slip flooring.
The state's retirement communities also have healthcare services, including access to nearby hospitals. This ensures that seniors have timely access to medical professionals in case of emergencies or for routine checkups. Furthermore, Michigan is home to several well-regarded healthcare facilities, which cater primarily to geriatric patients.
For seniors requiring nursing care, Michigan offers a variety of skilled nursing facilities within retirement communities. These services provide personalized care plans for residents with various medical needs, such as physical therapy, medication management, and ongoing health monitoring. Additionally, Michigan has numerous Continuing Care Retirement Communities (CCRCs), which combine independent living, assisted living, and skilled nursing care, enabling seniors to transition between care levels as their needs change.
Dementia and Alzheimer's care are crucial components of healthcare for seniors in Michigan. Many retirement communities offer memory care units designed specifically to cater to residents with cognitive impairments. These facilities provide a secure environment with structured routines, specially trained staff, and supportive services to help seniors maintain their cognitive skills and improve their quality of life.
Recreational Activities and Attractions
Outdoor Activities
Michigan is an ideal location for retirees who enjoy a variety of outdoor activities. With its numerous lakes and rivers, boating and fishing are popular pastimes in the area. Golf enthusiasts will appreciate the state's plentiful golf courses, many of which are found within or near retirement communities like Grand Reserve and Talnuck at Oakhurst.
Apart from water-based activities, retirees can also take advantage of Michigan's varied seasons by engaging in activities such as:
Hiking: Explore the picturesque sceneries of the state's nature trails and parks.
Biking: Traverse Michigan's extensive network of paved and off-road bike paths.
Winter sports: Embrace the colder months with activities like skiing, snowboarding, and snowshoeing.
Culture and Entertainment
Michigan also offers a wealth of cultural and entertainment options for active adults looking to stay engaged and social. Some highlights include:
Detroit River: Stroll along the riverfront and take in the stunning skyline views of both Detroit and Windsor, Canada.
Mackinac Island: Delight in the charming atmosphere, famous fudge shops, and historical sites on this car-free island.
University of Michigan in Ann Arbor: Attend lectures, concerts, and sporting events at this prestigious institution.
The state is home to a rich arts scene, with numerous museums, galleries, and theaters to explore. Additionally, residents of retirement communities can enjoy social events organized within their neighborhoods, fostering a strong sense of community and encouraging new friendships.
Retirement Community Amenities
Retirement communities in Michigan offer a wide range of amenities to cater to the diverse needs and preferences of their residents. These communities typically provide a variety of housing options such as homes, villas, and apartments that are designed with seniors' safety and comfort in mind. Many of these properties feature single-story designs, accessible floor plans, and low-maintenance yards to ensure a hassle-free living experience for retirees.
One significant aspect of these communities is the focus on personal care and nursing services for those who may require assistance with daily living activities or medical needs. Many retirement communities offer on-site nursing care and medical facilities. This ensures that residents have access to medical professionals and support staff whenever needed.
Additionally, socialization and recreation play a vital role in the overall well-being of seniors. Retirement communities in Michigan cater to this aspect by providing a variety of options such as fitness centers, swimming pools, golf courses, and walking trails. They often have planned activities and events that enable residents to stay engaged and connected with their neighbors.
Eating well is essential for maintaining good health, especially during the golden years. To make sure residents can enjoy well-balanced and nutritious meals, retirement communities in Michigan typically have on-site dining options. These may include casual cafes, elegant restaurants, and catering services for special events. Many communities allow residents to choose meal plans that suit their preferences and dietary requirements.
Michigan's Unique Features
Michigan, also known as the Great Lakes State or the Wolverine State, has a lot to offer retirees. With its vast freshwater coastline, beautiful lakes, and rich cultural heritage, it's no wonder that many people choose to spend their golden years in this state.
One of the main attractions in Michigan is its abundance of lakes, making it a paradise for water enthusiasts. Whether you enjoy fishing, boating, or simply taking in the views, the state's numerous lakes offer plenty of opportunities for outdoor activities. In particular, the region around Petoskey provides a picturesque setting for retirees who love nature.
Besides its natural beauty, Michigan has a rich industrial history, particularly in the production of iron. This legacy has contributed to the state's unique character and offers retirees the chance to visit fascinating historical sites and museums throughout their retirement.
Several communities in Michigan stand out as great places to retire, thanks to their excellent amenities and charming atmospheres. Farmington, for example, ranks as the sixth-best place to retire in the entire country, with a high number of medical centers per 1,000 residents and a robust offering of recreation centers.
Other attractive options for retirees include Rochester, Brighton, and Grand Blanc, each of which boasts a range of essential services and local amenities. Additionally, the picturesque town of Frankenmuth is known for its Bavarian-style architecture and charming downtown area, making it an appealing choice for those looking to settle down in a quaint and distinctive setting.
Planning Your Retirement
When planning your retirement in Michigan, it's important to consider various factors, such as population demographics, availability of services for older adults, and activities that cater to retirees. Michigan is home to diverse cities with plenty of local attractions and natural beauty, making it a popular choice for retirees looking to spend their golden years in a vibrant environment.
One crucial aspect to consider is the population of retirees and older adults in the area. Michigan offers numerous retirement communities that cater to the specific needs of this demographic. These communities often provide services for activities of daily living (ADLs), allowing older adults to maintain a comfortable and independent lifestyle while receiving the necessary care and assistance.
Financing your retirement should also be a priority. It's essential to understand how your personal finances, including your IRA or other retirement accounts, will provide for your living expenses to ensure a stable and stress-free retirement. Investigate the availability and eligibility requirements for Medicaid benefits in Michigan, as these can help cover expenses related to long-term care or assisted living.
Retirees keen on aging in place should focus on finding a community that promotes an active and engaged lifestyle. Michigan boasts numerous 55+ communities that cater to various interests, offering amenities like golf courses, fitness centers, and social clubs, creating an environment where older adults can thrive. Moreover, many Michigan independent living communities are located near medical centers, providing retirees with convenient access to healthcare services.