Southeast Michigan is home to a plethora of beautiful beaches that offer the perfect getaway for both locals and tourists alike. From the shores of Lake Huron to the stunning coastline of Lake Michigan, there's no shortage of waterfront locations to explore and enjoy. Whether you prefer lounging on sandy shores, participating in water sports, or visiting charming beach towns, these beaches in Southeast Michigan cater to diverse interests and guarantee to leave visitors with lasting memories.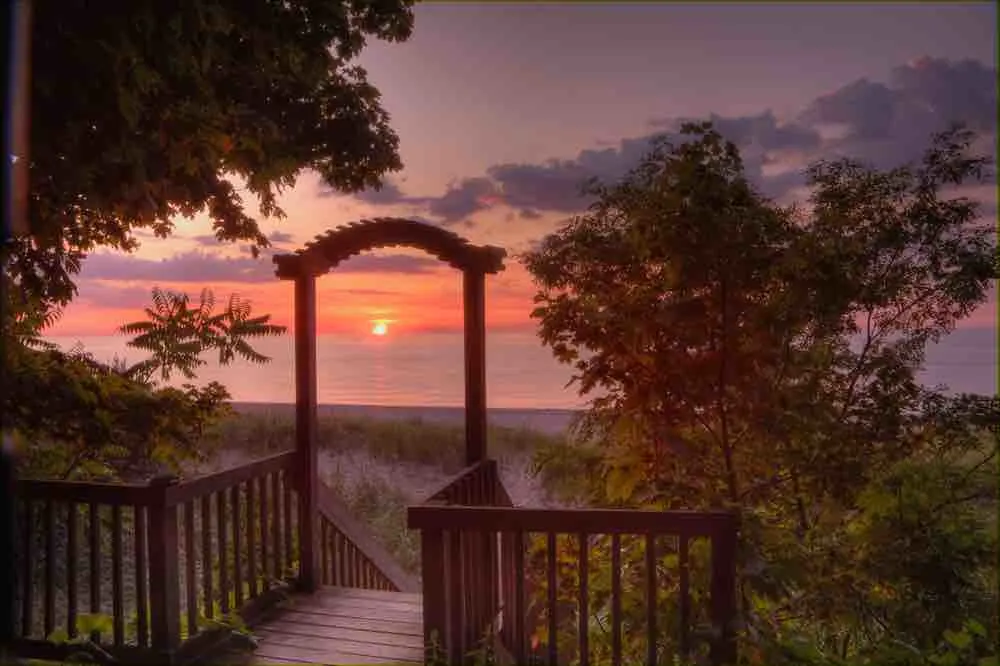 Among these picturesque destinations, Belle Isle Beach in Detroit boasts spectacular views of the city skyline and Ambassador Bridge, offering a unique mix of urban flair and natural beauty. Meanwhile, the expansive Huron-Clinton Metropark system provides numerous parks and beaches to choose from, including the popular Lake St. Clair Metropark in Harrison Township. No matter your preference, Southeast Michigan's beaches promise unforgettable experiences for every traveler.
Key Takeaways
Southeast Michigan offers a wide variety of beautiful beaches for relaxation and recreation.
The region's shoreline along Lake Huron, Lake Michigan, and Lake Erie provides diverse beach experiences and scenic views.
State parks and beach towns in Southeast Michigan cater to different interests and promise memorable waterfront adventures.
Discovering Lake Huron
Lake Huron is one of the fascinating Great Lakes, offering visitors a stunning shoreline and beautiful beaches in southeast Michigan. Its massive size makes it the third-largest freshwater lake by surface area and the second-largest by volume in North America. With a diverse range of landscapes, Lake Huron has something for every beach-goer, whether you prefer sandy beaches for sunbathing or rocky shores for exploring.
In this region, you'll find an array of beaches perfect for swimming, relaxing, or simply taking in the captivating views of the lake. The crystal-clear waters in some areas make for an ideal swimming experience, while other stretches of the shoreline boast rockier coasts, perfect for adventuring or searching for lighthouses. Visitors can expect to enjoy an unparalleled view of the sprawling lake, set against the picturesque backdrop of the Michigan landscape.
Along the southeastern shoreline of Lake Huron, some of the notable beaches include Port Huron Beach, Lexington Beach, and Fort Gratiot County Park Beach. These beaches offer visitors the perfect setting to unwind, swim, and sunbathe on sunny days. Moreover, opportunities for water sports abound, including kayaking and paddleboarding, ensuring fun for the entire family.
One of the unique aspects of Lake Huron is its rich history, which is evident in the numerous lighthouses dotting its shoreline. Visiting these historic structures can provide insight into the maritime past of the area and a deeper appreciation for the role lighthouses played in guiding sailors through the treacherous waters of the Great Lakes.
As you explore the southeast Michigan shoreline of Lake Huron, prepare to be amazed by its beauty and diversity. From picturesque beaches to historic lighthouses, there's something for everyone to enjoy. So, venture on and take in all this iconic lake has to offer.
Exploring Lake Michigan
Lake Michigan, with over 1,600 miles of shoreline touching Illinois, Michigan, Indiana, and Wisconsin, offers numerous stunning sandy beaches for visitors to explore. Whether you're looking for a day filled with swimming and volleyball or a relaxed outing near the lakeshore, there's a beach here that caters to your needs.
Saugatuck is a popular destination for tourists, known for its charming downtown area and vibrant arts scene. Among the top local attractions is Oval Beach, a picturesque sandy stretch that welcomes sunbathers and beachgoers. The area is also ideal for watersports like kayaking. When hunger strikes, visitors can find a delightful array of nearby restaurants featuring diverse food offerings.
For those seeking a more adventurous experience, Sleeping Bear Dunes National Lakeshore on the Michigan side is an excellent option. Visitors can embark on hiking and biking trails through the park, stopping by the gorgeous Esch Beach located at the mouth of Otter Creek. The area boasts clear, blue waters that are perfect for swimming, and the sand is ideal for lounging or building sandcastles.
A trip to Lake Michigan is incomplete without a visit to the lakeside towns of South Haven and Grand Haven. Both offer beautiful Lake Michigan beaches ideal for swimming, sunbathing, and taking leisurely walks along the shoreline. South Haven has a lively harbor that often hosts events and sailboat races, while Grand Haven presents the striking Grand Haven State Park sand dunes.
Whether it's exploring Michigan's shoreline, swimming in the blue waters, or engaging in outdoor activities, Lake Michigan provides an exciting and memorable beach experience for all visitors.
Enjoying Lake Erie
Lake Erie, one of Michigan's Great Lakes, offers an array of picturesque beaches in the southeast region for locals and tourists alike. The smallest and shallowest of the Great Lakes, Lake Erie's water tends to be warmer than other lakes, providing a more comfortable swimming experience.
One popular spot on Lake Erie's shoreline is Sterling State Park in Monroe. This park boasts Michigan's largest public beach on Lake Erie, with over a mile of sandy shoreline. Here, you can enjoy various activities such as swimming, sunbathing, and beach volleyball. There is also a picnic area, making it a perfect location for spending a leisurely day with friends and family.
In addition to recreational activities, beachgoers at Sterling State Park can also admire the beauty of nearby lighthouses, adding a touch of history and charm to the scenic landscape. For your convenience, restrooms are available on-site.
So, when planning a visit to southeast Michigan, make sure to take the opportunity to enjoy the serene waters and inviting sands of Lake Erie's beaches. Their diverse offerings cater to the needs of beach enthusiasts, whether they prefer sunbathing, swimming, or exploring shoreline treasures.
Visiting Lake St. Clair
Lake St. Clair, located in southeastern Michigan, is home to some beautiful beaches and shoreline perfect for a summer getaway. One of the most popular spots at Lake St. Clair is the Lake St. Clair Metropark, also known as Metro Beach, featuring a 1,000-foot sandy beach area for visitors to enjoy.
While visiting the park, you can indulge in various recreational activities such as boating, swimming, and volleyball. The park offers a mile of shoreline and a 600-foot beach, with a 1,600-foot lakeside boardwalk providing stunning views of the lake. The calm waters make it an ideal location for kayaking, paddleboarding, and other water sports. Rentals for kayaks and stand-up paddleboards are available for those who wish to explore the waters further.
For families with children, the Lake St. Clair Metropark provides a fun playground area, ensuring kids have an enjoyable time. Additionally, the park offers a picnic area for visitors to relax and dine on-site, making it a complete family destination.
The sandy beaches and stunning lakefront make Lake St. Clair one of the top choices for beachgoers in southeast Michigan. Visitors can expect a pleasant experience with ample opportunities for both relaxation and outdoor activities in this beautiful setting.
Inland Lakes in Southeast Michigan
Southeast Michigan is home to a variety of picturesque inland lakes, offering an array of recreational activities. One of the prominent lakes in this region is Kent Lake, located within Kensington Metropark, a popular destination for outdoor enthusiasts.
Visitors to Kent Lake can enjoy a day at the swimming beach, where they have access to a beautiful sandy shoreline and crystal-clear waters. Beachgoers are provided with numerous amenities such as a boardwalk, picnic area, and a playground for children. It's an ideal location for families to spend a relaxing day in Southeast Michigan.
In addition to spending time at the beach, there is a multitude of activities to engage in around Kent Lake. Hiking trails wind through scenic landscapes, offering a chance for visitors to connect with nature. The park boasts miles of trails for both hiking and biking, catering to all fitness levels and preferences.
For those who love water sports, Kent Lake is an ideal destination, as it offers various options, including boating, kayaking, and paddleboarding. Volleyball enthusiasts can also find a dedicated area within the park to play and enjoy the sport.
Adventures at State Parks
Southeast Michigan boasts an array of beautiful beaches and state parks, providing locals and visitors with countless opportunities for outdoor adventures. One such gem is Warren Dunes State Park, offering three miles of pristine shoreline, towering sand dunes, and over six miles of hiking trails. The park accommodates campers with several modern campgrounds, making it an ideal destination for weekend getaways.
Another must-visit is Ludington State Park, known for its diverse landscape, including dunes, forests, and wetlands. With 18 miles of hiking trails, it caters to avid hikers and nature lovers. The park is also home to several campgrounds, some offering cabins for visitors who prefer a more comfortable stay. Ample parking and modern facilities ensure a convenient and enjoyable experience for visitors.
Sleeping Bear Dunes National Lakeshore is yet another treasure in Michigan. Covering 35 miles of Lake Michigan's eastern coastline, this park features massive sand dunes, offering unforgettable views and hiking opportunities. Although not a state park, Sleeping Bear Dunes deserves a mention for its unique landscape and recreational opportunities.
If you're searching for a thrilling outdoor adventure, Silver Lake Sand Dunes should be on your list. This 2,000-acre park contains both wooded areas and large sand dunes, perfect for off-road vehicle enthusiasts. State park facilities include campgrounds, hiking trails, and restrooms, ensuring visitors have a comfortable and exciting experience.
Many of these state parks are situated near charming beach towns which add to their appeal. Visitors can enjoy an array of water activities, including swimming, boating, and fishing. Hiking and biking trails are available for those who prefer land-based pursuits, while campgrounds and cabins accommodate overnight stays.
Beach Towns and Beach Experiences
In Southeast Michigan, there are several beach towns that offer unique experiences for visitors. Grand Haven and South Haven are both popular destinations with beautiful sandy shores. Grand Haven is known for its lively downtown area, featuring local restaurants, shopping, and boutiques. South Haven, located on the Lake Michigan shore, is perfect for a relaxing day at the beach, with options for water activities such as boating or paddleboarding.
Traverse City is another excellent beach destination, boasting public beaches, white sand, and picnic areas that make for a delightful day. You can also explore the downtown area, packed with charming shops and fine dining establishments. Traverse City hosts the National Cherry Festival, a popular event that attracts thousands of visitors every year.
St. Joseph should not be missed, offering beautiful Silver Beach, one of the area's top-rated beaches. The town also boasts picturesque views, an iconic lighthouse, and a vibrant downtown area, including a variety of restaurants and shopping options. Silver Beach provides amenities like a playground, concessions, and picnic tables, ensuring a fun-filled day for all ages.
Holland State Park is a must-visit for beach lovers, offering picturesque views of Lake Michigan and a wide sandy beach that stretches for miles. In addition to its scenic beauty, Holland State Park provides plenty of recreational activities and a nature trail for hiking enthusiasts. Don't forget to visit the famous Holland Harbor Lighthouse while you're there.
Lastly, the North Beach and South Beach in South Haven both offer unique experiences for visitors, catering to different levels of adventure and relaxation. North Beach is ideal for a serene beach day, with calmer water and a more laid-back atmosphere. On the other hand, South Beach features a lively scene, perfect for party-goers looking to socialize and enjoy water activities with fellow beach enthusiasts.
With so many fantastic beach towns in Southeast Michigan, you will surely find one that suits your preferences and creates lasting memories.