Colorado Springs, CO, is a treasure trove of possibilities. From hiking trails that help you explore stunning natural sights to art galleries that appeal to the culture-lover in you, there are many things to do in Colorado Springs.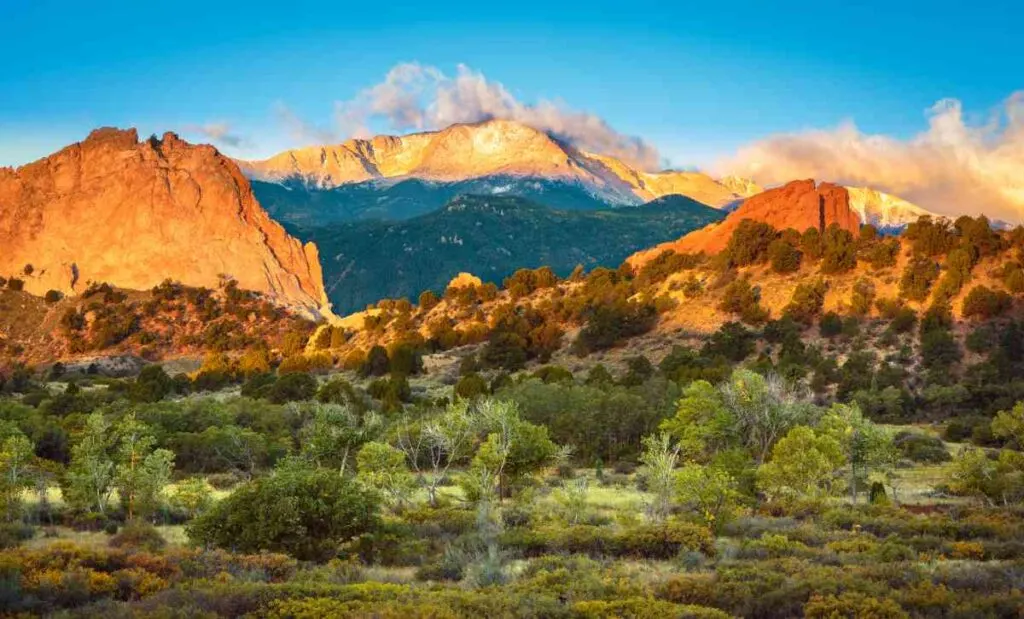 Here's a comprehensive guide to the best things you can do in Colorado Springs so you can make your trip worthwhile.
1. Check Out the Rock Formations at the Garden of the Gods
The Garden of The Gods park is the epitome of ethereal landscapes.
Exploring this national natural landmark is one of the several things to do in Colorado Springs. This place features stunning red rock formations that formed on a fault line due to geological activity.
To get an in-depth understanding of the Garden of The Gods Park, you can explore the informative displays and daily nature presentations at the nature center and visitor center.
For a more hands-on experience, consider checking out the nature trails at the Garden of The Gods Park.
Most of the paths at the Garden of The Gods park are paved, making them wheelchair and stroller-friendly.
The park also has picnic tables where you can take a breather and grab a bite. It has no admission fee and is open every day, which adds to its appeal.
2. Visit Pikes Peak, the Inspiration Behind "America the Beautiful"
Pikes Peak, also known as "America's Mountain," offers top-tier outdoor activities. Thousands of adventure and nature enthusiasts climb it every year, giving life to the "Colorado Gold Rush," a slogan originally used to refer to the pioneers who called it home.
Rising to heights of over 14,000 feet, the pink granite mountain offers stunning panoramic views along the 19-mile Pikes Peak Highway.
Explore it to see, first-hand, the scenery that inspired Katharine Lee Bates to pen the words to the classic song, "America the Beautiful."
The climbing altitude can be scary for hikers and drivers so if you're afraid of heights, you may want to sit this one out. If not, you can add the Pikes Peak Cog Railway to your list of things to do in Colorado Springs.
The altitude changes as you inch closer to the top so it would be a good idea to wear layers, even if you're visiting during the summer months. The park offers a complimentary shuttle service during peak summer times for added convenience.
3. Check Out the Fine Arts Center
The Fine Arts Center located in the Pikes Peak region of Colorado Springs allows you to browse through a variety of fine art. Here, you can find a large collection of the best regional, national, and international art pieces along with an impressive variety of traveling exhibitions.
This Colorado Springs cultural attraction also offers education on theater and arts to people of all ages and walks of life, so feel free to check it out as one of your things to do in Colorado Springs.
4. Explore The Best of Nature at Cheyenne Mountain Zoo
Animal lovers looking for things to do in Colorado Springs must visit the Cheyenne Mountain Zoo.
The Cheyenne Mountain Zoo has a unique design that allows visitors to get up close and personal with a variety of animals and reptiles that call it home.
Here, you can hand-feed giraffes, ride on an antique carousel, and watch spectacular views by taking an open-air ride. Wrap up your visit to the wild by satisfying your hunger at the Grizzly Grill.
The nature center has an attentive and informative staff, is easily accessible, and is open every day, making it one of the best things to do in Colorado Springs for kids and adults alike.
5. Stay at the Broadmoor Resort
The Broadmoor is the most popular resort in Colorado Springs — and one of the most popular things to do in Colorado Springs! This luxurious AAA Five-Diamond resort offers multiple opportunities to explore the picturesque city in all its glory.
It also has a private lake where you can take a refreshing dip, on-site restaurants offering delicious food, an amazing spa, health and wellness programs, and a golf course, among other top-grade amenities.
You can choose from their categories of rooms to enjoy a luxury experience without breaking the bank.
6. Train With Olympians at the United States Olympic & Paralympic Museum
The U.S. Olympic & Paralympic Museum is a training center for the U.S. Olympic team. The 35-acre complex houses swimming pools and offers housing, dining, and practice facilities for different sports.
It also has a museum dedicated to past athletes. You can visit it on its own when you're looking for things to do in Colorado Springs, but we recommend that you get a guided tour to enjoy all the little details.
These tours can help you get the scoop on different aspects of Olympic training from the experts! You can also watch how Olympians from different sports disciplines brush up their skills to become the standard in their respective sports.
7. Clock in Selfcare at Alluvia Spa & Wellness Retreat
Self-care is of utmost importance — even when you're traveling! Give your body some TLC by booking an appointment at Alluvia Spa & Wellness Retreat.
With their range of services and treatments to nurture your body, mind, and soul, this is certainly one of our favorite things to do in Colorado Springs! Treatments are tailored to your individual skin needs and goals and paired with professional products to ensure enhanced results to help you look and feel your absolute best.
8. Rediscover Adventure at the Red Rock Canyon Park
The Red Rock Canyon Open Space, with its rust-colored rocks, is one of the most picturesque things to do in Colorado Springs. It is located near the Garden of the Gods, so you can easily squeeze the two activities into a single trip to get the most out of your visit.
Here, you can hike, bike, and climb on trails with varying levels of difficulty to satisfy the adventurer in you. It also has plenty of easy hiking and biking trails, so you can also bring your kids along when you're looking for things to do in Colorado Springs.
9. Take a Refreshing Break at the Seven Falls
Seven Falls is a 181-foot waterfall located near The Broadmoor — one of the fanciest hotels in Colorado City.
This waterfall is the only waterfall in Colorado to make it to National Geographic's list of International Waterfalls. It sits on a solid cliff carved by water runoff from Pikes Peak. You can enjoy the breathtaking views, shop from quaint shops, and eat from any food truck nearby.
You can also indulge your adventurous spirit by climbing its challenging 224 steps.
Keep in mind that it is open seasonally, so check if it's open before making your way to it.
10. Admire Majestic Creatures at the Wolf & Wildlife Center
The ecosystem is a force to be reckoned with. This fact will immediately become evident after one visit to the Wolf & Wildlife Center. It offers tours to provide close and spectacular views of wolves while teaching visitors the importance of ecosystems, and how majestic creatures like wolves are an integral part of it.
While it is the ideal family outing, the center sheds light on the challenges that these animals have to face (like the fur industry) so it may not be suitable for kids of all ages when you're in search of things to do in Colorado Springs.
11. Satisfy the History Buff in You by Visiting the Manitou Cliff Dwellings
The cliff dwellings at Manitou Springs were relocated from McElmo Canyon, near Colorado Springs. This small town, located in the Rocky Mountain foothills, acts as a preserve dedicated to protecting the ancient cliff dwellings of the Anasazi (Native Americans) from robbers and vandals.
You can tour the Manitou Cliff Dwellings and visit an on-site three-story Pueblo building to explore the museum.
The best thing? Manitou Cliff Dwellings has a gift shop where you can pick up keepsakes. While here, explore nearby hiking trails to add to your itinerary of things to do in Colorado Springs.
12. Check Out the Shrine of the Sun
History buffs should make a separate visit to the Will Rogers Shrine of the Sun. The commemorative shrine was built between 1934 and 1937. It was erected to honor Will Rogers, an American entertainer who died in a plane crash in 1935.
The monument has an elevation of 8,136 feet, offering spectacular views of Colorado Springs as well as Pikes Peak and the Eastern Plains.
If you're planning on visiting the nearby Cheyenne Mountain Zoo as one of your things to do in Colorado Springs, your zoo ticket will also cover a visit to the Will Rogers Shrine.
Wrapping Up Things to Do in Colorado Springs
As you can see, there are numerous activities and things to do in Colorado Springs. If you're looking for more states and tourist attractions to visit, get inspired by browsing through the Life in the U.S.A. website.
Who knows? Maybe you'll find another (or two or three) crowd favorites to add to your itinerary!