While Anaheim is home to both Disneyland and Disney California Adventure Park, there is more than just Disney to do in this beautiful city! With so many restaurants and exciting historical locations, it's no wonder they decided to put the Disney parks here in the first place.
On this list of things to do in Anaheim, California, you'll find lots of fun things for you, friends, and your family as you embark on an adventure in the Golden State. Experience the famous Disney parks, taste the divine seafood of the West Coast, and take yourself and your kid's ice skating for a change of scenery. Get ready for a rockin' vacation in Anaheim!
The Best Restaurants in Anaheim, California
1. The Ranch Restaurant
Take a look at the first restaurant on our list of things to do in Anaheim, California. Named Restaurant of the Year in 2020, The Ranch Restaurant is best known for its selection of steaks – all locally sourced from nearby farmers and ranchers. And as if that wasn't enough, The Ranch also has the most incredible selection of cheesecakes in the area, which are also locally sourced from nearby cheesecake artisans.
Most of the incredible fresh produce ingredients come from a farm owned by the founder of The Ranch, Andrew Edwards. He takes great pride in organically growing his produce for his restaurant. How could you not be proud of over 600 heirloom tomato plants alone! These tomatoes are used in dishes like Maplewood Smoked Mary's Organic Chicken, with fresh mozzarella and Mama Lil's peppers. This new American restaurant is on the pricey side but worth the cost for the delicious, locally sourced food and, thus, the first restaurant on our list of things to do in Anaheim, California.
2. Bubba Gump Shrimp
Bubba Gump Shrimp is the next restaurant on our list of things to do in Anaheim, California. Located in the Gardenwalk district of Anaheim, Bubba Gump Shrimp serves shrimp and various other seafood items in a down-home Alabama-Esque setting based on the movie Forrest Gump. Each restaurant features multiple memorabilia from the hit movie, such as photos of the production phase, script pages, and some original costumes.
The seafood here is served with a healthy portion of southern comfort food vibes, and almost every dish includes shrimp. They do have a few tasty burgers as well, though. This is the first-ever – and to this day, only – "casual restaurant chain based on a motion picture property." Guests are welcome to test their Forrest Gump knowledge on the various trivia games at each table. If you stop by, you've got to try their Forrest's Seafood Feast, which includes fish and chips, seafood hush puppies, fried shrimp, and several yummy sauces.
3. Anaheim White House
The Anaheim White House Restaurant, the most exciting restaurant on our list of things to do in Anaheim, California, went on to be burned to the ground and completely rebuilt within two years. It has happily had its doors open since 2018.
This authentic Italian steakhouse features a variety of incredible steak, seafood, and pasta dishes. The perfect blend of surf and turf, they've got it all. From sushi and caviar to blackened tuna and baked tiger shrimp – there is something delicious for every steak or seafood lover.
4. Georgia's Restaurant
How about some Cajun-inspired cuisine? Next on our list of things to do in Anaheim, California, is visiting Georgia's Restaurant, the famous local joint combining Cajun flavors with southern soul food. Cajun fries, fried green tomatoes, and pulled pork sliders are just the tip of the iceberg.
Gretchen Shoemaker, who owns and runs Georgia's like it's her heart and soul, learned to cook the dishes served while spending time with her grandmother. After learning these fantastic recipes, she went on to cook them for her daughters and to pass the tradition on to them. Her successful catering company led her to these excellent restaurants, and her talent and experience show!
5. Morton's Steakhouse
A four-dollar-sign location on Google, Morton's Steakhouse is not cheap. This is the kind of place where the appetizers cost more than $20. And for a good reason. The Maine Lobster Ravioli is to-die-for, as are the bacon-wrapped scallops. You can also order Wagyu for a mere $72 per plate. Porterhouse, Filet Mignon, and New York Strip are available in various sizes.
If you're hungry, you can add a different side to your dish, such as sauteed Brussels sprouts, sour cream mashed potatoes, baked corn souffle, creamed spinach, or matchstick parmesan and truffle fries. Treat yourself to creme brulee, Morton's legendary sundae, double chocolate mousse, or seasonal bread pudding for dessert. Their drink menu contains all the classics and several signature drinks. Why not try a few while you're at it? While Morton's is the most expensive restaurant on our list of things to do in Anaheim, California, it's also so worth it.
6. The Fifth Rooftop Restaurant and Bar
Anaheim's original rooftop dining experience, the Fifth Rooftop Restaurant and Bar, blends Asian, Mexican, and Italian dishes into its new American-style menu. With generous portions of seafood spread throughout, there's just so much to love about this place.
When it comes to desserts, the Fifth gets even more exciting. Have you ever heard of mini doughnuts served at a fancy restaurant? They've got them. Cocktails? Also yes. The "seriously good old-fashioned" is a winner, and the Wanda and Sangria on the Fifth are also unbelievably delicious. The Fifth Rooftop is one place you can't miss on this list of things to do in Anaheim, California.
Interesting Natural and Historical Sites in Anaheim, California
7. Oak Canyon Nature Center
Comfortably placed in the center of the hills on the outskirts of Anaheim, the Oak Canyon Nature Center invites children and adults alike to enjoy its many natural features. The 58-acre park contains three adjacent canyons and so much native wildlife to be observed and enjoyed. Four miles of hiking trails run through woodlands and the scrublands of coastal geography in the area.
The John L. Collier Interpretive Center is also located on-site. It is another place to visit on our list of things to do in Anaheim, California because it houses several species of live animals to watch and learn so much from them. Petting days happen on occasion where children are invited to touch and feel some of the animals – a once-in-a-lifetime opportunity!
8. The Packing District
A combination of four restored historic locations and over 40 dining and sipping opportunities, The Packing District is a unique remnant of Orange County that can't be missed and one of the most remarkable historical areas to visit on our list of things to do in Anaheim California. This district gets its name from the historic Anaheim Packing House, one of the last citrus packing facilities remaining in Orange County. The building has been preserved and turned into a marketplace for local vendors.
A few historical pieces you should put on your list to visit are the Packard Building (formerly the home of Packard Car Dealership and now the home of a burger and brewery spot), secondly the MAKE building (a marmalade factory in 1917 that is now houses a brewhouse, a wine company, and Jav's BBQ). Lastly, the Farmer's Park (previously a farm and now a yoga and health food community).
9. The Crystal Cathedral
Created by renowned architect Philip Johnson to resemble a four-pointed star, The Crystal Cathedral served for many years as the home of a world-famous televangelist. When his ministry sadly went bankrupt, the Catholic Church purchased the tower.
The Diocese of Orange County now runs the Crystal Cathedral, renamed "the Christ Cathedral," as a place of worship for all who are in search of one. Visitors are welcome to view the cathedral as well throughout the week. This may be an unusual thing to include on a list of things to do in Anaheim, California, but it's such a unique piece of architecture that we can't help mentioning it.
The Best Places to Shop' Til You Drop in Anaheim, California
10. Downtown Disney District
The first place for shopping on our list of things to do in Anaheim, California, is The Downtown Disney District, which has many restaurants, particularly Naples Restaraunte e Bar and Ballast Point Brewery Co. But there's also the biggest Star Wars store, right in the heart of the Disney District, and an enormous Lego Store. And you can't leave without experiencing Marceline's Confectionary, an old-fashioned candy store.
Even Disney has nightlife. Watch as Ralph Brennon's Jazz Kitchen turns into a hot jazz spot worth of New Orleans every evening. And enjoy bowling and cocktails at Splitsville Luxury Lanes any time after dark. There's no end to the fun for all ages in this timeless part of Anaheim, which is why this has a special place on our list of things to do in Anaheim, California.
11. Anaheim Town Square
Anaheim Town Square also has its generous share of exquisite restaurants, but its valid claim to fame lies in its quaint little shops. The Northgate Market is one of these, and it's the main reason the town square earned a spot on our list of things to do in Anaheim, California. With fresh produce, freshly baked foods, and authentic Mexican goods, it's the best of both worlds between a restaurant and a shop.
Another shop to visit in the town square is the Alicia boutique. This shop is second to none, full of beautiful and unique clothes for girls and women of all sizes. The nearby Don Roberto Jewelers is another place to stop before you go. You probably know someone who deserves a little bling – maybe even you!
Exciting Things for Kids to Do in Anaheim California
12. Disneyland
Perhaps the most obvious thing to do on this list of things in Anaheim, California, is visit Disneyland with your kids. In addition to the Downtown Disney District, there are two Disney Parks: Disneyland Park and the Disney California Adventure Park. The difference between the two is that Disneyland is more about the magic and is exclusively for children. At the same time, Disney California Adventure Park serves alcohol in some of its restaurants and caters to a more varied age group.
The Disneyland Resort consists of three individual hotels: the Disneyland Hotel, Disney's Grand Californian Hotel & Spa, and Disney's Paradise Pier Hotel. Each of these equals an amazing destination. And will make an excellent addition to a Disney trip for your family.
13. The Rinks Anaheim ICE
Next on our list of things to do in Anaheim, California, is to go ice skating! The Rinks Anaheim ICE is a hockey and ice skating place both for pro leagues and public just-for-fun skating. Admission is $13 per person, and if you don't have your skates, no worries! You can rent a pair for $6, one of the least expensive things you can do in the Golden State.
Free skating is the most common form of ice skating here, but visitors may also sign up for skating or hockey lessons. The arena is also available to be rented out for very large parties.
14. The Honda Center
The Honda Center is an enormous entertainment hall with multiple arenas for sporting events and concerts and possibly one of the most exciting things to do in Anaheim, California. Famous music groups such as Machine Gun Kelly, Twenty-One Pilots, Iron Maiden, and Greta Van Fleet frequently hit this location on tour.
This is also the home of the local hockey team called the Ducks. There are also several excellent restaurants inside the center, so don't miss your chance to enjoy this incredible event location! The Honda Center is more of a place for older kids unless your little ones are really into hockey or a music group who will be playing while you're in town.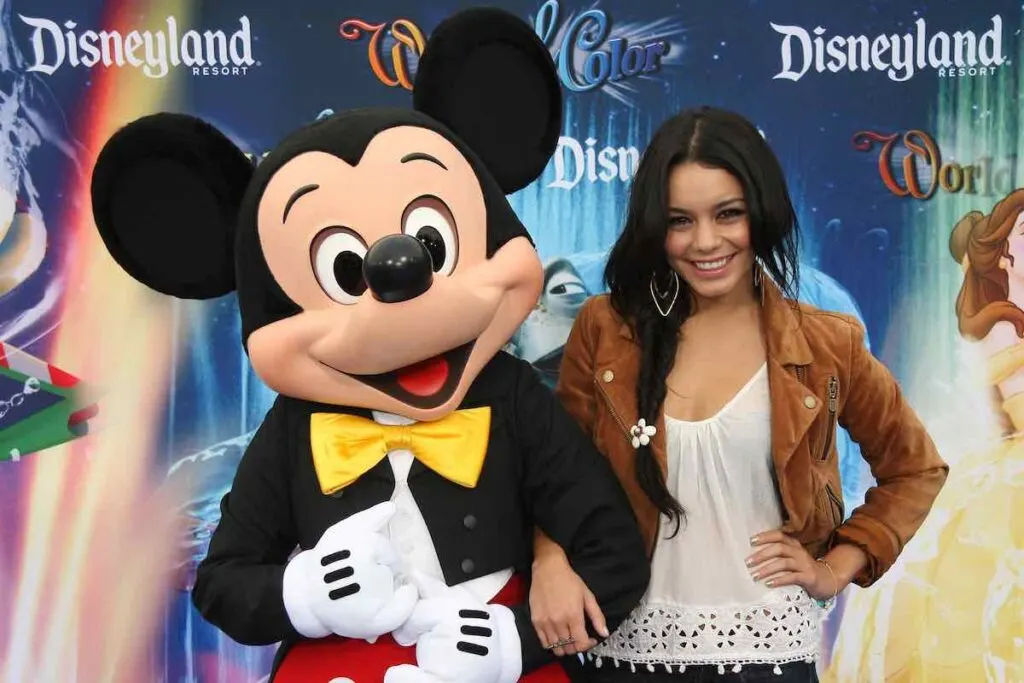 Time to Visit Anaheim California
So which things on our list of things to do in Anaheim, California, will be the winners for you and your family? Disneyland? Disney California Adventure Park? Or something totally unrelated to animated characters and their shenanigans? Whatever you decide to do on your trip to Anaheim, we hope you've found some fun things to do in Anaheim, California, in this post!
While vacationing in the Golden State, check out this list of The 7 Best Aquariums in California. You might find another place you have to visit!