Selma, Alabama, a city steeped in history, offers a variety of activities and attractions for visitors. From iconic historic landmarks to picturesque parks, Selma has something for everyone. Its role in the civil rights movement makes it a significant destination for those interested in learning about the struggles and sacrifices of those who fought for equal rights.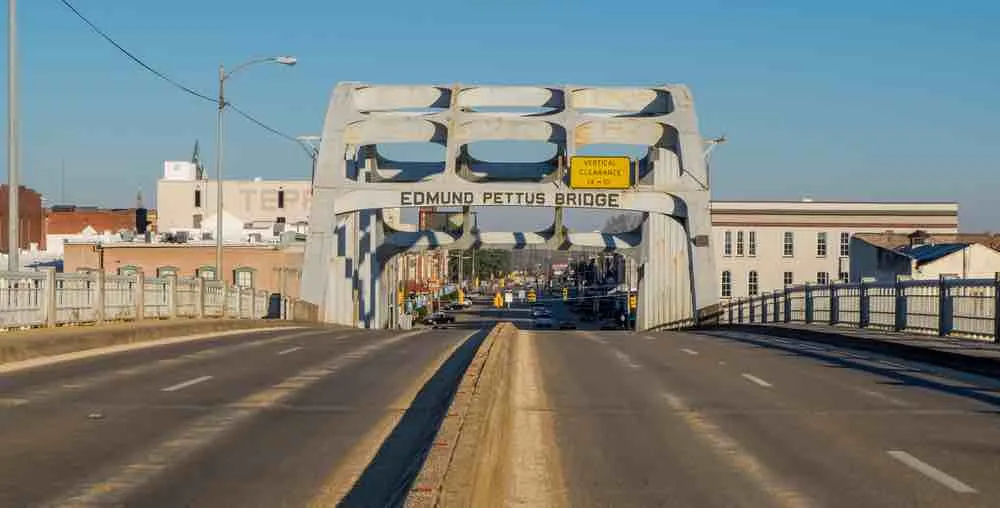 Walking through Selma, one can appreciate its rich cultural heritage and marvel at the many museums and historic sites that tell the story of this remarkable city. Outdoor enthusiasts can take part in guided tours or explore the scenic trails and parks that reveal the natural beauty of Alabama. Food lovers will be delighted by local cuisine options, and shopaholics can find unique treasures in the charming downtown shopping district.
Key Takeaways
Selma offers a mix of historical attractions, cultural experiences, and natural beauty.
Visitors can explore museums, landmarks, tours, and much more in this vibrant city.
Memorable experiences await in local cuisine, accommodations, shopping, and entertainment options.
Historic Landmarks
Edmund Pettus Bridge
The Edmund Pettus Bridge is an iconic symbol of the civil rights movement in Selma. It was at this bridge that the famous Bloody Sunday event took place in 1965, where peaceful marchers, led by Martin Luther King Jr., were attacked by state troopers while trying to march from Selma to Montgomery to protest for voting rights. Today, visitors can walk across the bridge and reflect upon the historical significance of the site. The bridge is also adjacent to the National Voting Rights Museum and Institute, a worthwhile stop to learn more about the struggle for voting rights.
Brown Chapel AME Church
Brown Chapel AME Church played a significant role in the civil rights movement. It served as a meeting place and starting point for the Selma-to-Montgomery marches. The church is a National Historic Landmark and continues to operate as an active place of worship. Visitors can tour the church to learn about its role in the voting rights movement and appreciate the history embedded within its walls.
Old Town Historic District
The Old Town Historic District is a charming area of Selma that showcases Southern architecture and offers a glimpse into the past. Here, visitors can stroll through streets lined with beautiful antebellum homes and historic sites. Some highlights in the district include Sturdivant Hall Museum, a stunning Greek Revival mansion, and the Vaughan-Smitherman Museum, which offers a rich history of Selma from its beginnings through the Civil War and the civil rights era. While exploring the district, be sure to indulge in some delicious Southern cuisine available at local restaurants.
Museums
Selma Interpretive Center
The Selma Interpretive Center is a history museum located in Selma, Alabama. It offers visitors an opportunity to learn about the city's significant role in the Civil Rights Movement. The center is staffed with knowledgeable guides who can provide insightful information into the historical events and stories, making it a great place for history enthusiasts who wish to learn more about Selma's past.
National Voting Rights Museum and Institute
Another important museum in Selma is the National Voting Rights Museum and Institute. This museum focuses on the struggle for equal voting rights, including the historic march from Selma to Montgomery. It is a must-visit for people interested in learning more about the fight for civil rights and the path to achieving equality in the United States.
Sturdivant Hall Museum
Sturdivant Hall Museum is a historic antebellum mansion that now serves as a museum, featuring a beautiful array of antiques, artifacts, and period furniture. Visitors can explore the elegant interior of the mansion while learning about the history of the building and its role in Selma's society. It is an excellent spot for those who appreciate historic architecture and want to immerse themselves in the past.
Old Depot Museum
The Old Depot Museum is another history museum dedicated to preserving and showcasing artifacts from Selma's past. Housed in a former train depot, this museum offers a comprehensive overview of the region's history, from the pre-Civil War era to the Civil Rights Movement. Visitors can expect to see various exhibits, including a collection of railroad memorabilia, which highlights the historical importance of the railway system in Selma.
Parks and Outdoor Attractions
Selma, Alabama offers a variety of parks and outdoor attractions for visitors to explore and enjoy. These include Riverfront Park, Old Cahawba Archaeological Park, and Historic Riverfront Park.
Riverfront Park
Riverfront Park is a beautiful outdoor space situated along the Alabama River. The park is a great place to relax, take in the scenic views, and enjoy a leisurely stroll along the river. With its location in the heart of Selma's Old Town Historic District, visitors can also easily access nearby historic sites and attractions.
Old Cahawba Archaeological Park
Old Cahawba Archaeological Park is an important historic site in Selma that showcases the remains of Alabama's first state capital. The park features various walking trails that allow visitors to explore the remnants of the once-thriving town, including cemeteries, homes, and more. In addition, the park boasts an abundance of natural beauty, with picturesque landscapes and rich biodiversity.
Historic Riverfront Park
Historic Riverfront Park is another outdoor attraction in Selma that celebrates the city's rich history. The park includes several historical markers detailing important events in Selma's past, such as the Civil Rights Movement and the Battle of Selma. The park's beautiful riverfront location also provides a serene setting for visitors to enjoy a walk or simply take in the views.
Walking and Guided Tours
Civil Rights History
Selma, Alabama, holds a significant place in American civil rights history. One great way to explore this history is through walking tours. By walking through the streets of Selma, you'll have the opportunity to see important landmarks and sites related to the Civil Rights Movement. For instance, you can visit the Edmund Pettus Bridge, where the events of Bloody Sunday unfolded in 1965.
March to Montgomery
Another important event in Selma's history is the famous Selma to Montgomery march. To follow the footsteps of those who marched for civil rights, you can participate in a guided tour that recounts the story of this significant event. The tour covers multiple sites, including the starting point of the march at the Edmund Pettus Bridge and the end point at Montgomery.
Old Town Historic District
For those interested in exploring the rich architectural heritage of Selma, a walking tour through the Old Town Historic District is a must-do. This area features a collection of well-preserved antebellum homes, churches, and landmarks, allowing you to immerse yourself in the city's past. A guided tour will provide you with insights into the history and architecture of these fascinating structures.
Food and Restaurants
Selma, Alabama, offers a variety of dining options for visitors and locals alike. The city's rich history and culture are reflected in its local cuisine, which includes southern favorites, lunch spots, and more. In this section, we will focus on Southern Cuisine and Lunch Options available in Selma.
Southern Cuisine
Tally Ho is a popular restaurant among locals, serving up traditional American and Cajun-Creole dishes. Its rustic country charm beckons diners, who appreciate uncovering this hidden gem. From savory seafood gumbo to hearty fried steak, Tally Ho celebrates the rich flavors of southern cuisine.
Another must-visit spot for southern food lovers is Lannie's Bar-B-Q. A fixture in Selma, Lannie's offers mouthwatering barbecue dishes including succulent pulled pork and tender ribs. The friendly staff and picnic tables out front create a welcoming atmosphere for diners. Don't forget to try their signature BBQ sauce!
Finally, The Downtowner Restaurant is known for its home-cooked comfort food. Locals flock here for their daily coffee fix and enjoy dishes such as fried chicken, baby lima beans, fried green tomatoes, and baked apples. With its cozy ambiance, The Downtowner is the perfect place to savor a taste of the south.
Lunch Options
For those seeking delightful lunch options in Selma, look no further than The Coffee Shoppe. This quaint cafe offers more than just coffee and tea; it also serves an assortment of sandwiches and light bites that are perfect for a midday meal. The friendly atmosphere and excellent service make The Coffee Shoppe a much-loved lunch spot among locals.
If you're in the mood for a quick bite while exploring Selma, consider stopping by Lannie's Bar-B-Q Spot. With its legendary Saturday morning BBQ sandwiches and delicious barbeque options, Lannie's Bar-B-Q Spot is a popular choice for those seeking a satisfying meal on the go.
There you have it – a taste of Selma's culinary offerings, from southern cuisine to delightful lunch options. Enjoy your food adventure in this charming Alabama city!
Accommodations
Selma, Alabama offers a variety of accommodations for those visiting this historic city. The range of options ensures that every traveler finds a comfortable place to stay.
Hotels
Several hotels cater to different budgets and preferences. One such option includes the Baymont by Wyndham Selma which is a popular and well-rated choice, located at 2420 N Broad St, Selma, AL. Here's a brief overview of hotels available in Selma:
Baymont by Wyndham Selma
Hampton Inn Selma
Holiday Inn Express & Suites Selma
Quality Inn Selma
St. James Hotel
These hotels offer various amenities such as free WiFi, breakfast, and parking. Be sure to check each hotel's policies to find the best fit for your requirements.
Bed and Breakfasts
For those preferring a more intimate and warmer setting, Bed and Breakfasts are also available in Selma. Staying in a B&B allows guests to experience the local culture and enjoy personalized service. A couple of B&B options in Selma are:
Selma Inn Bed and Breakfast
The Oaks at Selma
Remember to research each establishment to find the right B&B that aligns with your preferences and needs.
Events and Entertainment
Walton Theater
Selma, a historic city located in Alabama, is known for its rich culture, heritage, and tradition. The Walton Theater, located at 1000 Selma Ave, offers live performances for tourists and locals alike. For a unique experience, catching a show at this venue is highly recommended.
Historic Events
For history enthusiasts, Selma has a variety of historic events and sites to explore. Among these are the Selma to Montgomery 131 Historic Walking Areas, which commemorate the march during the Civil Rights Movement, and the Brown Chapel AME Church, an important hub in the struggle for voting rights. While some sites may be closed, visiting the various monuments and memorials will provide a deeper understanding of the city's past.
Parties and Weddings
Events are frequently hosted in Selma, ranging from intimate gatherings to larger parties. Whether it's a Ladies Night Sip & Party, or a Sweet Grown Alabama Farm to Table Dinner, there is always something happening in Selma for those looking to socialize. For more formal events such as weddings, The Barn at Twin Valley is a popular venue that creates an unforgettable experience for the happy couple and their guests.
Shopping
Antiques and Curiosities
Selma boasts a variety of antique shops and curiosity stores, perfect for visitors who value discovering unique and rare items.
June Bugg's Flea and Antique Market is a popular destination for antique aficionados. This spacious market offers a range of items, from furniture and artwork to china, crystal, silver, and linens. Shoppers can look forward to finding interesting collectibles and one-of-a-kind pieces.
Another noteworthy location is Junebugg's Flea and Antique Mall. Similar to its namesake, this mall provides a diverse selection of antiques and curiosities. Visitors can enjoy browsing through the charming displays while uncovering hidden gems and treasures.
When exploring Selma's antique scene, it's essential to approach each shop with a confident, knowledgeable, and open-minded attitude. This mindset will enable you to appreciate the stories behind each item and the rich history these stores have to offer.
Travel Information
Birmingham, AL
Birmingham, located about 90 miles north of Selma, is the largest city in Alabama and offers a variety of transportation options for visitors looking to explore Selma. Some of the available options include:
By car: Take I-65 south from Birmingham to reach Selma in approximately 1.5 to 2 hours. Rental cars and carpooling services are readily available in the city.

By bus: Greyhound buses operate between Birmingham and Selma. The journey takes around 2.5 hours on average, and tickets can be purchased online or at the bus terminal.
Saint Louis, MO
For those coming from Saint Louis, Missouri, travel options include:
By plane: Fly into Birmingham-Shuttlesworth International Airport (BHM) and rent a car or use a ride-sharing service to get to Selma. Major airlines such as American Airlines, Delta, and Southwest operate flights between Saint Louis and Birmingham.

By car: The drive from Saint Louis to Selma is approximately 495 miles and takes about 7.5 hours. Travelers can take I-64 E and I-65 S, passing through Louisville and Nashville along the way. Make sure to plan for rest stops and consider spending a night along the route to break up the journey.
It's important to note that transportation options and travel times may vary depending on factors such as traffic, road conditions, and weather. Please check the latest information when planning your trip to Selma, Alabama.